Make a Stromboli that's a little healthier, gluten-free, a little more fun, and a whole lot of yum. This creative Crustless Stromboli uses the meat as the roll to hold lots of great sauce, veggies, and cheese!
This is my fun take on a Stromboli! It's crustless, but held together with ground meat and oats. Inside you'll find healthy vegetables and a sweet, yet savory red sauce...oh and cheese, you can't forget the cheese!
What is a Stromboli?
A Stromboli can be called a turnover, log roll, or pin wheel. It's all about the shape that involves rolling up "pizza" ingredients inside a dough to form a large log, then slicing it into sections. The Stromboli concept is Italian-American, and a wonderful way to enjoy great pizza flavors and ingredients all wrapped up into a neat little package! You can often find a sauce, meats, vegetables, and cheese inside a pizza bread or pizza dough when enjoying a Stromboli.
Where's the Crust on this Stromboli?
It's there, just different with meat instead of dough. Believe me, once you taste this crustless Stromboli you'll wonder why you've never tried it before! I was trying to get creative with making slightly healthier meals for my family, while still keeping the great flavors and ingredients we love. And we LOVE pizza!
I just wanted a break from recipes that included so many carbs because there are many times throughout the day that wheat and flours sneak into our diet. Whether it's in cereal, crackers, bread, pancakes, noodles...you name it, we eat it a lot throughout the day! Don't get me wrong, I'm not against wheat and gluten and we're lucky that we don't have to avoid gluten in our household. But, I just don't want to be over-serving those ingredients to my family.
I had this idea to make a crustless pizza and I just rolled with it (no pun intended). The whole family loved it and I've made it several times since.
Ingredients for a Crustless Stromboli
Please see below for my printable recipe card with detailed ingredients.
Ground White Meat: I have used turkey, chicken, and pork. Chicken can have more moisture and gets a bit stickier, but if you're not afraid to work with it a little and use a little more oil then you'll be fine! I like white meat because the flavors are more milk and don't distract from the rest of the dish. You could always try a ground sausage though, and let me know in the comments below if you do!
Oat Meal: I blend my rolled oats to form an oatmeal. It's not quite as fine as flour but it's not as bulky as raw oats and works nicely to bind the meat. I have tried the recipe with quick oats (not blended) and it works too. The blending just helps create a smoother texture.
If you need this recipe to be gluten-free, it's as easy as ensuring that you're using certified gluten-free oats!
Egg: makes for a great binding agent as well and adds depth and flavor to the "meat crust."
Sauce: I make my own pizza sauce for this recipe. the recipe makes a perfect portion for this one Crustless Stromboli. You can of course use any pizza sauce, but the portions I have in the recipe work great for being able to roll the meat without lots of excess sauce leaking out. If you like to have extra sauce for dipping, make sure to double the sauce recipes and save half for later!
Vegetables: I kept the vegetables basic in this recipe, but you can of course add what you want! I use onion and bell pepper for savory and sweetness. You don't want to add too many vegetables or you'll have issues with being able to roll it up and keeping the roll tight. You also want to make sure to dice your vegetables. I've tried cutting thin strips of vegetables, but when it comes time to cut the Stromboli into portions you run into issues with being able to easily cut through and it just doesn't work well. So whatever vegetables you add, don't overdo it on quantity, and keep them finely chopped.
Cheese: I used a Manchego cheese and loved it! I've also used a firmer mozzarella, shredded. Whatever you choose, make sure it's a cheese that melts nicely and doesn't get too oily. If you were strapped and only had cheddar cheese, you might get an oily mess.
Seasonings: I kept the spices simple but true to Italian flavors. I love to use sea salt, garlic granules/powder, dried basil, dried oregano, freshly ground black pepper. I always have dried herbs on hand, but not always fresh that work for this recipe. If you try fresh herbs, I'd love to hear what you added! I was focusing on lower cost and ease with this recipe!
How To Make a Crustless Stromboli
You can find detailed instructions in the recipe card below. Here's the basic method for making this recipe!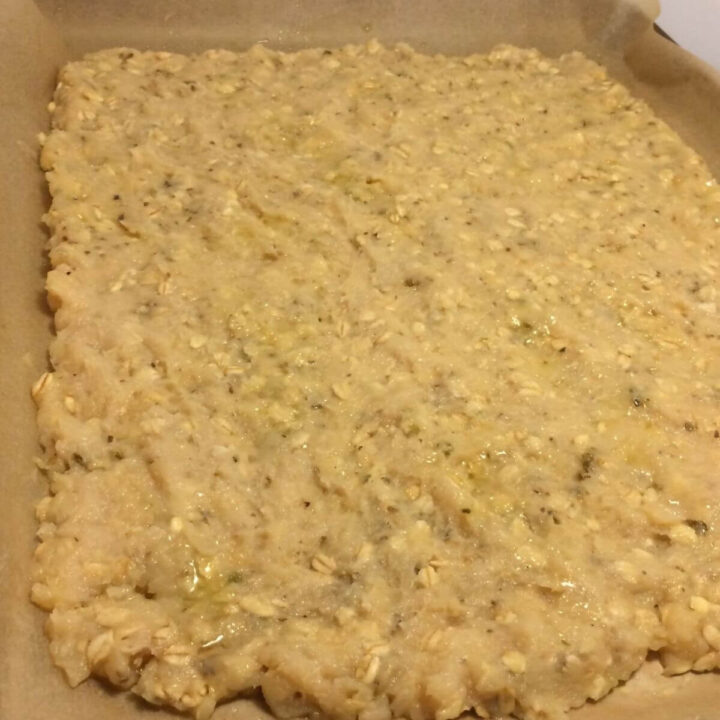 Combine the ingredients for the meat and press it out flat onto a parchment paper-lined cookie sheet.
Layer on the sauce and a portion of the shredded cheese.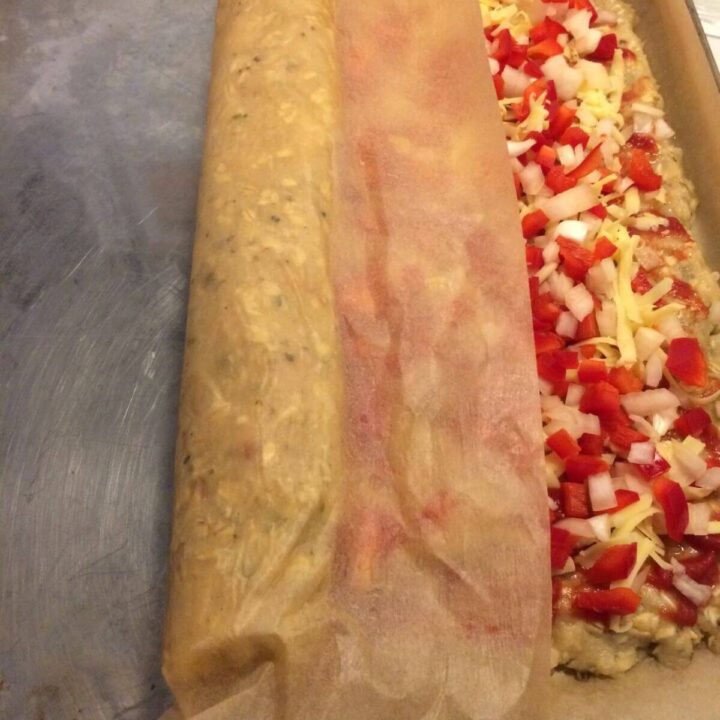 Sprinkle on the diced vegetables.
Roll it up on the long edge, using the parchment paper and ensuring that it's tightly rolling into a round shape.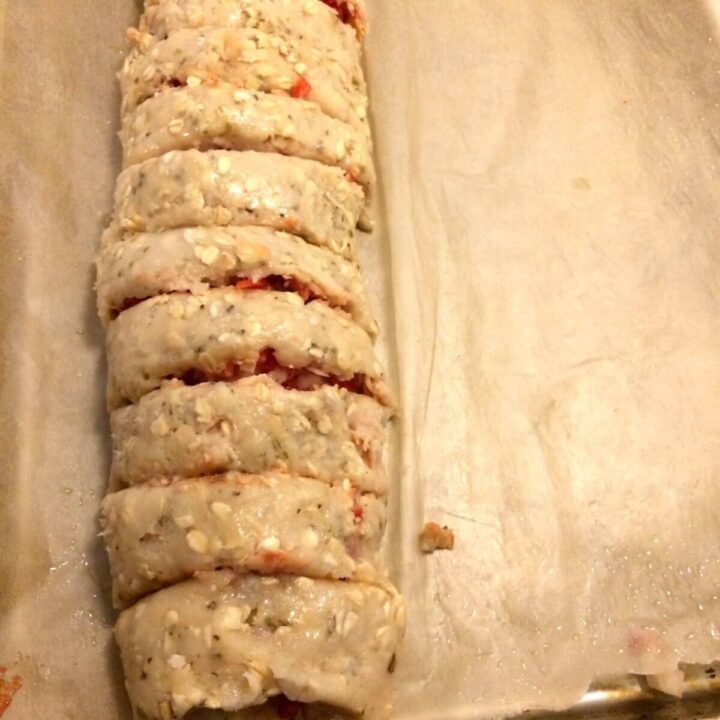 Once it's rolled to the end, press down the seam to make sure it's sealed. Tap in the ends to flatten them a bit so you don't have excess meat hanging off the ends. Use the parchment paper to tip and roll the log back to the center of the pan. Just keep it on the parchment paper for ease.
Make 10-11 cuts to make 11 or 12 portions. TIP: oil your knife and make sure you're using a sharp knife to make clean cuts.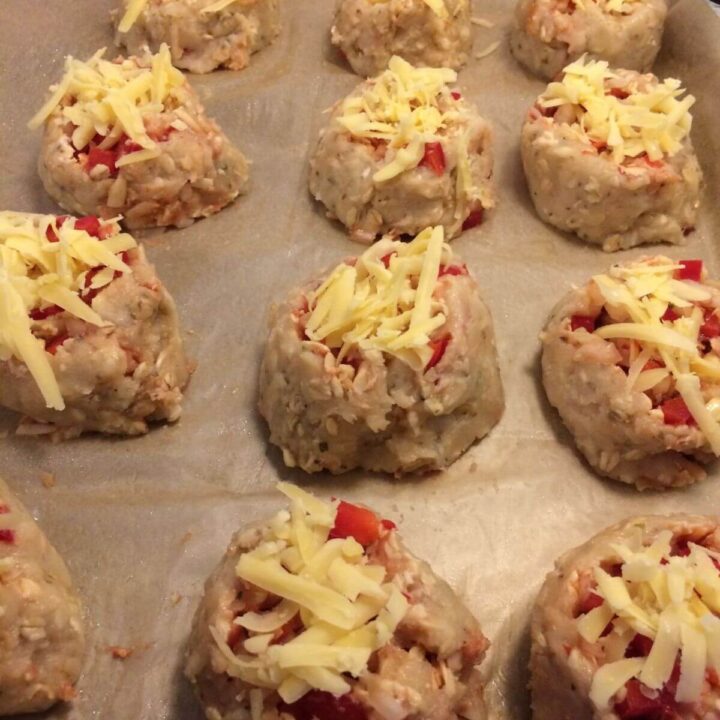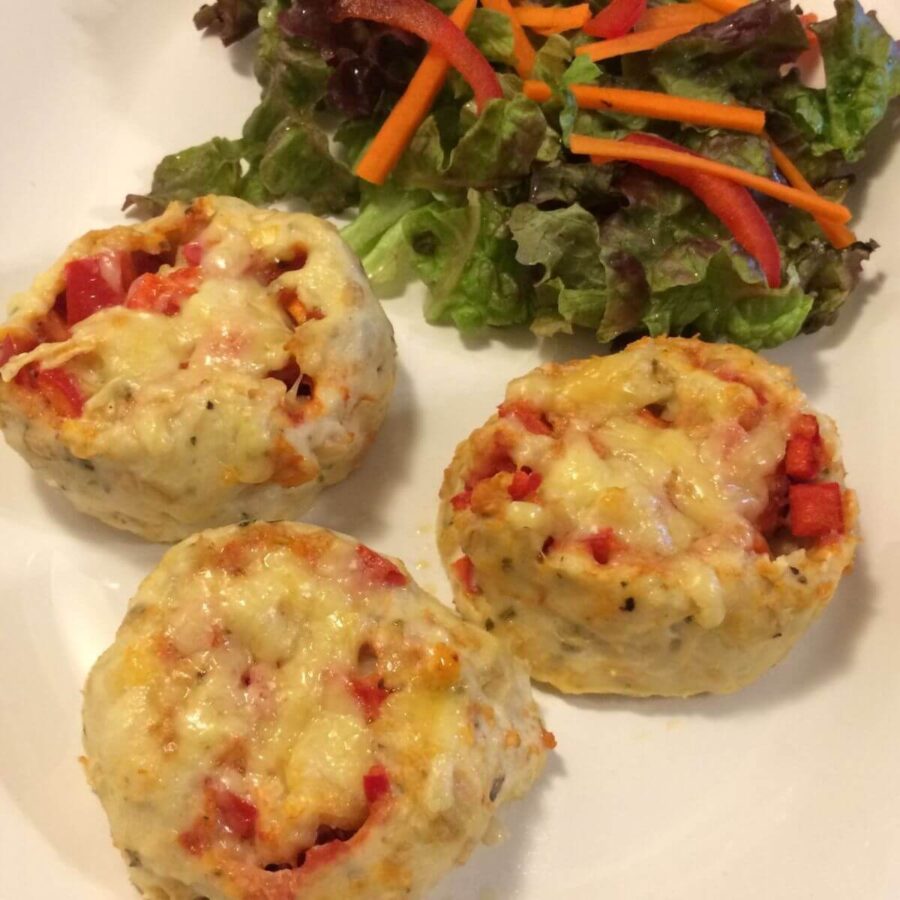 Lay each portion flat and leave space between each one. You don't need to worry about them expanding but you want space for even baking. Sprinkle each portion with shredded cheese.
Bake and serve with whatever side you choose! You can choose to double the sauce to have half reserved for dipping!
Similar Recipes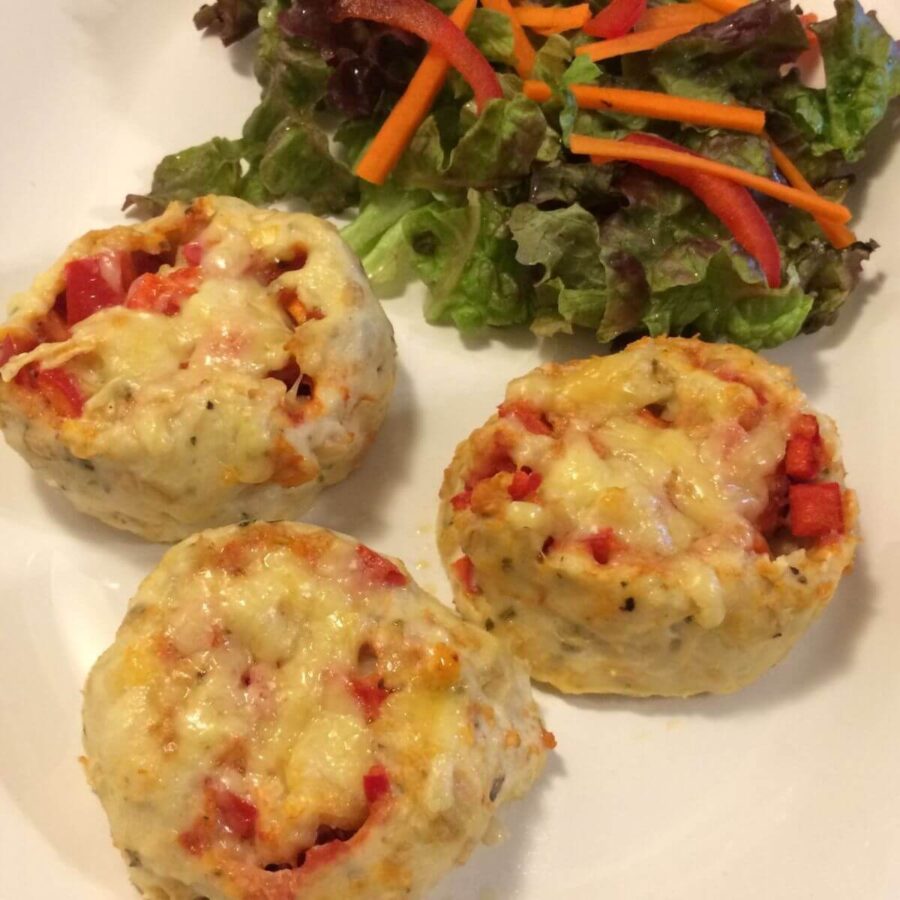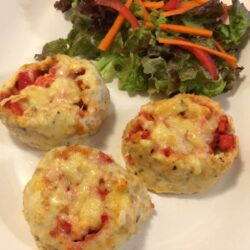 Crustless Stromboli
Make a Stromboli that's a little healthier, gluten-free, a little more fun, and a whole lot of yum. This creative Crustless Stromboli uses the meat as the roll to hold lots of great sauce, veggies, and cheese!
Ingredients
For the Meat
For the Sauce
2

tablespoon

tomato paste, no salt added

2

tablespoon

crushed tomatoes, no salt added

(option to replace with 2 tablespoon water)

⅛

teaspoon

sea salt

(or more or less to taste)

½

teaspoon

garlic powder

(or granules)
For the Vegetables
1

cup

red bell pepper

(finely diced)

¾-1

cup

yellow onion

(finely diced)
For the Cheese
1 ½

cup

shredded manchego cheese, divided

(option to use aged gouda or mozzarella)
Instructions
Blend your rolled oats to make oatmeal.

In a large bowl mix all the ingredients for the meat base together until thoroughly combined. Refrigerate the mixture while you prepare the remaining ingredients.

Wash and finely dice your vegetables, set aside.

In a small bowl, combine the ingredients for the sauce and set aside.

TIP: If you want extra sauce for dipping, double your sauce recipe now and save half for later!

Line a cookie sheet with parchment paper and lightly spray with olive oil. Press out the meat mixture into a 11 inch x 13 inch rectangle.

TIP: if the meat is getting too sticky, give the top a spray with olive oil.

Spread on sauce and sprinkle on 1 cup cheese.

Sprinkle on your diced vegetables, and don't worry about leaving any space around the edges.

Starting at the long edge, use the parchment paper as a guide to roll the meat into a log. It works best to hold the edge of the parchment paper and slowly pull it to the opposite end, pausing now and then to gently give the roll a squeeze to make sure it's tightly rolled. Remember that you're not rolling up the parchment paper with the roll! Just pull it across the top, allowing the meat to roll underneath it.

Once you're done rolling, tilt the parchment paper to roll the log to the center of your cookie sheet, keeping the roll on the parchment paper.

Make sure you have a sharp knife, and cut the Stromboli log into 12 portions or about 1 inch pieces.

TIP: If the knife starts sticking, give it a rinse and wipe it dry with a paper towel, then spray it with olive oil.

Gently lay each slice flat on the parchment paper, leaving space between each roll.

Sprinkle each portion with ½ cup of shredded cheese.

If you're noticing that some rolls are coming apart, spray your fingers with olive oil and gently press the meat back into shape!

Bake at 375°F for 25-28 minutes or until they are browned to your liking. Don't over bake or you might dry out the meat.

Serve with extra sauce for dipping!