This pizza bread is made with homemade bread dough and packed with cheese, pepperoni, and fresh vegetables. Don't forget the homemade marinara sauce for dipping! This is a great recipe for a main meal, or a snack to share with a get-together or celebration!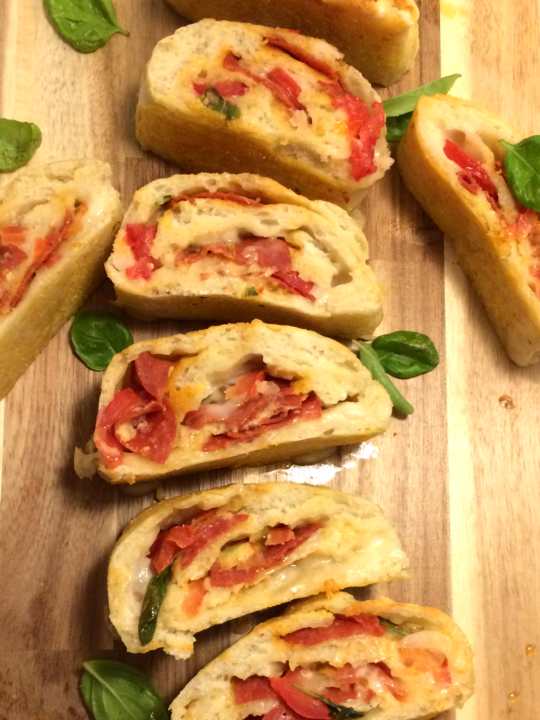 This is hands down the best tasting pizza bread I've had! I used to make pizza rolls quite often and I really liked them... until I started making pizza bread. There are a couple differences that make for a completely different experience. One is having bread dough instead of pizza dough. The other is not loading it with sauce and a ton of ingredients but keeping it simple.
The bread dough is essentially a French bread. This recipe has the best flavor and texture with a slightly crispy exterior all around and a soft center.
The mixture of provolone cheese and Romano is creamy and flavorful and in my opinion the best combination for this recipe.
It's not until recently that I started having pepperoni in the house and this recipe makes it so worth it! You can always choose to have salami instead if you wish.
I use my homemade marinara sauce for the dipping sauce to pair with pizza bread and I really wouldn't recommend anything else. My marinara sauce is pretty incredible, if I may say so, and it's such a perfect match with this recipe. Of course you choose the dipping sauce you want but it's so easy and quick to make my marinara while the pizza bread is baking and you can always make a full batch of my recipe and freeze some to have it quickly accessible when you make the pizza bread again, like the next day.
For the Dough
The recipe used here is a French bread dough. It's simple and fairly quick. I love using an instant yeast so you can add it straight into the other ingredients with warm water. No need to wait for it to activate!
This dough should be sticky. I state in the ingredients to use 3 cups + 1 tablespoon flour. The additional 1 tablespoon can really make a difference but assess your dough before before adding it. Once you add your olive oil you should be able to work the dough in your hands but it will stick slightly. If it seems really wet then definitely add that extra 1 tbsp. You'll also be flouring your work surface after it rises which will help bring it to the perfect texture.
For the Cheese
If you want something with great creamy rich flavor that is also gooey ones baked provolone is the way to go. But I'm not talking about sliced provolone I'm talking about a block that you can shred. Pecorino Romano is a great cheese to match with the provolone. I always have a hard time using only 1 cheese with pizza because the variety adds so much flavor.
For the Vegetable Filling
I held back with this recipe and only used Roma tomato, yellow onion, and fresh basil.
You can choose to add more ingredients such as pepperoncini peppers, olives, mushrooms, garlic, bell pepper. If you do decide to add more ingredients I would just recommend to slice them thin so they're not too bulky, which could cause air bubbles in the middle.
For the Meat
I made it easy and fun using pepperoni. You can choose salami, ground turkey, ground sausage, or thin sausage slices. Again, make sure everything is thin and not too bulky.
How to Make this Recipe in a Nutshell
See below for the ingredients and printable instructions in detail
Make the bread dough and let it rise.
Meanwhile prep your vegetables and your cheese.
Roll out your dough to about a 10" x 15" rectangle using your hands.
Start layering the ingredients then roll over.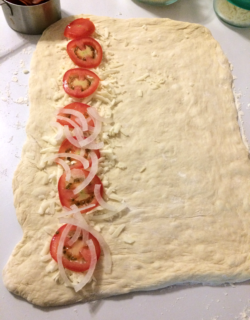 Repeat layering the ingredients and roll over.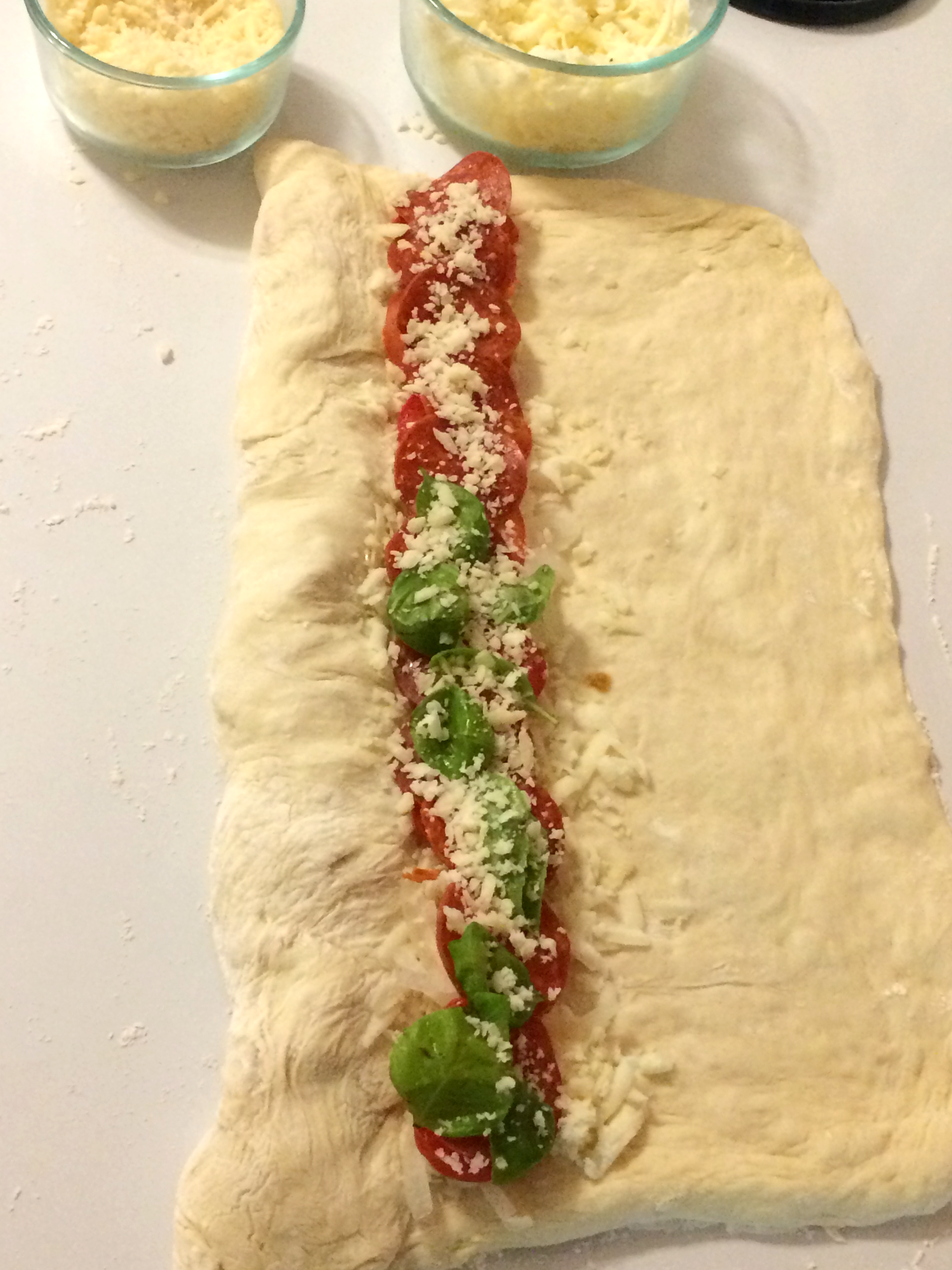 1 last time of layering ingredients and roll over.
Leave loaf whole for conventional oven or cut in half for convection oven.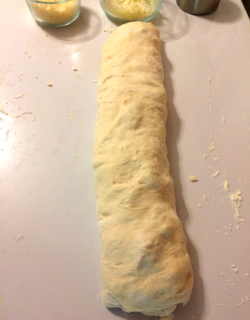 Brush with egg wash and bake at 375℉ for 25 minutes or until the loaf is light brown and hollow when you tap on it.
Make the marinara sauce while the loaf bakes.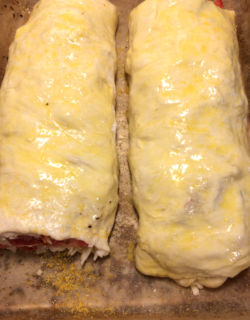 Slice it
Enjoy it with homemade marinara sauce!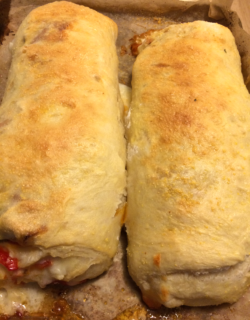 Similar Recipes
If you enjoyed this recipe and you're looking for more like it, try one of my other delicious recipes:
Pepperoni Pizza Bread
This pizza bread is made with homemade bread dough and packed with cheese, pepperoni, and fresh vegetables. Don't forget the homemade marinara sauce for dipping! This is a great recipe for a main meal, or a snack to share with a group! To make it even better, it's easy to make in a convection oven (instructions included)!
Ingredients
For the Bread
3 cups

+ 1 tbsp

all purpose white flour

¾

teaspoon

sea salt

1 ½

teaspoon

instant yeast

1 ½

cups

warm water

1

teaspoon

olive oil to knead the dough before the rise
For the Filling – ingredients will be divided into 3rds
1 ½

cups

shredded provolone cheese

not slices

2

roma tomatoes

just over ½ cup sliced

¾

cup

sliced yellow onion

1 ½

cups

pepperoni slices

option to use salami slices

6

tablespoon

shredded Pecorino Romano cheese

little more or less is fine

¾

cup

fresh basil leaves

cornmeal to sprinkle on bottom of baking pan

optional dried oregano, dried basil, and/or garlic powder for sprinkling on top of bread loaf
For the Egg Wash
1

large

egg

2

teaspoon

water
Marinara Sauce for Dipping – this is a half portion of my marinara recipe
2

tablespoon

olive oil

2 ½

tablespoon

minced garlic

1 ½

cups

diced yellow onion

14.5

oz.

no salt crushed tomatoes

1 can

1

tablespoon

water

to rinse out tomato can

¾

teaspoon

dried basil

½

teaspoon

dried oregano

⅛

teaspoon

sea salt

freshly ground black pepper
Instructions
Make the Dough
Combine all ingredients for the dough (except for the oil). If you're using active dry yeast then combine the yeast and water separately for about 10 minutes to allow it to activate before adding it to the rest of the ingredients.

Work the dough together. It should be slightly sticky. Add 1 teaspoon olive oil and continue to knead dough. Because it's sticky I only knead it for a couple minutes. Place in a bowl and cover with a lid or towel to rise for 45 minutes-1 hour until doubled in size.
Prepare the Filling
While the dough is rising, prepare the vegetables and cheese by shredding the cheese and slicing the vegetables. Keep each ingredient separate and keep basil leaves whole.

Prepare the egg wash by whisking together 1 egg and 2 teaspoon cold water in a small bowl.
Prep to Bake
If using a conventional oven, preheat to 375℉. If using toaster oven, no need to preheat.

Once dough has risen, tip out dough onto a well- floured work surface. Using your hands, gently knead/stretch out the dough to approximately a 10" x 15" rectangle. Perfection doesn't matter with this!

Starting at a long end, about 1" from the edge, layer ⅓ of each ingredient which will be about:

½ cup provolone cheese

⅓ cup tomato slices

¼ cup sliced onion

½ cup pepperoni slices, overlapping

¼ cup basil leaves

Sprinkle of romano cheese (about ⅛ cup).

Gently roll the dough over the ingredients and press edge down gently to seal. Repeat layering all the ingredients as stated above. Again, roll the dough over the ingredients and press down the edge to seal. If the dough seems dry and doesn't seal, add a tiny bit of water with your fingertips but be cautious to not add too much.

Repeat layering the ingredients 1 last time, and this time bring the edge of the dough up and over the ingredients toward you. Roll the log so the seal is down.

If using a baking sheet, line it with parchment paper. Option to use a pizza stone.

Sprinkle the baking sheet or pizza stone with cornmeal.

If using a convention oven then keep the pizza loaf as 1 large piece and gently curve it slightly if needed as you transfer it to your baking sheet.

If you're using a convection oven, slice the bread loaf in half and lay the 2 portions next to each other on a baking sheet.

Gently baste with the egg wash on the top and sides of the loaf. Option to sprinkle additional seasonings at this time.

Conventional oven: use middle rack. Convection oven/toaster oven: use lower rack

Bake at 375℉ for 25 minutes, or until the crust is golden brown and sounds hollow when you tap on it.

While the loaf is cooking, make the marinara sauce for dipping.
This uses a ½ portion of my homemade Marinara Sauce. In a medium-sized saucepan add 2 tablespoon olive oil and heat to medium heat. Once hot add the garlic and onion and sauté for 5 minutes. Add remaining ingredients and bring to a low simmer. Decrease temperature to Lo for another 10 minutes. Blend in a heat-safe blender ( I use this Instant Pot Ace Plus Blender), use an immersion blender, or cool marinara before blending.

Remove pizza bread from the oven and let it sit for a minute before cutting (no you don't have to wait but it will make it a bit easier to cut).

Cut into 12 equal pieces. Enjoy!