Sweet, flavorful, versatile, easy to freeze marina sauce that will make you never buy store-bought again!
If you're looking for the perfect marinara sauce that's light, flavorful, and pairs well with any meatball or pasta, you've found it.
I've never been a fan of store-bought sauces. First off, they have a high sodium content and most of all, it's so easy to make your own you don't need to buy it!
I've tested many marinara sauces until I landed with this recipe and I've never wanted to change it up. It's hard for me to not add more spices, but it's amazing how much flavor comes out of this recipe so trust the ingredients and portions!
Ingredients
Crushed Tomatoes: I've made recipes with fresh tomatoes, which you can definitely use instead for this recipe, but I still haven't been as pleased as I am with canned crushed tomatoes. You won't find many canned products in my pantry, but lately I've been stocking up on more tomato canned goods. One reason is I don't have tomatoes in my garden this year and I haven't been happy with the flavors of tomatoes in the store. It's a nice shortcut when trying to save time with meal prep, that's for sure. I used crushed tomatoes with no added salt, so take that into consideration when looking at the amount of added salt!
Onion and Garlic: If you want to punch up the flavor, sauté the onion and garlic in the olive oil for a few minutes before adding the remaining ingredients. I've done it both ways with sauté and no sauté and either way is wonderful. Sometimes I just want to be able to throw the ingredients in and leave it which this recipe allows you to do.
You won't get the same flavors using garlic granules or powder, fresh cloves are best! But, if you don't have fresh on hand of course you can substitute for dry ingredients.
Basil and Oregano: I haven't made this recipe with fresh herbs, but I think I'd still like the flavors more with dried basil and oregano. I have made this many times with a lot more of each ingredient and it quickly became overpowering. I started to show more restraint and it paid off because it kept getting better and better. I didn't want a sauce that just tasted like tomatoes, but believe me, it doesn't.
Sea Salt: I love using sea salt but I understand most people use table salt. Depending on what salt you're using, start with ¼ tsp. and slowly increase until it fits your taste. I cook low sodium meals but this recipe still has plenty of salt and flavor!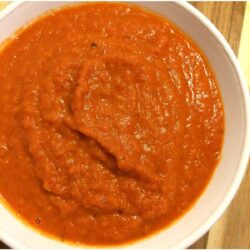 The Best Homemade Marinara Sauce
Sweet, flavorful, versatile, easy to freeze marina sauce that will make you never buy store-bought again!
Ingredients
¼

cups

olive oil, divided

5

tablespoon

minced garlic cloves

(about 8 large cloves)

3

cups

diced yellow onion

29

oz

no salt crushed tomatoes

(2 -14.5 oz. cans or about 3.6 cups)

1 ½

teaspoon

dried basil

1

teaspoon

dried oregano

2

tablespoon

water

(use to rinse out tomato can)

¼

teaspoon

sea salt

freshly ground black pepper to taste
Instructions
Sauté onion and garlic in either a large skillet or medium-sized heavy bottom pot with 2 tablespoon olive on medium heat. Cook until translucent (about 5 minutes).

Add canned crushed tomatoes, 2 more tablespoon olive oil, spices, water and bring to low simmer (only takes a minute or so). Decrease temperature to low for about 10-15 minutes.

Turn off heat and let sit to cool slightly.

Using blender or immersion blender blend all ingredients until smooth to your liking.
Notes
Be careful blending ingredients while hot. If using a blender such as Nutribullet wait until sauce has cooled some before blending.