These meatballs are incredible enough to enjoy on their own or you can add them to pasta or rice dishes or with your favorite sauce!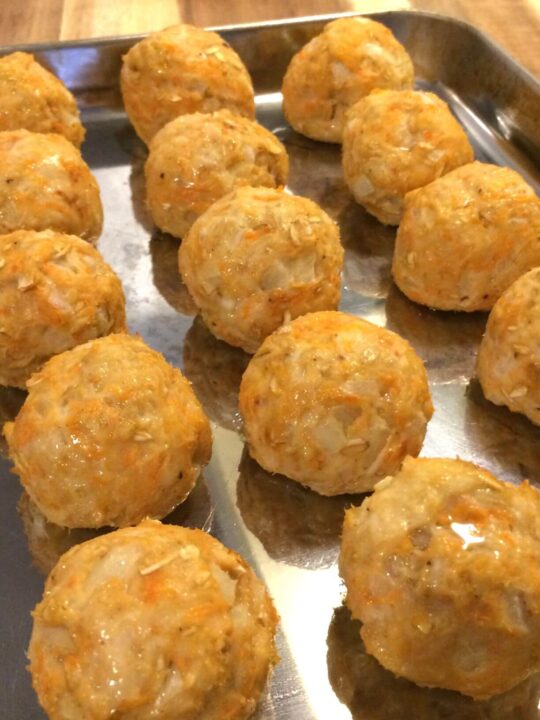 (This page contains affiliated links)
Have you ever mixed sweet potato with your ground meat? If not, you'll be hooked after trying this recipe. Sweet potato pairs so well with ground turkey, chicken, pork, and beef, adding a little sweetness, rich texture, and nutrition!
I'm a huge fan of meatballs, mostly because it's a fairly quick meal and you can easily pair it with so many grains and side dishes. It's also easy to mix in vegetables and other healthy ingredients to make mini, regular, or large meatballs! If you're looking for more meatball recipes you might also enjoy my Mini Honey Barbecue Meatballs, or Cellentani with Turkey Meatballs in Marinara Sauce
Sweet Potato Nutritional Benefits
Not only do you get loads of potassium, but also fiber, magnesium, B6, vitamin C, and more vitamins and minerals! If you keep the skin on you get even more benefits!
Chilling the Meatball Mixture
I would highly recommend chilling your meat mixture once all ingredients are combined. When you're mixing ground meat for a while it starts to get sticky. Chilling the mix will help firm it up and make it easier to mold into balls. You also get better flavor and texture with letting the meatball mixture rest.
I use rolled oats in this recipe instead of flour or other fillers. It keeps the recipe healthier and it's a wonderful binding agent. Rolled oats are hardier than quick oats and you'll want to let the oats absorb moisture from the mixture a bit before baking. Quick oats don't need to be rested as long.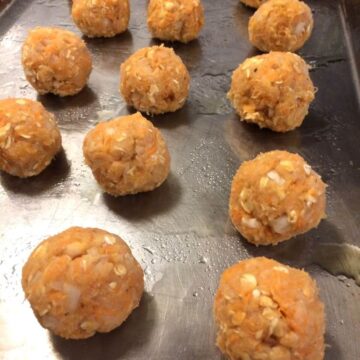 Why This Recipe Works So Well
When you're looking for a recipe that you can complete under an hour, try meatballs! These are just some of the reasons why I love this meatball recipe:
It's low cost. Meat these days are rising every week but you can often find deals on ground meat. Look for higher quality meats, organic if possible.
You can prep ahead of time by making the mixture the night before, then roll them together the next day and bake!
Added nutrition with sweet potato, onion, and oats.
Baking is healthier than cooking stovetop because you don't need as much oil. You get a cleaner looking meatball.
This recipe requires much less hands-on time since you're baking them!
Baking Meatballs
I used to cook most of my meatballs in a skillet, but then I started baking them and I've never looked back. It's such an easier method, requires less time over a stove, and they taste great! You have to have the right recipe so they turn out juicy on the inside and slightly crisp on the outside and my meatball recipes are just that!
You can choose to use parchment paper on your baking sheet but they work great when you spray the pan with olive oil, then spray the meatballs on top with oil as well.
What Do Sweet Potato Turkey Meatballs Pair With?
Rice
Noodles
Steamed or sautéed vegetables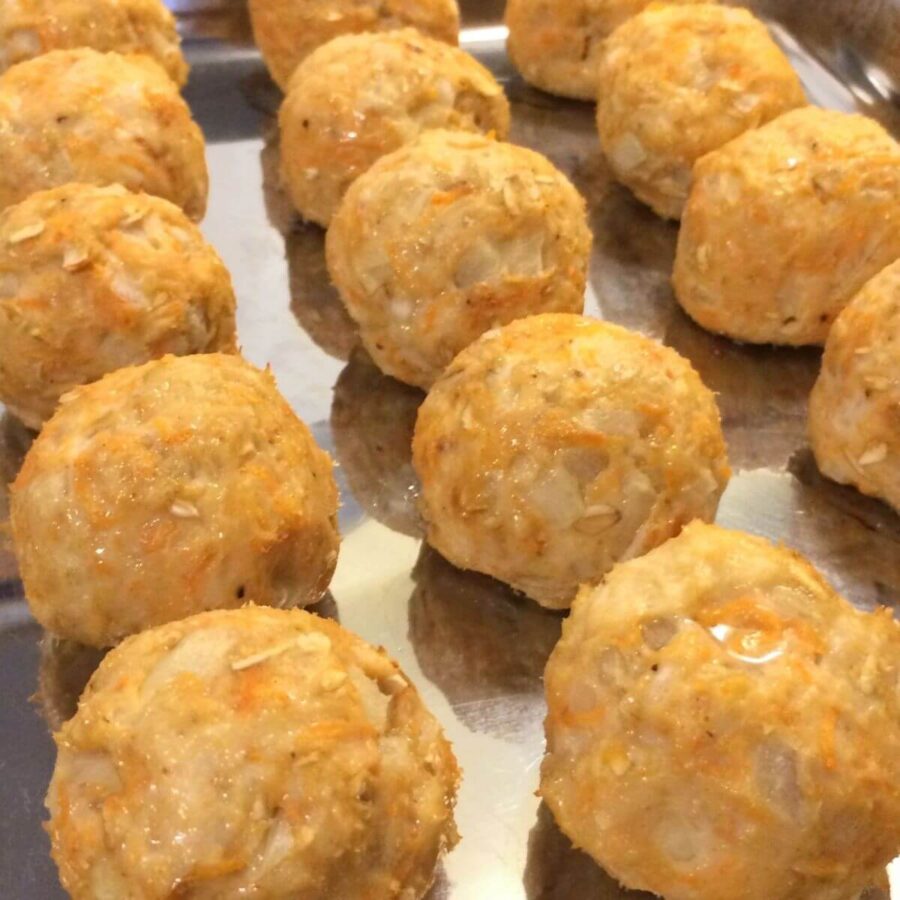 Baked Sweet Potato Turkey Meatballs
These meatballs are incredible enough to enjoy on their own or you can add them to pasta or rice dishes or with your favorite sauce!
Ingredients
1

pound

lean ground turkey

(or ground pork)

½

cup

yellow onion, finely minced

¾

cup

sweet potato

(peeled and finely shredded with excess liquid squeezed out)

½

cup

rolled oats, or quick oats

(use certified gluten free oats as needed)

1 ½

teaspoons

garlic powder

½

teaspoon

sea salt

½

teaspoon

paprika

freshly ground black pepper to taste

olive oil to spray pan
Instructions
Finely mince the yellow onion and shred the sweet potato using small holes of your cheese grater. Squeeze out excess liquid in the sweet potato, then loosen up the lump and measure ¾ cup from there.

Add all ingredients to a large mixing bowl and combine well using your hands or a wooden spoon.

Chill mixture in the fridge, covered, for at least 30 minutes. If you're using quick oats you don't need to wait as long. The Best option is to chill overnight.

Spray a large baking sheet with olive oil. Measure out 2 tablespoons and form balls, lining them up on baking sheet leaving space between each one. Spray tops of meatballs with olive oil.

Bake on middle rack for 15-17 minutes.

Enjoy as is or with any pasta or rice dish. Use a preferred dipping sauce or bbq sauce!