Avoid the oven with this ultimate shredded beef recipe! The flavor profile is so versatile that you can pair it with many different sides or use this shredded beef with barbecue, Mexican, Italian, and Asian-style dishes.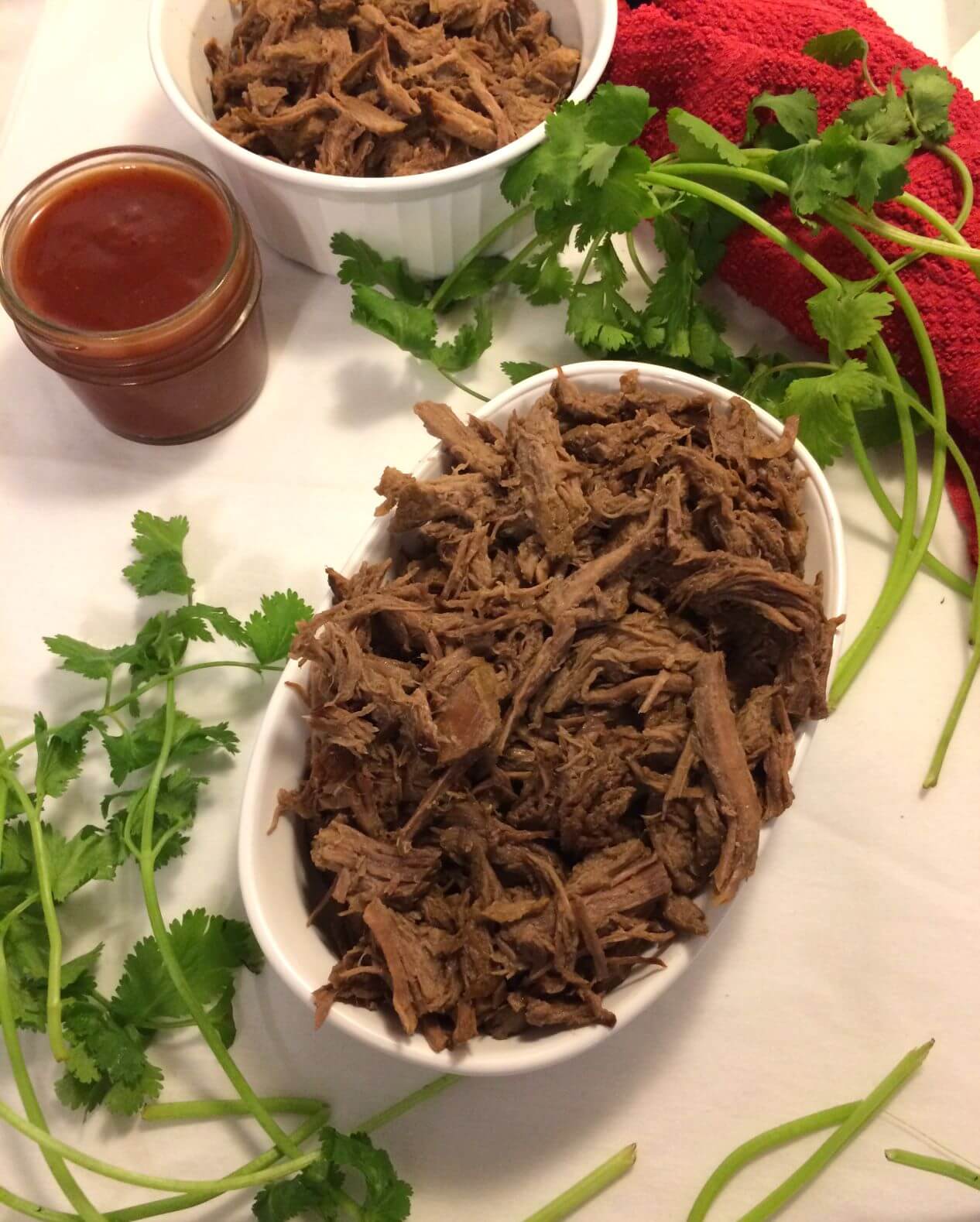 Most of my favorite meals to make, and eat, consist of shredded meat and some delicious sides. This stovetop shredded beef is such an incredibly convenient meal that makes enough for leftovers so you can make several different meals with one shredded beef recipe!
I decided to not go with strong Mexican flavors for this shredded beef, but instead stayed with a versatile flavor profile. It works incredibly well with barbecue, broth and gravy, or any Italian or Mexican dish. This recipe could be seen as Mexican shredded beef but it could just as well be turned into an Asian-style dish with the addition of a sauce!
How to Cook Shredded Beef Stovetop
I love making shredded beef in the oven using my Corning Ware Dutch oven. Although I get wonderful results every time, I don't want to be using my oven throughout the heat of Colorado summer. If you are looking for oven-roasted shredded meat, take a look at my Incredible Shredded Beef with Oak Smoked Flaked Sea Salt and Pork Shoulder Roast with Crackling.
When making this recipe stovetop, I still use my Corning Ware Dutch oven and I would highly recommend a Dutch oven over any other pot. You get a better seal, and they retain heat so well. Aim for around a 3-quart Dutch oven and not much bigger. If you don't have access to one, then use a heavy bottom pot with a tight sealed lid. You may also be interested in my Pulled Pork (Serve it Your Way) recipe that also uses a stovetop method.
Make sure to sear your beef in olive oil at the beginning of the cook. I choose to sear the meat directly in my Dutch oven, but you can always sear in a skillet and transfer to a pre-heated Dutch oven. I never use "high" heat but a medium-high that's hot enough to quickly sear the meat instead of boiling it. Use cast iron if possible for best results! Sear on all edges and sides of the meat, not just top and bottom. Typically, it takes 1-2 minutes to nicely sear each side. Once you place the meat in the pan, don't touch it for a couple minutes. When it's ready to flip it will peel away easily from the pan/pot.
This might be unconventional, but I don't season the meat when searing for this recipe. I wait until adding the broth and decreasing temperature for the long cook to add all seasonings. Even if you do a great job of rubbing seasonings all over the meat, you still lose some on your hands and/or a plate. It's a slight difference, but I can tell that the meat actually has more flavor when you wait to season it.
Immediately after searing the meat, add the broth and seasonings and as I like to write in my personal notes "stab stab stab" the beef all over. You might be thinking "oh no, you just seared the meat to keep the juices in, why on earth would you pierce the meat now?" You're soaking the beef in broth and sealing the dish tightly in a Dutch oven, so the juices will be retained in the dish just fine. Piercing the beef allows the broth and seasonings to thoroughly penetrate the meat and you get better flavor with melt-in-your-mouth beef. For an added bonus, lift the beef up a little to allow the broth to flow under.
After about 1 hour of cooking the beef in broth, I like to cut the slab into quarters. I'm able to do it easily and safely while still in the Dutch Oven but you could quickly remove it from the pot if needed. Do it fast if you need to and quickly return it to the pot. I don't do this step upfront because it's best to cook the beef whole as long as possible, but you also want to make sure that you're submerging the beef in the broth and juices as much as possible. You could also choose to just rotate the beef throughout the cook and expect to add just a little more time for super soft meat.
Think Freezer Meals
I love to cook up a large batch of shredded beef and portion it out into multiple containers to freeze for later. You can easily split this recipe up to make enchiladas, tacos/burritos, meat pies, barbecue sandwiches, and rice bowls.
Enjoy this Shredded Beef with these Recipes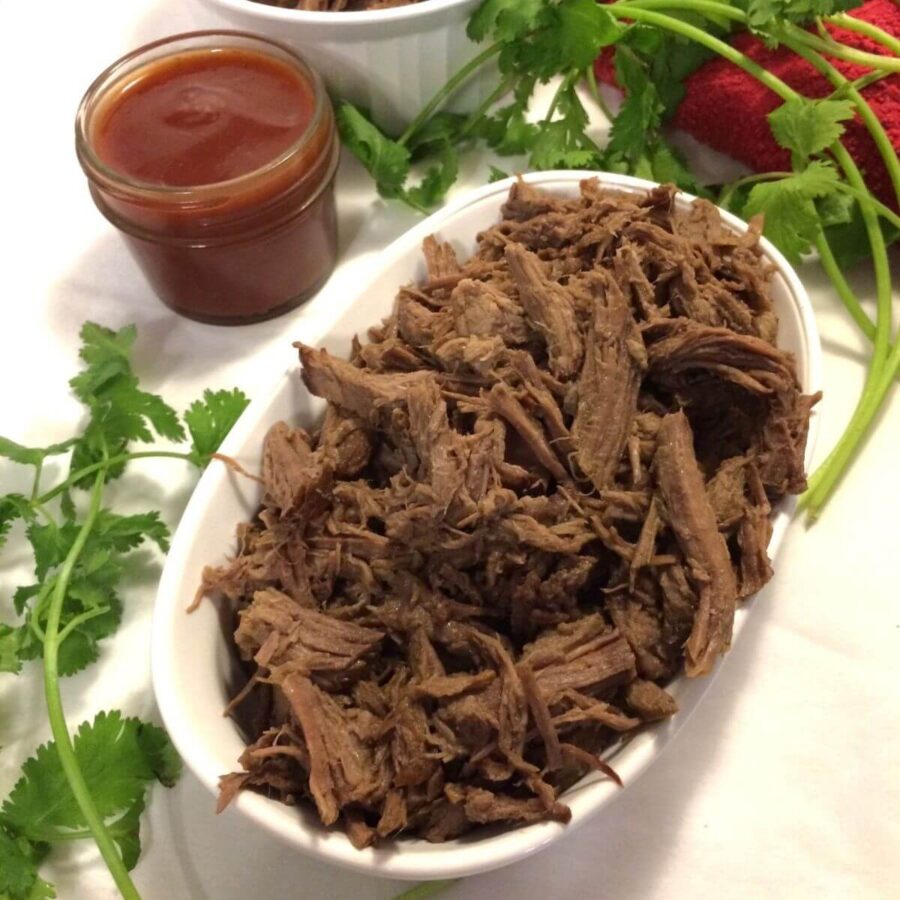 Print Recipe
Stovetop Shredded Beef
Avoid the oven with this ultimate shredded beef recipe! The flavor profile is so versatile that you can pair it with many different sides or use this shredded beef with barbecue, Mexican, Italian, and Asian-style dishes.
Ingredients
2 ¼- 2 ½

pounds

boneless beef chuck

2

tablespoons

olive oil

(plus a drizzle more if needed)

2

cups

low sodium vegetable broth

1-1 ¼

teaspoons

sea salt

½

teaspoons

rubbed thyme

2

teaspoons

garlic powder

freshly ground black pepper to taste
Instructions
Remove beef from fridge about 20-30 minutes before starting cook, keep all fat on.

Heat 2 tablespoon olive oil on medium-high heat in a medium-sized Dutch Oven (3 quart). Once hot, add meat to sear for about 1-2 minutes per side. Sear all edges and sides. Beef should pull away easily from the pan when it's ready to flip.

Add broth and seasonings, and spear the meat multiple times on each side with a knife. Lift the beef up to allow juices to flow under. Decrease heat to low and cover.

Cook for about 1 hour, then cut the beef into quarters to fully cover the meat. Continue cooking for about 3 more hours.

Beef should easily pull away with a fork at this time. Remove the meat to a plate, trim off any fat, and shred the beef using 2 forks. Return shredded beef to the pot, combine with juices and let marinade again for another few minutes.

Store any leftovers with juices in the fridge or freezer.