This is such a fun take on Mongolian Beef! It's gluten-free, with healthy veggies and a lighter sauce so you can enjoy even more of it!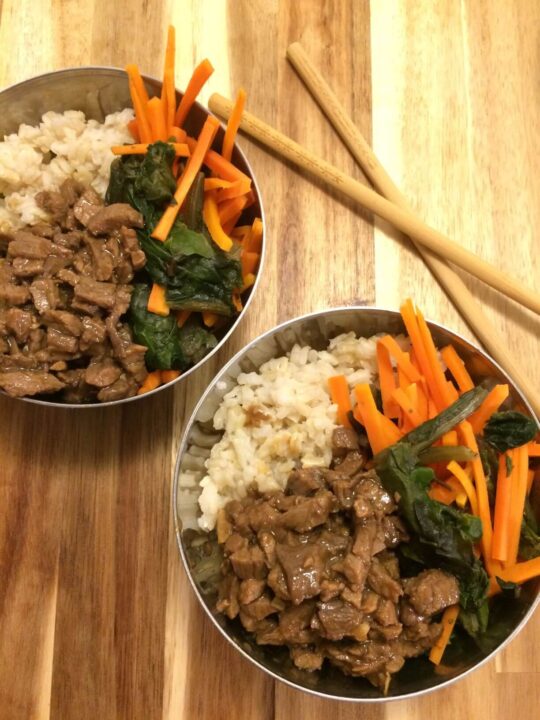 (This page contains affiliated links)
What makes this Mongolian beef bowl unique? It calls for brown rice, beet greens and carrots, and a lighter sauce. Also, my favorite part is the finely chopped beef!
I have made Mongolian beef so many times wanting to perfect my recipe. My main frustration was tough beef. How do you fix that?
Step 1- marinate the beef! This is such an important step for getting juicy meat!
Step 2- chop the beef. Whatever cut of beef you use, even if it's a tougher cut, when you marinate it then chop it you'll get tender and moist beef! So buy what you can in these expensive times and just use this technique!
Every time I made this recipe I would decrease the sodium more and more. The tricky part is, the meat itself might taste salty, but when you add it to rice the flavor and salt greatly diminish. So, you need just the right balance when adding your spices!
Steps for Making this Dish
I've included general steps with images for completing this dish. I have not included cooking the rice, which will be your first step. Continue below to the printable recipe card for detailed instructions.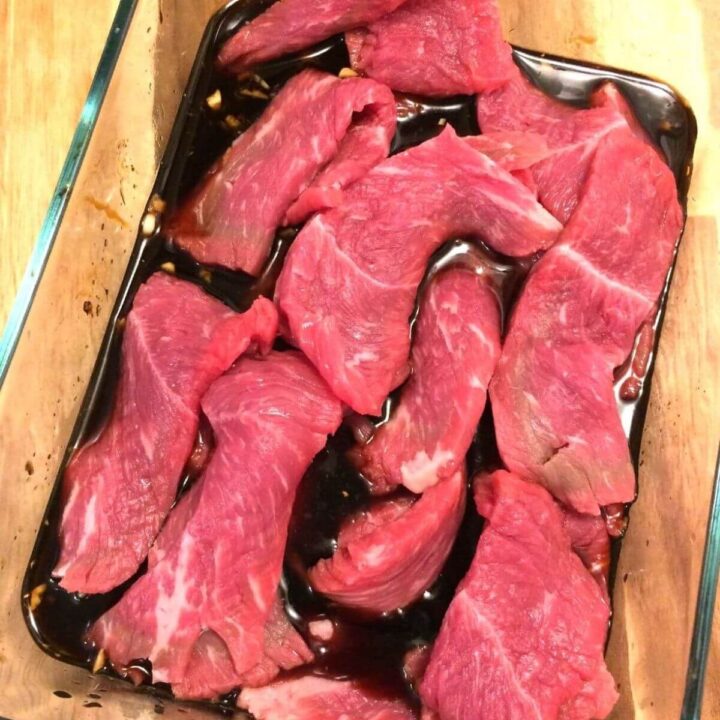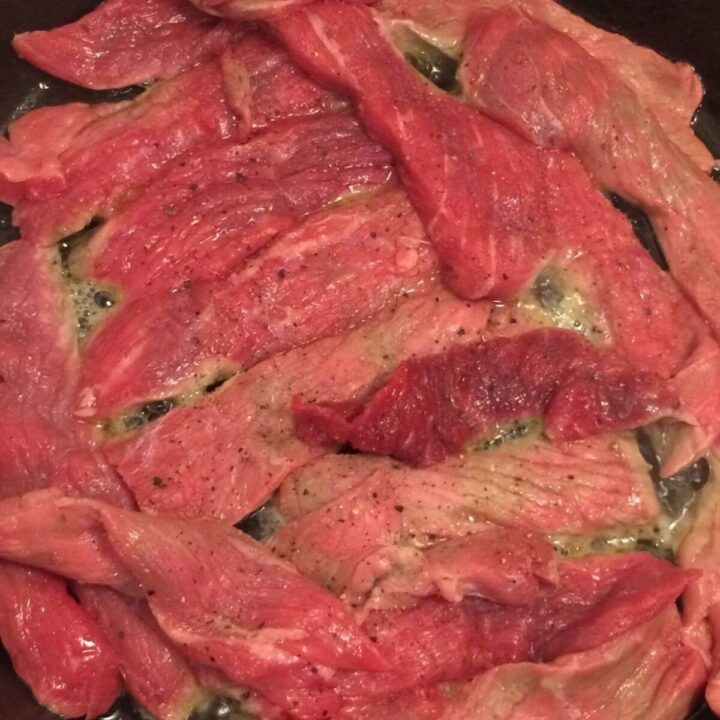 Slice the beef thin. Add the beef to your marinade and refrigerate for at least an hour if not 6-8 hours for best results.
Use tongs to transfer meat to a hot pan and cook until browned. Keep the marinade aside for later. Don't overcrowd your pan, so use 2 pans if necessary! If you cook it too low you'll just bowl the meat but we're also not going for a sear here at super killer hot temperature.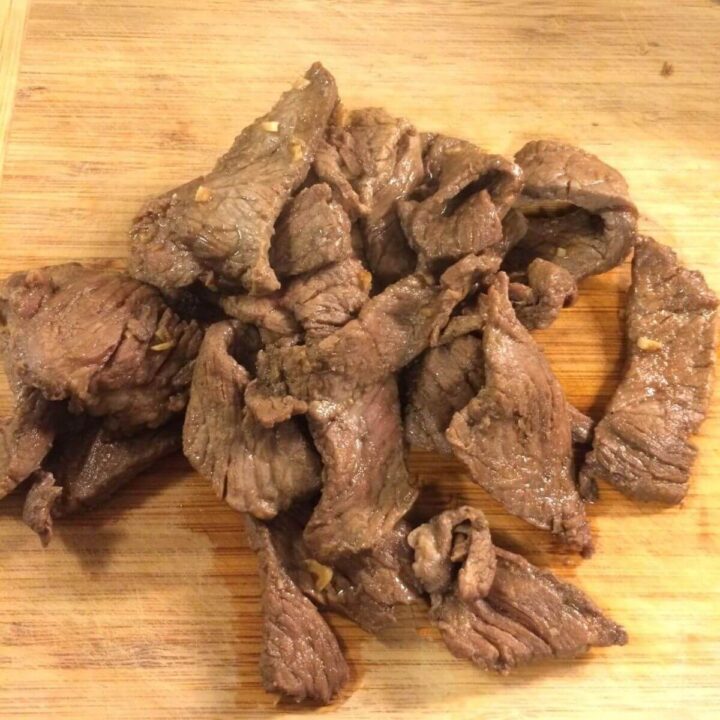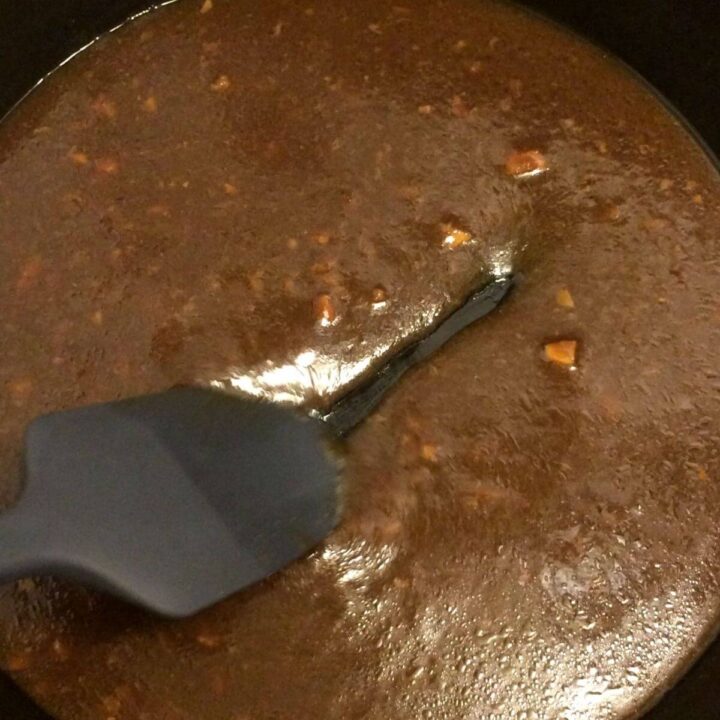 Remove cooked beef and leave covered to keep warm and keep the skillet on the heat. Keep any leftover juices in the skillet.
Using the marinade you set aside, add arrowroot powder (or cornstarch) and whisk. Add this marinade to the skillet you cooked the meat in and combine. Stir while cooking until it thickens.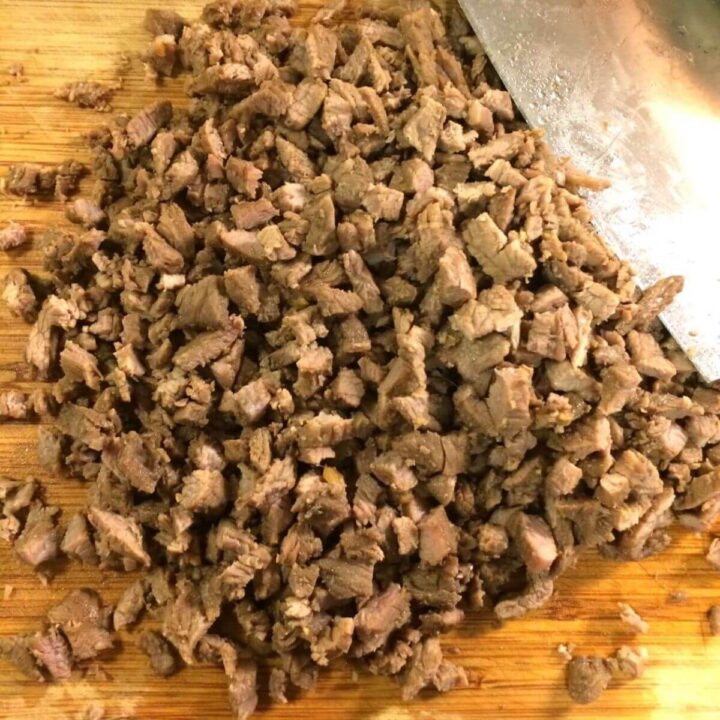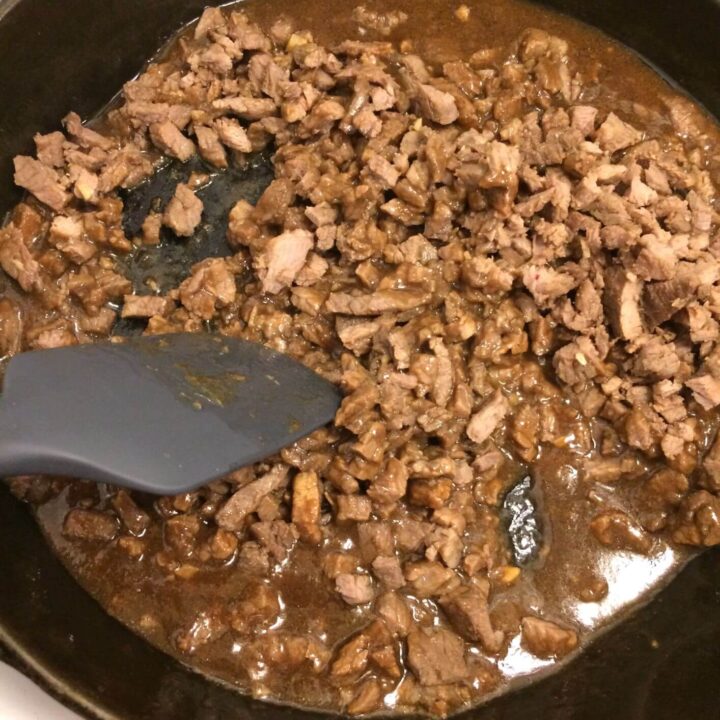 Finely dice the meat, really as small as you want. I love using this meat cleaver.
Return the chopped meat to the skillet with the marinade and mix together until it's heated through. Remove from heat and keep covered.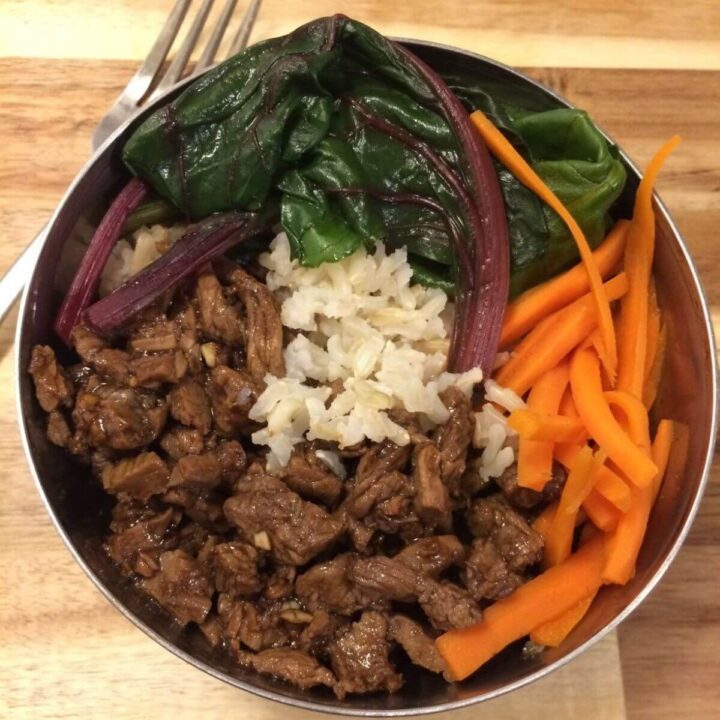 Sauté vegetables with a small amount of water until carrots are slightly softened and greens are wilted.
Choose your serving dish and portion out brown rice, minced beef, and cooked vegetables. Drizzle remaining sauce over each bowl and enjoy!
How Can I Change this Recipe Up?
I have changed this recipe so many times and you should too! I keep the marinade the same with the quantity of beef, but you can:
Keep the beef thinly sliced
Add different vegetables (green onion, broccoli, bell peppers, cabbage)
Use noodles or white rice
Make this into a Mongolian beef stir fry
Equipment Used
Cast Iron Skillets
Meat Cleaver
UPGood Silicone High Heat-Resistant Spatulas
11- Cup Pyrex Dish with Lid
Similar Recipes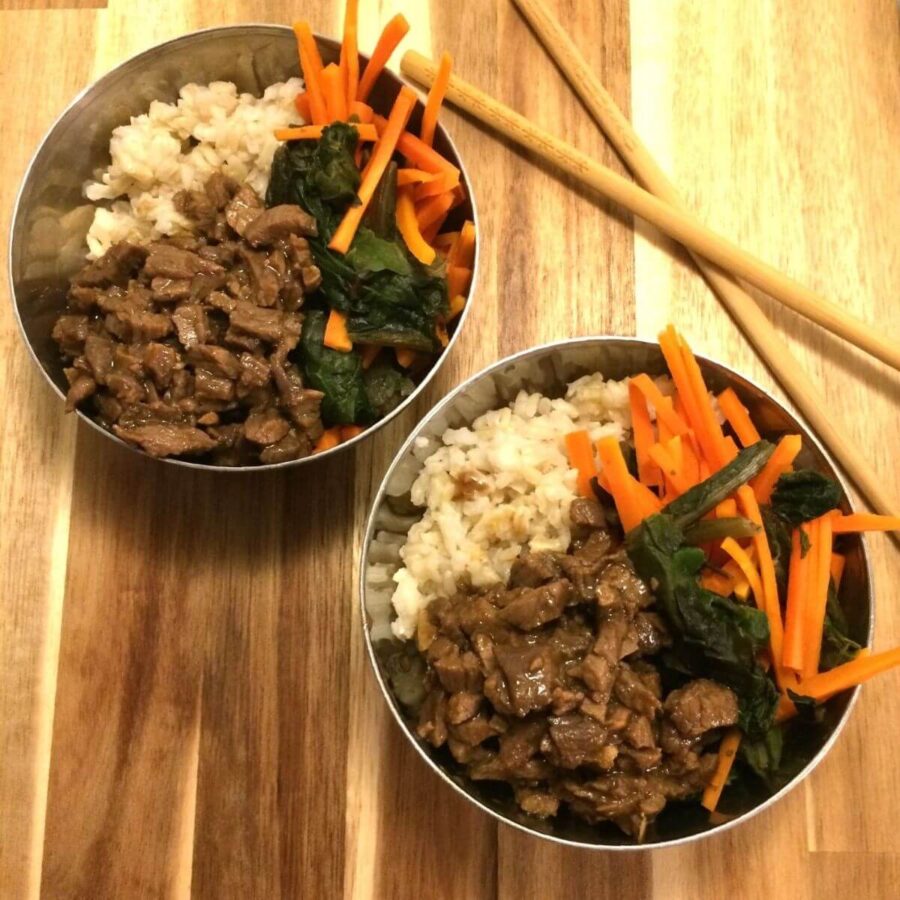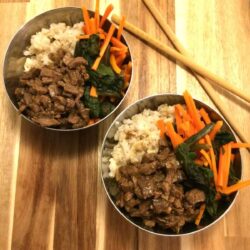 Mongolian Beef Bowl
This is such a fun take on Mongolian Beef! It's gluten-free, with healthy veggies and a lighter sauce so you can enjoy even more of it!
Ingredients
1

cup

uncooked long grain brown or white rice

(2 cups cooked)

1

lb

London broil

(or beef chuck)

1

tablespoon

olive oil
For the Sauce
5-6

tablespoon

liquid aminos or soy sauce

*See Note 1

1

teaspoon

grated ginger

(I grate mine from frozen)

3 ½

teaspoon

blackstrap molasses

1

teaspoon

maple syrup

*See Note 2

1 ½

tablespoon

minced garlic

(or up to 2 tablespoon)

6

tbsp

water

1

teaspoon

arrowroot powder

(or cornstarch)
For the Vegetables
1 ½ -2

cups

julienned carrots

5-6

cups

beet greens

(cut off 1 inch below base of leaves)

¼

cup

water
Instructions
Marinate the Beef
Slice beef thin against the grain.

In a small bowl combine all ingredients for the marinade and mix well. Add beef and the marinade to a shallow dish with a lid and refrigerate for 6-8 hours. If you really don't have time for marinating it that long, aim for at least 1-2 hours.
Cooking the Meat
Heat a large skillet (cast iron preferred) to medium heat with 1 tablespoon olive oil.

Remove meat from the marinade, letting juices drip off back into the bowl. Set marinade aside to use later.

Cook for about 3 minutes per side or until nicely browned. Remove meat from the pan, keeping juices in the pan, and reduce heat to low-medium. Finely chop the meat using a butcher knife and set aside.
Make the Sauce
Using the original marinade you set aside, add arrowroot powder and whisk. Add this marinade to the hot skillet and combine. Cook while stirring often until it thickens. Return the chopped meat into the skillet and mix together until it's heated through. Remove from heat and keep covered.
Cooking the Vegetables
Using a large skillet, add water and heat to low-medium. Once hot, add carrots and beet greens and sauté for about 6-8 minutes. Keeping a lid on the pan will shorten cook time but just watch to make sure they don't overcook. Immediately remove from heat and transfer to another bowl to stop the cooking.
Put it All Together
Choose serving dishes and portion out rice, beef, and veggies and drizzle any remaining sauce. Enjoy!
Notes
*Note 1: If you're wanting lower sodium you can easily decrease the liquid aminos to 4-5 tbsp, then slowly add more to taste. Just know that it will taste different cold than after it's heated (the salt comes out stronger after heated). If you feel like it's still too much salt, just add a teaspoon of water at a time to balance it out.
*Note 2: If you don't want this sauce as sweet you can decrease the maple syrup, or start lower and slowly add in more to taste. Same as stated above for the liquid aminos, the flavors will be stronger once heated so taste once heated, not before when cold.