This easy chicken lo mein doesn't lack in flavor but it is lower sodium, refined-sugar free, and loaded with healthy vegetables!
Chicken Lo Mein can be such an easy recipe and packed with incredible flavors! I would estimate that I make an Asian dish at least once a week if not twice because they're always so flavorful and they can cover the bases with having a protein, carb, and vegetables all in one dish. However, if you follow just any old recipe you can end up with a recipe high in sugar and sodium. Although those ingredients do make food taste really good, I'm all about keeping it healthy and still amazingly flavorful.
This recipe took a lot of tweeking and I continuously decreased the sodium to make it something I was happy serving my whole family but making sure it didn't lack flavor. I have made this recipe with many different noodles. Although Lo Mein is typically served with egg noodles, do get trapped in a box with this. Try different kinds of noodles because each will give you different texture!
Noodles
I really like using Fettuccini noodles for this dish. One reason is that you get more texture from fettuccini noodles being that it's a little wider, and not as soft as a lo mein noodle.
You can use spaghetti noodles, lo mein, or make it a chow mein with easy switch of noodles.
Rinse or Don't Rinse the Noodles
Rinsing your noodles immediately after they're cooked will help to stop them from cooking as well as remove additional starch. I like to do this because they're not as sticky. But, many cooks will say to not rinse noodles because keeping the starch allows the sauces to stick better. It's really up to you!
Vegetables
There are so many great vegetables that you can add to a Lo Mein dish. In this recipe I use red bell pepper (for color, flavor, and texture), yellow onion (for flavor), and carrot (color, texture, flavor).
I've used broccoli as well which can add a lot of crunch. Other options are:
snow peas, mushrooms, green onion, cabbage, multi-colored peppers.
For the Sauce
Many recipes will call for oyster sauce or hoisin sauce. First off, I don't buy these ingredients. I find that I don't need them and they're so particular with what you can use them in that I just avoid it. I'd rather buy ingredients that have multiple uses and are lower cost.
I use low sodium vegetable broth in this recipe which helps give the sauce more depth and flavor. I will add that some vegetable broths have a tomato base which doesn't work as well for this recipe. Just check the ingredients and make sure tomato isn't the top ingredient.
Liquid aminos is our go-to instead of soy sauce. While it is gluten free, which is as bonus for man people, we just prefer it for overall taste and you don't have to worry about any msg.
I freeze my ginger because I tend to buy it in bulk. I pull it straight from the freezer, peel, and grate it. Because it's previously frozen it tends to be a bit wetter and packs into the measuring spoon more. So, if you're measuring yours dry I would pack it in to get equal amounts. You can definitely taste the ginger in this recipe but it's not overboard. You can always cut it back to start and taste test to see if you want to add more at the end.
Arrowroot powder is such a great thickener. It's more natural and healthier than cornstarch and doesn't add any flavor. This sauce is light and not too thick. When refrigerated it does thicken up a lot. I have chosen to keep the sauce on the thin end so it doesn't get "gloopy" but you can also increase the arrowroot powder to get it a bit thicker.
Can I make this gluten free?
It's super easy to make this dish gluten free. There are so many options for gluten free noodles out there whether you're wanting an egg noodle or other. Barilla is a common brand in the U.S. that has a gluten free fettuccini and is lower cost.
Liquid aminos are gluten free while not all soy sauces are.
Arrowroot powder is gluten free and a great thickening agent.
Everything else in the recipe is straight forward with fresh vegetables, seasonings, and broth!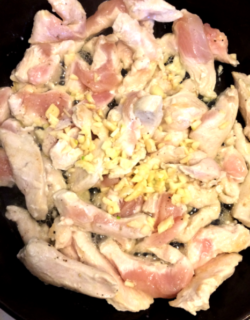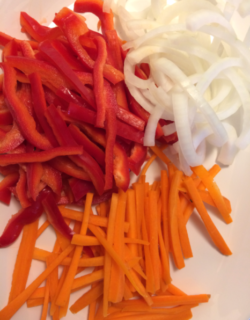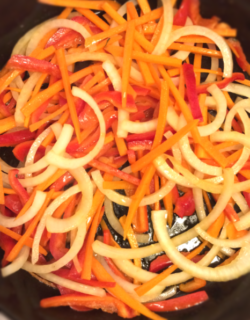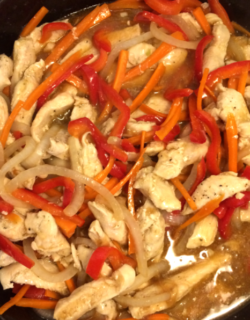 I have many more Asian recipes to post I'm just very picky about making sure they're just right before sharing! Be patient and there will be plenty more to come soon!
More Similar Recipes
If you enjoyed this recipe and you're looking for more like it, try one of my other delicious pasta recipes here:
Healthy Chicken Lo Mein
This easy chicken lo mein doesn't lack in flavor but it is lower sodium, refined-sugar free, and loaded with healthy vegetables!
Ingredients
8-9

oz.

fettuccini or lo mein noodles

about 4-5 cups cooked

2

lbs

chicken breasts

2 large breasts. About 4 cups sliced

sprinkle

sea salt and freshly ground pepper to season chicken

1 ¾

cups

red bell pepper

thinly sliced

1 ¼

cup

carrots

about 2 carrots thinly sliced

1 ¼

cup

yellow onion

thinly sliced

2

tablespoon

minced garlic

optional 2

cups

broccoli

sliced

3

tablespoon

olive oil

split

optional topping of ground red pepper flakes or chili sauce
For the Sauce
1

cup

low sodium vegetable broth

¼

cup

liquid aminos

or coconut aminos, soy sauce

½

teaspoon

garlic powder

2

teaspoon

apple cider vinegar

1

teaspoon

freshy grated ginger

I grate mine from frozen

3

teaspoon

arrowroot powder

option for more if you want a thicker sauce

½

teaspoon

sesame oil

to add at end of heating sauce
Instructions
Cut all vegetables and set aside (keep garlic separate).

Slice chicken breasts in half long ways to fillet open. Thinly slice chicken into strips.

Cook noodles per instructions. Typically boil water, add noodles and cook for about 12 minutes for fettuccini and 5-6 minutes for lo mein. Drain, and rinse with cold water to stop cook. Set aside.

Meanwhile, combine all ingredients for the sauce (except for sesame oil) in a small saucepan. Heat stove to low-medium heat and cook for about 20 minutes or until a simmer (stirring occasionally). Turn off burner and add ½ teaspoon sesame oil, combine.

While sauce cooks, heat 1 tablespoon olive oil in a large skillet and heat to medium heat. Once hot, add chicken, season with sea salt and pepper, and sauté for about 5 minutes.

Add garlic to skillet and continue cooking for another 10 minutes or until cooked. Drain liquids as they build up. Set chicken aside but keep burner on.

In the same skillet add 1-2 tablespoon olive oil and all vegetables. Sauté for about 5-6 minutes covered. Add sauce and chicken and combine together to cook for another few minutes.

Option to mix noodles in with dish to serve or serve chicken and vegetables over noodles.