Your family and friends will love this cheesy potato bread! The recipe is unique, incredibly flavorful, and super addicting! While the instructions are for single portions I include the option for making larger loaves!
(This page contains affiliated links)
This cheesy, garlicy, potatoey bread is fun to make and even more enjoyable to eat!
I came across a YouTube video with a German recipe for "Nur Kartoffeln," which translates as "just potatoes." The portions were all in grams or by general amount, such as "6 potatoes." But, I loved the general concept so I started whipping up my own recipe!
I started with about half the recipe I had seen, and made 4 large loaves. The thing is, once you start eating these it's really hard to stop! So, I decided to make even smaller portions! My recipe is for 6 portions and they are just the perfect size!
The entire process is relatively easy and the ingredients are simple! The rise time is the longest step of the process, but it's not wasted time because you can make the filling while the dough rises.
What Does this Bread Taste Like?
This is a savory bread with notes of garlic and the tiniest tang from the Greek yogurt.
I've made this recipe with various cheeses and you can choose what you Love! I recommend a white and less oily cheese. I don't think a cheddar cheese would be the best choice with the grease it produces but you can always try it, and let me know how it turns out!
Steps for Making this Bread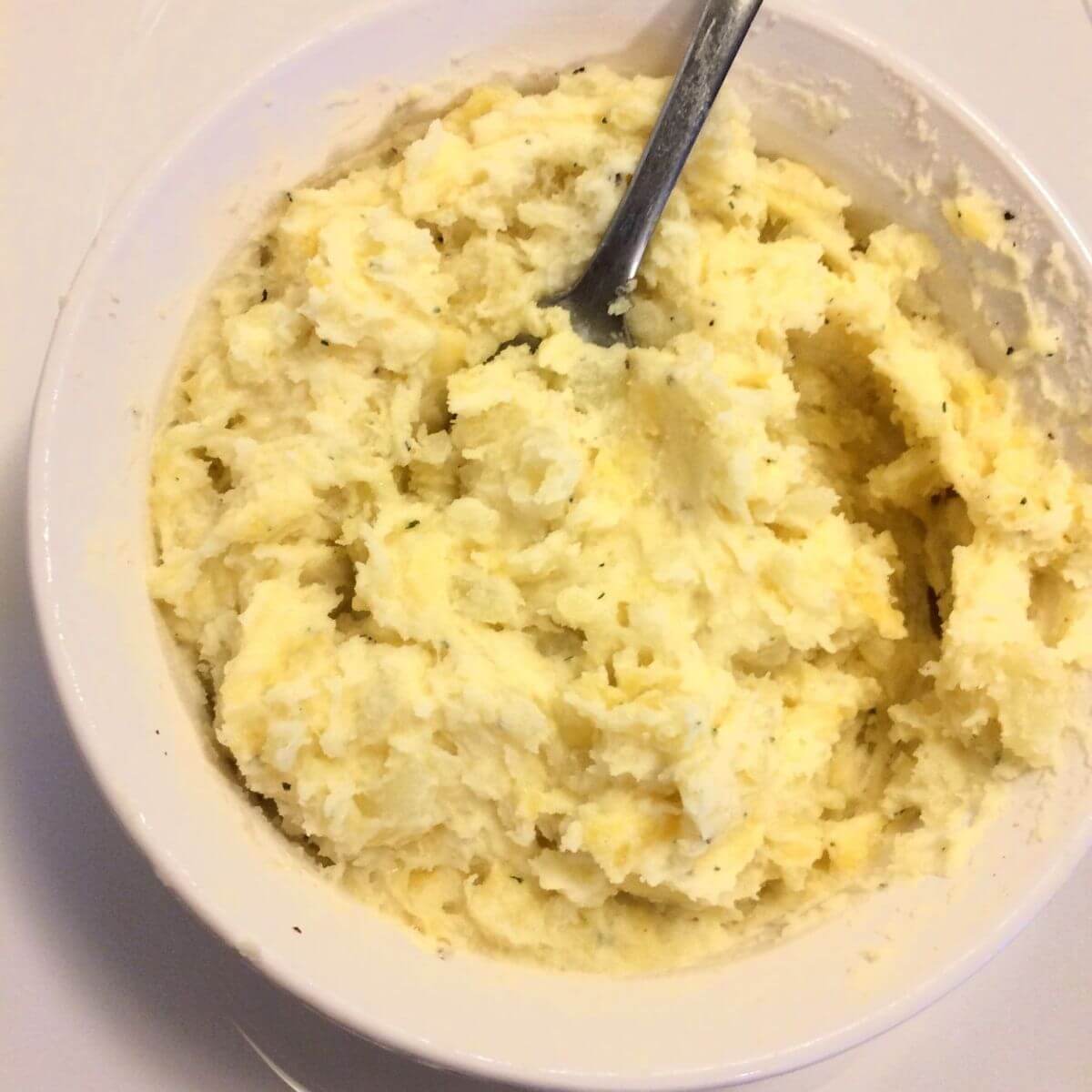 Make the dough. It's best to keep it a bit sticky, as you can see in the first image. Cover and let rise for about 1 hour.
While the dough rises, make the filling.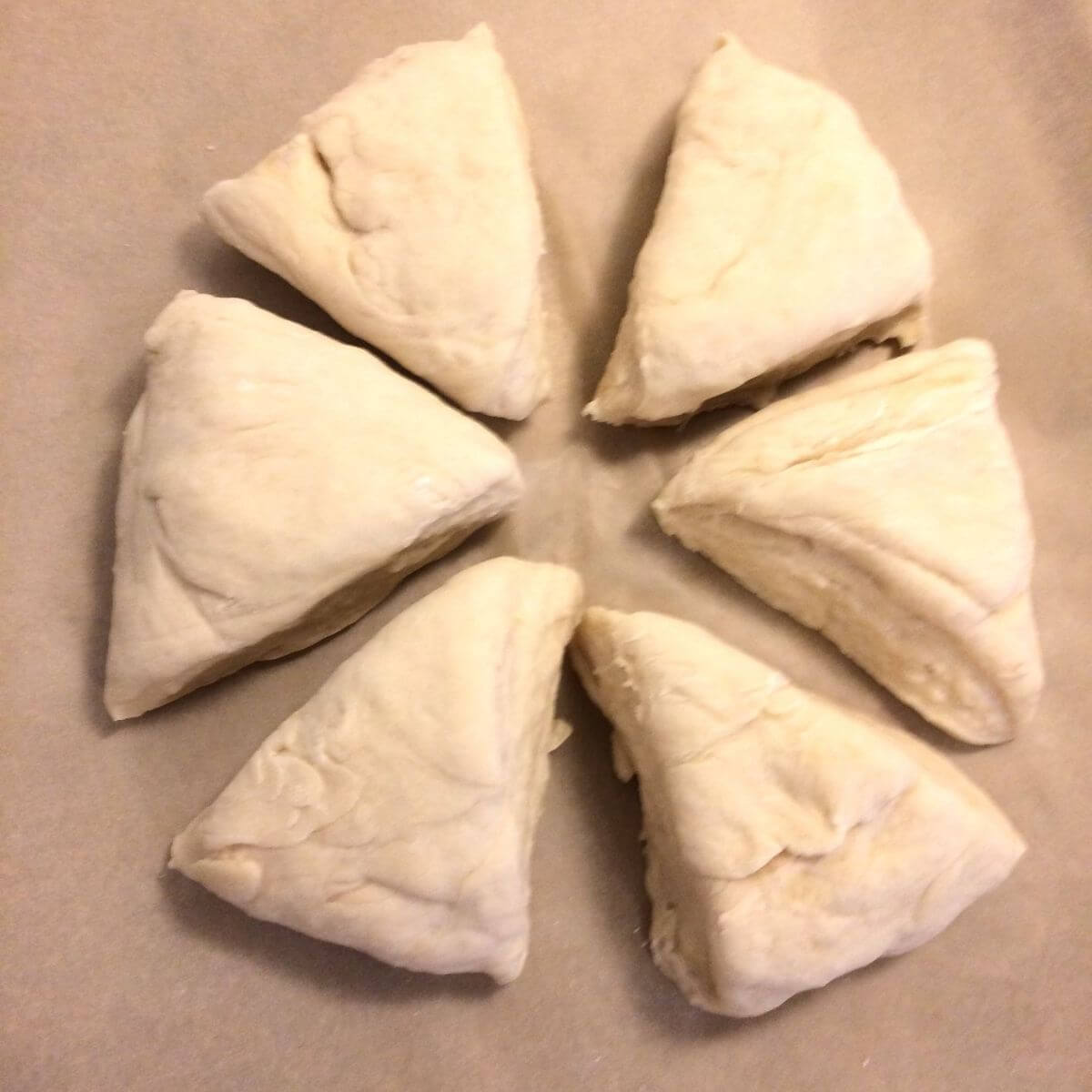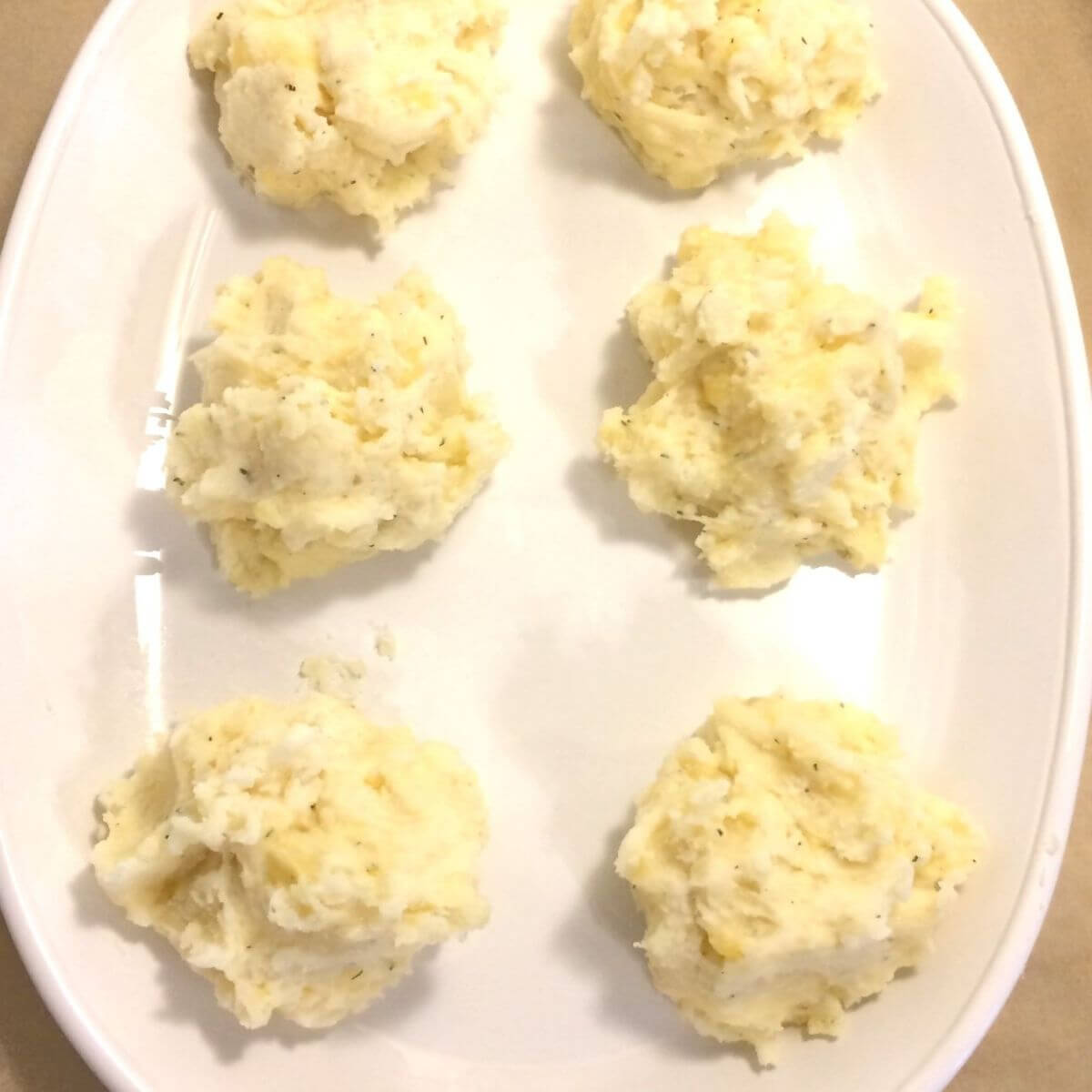 Once the dough has doubled in size, cut it into 6 portions.
Split the filling into 6 portions. I find it easiest to just scoop out equal portions onto a plate to have it ready to go.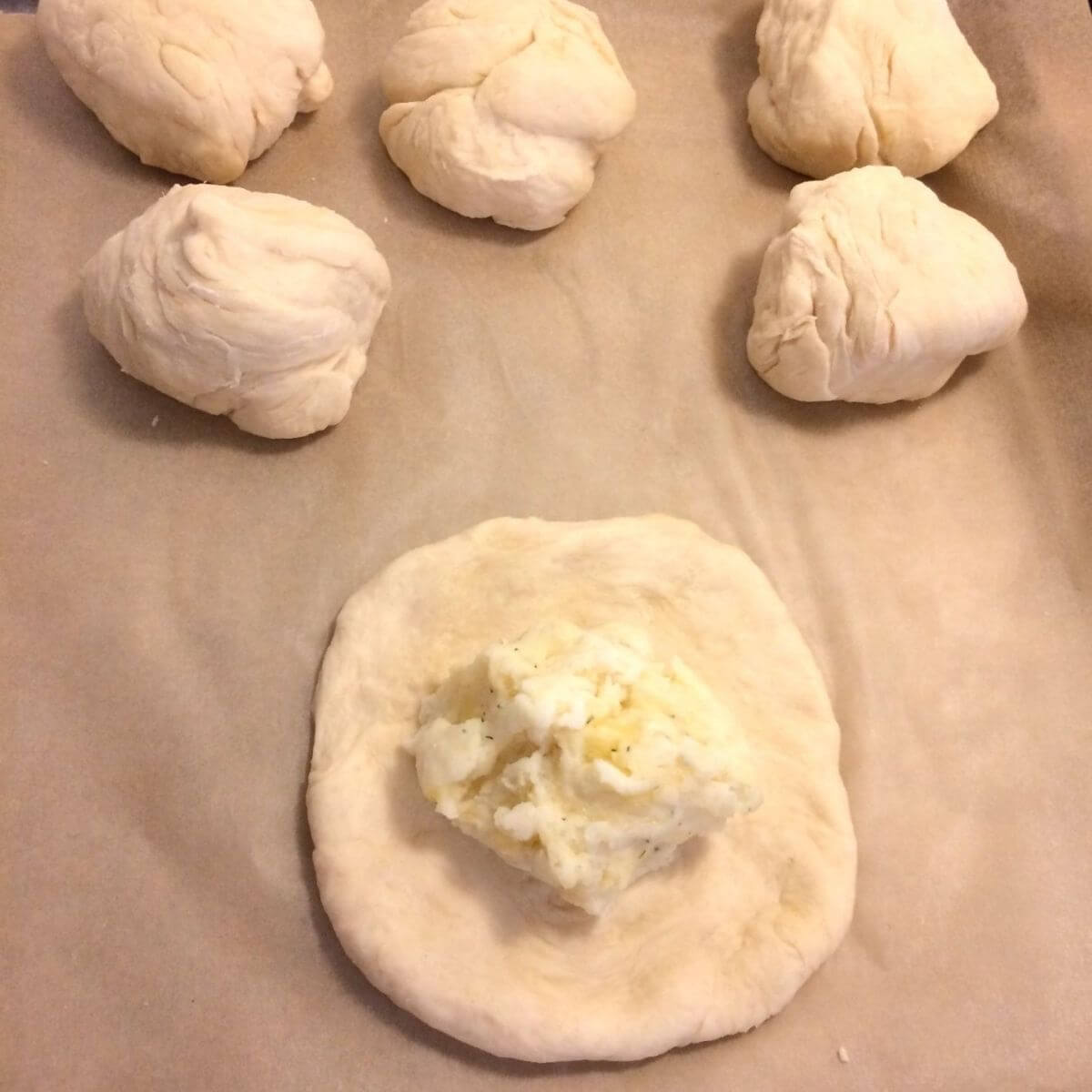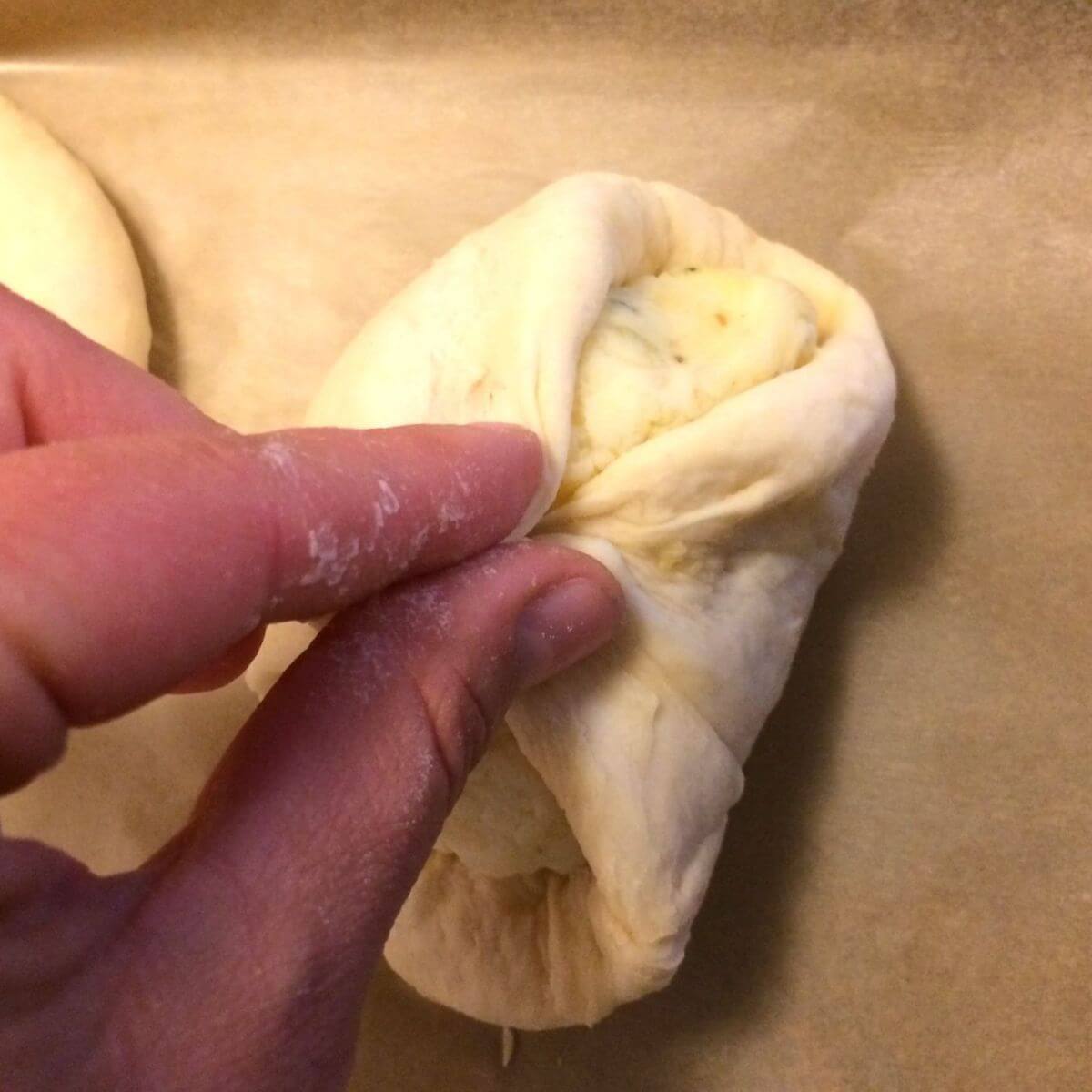 You can press the filling into a firm ball if you prefer, but it doesn't really matter. Press out a single portion of the dough into approximately a 5 inch round.
Seal the dough around the filling by pinching opposite sides together, then gather a little at a time to bring to the middle and pinch until it's completely closed off.
Gently press the dough between your hands and rock it around a little to really seal it closed (don't squeeze too tight)!
Repeat until you have 6 balls.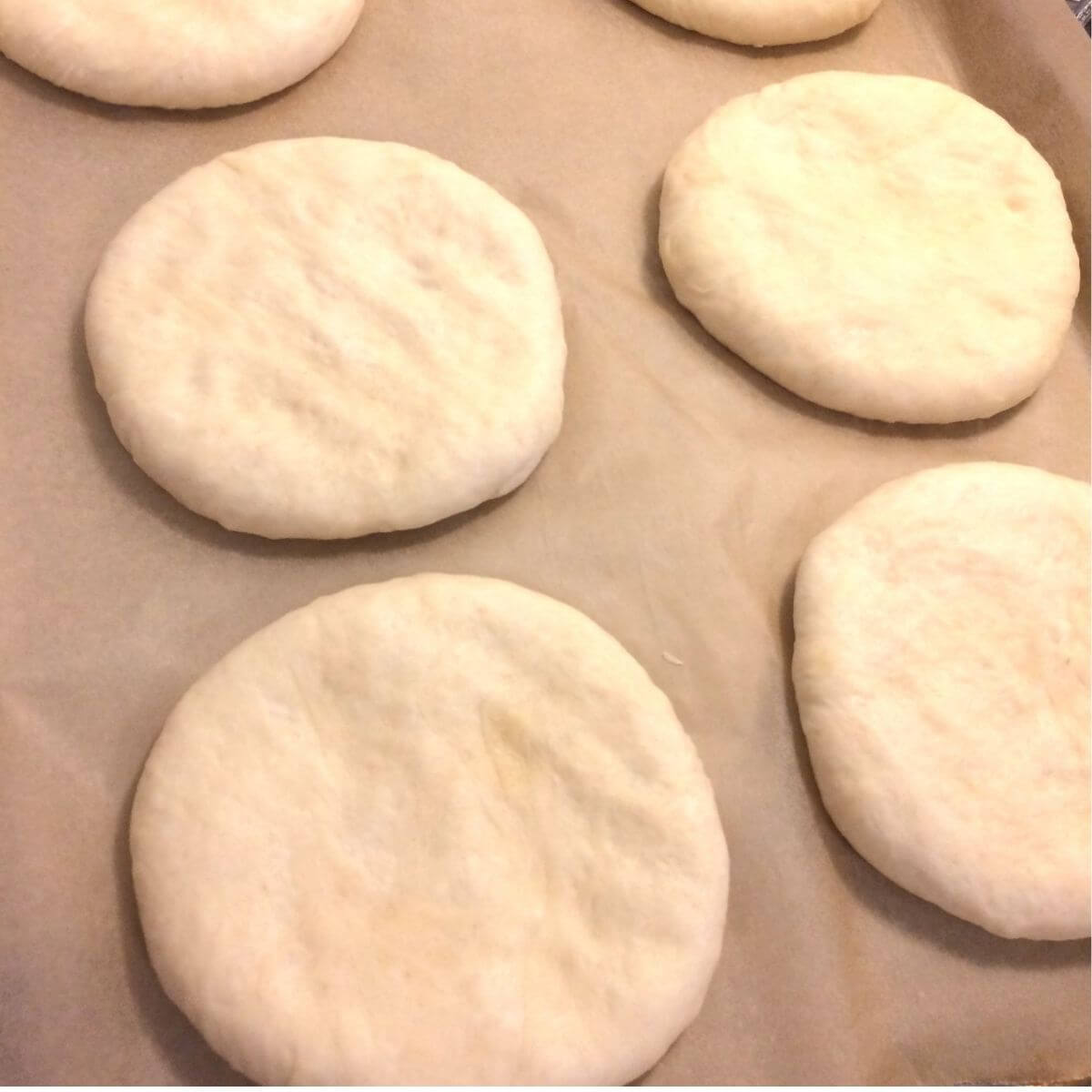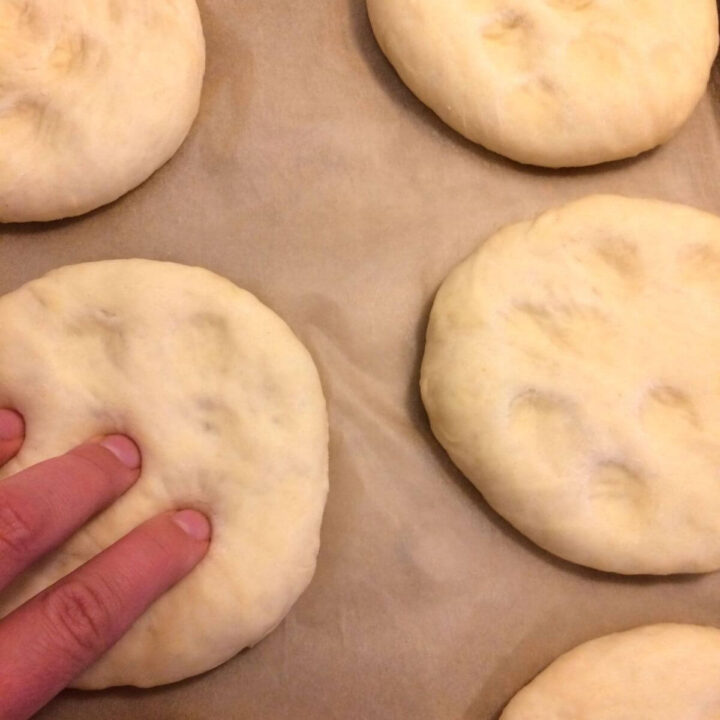 Lay out each ball on a cookie sheet lined with parchment paper. Gently flatten using your fingertips until each round is about 4 ½ inches in diameter. Be gentle with this step!
Cover and let rise for 15-20 minutes while oven preheats.
Use your fingertips to gently press little indents into each round.
Brush each round with egg wash.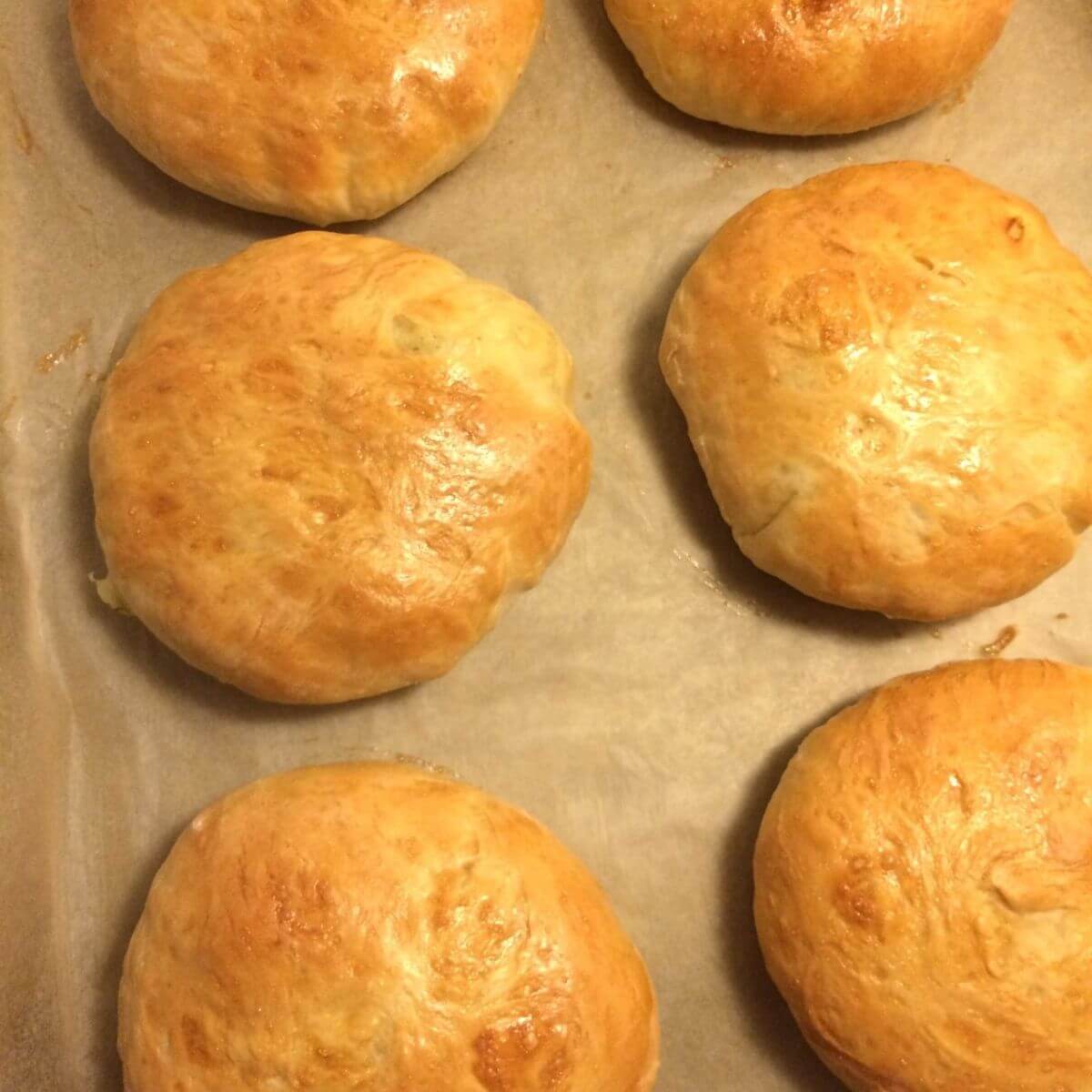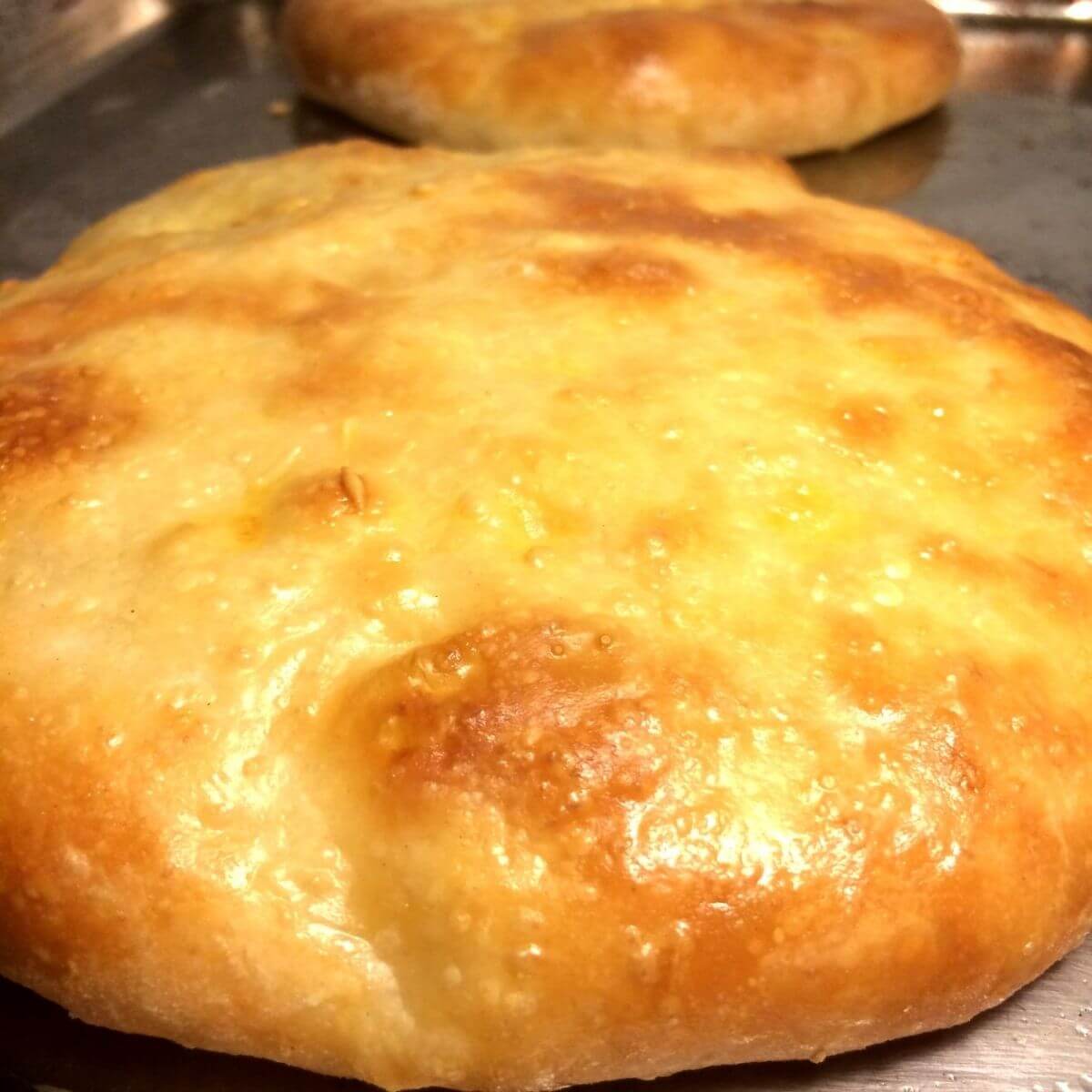 Bake at 350℉ for 30 minutes. Transfer on a cooling rack to cool slightly before serving. Serve warm, but these are also great cold for leftovers!
Option to make larger loaves by splitting the dough and filling into 4 portions instead of 6. Follow same process and bake time for larger loaves
Optional Other Filling
You could make this recipe into so many different things! Some other filling options are: green olives, finely diced onion/ green onion, salami, red pepper flakes, jalapeno, other veggies that don't contain too much liquid.
If you do change up the filling share what you did in the comments below!
Equipment Used
TeamFar Baking Sheets. I use the 12 x 15 inch baking sheet from the set for this recipe.
Saf Instant Yeast
If you Care Baking Parchment Paper
Similar Recipes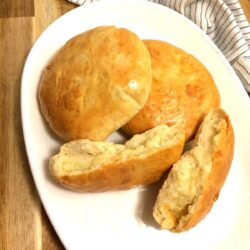 Cheesy Potato Bread
Your family and friends will love this cheesy potato bread! The recipe is unique, incredibly flavorful, and super addicting! While the instructions are for single portions I include the option for making larger loaves!
Ingredients
1 ½

cups

russet potatoes, cubed

(equal to about 3 small potatoes)

1

cup

warm milk

1

teaspoon

yeast

2 cups + 3 tbsp

all purpose flour

(option to use bread flour but you might need to add extra)

½

teaspoon

sea salt

2

teaspoon

raw honey

1

tablespoon

olive oil
For Potato Filling
1

tablespoon

unsalted butter, softened

¼

teaspoon

sea salt

¾

cup

packed Manchego cheese

(also try a Dill Havarti cheese)

¼

cup

plain Greek yogurt

(any fat percentage)

2

teaspoon

garlic granules

freshly ground black pepper to taste
For Egg Wash
1

egg

2

teaspoon

milk or water

*Option to brush baked buns with melted butter after bake.
Instructions
Make the Dough
Warm the milk in a saucepan on low-medium heat. You can dip your finger in past your cuticle and it should be warm but not hot.

Remove the milk from the heat and transfer to a separate bowl. Add the yeast and mix. Let it sit for about 5-10 minutes to let the yeast activate.

Meanwhile, in a large bowl, mix together the flour, salt, honey, and olive oil. Add in the activated yeast milk and mix all ingredients together until they form a dough. If you've really worked it and it continues to be super sticky you can add a teaspoon of flour at a time but don't overdo it. It will be a bit sticky and won't be a smooth dough ball and that's okay.

Cover the dough and let it rise for 1 hour or until doubles in size.
Make the Mashed Potato Filling While the Dough Rises
Chop potatoes into cubes. Add potatoes to a small saucepan with enough water to cover them. Bring to a boil over medium heat, then decrease to medium-low and continue cooking until fork tender (about 10 minutes).

While the potatoes cook, mix all other filling ingredients together in a medium-sized bowl.

Drain cooked potatoes and add them to the filling bowl. Mash and whip potatoes until they're as smooth as you'd like.

Scoop out the filling into 6 equal portions onto a plate and set aside.
Forming the Buns
Once the dough has risen, lay it out on a lightly floured surface and cut it into 6 equal portions.

Line a baking sheet with parchment paper.

Work 1 portion of dough at a time and press it out to a 5 inch round on the parchment paper. Place 1 portion of the filling in the middle, then gather the ends of the dough to the center to pinch and seal closed. Rock the dough ball gently in your palms to seal it closed fully.

Repeat this with 5 remaining portions.

Line up the dough balls 3 in each row leaving space between each one.

Gently press out each dough ball to be about 4 ½- 5 inches in diameter. You can press them out between your hands as well to start but be gentle to not break the seal.

Cover the buns to rise for 10-15 minutes.

Meanwhile Preheat the oven to 350°F and whisk together the egg wash.

After rise, make indents in each round by pressing down gently with your finger tips. Brush each one with egg wash, covering the tops and sides.
Bake
Bake on middle rack for 30 minutes. Option to brush them with melted butter after bake.

Transfer to a cooling rack to cool slightly but serve warm!