Breakfast just got a whole lot more enjoyable with these delicious and easy vegetable breakfast muffins!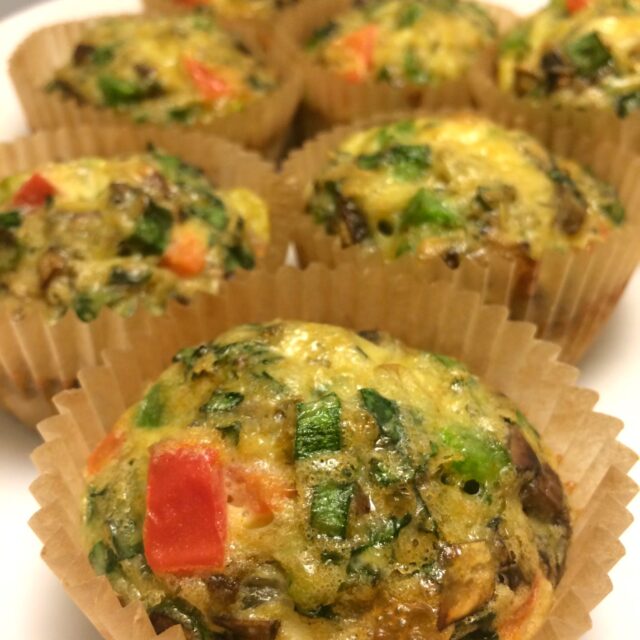 (This page contains affiliated links)
Last updated 1/21/22
Give your morning a lift with these delicious Garden Vegetable Breakfast Muffins. These are easy to prepare the night before and pop in the oven the next day. Or, make a double batch and freeze some to have a quick and prepared meal ready to go for the following weeks.
There are many reasons to love a good breakfast muffin. They don't take long to prepare and they have everything healthy you could want in one small package. It's not always easy though to load an egg muffin up with vegetables without getting a soggy bottom or deflated top.
I have made these muffins several times and made many changes to get them just right so you get a fluffy, flavorful muffin, without the soggy bottom!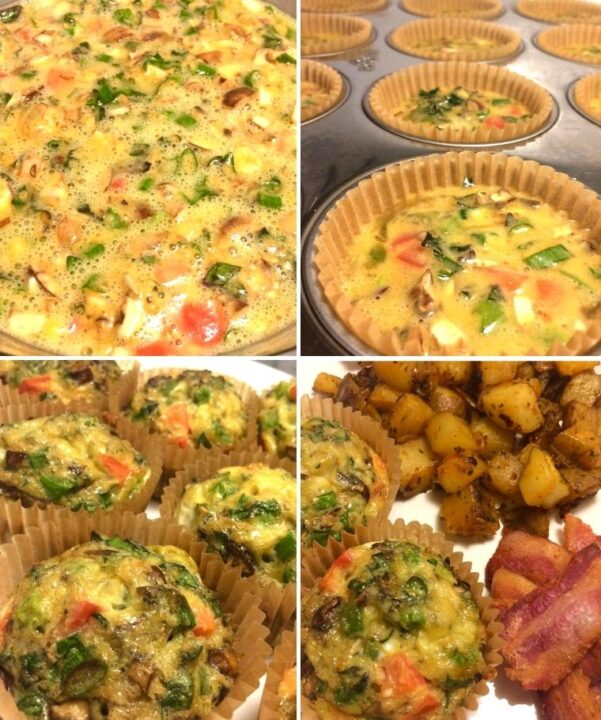 Can I Use Different Vegetables?
I've made this recipe with replacing a vegetable with something different such as kale instead of mushrooms. Get creative, but stick with the portions I provide in the instructions.
I have used potatoes in this recipe. I would recommend shredding them like hash browns, soaking them in water, then making sure they're completely dried off so they don't add more moisture. Replace 1 vegetable with the potatoes and use ½ cup.
Is the Flour Really Needed?
Coating your vegetables in flour makes a huge difference. I done it without and I've gotten a slightly soggy bottom. I have used oat flour, white flour, and wheat flour and they all work great. If you don't have oat flour on hand, just blend up some rolled oats (that's how I make mine).
Do I Need to Use Muffin Liners?
I would strongly encourage you to use liners. I've tried to give it a go with only spraying with olive oil and it's just disappointing. They're super hard to get out and you lose a lot of your muffin to the tin. Don't waste your time and ingredients and just use liners!
Equipment/Tools Used for this Recipe
Fox Run 12 Cup Stainless Steel Muffin Pan
Fox Run Muffin Pan, 6 Cup, Stainless Steel
If You Care Unbleached Large Baking Cups, 60 ct, 3 pk
UpGood Silicone Spatula Set, 600F, 4 Versatile Tools Created for Cooking, Baking and Mixing, Grey
More Breakfast Ideas with Eggs
More Baked Goods Great for Breakfast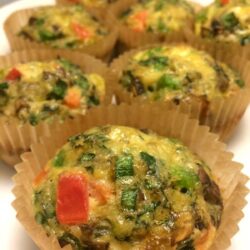 Garden Vegetable Breakfast Muffins
Breakfast just got a whole lot more enjoyable with these delicious and easy vegetable breakfast muffins!
Ingredients
8

large

eggs

2

tablespoon

whole milk

2

tablespoon

olive oil

½

teaspoon

dried rosemary

½

teaspoon

garlic granules

½

teaspoon

paprika

¼

teaspoon

sea salt

½

teaspoon

baking powder

2

tablespoon

chopped fresh parsley leaves

½

cups

diced green bell pepper

(any color will work)

½

cups

diced green onions diced

(or yellow onion)

½

cups

diced roma tomatoes

(1 roma tomato)

½

cups

diced baby bella mushrooms

¼

cups

oat flour

(certified GF oats as needed, option to use white or wheat flour)
Instructions
Preheat oven to 375℉.

In a large mixing bowl combine eggs, olive oil, milk, garlic granules, paprika, sea salt, baking powder, rosemary, and parsley.

Finely dice all vegetables. You can use other vegetables if you choose but keep with the portions provided (avoid wetter ingredients such as zucchini). Add vegetables to a medium-sized bowl and coat in ¼ cup flour. Add coated vegetables to egg mixture and combine all.

Use muffin liners in a 12-cup muffin tin. Portion out ¼ cup of egg mixture into each muffin tin. Evenly distribute any excess mixture. Bake for 25-30 minutes. I consistently do 27 minutes.

When you take them out of the oven immediately remove muffins from pan and transfer to a cooling rack so there's airflow underneath to avoid wet bottoms.