Chicken potato fritters make for such a quick and filling meal! Kids and adults will love them, and you can easily freeze leftovers and pop them in the oven to crisp them up when ready to eat!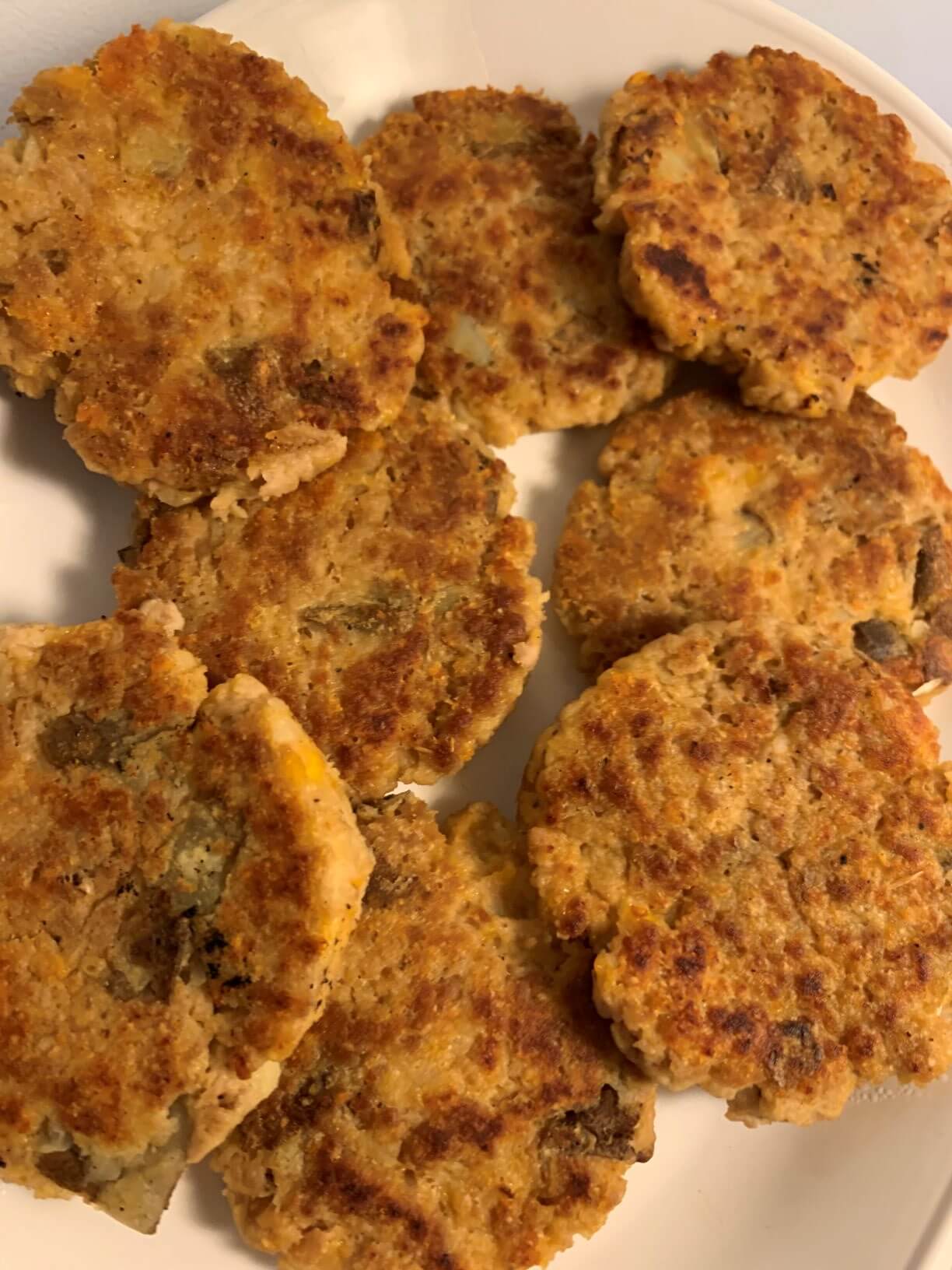 These chicken and potato fritters are my favorite when it comes to making quick dinners. You get your protein and starch all in one little package so just add a side and you're all set! If you're a meat and potatoes type of person this is such a great quick recipe that you'll want to make over and over.
Ingredients
Golden Potatoes: They make wonderful creamy mashed potatoes and cook a bit quicker than russet potatoes. I have also used russet potatoes as a substitute, and they also work great. Peel them, don't peel them, it doesn't matter. I love to keep the peels on for a little added nutrition and to decrease waste!
Ground Chicken: You can also use ground pork. Chicken has a bit more moisture, but I've gone back and forth between the two with great results! You can likely substitute ground beef just the same, but I haven't tried yet.
Aged Cheddar Cheese: This cheese option is a bit harder than a typical block of softer cheddar cheese. You get a stronger flavor that adds a lot! I have also used an extra sharp cheddar cheese and it worked great too. I thought the cheddar cheese might add too must oil but it doesn't affect the cook at all and the patties hold together nicely. The cheese helps to bind the ingredients as well as adds salt and flavor.
Oatmeal: I like to avoid adding flour when unnecessary. I blend up rolled oats for added nutrition, to add texture, and bind the fritters together.
Olive Oil: You'll be adding the oil directly into the meat mixture, as well as use a spray oil to grease your skillet.
Seasonings: I love my basic go-to choices of sea salt, freshly ground black pepper, garlic granules/powder, and paprika. I always have them on hand and they're low cost. You can change these seasonings up depending on what you have on hand! Add some spice too! If you choose to add fresh herbs, you'll want to make sure they're chopped super fine so it doesn't affect how the fritters bind together.
Options for Fritter Size
If you're wanting a flatter and crispier fritter, only use 2 tablespoons of meat mixture per fritter. I find it works best to form a ball, then flatten it directly in the skillet. You have to be careful working right in the hot pan so you can always spray a spatula with olive oil, then press it flat. Don't flatten it so much that holes appear because then it won't hold together. Use the same cook time of 2-3 minutes per side as shown in instructions.
If you're fine with a bit thicker fritter as shown in the images, then use 3 tablespoons per fritter. Roll into a ball and flatten to about ¼ inch thick. Lay it down gently in the skillet and flip gently when it's time.
Using Cast Iron
I only use cast iron skillets. If you have a well-seasoned skillet and spray it will olive oil, you won't have an issue with these fritters sticking to the pan. Because cast iron holds heat so well, manage the heat as needed. You should have a golden-brown finish after 2-3 minutes so if they're too dark then lower the heat, if they're not nicely browned then increase it a bit.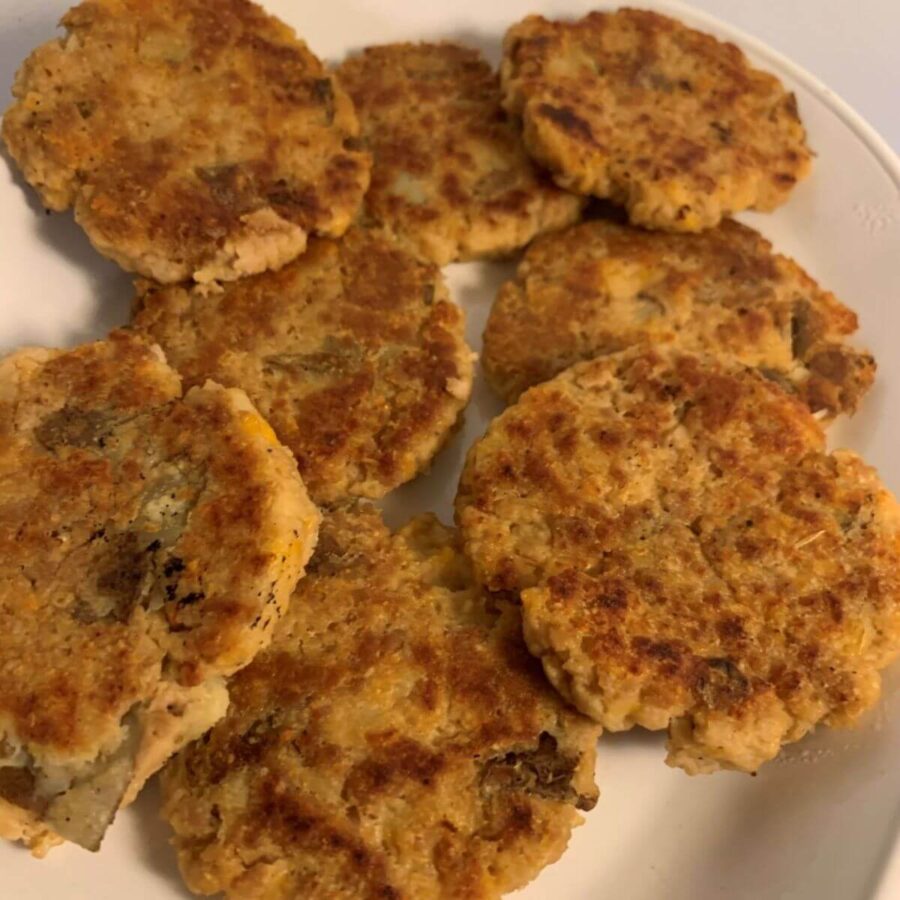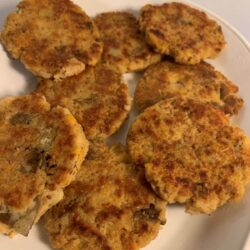 Chicken and Potato Fritters
Chicken potato fritters make for such a quick and filling meal! Kids and adults will love them, and you can easily freeze leftovers and pop them in the oven to crisp them up when ready to eat!
Ingredients
2

cups

golden potatoes, cubed and option to peel or not

(or russet)

½

pound

ground chicken

½

cup

aged cheddar cheese

3

tablespoon

oatmeal

(blended rolled oats)

2

teaspoon

olive oil

(plus additional to spray skillet)

¼

teaspoon

sea salt

1

teaspoon

garlic granules

(or garlic powder)

½

teaspoon

paprika

freshly ground black pepper
Instructions
In a small saucepan, add cubed potatoes and cover with water. Bring potatoes to a boil on medium heat, then decrease low-medium heat to continue simmer with lid cracked. Cook until fork tender which is a total cook time of about 30 minutes.

While the potatoes cook, mix all remaining ingredients in a medium-sized mixing bowl.

Drain potatoes then return them to the saucepan, off the burner, and mash them to be as smooth as possible. Add mashed potatoes to the meat mixture and fully combine.

Spray a large skillet with olive oil and heat to medium-low heat. When skillet is hot, scoop 3 tablespoon of mixture at a time and roll into a ball. Flatten to about ½ inch thick. *See note for crispier option.

Add 4-5 fritters at a time to the skillet and cook 2-3 minutes. Spray the tops of the fritters and flip and cook another per side.

Repeat with remaining mixture, respraying the skillet when you add another batch.
Notes
* If you want flatter and crispier fritters, use only 2 tablespoons per fritter, roll into a ball, then flatten until thin. Don't flatten so thin that you see holes, or it won't hold together as easily. This recipe yields 18 fritters when using 2 tablespoon each.