This is an easy stuffing recipe that's packed with flavor and will leave your house smelling incredible!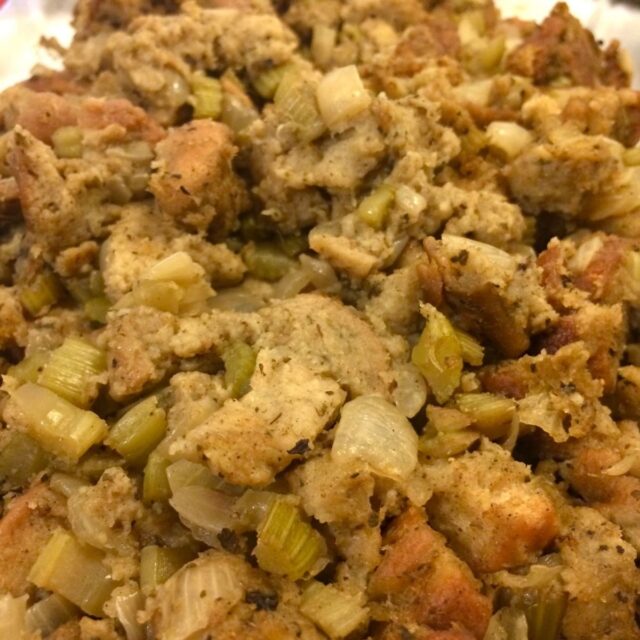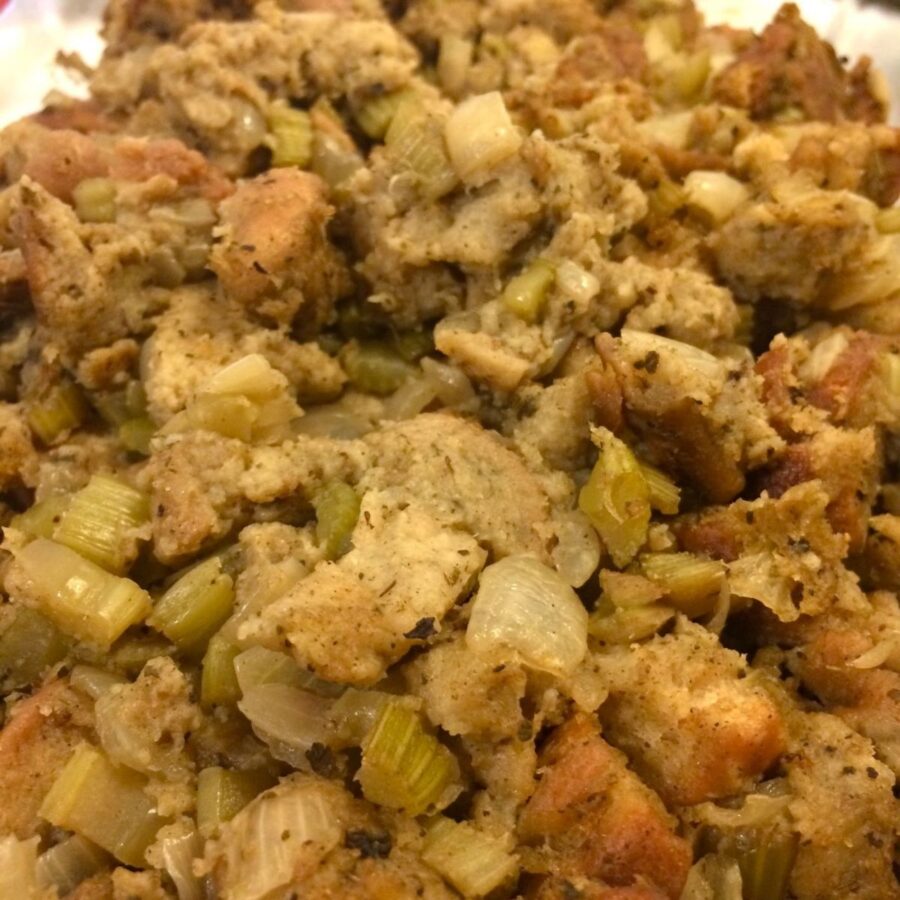 What's better than homemade stuffing for the holidays? My dad's classic homemade stuffing recipe! Stuffing has always been my favorite Thanksgiving side dish. Why? Because for one it's delicious carbs and that's always needed with a holiday meal (everything in moderation of course). And two, because my dad always made the most incredible stuffing that we would have leftovers of for days.
I love the clearance sections at the grocery store and this is a perfect time to go visit one! Usually you can find discount/day old bread which works perfectly for this recipe. Whether you use a fancy grain bread, white, sourdough, French, you'll end up with an incredible stuffing.
Broth
When I started making my dad's stuffing recipe I noticed that it said to "add broth." Much like all other dad recipes this was a use-common-sense recipe. Especially when I first started cooking on my own that "just a little this" and "add some of that" method was so frustrating for me because I wanted to know exactly how much to put in to make sure the recipe turned out well.
Fast forward years later and I understand why it's sometimes hard to give exact amount, like with the broth in this recipe.
But, the wonderful thing about this recipe is that it's really foolproof. When it comes to adding broth, start with the recommended 3 cups but add more if you want a more moist stuffing. Heck, if you know going in that you prefer a really dry and crispy crunchy stuffing, then only add a total of 2 cups and check it half-way through when you can choose to add more.
As my dad has recommended to me, keep the stuffing just moist but not wet and sticking together if you're adding it into a turkey to bake. The reason being that the turkey will add lots of moisture and you don't want it to be soggy.
Because you have less control over the moisture of the stuffing if it's in a bird, just remember you can always transfer it to a cake pan and continue to bake it at 350℉ uncovered to crisp it more.
So, although once upon a time I had a hard time with "add just enough broth" instructions, here I am giving out the same advice. The basics of the recipe are there and you play around with it to make it fit your preference.
My favorite will always be 3 cups broth + ¼ cup half way through the bake, followed by baking with the lid off at the end until it's starting to crisp up.
Crispier stuffing
Again, this is an easy recipe. If you're baking it in a casserole dish and think "oh now it seems wetter than I expected" than take the lid off and bake longer while mixing it some. Still not enough? Transfer it to a cake pan where you can spread it out more and continue to bake without a cover.
Reheating
Pop a small plate or large dish in the oven at 350℉ for 8-10 minutes and enjoy all over again!
Similar Recipes
If you enjoyed this recipe you might also enjoy these of Thanksgiving dishes:
Related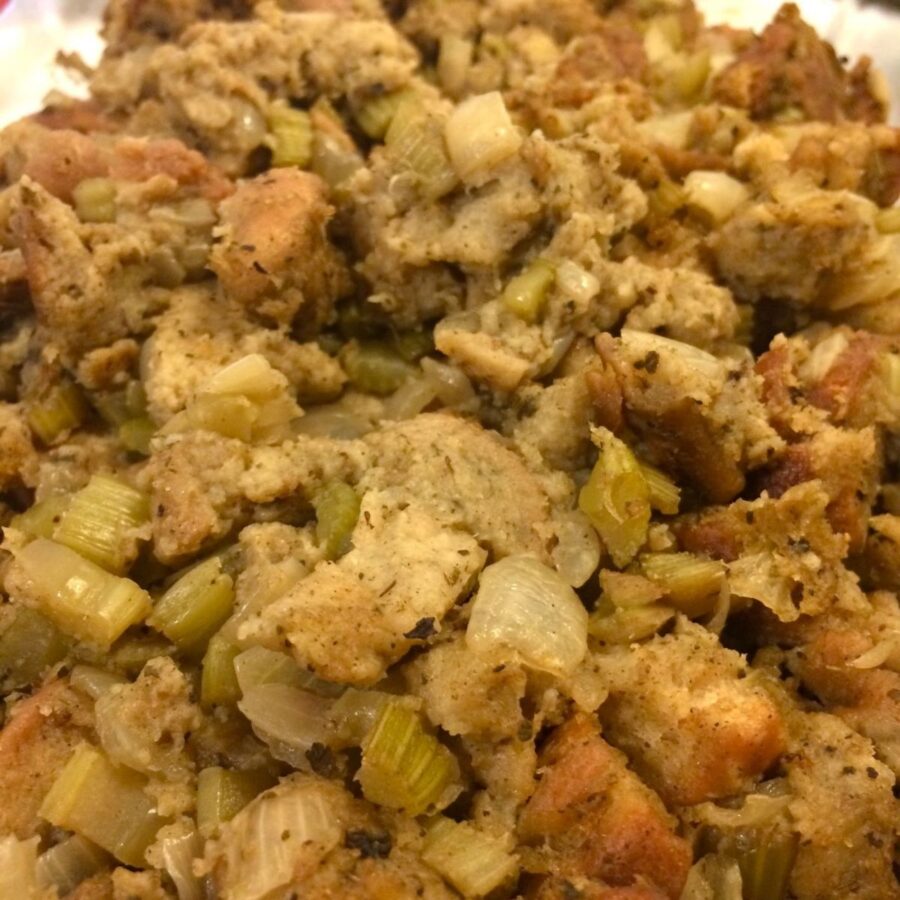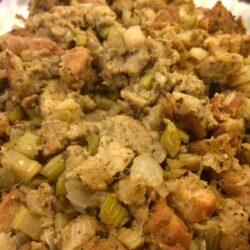 Dad's Classic Stuffing Recipe
This is an easy stuffing recipe that's packed with flavor and will leave your house smelling incredible!
Ingredients
8

cups

dried cubed bread

1 loaf of bread

2

tablespoon

unsalted butter

1

tablespoon

olive oil

3

cups

chopped celery

3

cups

chopped onion

4

teaspoon

rubbed sage

1

tablespoon

dried oregano

1 ½

teaspoon

ground thyme

1

tablespoon

freshly ground pepper

½

teaspoon

sea salt

3

cups

low sodium vegetable broth

+ optional ¼ cup more
Instructions
Let loaf of bread dry out throughout the day or put in oven for 1 hour at 200℉. Cut bread into cubes.

After bread is cut, in a large skillet: Melt 2 tablespoon butter and 1 tablespoon oil. Combine 3 cups chopped celery, 3 cups chopped onion, and seasonings. Sauté for 10 minutes.

Add 2 cups broth and let simmer for 5 minutes. Turn off stove and remove from heat.

In a large bowl combine all ingredients from the skillet with bread cubes. Add an additional 1 cup of broth. *See notes about adding broth
Option for Adding Stuffing into Turkey Cavity
Stuff mixture inside bird, both front and back. Cover with foil. Add any extra stuffing to a deep casserole dish. Add a little broth if needed to casserole dish to keep stuffing moist but not too wet.
Option for Baking Stuffing in a Casserole Dish
Preheat oven to 350℉.

Options to use a deep casserole dish or a cake pan. The deeper dish will help the stuffing retain more moisture. The shallower cake pan will help make a crispier and drier stuffing if that's what you prefer. Either way, add mixture to baking dish.

Bake for 50 minutes with lid on/tinfoil covering. Gently stir halfway through to help it bake evenly. Remove lid and continue baking for 15-10 minutes until you reached the desired driness and crispiness.

I like to start the bake in a deep casserole dish, bake for 50 minutes, then transfer to a cake pan for 20 + minutes to allow the stuffing to crisp up.

Enjoy! To reheat this stuffing, put in oven for 8-10 minutes at 350℉.
Notes
*Adding Broth: When the stuffing goes into the oven make sure it has 3 cups broth mixed in. Once in the oven, you have the option to add another ¼ cup broth half way through the bake if you feel it's getting dry. I wouldn't recommend adding more than ¼ cup additional as it will make the stuffing a bit soggy. But, this recipe is pretty fool proof in that you can just continue to bake it longer with the lid off to dry it out to your preferred consistency! If for some reason your stuffing seems super dry, continue to add ¼ cup of broth and mix until you reach a desired consistency.