Change up your typical pumpkin pie recipe with a homemade nut crust, maple syrup for sweetener, and Greek yogurt for creaminess.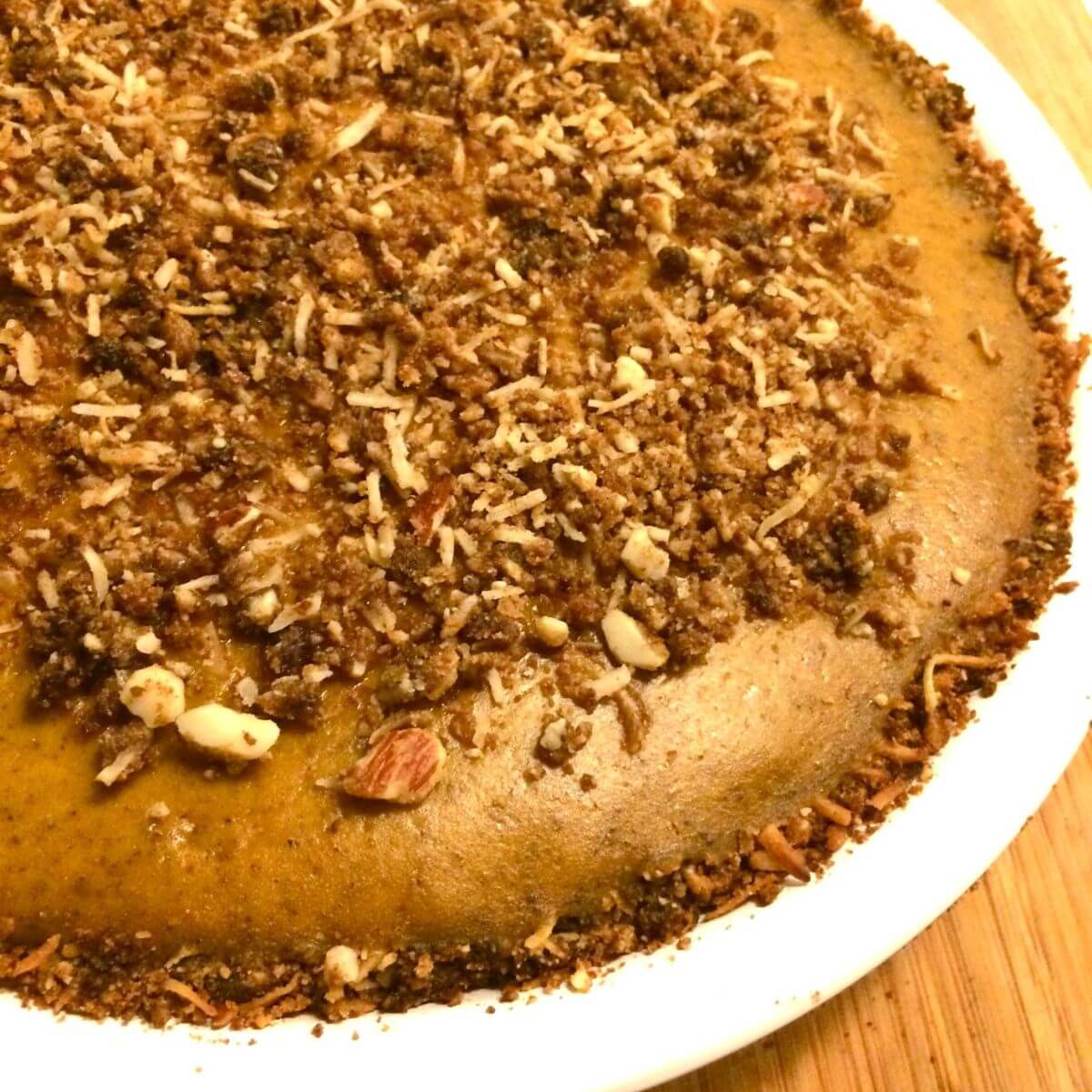 Whether you've never make a pumpkin pie or this is your 90th, change things up with this maple syrup and Greek yogurt Pumpkin pie with a nut crust base!
I'm a huge pumpkin pie fan and I think every Thanksgiving needs one on the table. I always made a typical pumpkin pie with a regular pie crust and it was always enjoyable. But then I tried this nut crust recipe and it's such a fun way to change it up! My husband got the nut crust recipe from a friend, over 10 years ago. We changed things up and I made it refined-sugar free so my toddler can gobble it up and I feel less guilty (and she gets better sleep). I've included the original recipe below if you're wanting to make it with brown sugar in stead of molasses and maple syrup.
One of the great things about this recipe is that if you just want a typical pie crust you can use a single crust pastry and the filling will still be unique and delicious. Or, if you want to try the nut crust but stick with your typical filling that's fine too!
I recently made 3 of these pies because I still wanted to tweek the ingredients for the filling a bit. I started out with a little less maple syrup, less egg, more cloves and nutmeg, and I just wasn't feelin it. After a few trials I got the perfect balance down that gives you a fluffy and firm filling that's perfectly sweetened but you can still tell it's a pumpkin pie!
With all the trialing I made some Pumpkin Custards that are wonderful if you have extra filling, you want to save time, or you just don't want a crust! Take a look at that recipe and you'll probably be making them a lot more frequently than just a holiday meal!
Steps for Making this Pumpkin Pie
Crush or blend nuts. Combine all ingredients for the nut crust, spread out onto a baking sheet, and bake at 350℉ for 12-15 minutes. Mix a couple times while it bakes to bake evenly.
Remove a ½ cup of the baked nut crust mixture and set it aside for topping onto the baked finished pie.
While the nut mixture is still warm, press it into a 9 inch pie plate, making sure to press up the sides.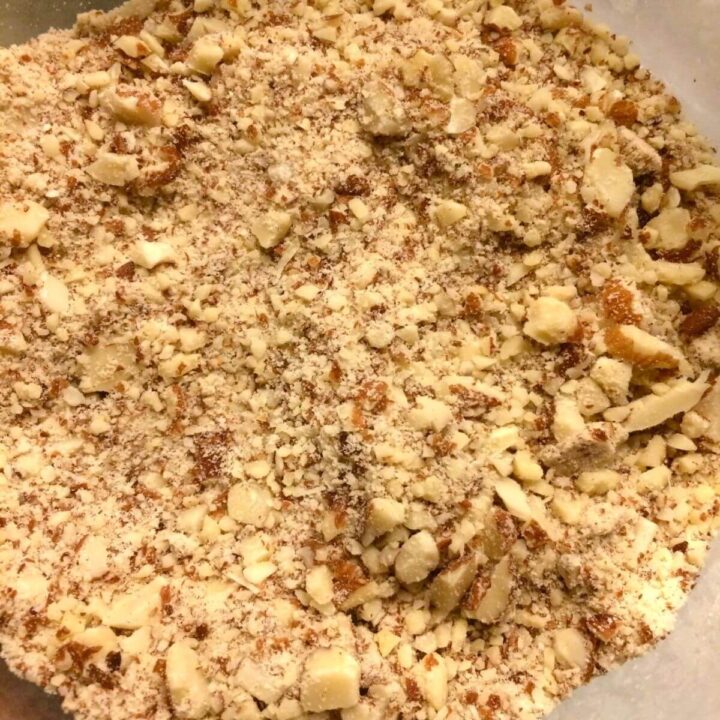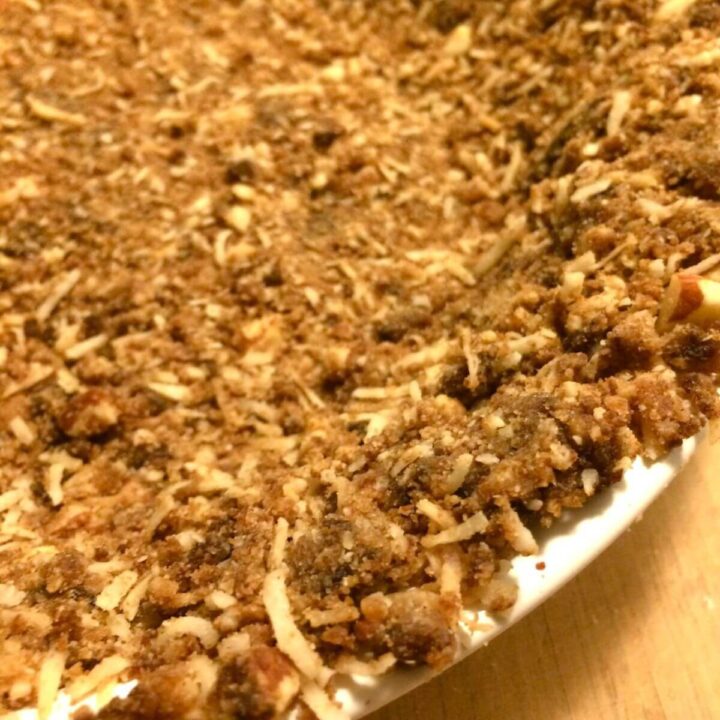 Increase oven temperature to 425℉.
Combine all ingredients for the pumpkin pie filling. No electric mixture needed, just use a hand whisk or a fork and you're all set!
Pour the filling into the nut crust.
Line the edges of the crust and bake for 15 minutes. Decrease oven to 350℉ and continue baking for 40-45 minutes.
Sprinkle the set-aside nut crust mixture over the top of the baked pie.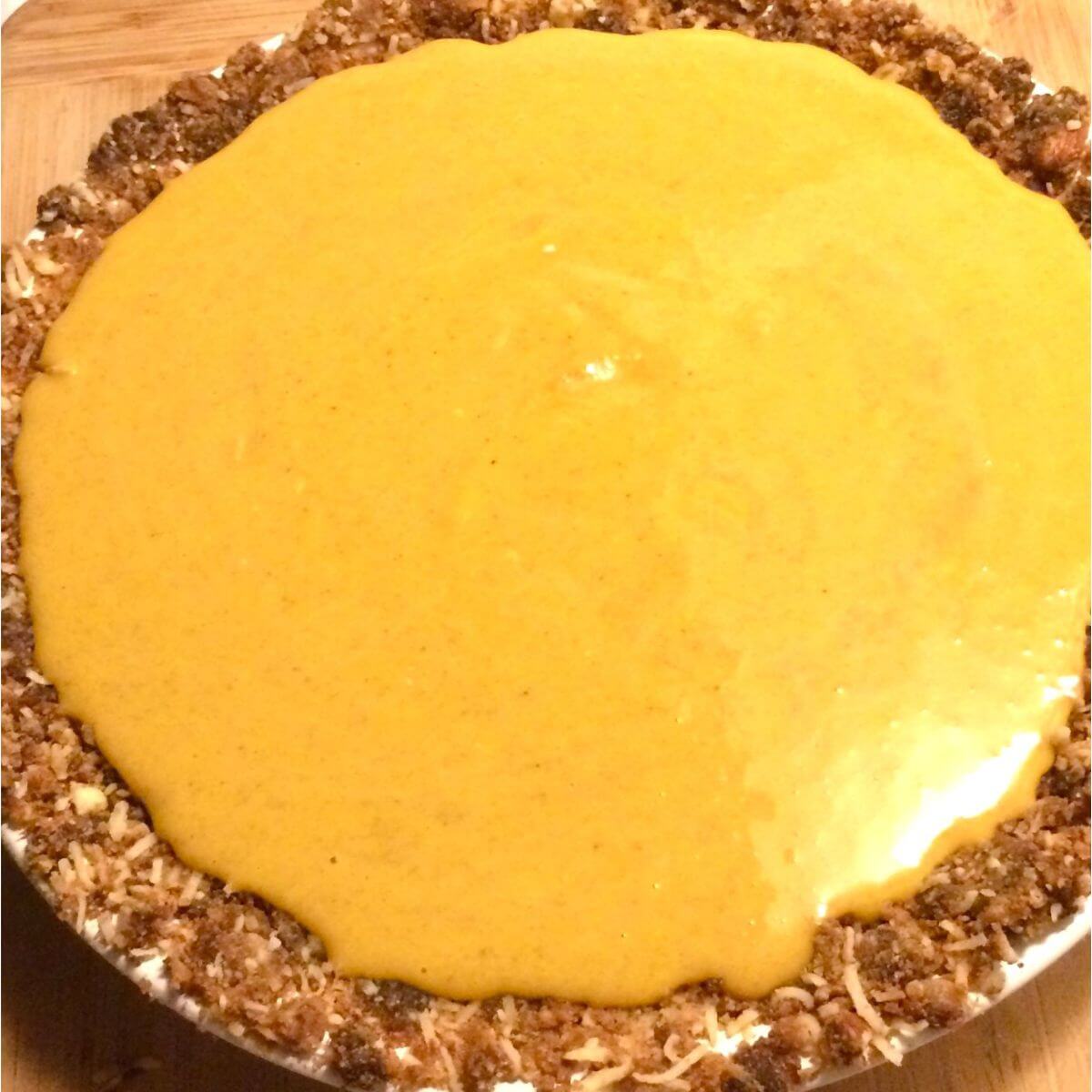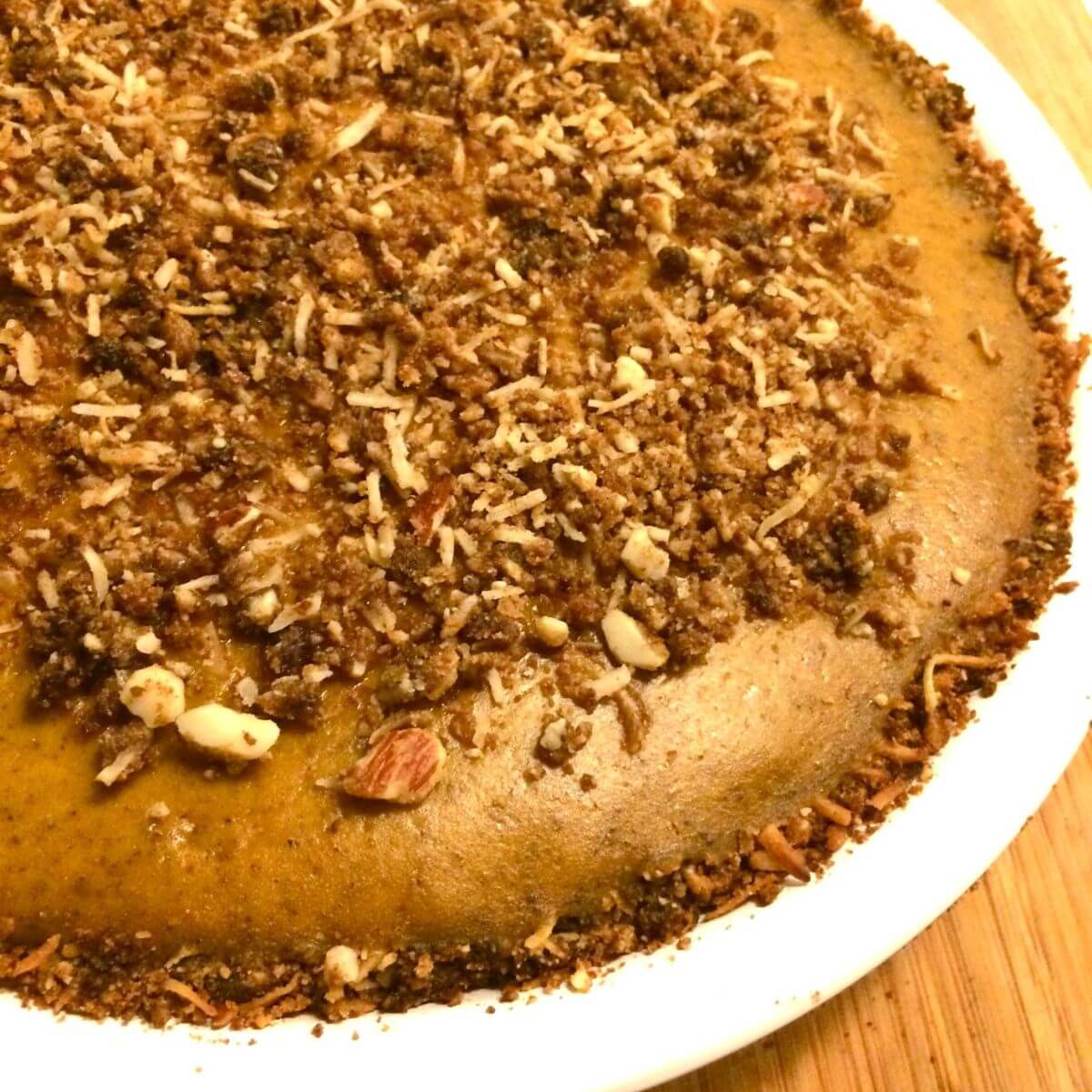 Top with homemade whipped cream and drizzle with maple syrup.
Why Refined Sugar-Free?
I love baking and cooking, but even more I love when my whole family can enjoy the food I make. Granted, my toddler and husband would both love any recipe with refined sugar, but if you've looked through my recipes you know that we eat healthy, and prefer natural foods in our house! I feel better seeing my toddler enjoy eating my pies and constantly ask for "just want pie" for every meal (not that she gets it) because they have natural sweeteners.
No, I'm not saying that everything with molasses and maple syrup is healthy but they sure beat white sugar any day! We don't get sugar highs in my household or the crashes, sleep issues, night terrors, or just plain crankiness you can get with refined white sugar. I often see recipes that replace white sugar, but they don't always replace the brown sugar. Just remember, brown sugar is white sugar with molasses added. So why not take that white sugar out and just leave the wonderful molasses to do the work?! If you're diabetic, looking to eat healthier, or feeding a child, please give this recipe a try!
Option to Use Date Nectar
White sugar alternatives are expensive, that's just a fact. We're lucky to have a discount grocery store near us and sometimes we find amazing deals! Date nectar is one of those. I believe a paid $3 for a bottle of organic D'vash date nectar that usually costs over $20 for 16 oz., and therefore I bought 3 bottles, which still wasn't enough. But because of that great deal I've been able to play around with date nectar and I found that it works incredibly well with pumpkin pie! The flavors just mesh well and it gives sweetness like maple syrup but adds a bit richer flavor. If you're looking for a white sugar alternative this is a must try!
Original Recipe for Nut Crust (with granulated sugar)
My nut crust is an adaptation of this nut crust that uses processed sugar. Feel free to use either recipe, however I would highly recommend using my recipe that uses natural sweetener because it's just so good.
½ cup unsalted butter
¼ cup brown sugar
1 cup flour
½ cup nuts
1 cup shredded coconut
More Pie Recipes
If you liked this recipe take a look at my other pie recipes: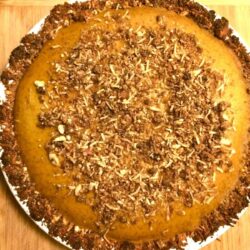 Maple Pumpkin Pie with Nut Crust
Change up your typical pumpkin pie recipe with a homemade nut crust, maple syrup for sweetener, and Greek yogurt for creaminess.
Ingredients
For the Nut Crust
½

cup

almonds, crushed or blended

(you can blend in walnuts also)

1

cup

unsweetened shredded coconut

½

cup

unsalted butter

(1 stick)

2

tablespoon

blackstrap molasses

2

tablespoon

maple syrup

1

cup

flour

(white or wheat)
For the Filling
2

cups

pumpkin puree

(1 -16 oz. can pumpkin puree)

6

tablespoon

maple syrup

(option to use date nectar instead)

½

teaspoon

sea salt

1 ½

teaspoon

ground cinnamon

¼

teaspoon

ground nutmeg

⅛

teaspoon

ground cloves

3

large

eggs

¾

cups

full fat plain Greek yogurt

¼ -½

teaspoon

optional ground ginger
Instructions
MAKING THE NUT CRUST
Preheat the oven to 350℉.

Crush or blend your nuts. Mix all ingredients for nut crust using a fork/ your fingers. Spread out onto a 9 x 13 inch pan. Bake for 12-15 minutes, stirring a couple times for an even bake until light golden brown

Remove about ½ cup of baked nut crust and store in a bowl to be used for the top of the pie.

Increase oven temp to 425℉.

While the remaining nut crust mixture is still warm, press into a 9 inch pie pan on the bottom and up the sides. Option to press nut crust out onto the rim of the pie (if it burns or gets to crispy you can just easily wipe it off at the end of the bake).
MAKING THE FILLING
While nut crust is baking, combine all ingredients for the filling in a large bowl using a hand whisk or a fork.
ASSEMBLING AND BAKING THE PIE
Pour filling into baked nut crust. Line edges of crust with tinfoil. Bake at 425℉ for 15 minutes then decrease temperature to 350℉ for another 40-45 minutes. Sprinkle remaining nut crust as topping either after 35 minutes of bake or after the bake is done.

Let pie cool before serving.