Create unique mini fruit pizzas that can be personalized using delicious sugar cookies, delightful cream cheese frosting, and fresh fruit and berry toppings!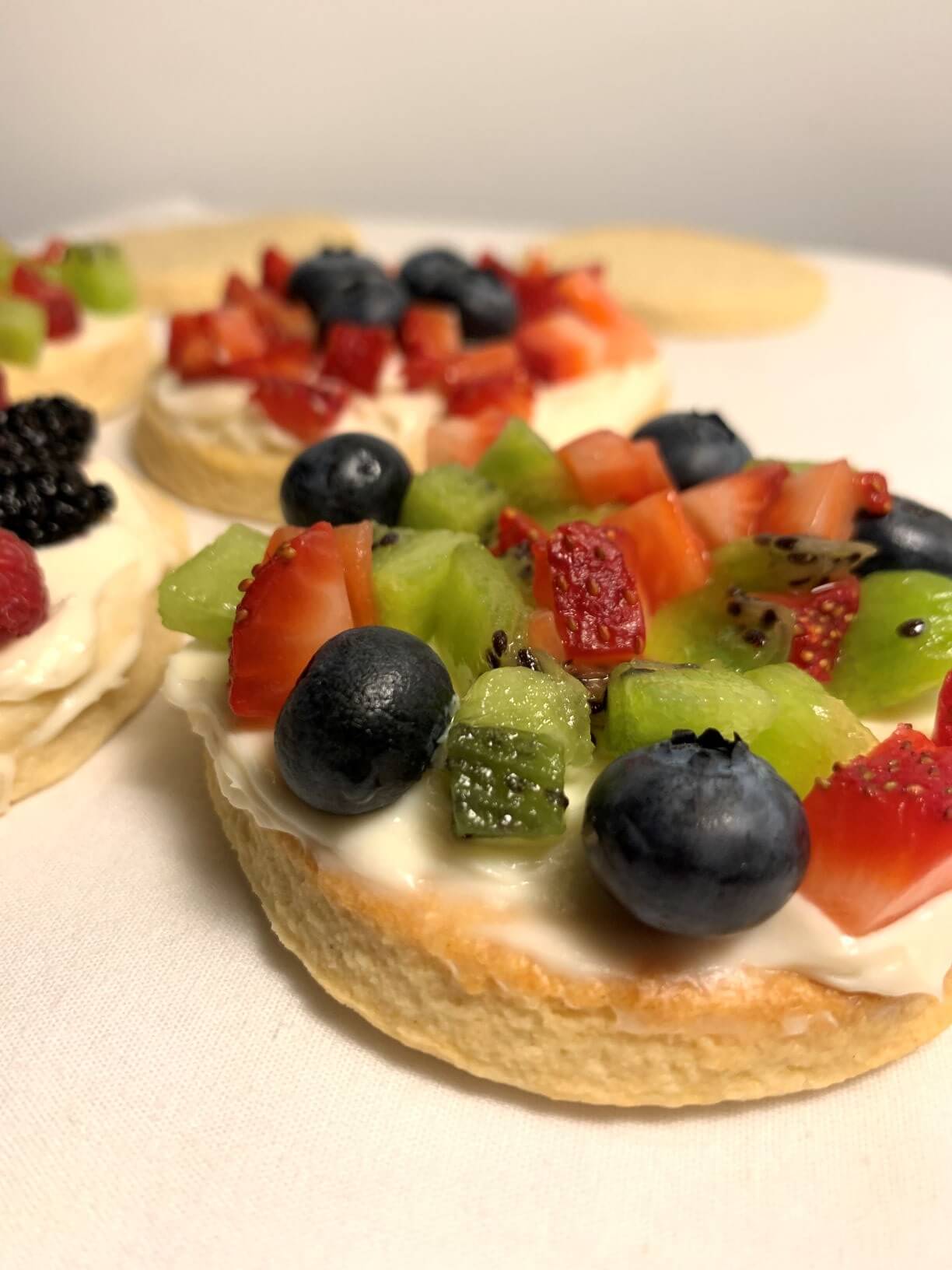 Fruit pizza is one of my all time favorite desserts! You get your chewy cookie, sweet and creamy topping, and fresh fruit to finish it off! What's not to love? It's a lighter dessert than some and works great for any occasion!
Why Fruit Pizza Cookies Are Better
Ok, not to be a Debbie Downer, but there are some aspects of a fruit pizza that just disappoint me. You often see this dessert with thinly sliced fruit, and when you take a bite you barely get to enjoy the fruit topping.
For me, the cream topping, along with the cookie, can sometimes be too sweet, and let's talk about storage. If you don't finish the fruit pizza in one sitting, then you have to slice it up and figure out how to store it flat without overlapping pieces, otherwise it'll all be stuck together in one lump. If you store it overnight, the wet fruit soaks in a bit and everything is a bit softer and more moist than the day before.
I wanted to come up with a way to remove all those aspects, so you're just left with a super tasty treat! It didn't take many changes, and now you too can enjoy… Build Your Own Fruit Pizza Cookies!
Mini Fruit Pizzas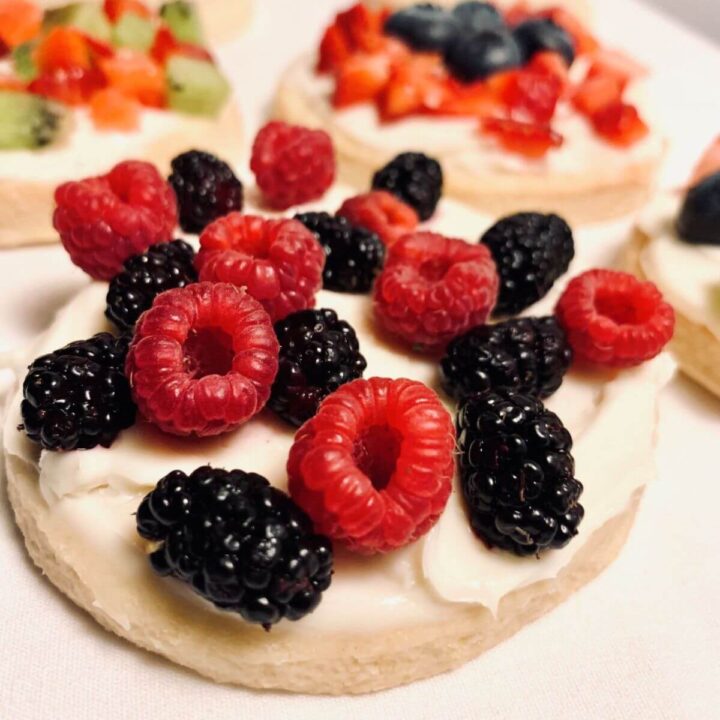 This recipe is really just cookie-sized fruit pizzas, which comes with so many perks!
You can store the blank-canvas cookies easily until ready to serve.
Dice up your chosen fruit and berries and store them in separate bowls
Frost the cookies when you're ready to serve so they stay fresh and crisp
Build-your-own means you can make everyone happy! Let people spread on as much or as little frosting as they want, let them choose their own fruit/berry topping, and please those who are gluten-free by having the option for them to just serve themselves fruit and the cream topping!
If you really love the frosting, then whip up a double batch and have plenty to go around!
Ingredients
Sugar Cookie Base: I use my Cut-Out Sugar Cookie Recipe which is slightly less-sweet than some, and is perfect for this recipe that has other sweet layers!
Cream Cheese Frosting: I could eat this by itself it's soo good! It's not overly sweet but it's super creamy and just perfect for a fruit pizza.
Fruit and Berries: Choose what you want to go on top! Just think about how long the fruit will sit out and how it will present after a while. Cherries are delicious but will bleed into the frosting and other fruit. I love love love bananas on fruit pizza, but they don't preserve well sitting out. You can soak them in lemon water to help them keep their color a bit. Or, cut up slices of banana with the peel left on and let people peel it and break it up themselves! Kiwi, strawberries, raspberries, mulberries, blackberries, blueberries are incredible. You can also try mandarin oranges, mango, and grapes. Go with bright colors and a variety of soft and crunchier fruits!
Instructions
Please note that I don't use any large equipment for making this recipe. Everything is done by hand, aside from a rolling pin, and it doesn't take much additional time to mix everything by hand.
Make the cookie dough. It works best if you can refrigerate it for a bit, but it's not mandatory for it to work well. If you refrigerate it overnight (or just multiple hours), make sure you let it sit out for about 30 minutes before rolling it out.
Make the cream cheese frosting by using room temperature butter and cream cheese. This will make it easier to get a smooth and creamy texture! Refrigerate until ready to serve.
Preheat oven to 375℉ and line 2 cookie sheets with parchment paper. I don't always do this, and they come out fine...it's all what you prefer!
Roll out half the dough at a time by placing the dough between 2 pieces of parchment paper. This makes it way easier if you didn't refrigerate your dough and so you don't have to add additional flour (which can change the texture of the cookies). Roll dough out to about ⅓ inch thick.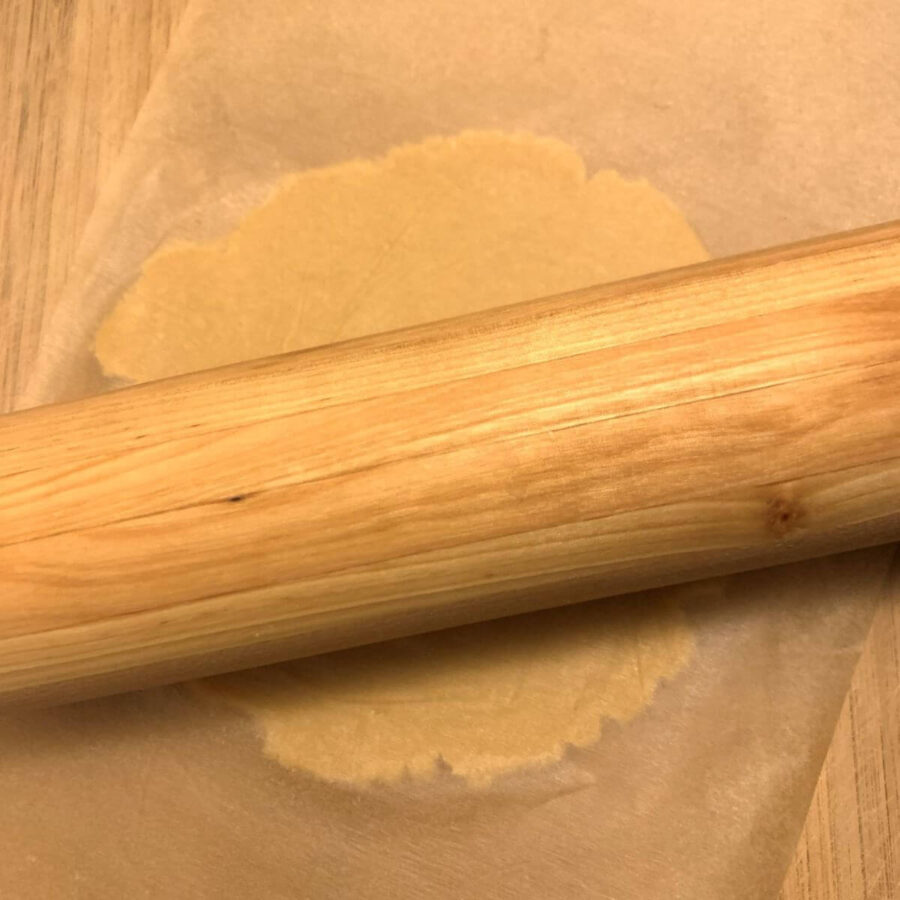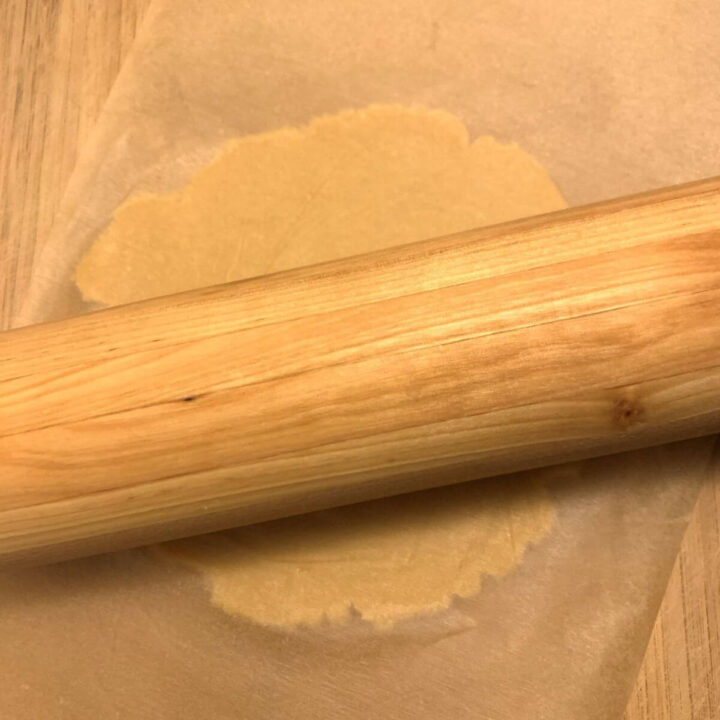 Use a larger cookie cutter so you have decent sized cookies and room for toppings! I use the 4 ⅓ inch stainless steel cookie cutter from IKEA but you can also find a similar stainless steel set on Amazon. Gather up all scraps to roll out again.
Transfer cut out cookies to a cookie sheet and refrigerate while the second half of the dough is rolled out.
Once the second tray of cookies is cut out, refrigerate them while you start baking the first batch.
Bake for 10-12 minutes.
Meanwhile, dice your fruit! Dice your fruit....did I already say that? If you do thin slices, then you can really only have 1 layer of fruit and those slices just take up too much room! Whole smaller berries are fine but dice your other fruit.
Give each topping its own container to keep them fresher and easier to serve!
Transfer baked cookies to a cooling rack and let cool completely before storing them in an airtight container, or frosting them to serve.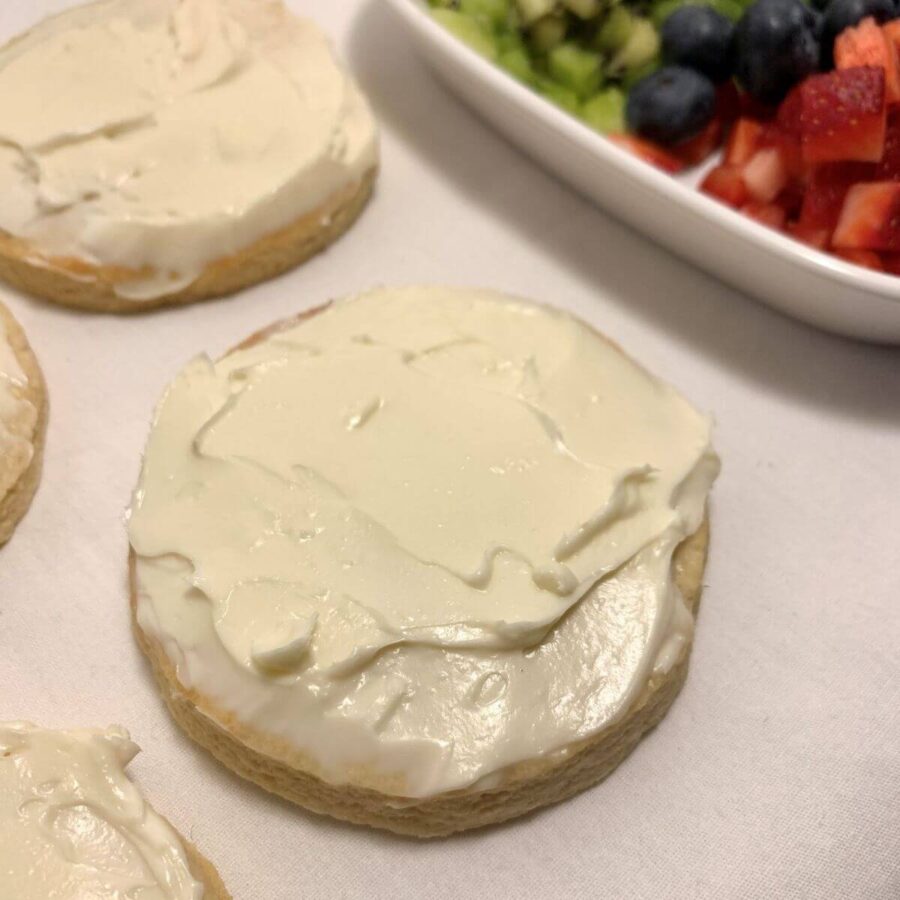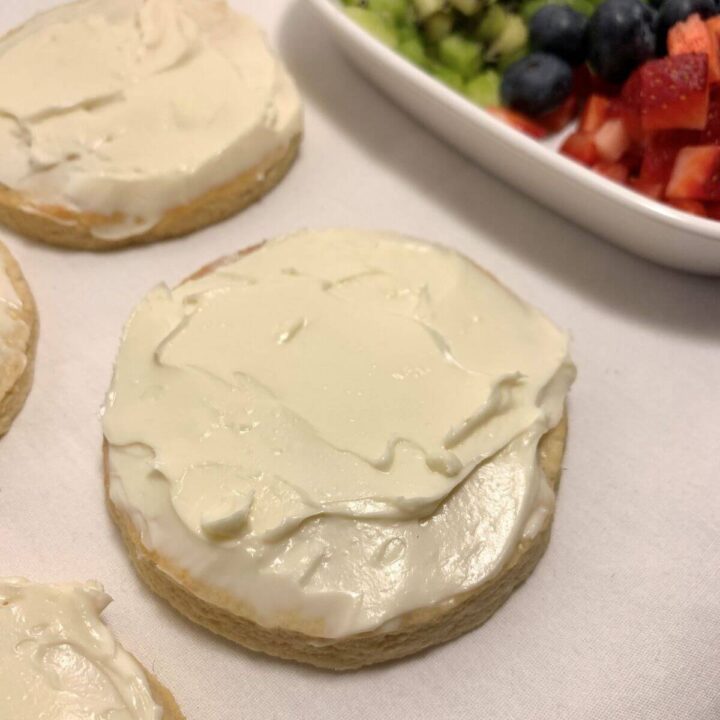 To serve, set out blank cookies on a tray or plate. Set out the frosting with a spoon, small knife, or these sweet little wooden spoons for spreading. Set out prepared fruit in separate containers with spoons for scooping!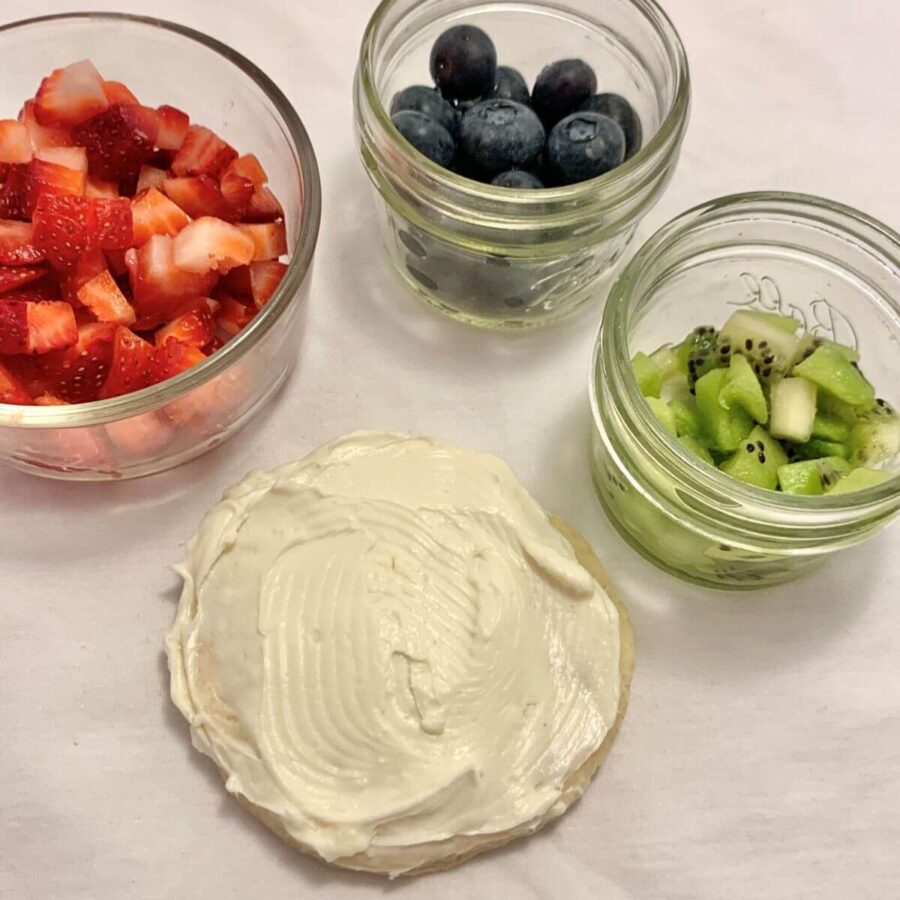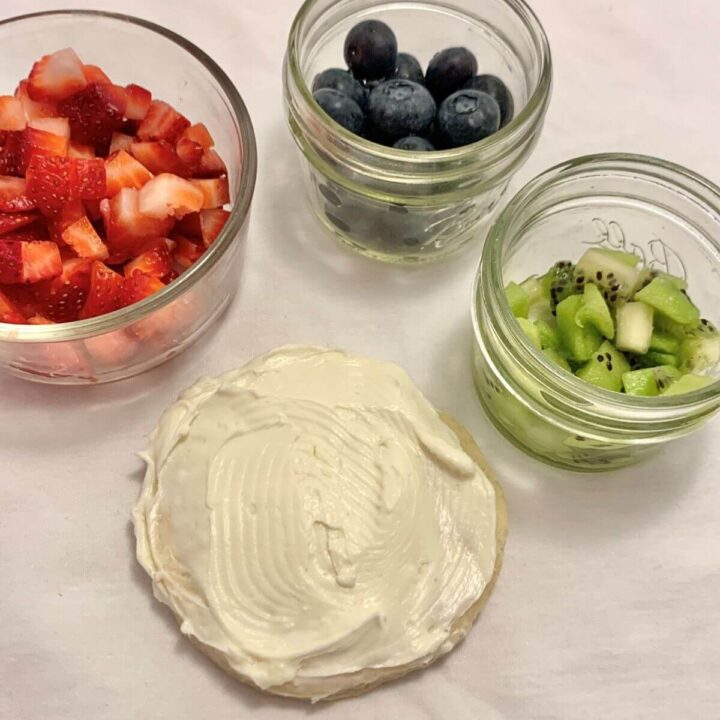 Equipment Used
This recipe is simple when it comes to equipment and I just mix everything by hand. I do use 2 stainless steel cookie sheets and If You Care Parchment Paper which is free of harmful chemicals.
If you make this recipe, please leave a comment and rating at the bottom of the page! This is helpful to me and other's visiting my page! If you want to stay updated on more great recipes you can follow me on Instagram, Facebook, Pinterest, or subscribe to my newsletter.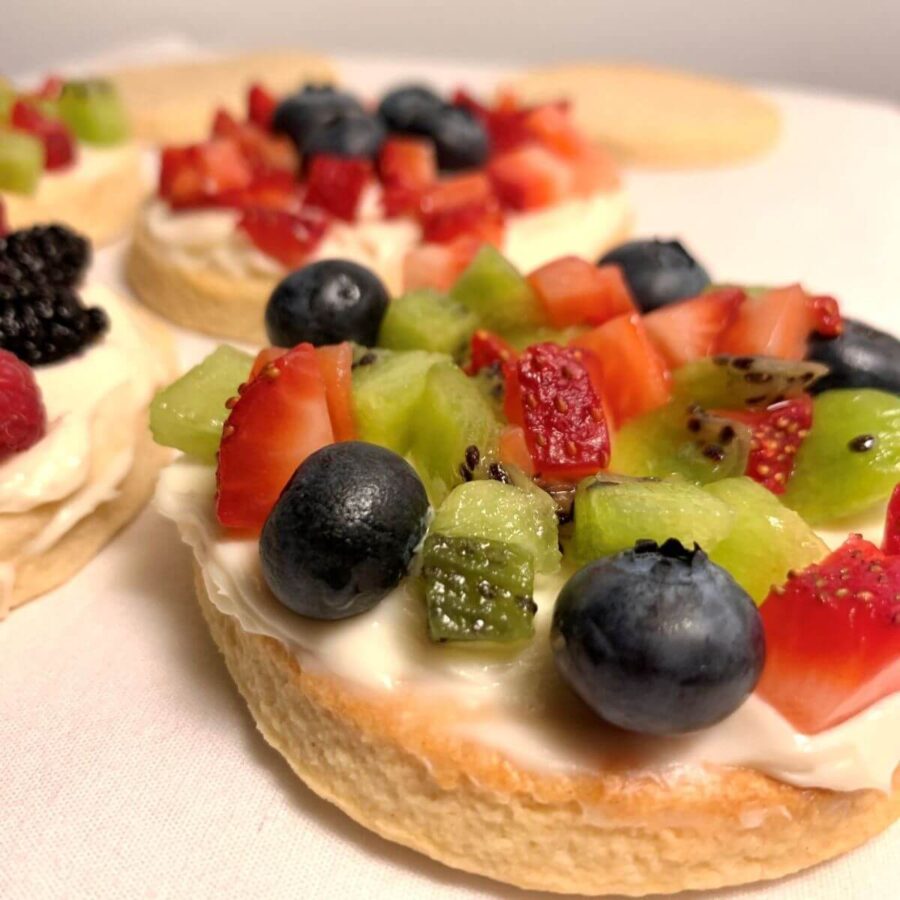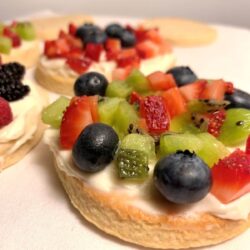 Build Your Own Fruit Pizza Cookies
Create unique mini fruit pizzas that can be personalized using delicious sugar cookies, delightful cream cheese frosting, and fresh fruit and berry toppings!
Ingredients
FOR THE SUGAR COOKIES
9

tablespoons

unsalted butter, softened

(equal to ½ cup + 1 tablespoon)

⅓

cup

granulated sugar

2

cups

all purpose flour

¼

teaspoon

sea salt

½

teaspoon

baking powder

1

large

egg

1

teaspoon

vanilla extract

1 ½

teaspoon

almond extract
FOR THE CREAM CHEESE FROSTING
8

ounces

cream cheese

2

tablespoons

unsalted butter

1

teaspoon

vanilla

¼

cup

powdered sugar

1

teaspoon

milk
FOR THE FRUIT TOPPING: portions can be altered as you see necessary
2

kiwis

(peeled and diced)

1

cup

diced strawberries

(diced)

1

cup

blueberries

(whole or halved)

1

cup

mulberries or blackberries

(whole)

1

cup

fresh raspberries

(whole)
Instructions
Set out cream cheese and butter to soften for both the cookies and frosting.
MAKE THE SUGAR COOKIES
Cream together softened butter (room temperature, not melted) and sugar in a large bowl. Add flour, sea salt, and baking powder and mix until just combined. Add egg, vanilla, and almond extracts and mix well. You can use an electric mixer but without equipment I use my hands to thoroughly mix all ingredients.

Chill cookie dough as a flattened round for about 45 minutes-1 hour.
MAKE THE CREAM CHEESE FROSTING
In a small bowl, combine the softened cream cheese, softened butter, vanilla, powdered sugar, and milk. Whisk together until creamy and chill until ready to use.
ASSEMBLING AND BAKING
Line 2 cookie sheets with parchment paper for baking (this is optional and you can go without if you prefer).

Preheat oven to 375°F.

Place half your dough between 2 sheets of parchment paper and roll out to ⅓ inch thickness. Use a cookie cutter to cut out rounds approximately 4 ¼- 4 ⅓ inch in diameter and press together scraps to form more rounds. Transfer cut outs to a cookie sheet, leaving about 2 inch spacing between rounds. Refrigerate.

Repeat with rolling out the other half of your dough. Refrigerate.

Bake the first batch on the middle rack at 375°F for 11-12 minutes. Transfer baked cookies to a cooling rack and bake the 2nd batch of cookies.

*Option to cut out all cookie rounds, refrigerate, then bake both trays of cookies on the middle shelf at the same time.
PREPARE THE FRUIT TOPPING
While cookies are baking and cooling, dice your fruit and keep each fruit separate for storing and/or serving. Use a variety of fruit and get creative! You don't have to use exactly what's recommended in this recipe.
SERVING
Let cookies cool completely before storing in an airtight container or frosting.

Frost the cookies individually, then top with mixture of diced fruit and berries. Option to present blank cookies on a tray, with a bowl of cream cheese frosting, and separate bowls of fruit for building your own fruit pizza!