This is such a great sugar cookie recipe that can be used in so many different ways! It's easy to adjust the size of the cookies with great results no matter what. They're extremely flavorful even with less sugar!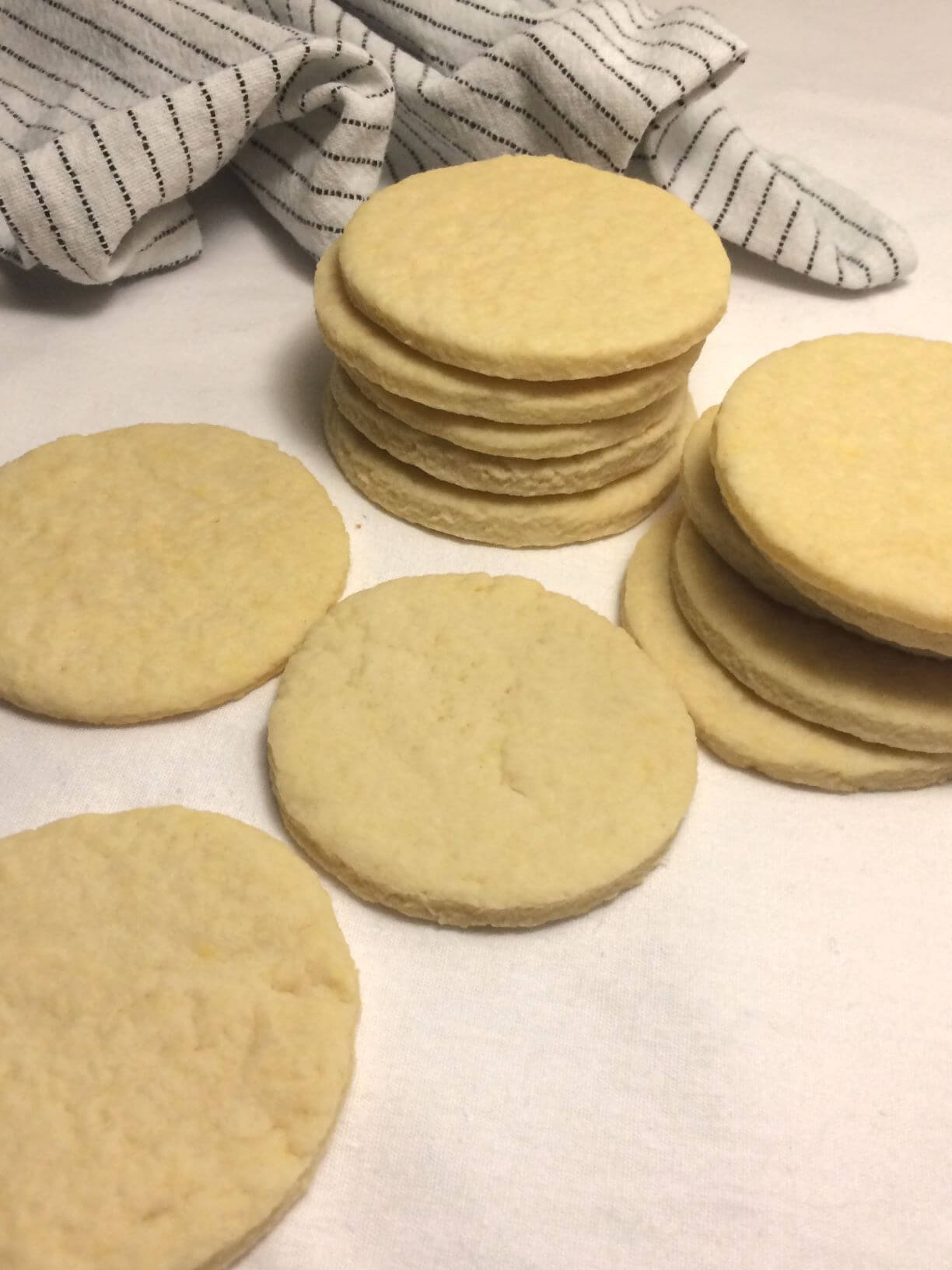 (This page contains affiliated links)
Basic sugar cookies are such a fun treat! They're easy to make and you can enjoy them plain, with light frosting, fruit sauce topping, or sandwich some ice cream between two!
For a while I was playing with a sugar cookie recipe that used only natural sugars. I liked it, but it was just missing that clean, straight forward, granulated sugar flavor. I'll likely share that recipe too, but this is my ultimate favorite. While I do prefer using natural sweetener, we indulge sometimes, especially when the cookies contain less sugar, and they're small like with this recipe!
How Big Should These Cut Out Cookies Be?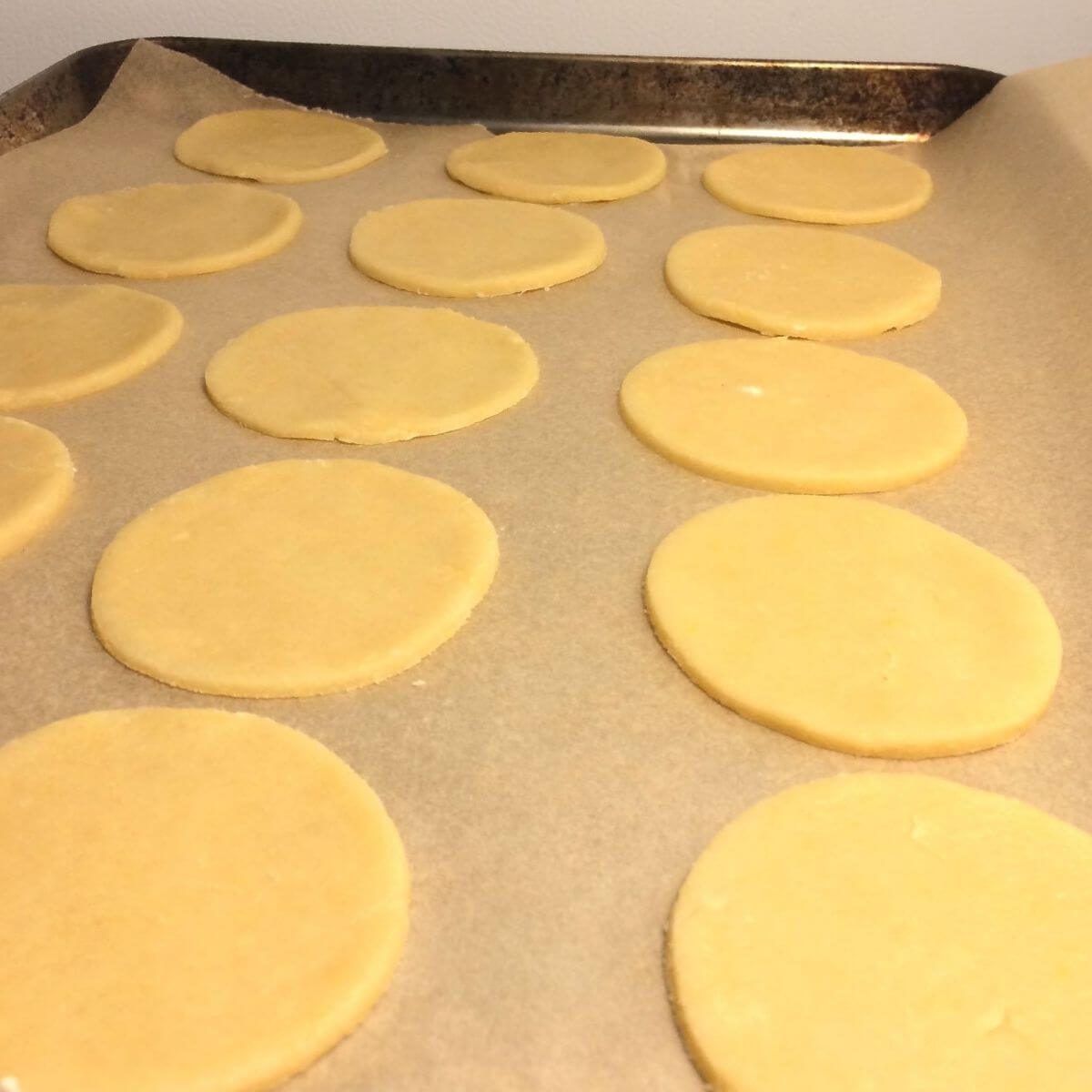 Roll out your dough to be close to ¼ - ⅓ inches thick. If you go any thinner then they'll be tricky to peel up after cutting and they'll come out crispy dark.
I use this 3 ½ inch stainless steel cookie cutter from IKEA  but you can also find a similar stainless steel set on Amazon. You can choose the larger which is about 4 ⅓ inch round and they come out great! I love the 3 ½ inch size for a sweet snack or for enjoying with ice cream. Don't dip them, they will crumble, but crumble on top? Yes please.
What's the Flavor and Texture of These Cookies?
If you roll the cookie dough super thin the cookies will be crunchy, but anything over ¼ thickness and you'll get a perfectly soft sugar cookie.
I use less granulated sugar than other recipes because frankly they don't need it! These cookies have a great vanilla flavor with just the perfect amount of sweetness! If you're adding frosting, you'll get plenty of added sugar there.
Temperature of Ingredients and Cookie Dough
Make sure to set out your butter first! You want it softened so it will be evenly distributed. You can also make sure your eggs are room temp as well to ensure no clumping, but honestly I don't do this and they come out fine.
Once your dough is mixed, chill it in the fridge until firm. Don't skip this step! If you leave the dough in your fridge overnight you'll want to leave it out at room temperature for at least 15 minutes so you can more easily roll it out.
After cutting out your cookie rounds, place them on a cookie sheet and then send it back to the fridge! This will ensure that the butter chills more and won't just melt out when they get to the oven!
How to Store These Cookies
Store in an airtight container at room temperature. I like using Pyrex bowls with lids or Ziploc bags.
Equipment Used
TeamFar Baking Sheets. I use the 12 x 15 inch baking sheet from the set for this recipe.
If you Care Baking Parchment Paper
HIC Harold Import Co. Dexter-Russell Burger Turner, Stainless Steel with Walnut Handle
More Cookie Recipes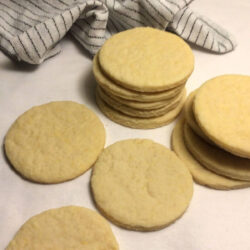 Cut-Out Sugar Cookie Recipe
This is such a great sugar cookie recipe that can be used in so many different ways! It's easy to adjust the size of the cookies with great results no matter what. They're extremely flavorful even with less sugar!
Ingredients
9

Tablespoons

unsalted butter

(softened, equal to ½ cup + 1 tablespoon)

⅓

cup

granulated sugar

2

cups

all purpose flour

¼

teaspoon

sea salt

½

teaspoon

baking powder

1

large

egg

1

teaspoon

vanilla extract

1 ½

teaspoon

almond extract
Instructions
Cream together softened butter (room temperature, not melted) and sugar in a large bowl. Add flour, sea salt, and baking powder and mix until just combined. Add egg, vanilla, and almond extracts and mix well. You can use an electric mixer but without equipment I use my hands to thoroughly mix all ingredients.

Chill cookie dough as a flattened round for about 45 minutes-1 hour.

Let dough sit at room temperature for a bit to soften enough to roll out.

Line 2 cookie sheets with parchment paper. Lightly flour work surface and roll out half the dough until about ¼ -⅓ inch thick (option to roll out dough between 2 pieces of parchment paper to avoid adding more flour). Use cookie cutter to cut out round and press together scraps to form more rounds, trying to use as little flour as possible.

I recommend using your fingers to transfer the rounds onto the cookie sheet. That way you can feel how thick the slices are- if they're paper thin and ripping, they're too thin. If you feel a super thick one, roll it out a bit more and re-cut. Make sure the cookies aren't touching but they don't need a big gap.

Preheat oven to 375°F and chill first filled cookie sheet while rolling out the second half of the dough.

Bake 1 cookie sheet for 9-10 minutes while the 2nd batch chills. Transfer baked cookies onto cooling rack to cool. If you're making larger and thicker cookies, bake for about 10-11 minutes.

Let cookies cool completely before icing or storing.