These delicious cookies are slightly crunchy on the outside with a soft gooey center. Skip the white sugar, because this recipe calls for coconut sugar and honey for sweetener!
(This page contains affiliated links)
Next time you want to make cookies, grab some dark chocolate chips or chunks and cocoa powder and try these double chocolatey chip cookies! You could just use chocolate chips, but why skip out on the chance to double up on chocolate and create a rich and more flavorful cookie?!
Ditch the white sugar and get out your coconut sugar and raw honey to sweeten these cookies more naturally! Man, it makes such a difference in making a unique and delicious cookie!
Ingredients
All Purpose Flour: Let's keep it simple with white flour. I have used bread flour on a whim and the recipe came out great as well.
Baking Soda: You want baking soda, not baking powder for these cookies. Soda gives a little rise without getting too much height.
*Optional Corn Starch: I have tried this recipe with both cornstarch and arrowroot powder, equal amounts, and both work great. They help add just a tad more chewiness to these cookies. No, this ingredient isn't required but it does make a little difference that I enjoy.
Sea Salt: You want a fine salt, not too coarse.
Baking Cocoa Powder: I use a super basic cocoa powder, nothing fancy.
Coconut Sugar: I've tried this recipe with granulated coconut sugar and blending the sugar. I prefer the texture with a coarser grain (not blended) but you can try it either way. You'll get a "smoother" finish on the cookies with small holes all over with the blended sugar.
Unsalted Butter: If you're using salted butter you might want to adjust the portion of sea salt used.
Raw Honey: we only use raw, local honey. Every honey will taste differently so just make sure you enjoy the flavor of your honey! Raw is a bit thicker than most store-bought honey but you can use either. You can easily decrease the amount of honey in this recipe and you'll still get a sweet cookie.
Large Eggs: This recipe works best with 2 whole eggs. I've tried it with a single egg and 1 egg yolk and I didn't like the texture that it had. 2 whole eggs gives just the right amount of moisture, rise, and flavor.
Vanilla Extract: Don't leave this out, it adds so much flavor as well as liquid. You can easily decrease this amount to 2 teaspoon if you prefer, but 1 tablespoon is just so tasty.
Semi-Sweet Chocolate: I've used dark chocolate chunks and chips. Either works great! I've used many brands and what I recommend is to find a rich and dark chocolate that is lower in sugar and has the fewest and most basic ingredients. You can use 1 to 1 ¼ cups chocolate. Because there are so many sizes and types of chocolate chips/chunks I stopped using weight measurements and I just go off of cups for ease.
Steps for Making These Cookies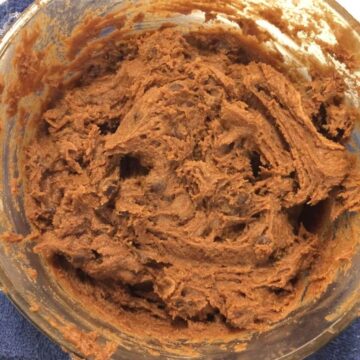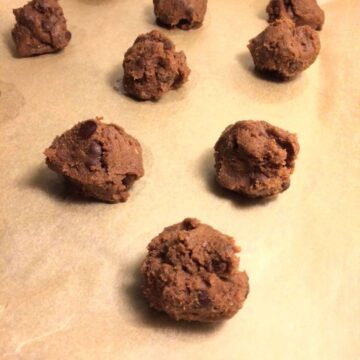 Cream the butter, then add the remaining wet ingredients. Combine all dry ingredients in a separate bowl, then add wet and dry ingredients together. Mix well until creamy.
Refrigerate cookie dough! Don't skip this step, it helps with the rise and texture of the cookies!
Portion out cookie dough and space about 2 inches apart on parchment paper. I prefer a large cookie using 3 tablespoons per cookie. 2 tablespoons also works great for smaller cookies! 3 tablespoon scoops: yield 16 cookies. 2 tablespoon scoops: yield 24 cookies.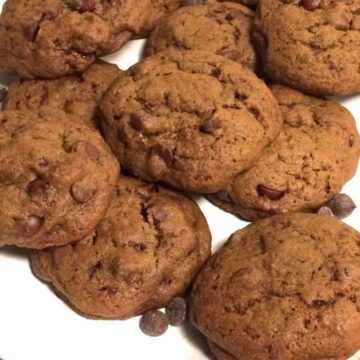 Bake on the middle rack at 350℉ for 14 minutes. Yes this is specific but it's the perfect time! They'll still be a tiny bit gooey.
Let them rest for 5-10 seconds on the cookie sheet before transferring to a cooling rack.
Cool completely before storing. Or just eat them right away!
Storing Cookies
How you store cookies depends on the type of cookies. Overall, my method stays the same.
Completely cool them before storing!
I like to use a cake pan with lid so I can space out the cookies and avoid stacking too much. I keep them stored on the counter, not the fridge. When sealing in an air-tight container they will get a bit moist and stick together some.
Before eating, transfer a few cookies to a paper bag to absorb some of the moisture. They'll dry out just enough to no longer be sticky. I use basic brown lunch bags and these If You Care Sandwich Bags.
You can also heat them for a VERY short time either in a toaster oven at 350℉ (try just a minute or less) or microwave (for a few seconds) to reactivate that ooey gooey center.
Freeze Them! Make double the batch, freeze half, it's worth it! these cookies are incredibly tasty straight out of the freezer, believe me I do it all the time and aside from eating them fresh out of the oven, it's my favorite way to enjoy them.
Equipment Used
If You Care Parchment Paper
TeamFar Baking Sheets
TeamFar Cooling Rack
Brown Sandwich Bags
If You Care Sandwich Bags
Similar Recipes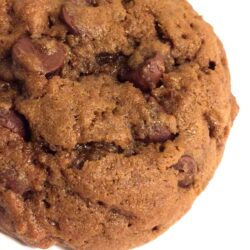 Double Chocolatey Chip Cookies
These delicious cookies are slightly crunchy on the outside with a soft gooey center. Skip the white sugar, because this recipe calls for coconut sugar and honey for sweetener!
Ingredients
1 ¾

cup

all purpose flour

½

teaspoon

baking soda

½

teaspoon

* optional arrowroot powder

(or cornstarch)

½

teaspoon

sea salt

2

tablespoon

baking cocoa powder

¾

cup

coconut sugar

10

tablespoon

unsalted butter

(softened)

¼

cup

raw honey

2

large

eggs

3

teaspoon

vanilla extract

1- 1 ¼

cups

semi-sweet chocolate chips

(Ghirardelli premium baking chunks, Guittard Akoma extra semisweet chocolate chips, any )other chips or chunks
Instructions
In a large mixing bowl combine flour, baking soda, salt, cocoa powder, coconut sugar, and optional cornstarch/arrowroot powder.

In a medium-sized bowl cream the butter. Either use a fork and whip until smooth or use an electric mixer. Add eggs, vanilla extract, and honey and combine well.

Add the wet ingredients to the dry and mix with a fork or use electric mixer. If you're not using a mixer you might want to use your hands to really mix everything together until a creamy batter forms.

Add chocolate chips/chunks and mix well with a fork or wooden spatula.

Refrigerate for at least 30 minutes.

Preheat oven to 350°F and set oven rack to middle setting.

Line 2 cookie sheets with parchment paper or use a pizza stone. Option to use a single cookie sheet multiple times.

Remove chilled batter and scoop 3 tablespoons per portion to form into a balls. Place about 2 inches apart on cookie sheet. You can fit about 8 balls per cookie sheet. If you're using 2 cookie sheets, place them side-by-side on the middle rack.

Remove from oven and leave cookies on the sheet for a about 10 seconds before transfering to a cooking rack.

These cookies are best enjoyed right after baking for the best texture!
Storing Cookies
Let cookies cool completely, then store in an air-tight container. It's best to spread them out and not stack them if possible.

Whether you store them on the counter or the fridge they will get moist and start to stick together. I like to store them in a cake pan, then I will take a few at a time and place them in a paper bag to help absorb some of the moisture at least 1 hour before eating.