Think peanut butter cups, but without the chocolate, add some honey, molasses, coconut and oats, freeze it, and you have a healthier, cold, and no-bake dessert that anyone and everyone will love!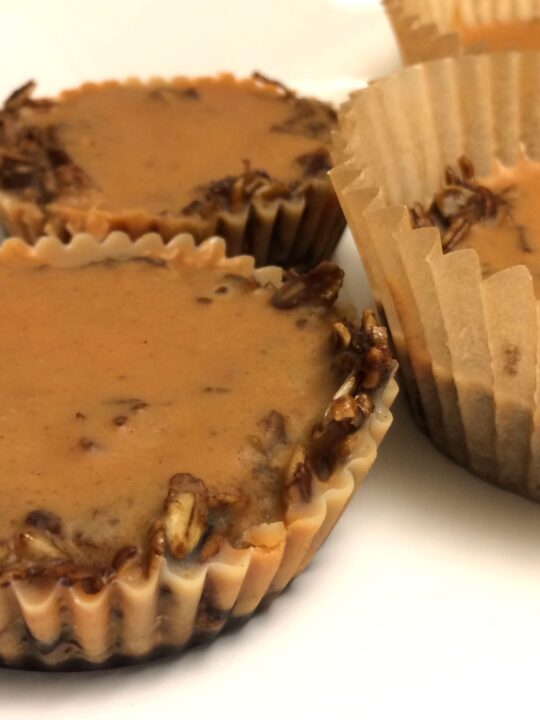 (This page contains affiliated links)
These will, these will, rock you! I'm not kidding, these peanut butter coconut cups are incredibly tasty, perfect for a cold treat, and easy to make!
I'm not about to take full credit for inventing these beauties. This recipe is adapted from A Couple Cooks' "Bliss Bites." Truth be told I never even made their version because I just physically and mentally can't... I always have to change up a recipe somehow! In their recipe they use maple syrup as sweetener, which is great because it's refined-sugar free! They also use cocoa powder to make it more of a chocolaty base (more like a peanut butter cup). Lastly, they use refined coconut oil. Below are my adaptations!
Ingredients
I decided to leave out the chocolate. GASP, why?? There's a few reasons. For one, we don't eat a lot of chocolate in my house. I like to make recipes that I'm comfortable with my toddler chowing down on and we just don't give her chocolate because it has caffeine, and I'm not about to wrestle with the aftermath of that.
The other reason is that manufactured cocoa products often contain higher levels of lead. If you check out my post How Much Do you Really Know about Lead and Toxins if you Home? you can read more on my family's mission to remove lead and unnecessary processed foods from our meals and lifestyle. While I may sound like a downer for mot making many chocolate goodies, know that you will see some chocolate recipes on my site and we do have it now and then, and once you give this recipe a try you'll understand why we're not really missing out!
Blackstrap Molasses- I added blackstrap molasses to give a bit of a richer flavor since I removed cocoa.
Cinnamon- Adds a little more flavor without over doing it at all. If you really like cinnamon I'd recommend increasing the amount to about ⅛ teaspoon to start. You can always taste test and add more but know that the heated mixture will taste different than when it's chilled so don't add too much!
Honey- I have made quite a few changes to their recipe. I have used honey as sweetener because it gives a different flavor, goes so well with peanut butter, and helps to make the mixture stickier and firmer when chilled.
Shredded Coconut - This was a must for me! It adds a ton of texture but also incredible flavor. If you're really not a coconut fan or allergic, you can leave it out, but it does add a whole lot to the recipe!
Unrefined Coconut Oil-This was a no brainer since I wanted that coconut flavor to shine through. If you only have refined that will work too, you'll still get the coconut flavor from the shreds.
Peanut Butter- I use salt-free, sugar free, oil free, plain as it gets, peanut butter. This peanut butter is one of our family favorites. Because of these aspects it's thicker than some store-bought peanut butters. Just know that depending on the peanut butter you use you might get a slightly different texture.
Muffin Tin and Liners
You'll need a muffin/cupcake tin for making this recipe. This is my favorite muffin tin. It's stainless steel and works wonderfully well.
The baking liners play a big roll too. They give the indentions like you see on peanut butter cups and you want liners that will pull away easily. Most likely any will do decently well with the oil in the recipe, but these are the only liners I use. They're free of harmful chemicals and they separate easily from all baked goods!
Stovetop Cook Time
For the first base mixture I decided to heat it longer to bring it to a simmer to cook out the alcohol in the vanilla extract. I don't add vanilla to no-bake desserts I'm feeding my toddler. Maybe you're someone who abstains from all alcohol, this might make a difference for you too. But if that's not a concern of yours then bringing it to a simmer isn't necessary. You just want to get everything melted and completely combined.
Chill the Base
This step makes a difference. Get that base cooling and firming up before you add another hot layer on. I like to press down my mixture before cooling it to make it firmer and to avoid any gaps for the top layer to drip down into.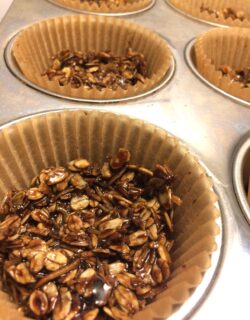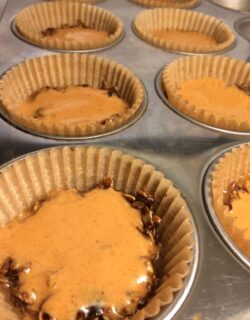 Storage Tips
I recommend to store these cups in the freezer and take out 1 at a time as you enjoy them. They do melt easily if you handle them for a while and keeping them in the fridge would allow them to melt faster while you eat them. Keep them cold! And that way they'll last longer too.
Can I Lower the Sugar in this Recipe?
While this recipe doesn't contain any refined sugar, it still has natural sugars and the cups are sweet! If you love how this treat sounds but you want lower sugar you can decrease the honey from 3 tablespoon total down to 2 tbsp. If you want even less sugar than you can decrease the molasses from 3 tablespoon total down to 2 tablespoon as well!
Try More No-Bake Dessert Recipes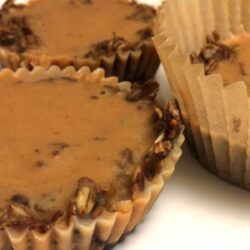 Peanut Butter Coconut Cups
Think peanut butter cups, but without the chocolate, add some honey, molasses, coconut and oats, freeze it, and you have a healthier cold, and no-bake dessert that anyone and everyone will love!
Ingredients
6

tablespoon

unrefined coconut oil, split

¼ cup + 2 tbsp

peanut butter, split

(unsweetened, salt free, creamy peanut butter)

3

tablespoon

raw honey, split

3

tablespoon

blackstrap molasses

1

teaspoon

vanilla extract

pinch

sea salt

1

dash

ground cinnamon

1

cup

rolled oats

(option to use gluten free oats)

½

cup

unsweetened shredded coconut
Instructions
Making the First Layer
In a small saucepan add 2 tablespoon honey, 5 tablespoon unrefined coconut oil, 2 tablespoon peanut butter, 3 tablespoon molasses, 1 teaspoon vanilla, and a pinch of sea salt. Heat on low for about 10 minutes, stirring often. Bringing it to a simmer will kill off the alcohol in the vanilla extract. If you're not serving this to young children then you don't have to get it to a simmer, just to a melted point where it's all combined.

Add rolled oats and shredded coconut to the mixture and combine well. Spoon into muffin liners using around 2 tablespoon for each cup. press down gently using a spoon and refrigerate while completing next steps.
Making 2nd Layer of the Cups
Using the same saucepan, add ¼ cup peanut butter, 1 tablespoon honey, 1 tablespoon unrefined coconut oil, and a dash of cinnamon (more to taste if you want). Heat on low for about 3 minutes, stirring often, until melted and combined. Spoon mixture over chilled oat and coconut bases. Don't worry too much about measurements, just dollop a little on each until they look about equal.

Freeze the cups in a muffin pan for about 45 minutes- 1 hour. Enjoy

To store, transfer them to a freezer safe container, placing them in a single layer and not stacking as they will stick together. Pop them out the of freezer when you're ready to enjoy and they'll be perfectly chilled and firm but not rock solid!