Such a fun homemade blueberry ice cream without the hassle of heavy equipment! No egg but with instructions for adding it if you choose to try it, and refined-sugar free!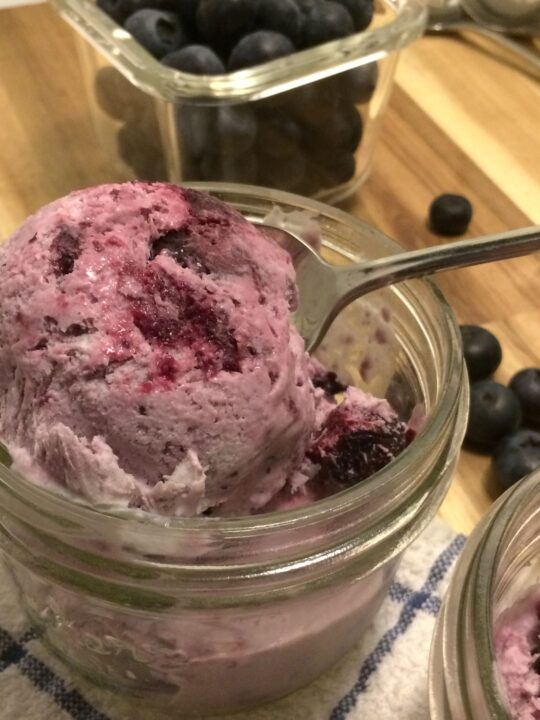 Blueberry ice cream is one of my all time favorites. Ice cream with fresh fruit always tops any other for me, and this recipe will show you why!
I trialed this recipe so many different ways before landing on this gem. I'll share some of what I've learned along the way to help you make delicious and easy ice cream at home.
Frozen versus Fresh Fruit
When using blueberries I like to use fresh berries. But, you're cooking them to bring out flavors and increase the juices so you can definitely use frozen if that's what you have. However, the recipe calls for ¼ cup fresh berries to drop in right before freezing and I would definitely recommend fresh for that portion.
Cooking the berries: You're essentially making a compote for this part. This is absolutely necessary and you'll get completely different results if you skip this step! Creating the compote brings out so much flavor and helps to carry the flavor throughout the ice cream.
Honey
I love this sweetener for ice cream. It adds flavor along with sweetness and you don't need refined-sugar!! What?? Yes, it's true, just avoid white sugar. White sugar can help ice cream be creamier, but in my book it's not worth it. There are plenty of recipes out there that use refined-sugar and I hope to show that you can have a delicious ice cream that's still creamy and uses natural sweeteners only!
Heavy Cream
This helps the ice cream be extremely creamy. No, not the healthiest, but you are still making ice cream....so is that a big shock? I wouldn't recommend replacing this ingredient. Check out 3 different methods for making whipped cream by hand with heavy cream, just like in this recipe.
Coconut Milk
I use full fat coconut milk. If you choose one with less fat just know that the creaminess of the whole recipe will change and it will likely make the ice cream icier. Of course this adds flavor too which just adds to the amazingness.
Vanilla Extract
If you're serving this to kids then you can heat the coconut milk with vanilla to remove the alcohol. The flavor is worth adding though! If you're not worried about the alcohol content then add it raw because it'll be a lot stronger and add so much to the final ice cream.
Adding Egg Yolks into Ice Cream
When you search for ice cream recipes you either see egg free, or to add yolks. But, there's a range of yolks that you can add and it all depends on preference. From what I've tested, 1 and 2 yolks doesn't make a difference. I've tried 3 and 4 and what I've noticed is that they didn't really make it creamier (less iciness) but they did greatly decrease flavor. To me, this is absolutely not worth it. You could add 5-6 yolks but you would only be masking more flavor. I would recommend trying this recipe as is so you can experience how great it is, then if you're interested in trying egg yolks you can try that version.
If you're using an ice cream maker then adding 2-3 yolks might be a great option. But, I would also love to hear from anyone that uses this recipe as is, without yolks, in an ice cream maker!
Storing the Finished Product in Smaller Jars
Most homemade ice creams will get hard when they're frozen. If you're storing them in a large container then you have to defrost the whole container anytime you want a portion. Make it easier on yourself and separate it out into portions after the first freeze. I use canning jars (8 oz. and 16 oz.) but if you really like your ice cream, then go bigger!
You might be thinking "why not just portion out the ice cream before you freeze it in the first place?" My answer to that is that it's difficult to portion out the pre-frozen liquid evenly without getting some jars with all cream and some with all blueberries. It's just more even waiting until it's frozen and softened up a bit.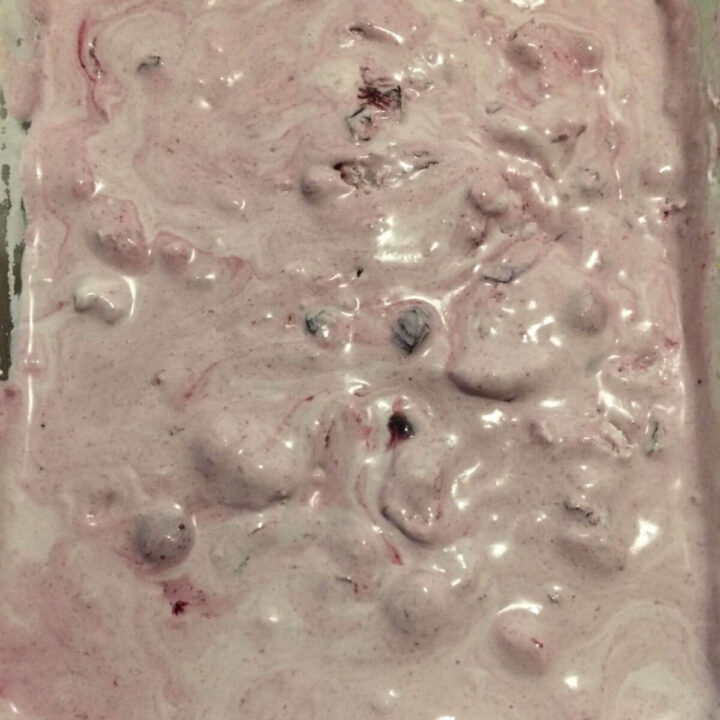 Combine coconut milk with cooked blueberries.
Fold in whipped cream.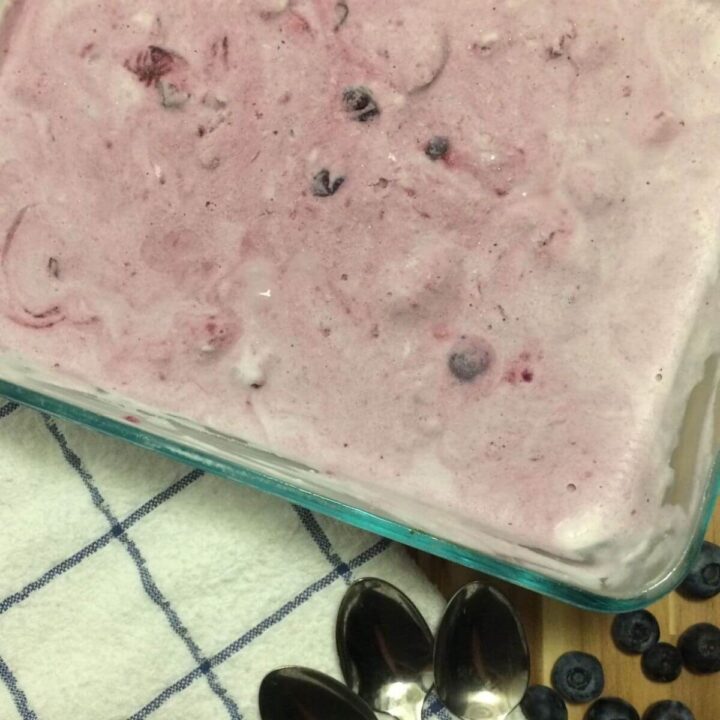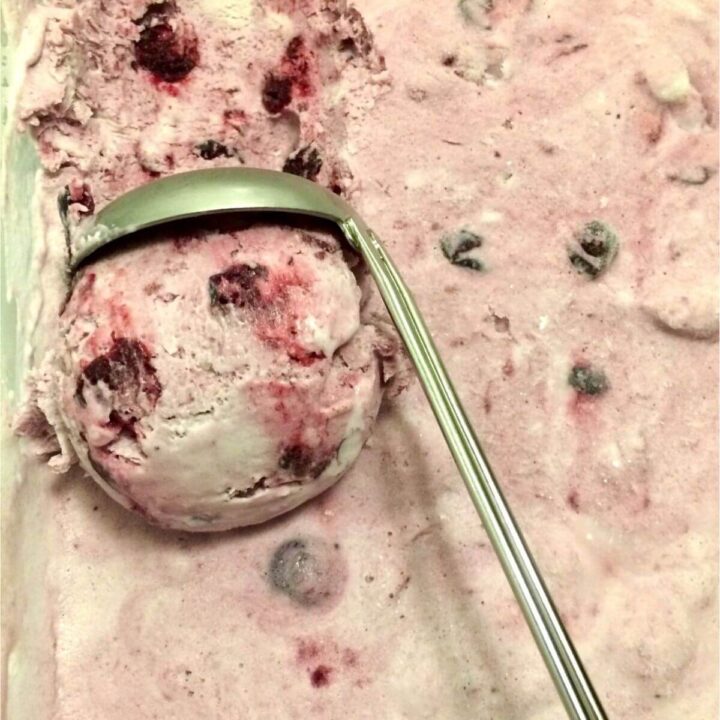 Freeze in freezer-safe container with lid.
Scoop and transfer to multiple smaller containers if you choose.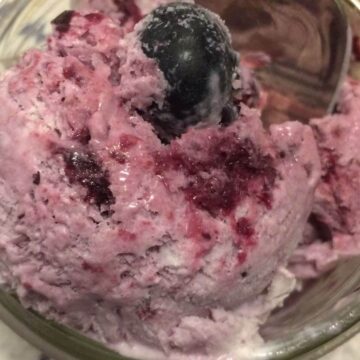 Enjoy!
More Ice Cream Recipes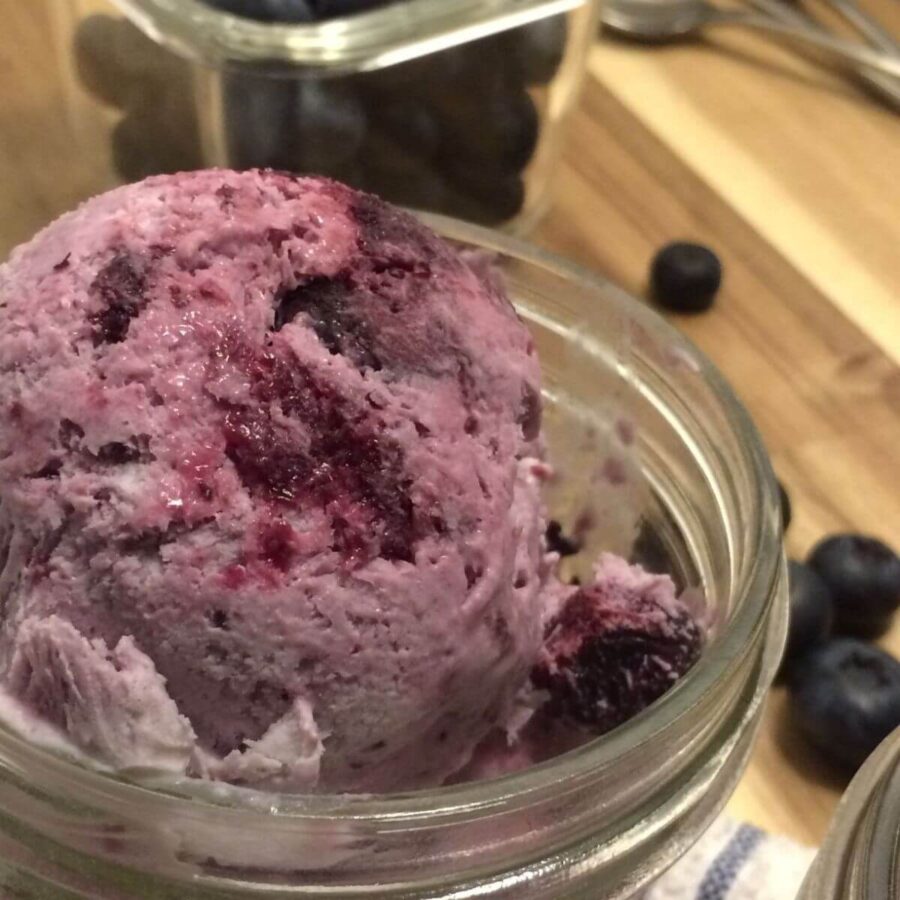 Homemade Blueberry Ice Cream (no churn, no egg)
Such a fun homemade blueberry ice cream without the hassle of heavy equipment! No egg but with instructions for adding it if you choose to try it, and refined-sugar free!
Ingredients
3 ¼

cups

fresh blueberries, split

2

teaspoon

fresh lemon juice

2

cups

heavy whipping cream

1

cup

full fat coconut milk

1

teaspoon

vanilla extract

4

tablespoon

raw honey

pinch

of sea salt

*optional 4

large

egg yolk

My preference is without yolks but instructions included for adding yolk
Instructions
Cook Blueberries
Option 1: Bake Blueberries in Oven

Add 3 cups fresh blueberries to an oven safe baking dish. I use an 11 cup pyrex that I later add all the ice cream into to make life easier. Choose a dish that has sides, not a cookie sheet because you want to catch all the juices.

Add 2 teaspoon lemon juice and 4 tablespoon honey and bake at 375℉ for 25 minutes. Stir 2 times during bake.*See note about adding vanilla for toddler friendly version when not adding egg yolks.

Remove from oven and cool on counter until container is no longer hot, then chill completely in the fridge.

Option 2: Cook Blueberries on Stovetop

In a medium-sized saucepan add blueberries, lemon juice, and raw honey.

Heat on low heat (level 2) for about 15 minutes. Decrease heat to Lo for another 5 minutes and remove from heat. Chill on stove top, then transfer to the fridge until completely chilled. This should total 2 cups berries and juice.
Option with NOT adding egg yolks:
Once completely cold, add coconut milk and vanilla extract to blueberry mix (if you didn't during the bake) and stir with a chopstick. Jump to "Putting Ice Cream Together" step.
Option if you choose to add egg yolks:
While blueberries are baking, in a small bowl, whisk egg yolks and set aside.

In a small saucepan add coconut milk, salt, and vanilla extract. Heat on low heat for 5-10 minutes until hot (barely reaching a simmer). Remove from heat, keep burner on.

Slowly add half the coconut milk mixture into the egg yolks continuously stirring while adding to temper the yolks. Once combined, slowly reincorporate back into other half of coconut milk and whisk while adding.

Continue heating on the stove for another 5 minutes, stirring frequently. It will begin to thicken slightly but you want to watch it carefully. Once it starts to thicken, immediately remove it from heat because it can quickly get too hot and curdle.

If it starts to curdle, immediately transfer to another bowl. You can put that bowl in another bowl of cold water or ice and whisk quickly and you can save it. If it curdles a lot then it might not be salvageable.

Chill in fridge until cooled completely. Once all the above are chilled move on to the next step.
Putting Ice Cream Together
Choose the container you'll hold the final ice cream in. You can choose a Pyrex like I do, a loaf pan, round bowl, anything large and freezer safe. Whatever container you're using, add the coconut milk and blueberry mixture. Gently fold in the whipping cream. Combine gently with a fork or chopstick. Drop in ¼ cup fresh blueberries at this point.
Freezing
Freeze, covered, for about 6-7 hours. After 1 ½ hours remove from freezer and stir to mix in any ice forming. Repeat one more time after another 1 ½ hours. Continue to freeze the remaining hours.

When ready to eat, you might need time for it to thaw some. I like to put it out at room temperature for about an hour for easy scooping.

At this point I like to scoop and transfer smaller portions into 8oz-16 oz. canning jars to store in the freezer. That way they're portioned out and you can easily pull a jar at a time to thaw for about 30 minutes before enjoying!
Notes
*If you want this toddler friendly, just add the vanilla to the baking/stove top cooking of the blueberries to kill off any alcohol. If you're choosing to add egg yolks into this recipe, follow the instructions above for when to add vanilla extract.