Sticky and sweet treats without added refined sugar! Form them into bars or ball and either way they're an easy quick snack!
(This page contains affiliated links)
I love no-bake protein balls and sometimes I want a recipe without tons of ingredients. This is a bit more simple and loaded with natural sweetness. We eat these date balls and bars as more of a dessert than a protein packed snack.
I don't pass up a chance to add chia seeds and flax for added nutrition as well as texture.
My husband likes these as thicker bars since they're a bit softer and my daughter gobbles these up as balls and likes them a bit more frozen. Whatever you choose these are a delicious sweet treat any time of day.
Ingredients
Dates: I love using these Deglet dates. Dates are nutritious and delicious and great for a healthy snack or dessert.
Raisins and Craisins: The mix of both makes the best flavor but you can use all of one or the other if you wish. Craisins will of course have more sugar and add a lot more sweetness.
Chia Seeds and Flax Meal: Flax adds great additional fiber. Chia seeds are jam packed with all sorts of nutritional goodness: protein, omega-3's, calcium, phosphorus, magnesium, manganese, vitamin B's, potassium, zinc.
Chia seeds will help the mixture bind together when combined with moisture.
Coconut Oil: Use unrefined for more coconut flavor and refined if you want no added coconut flavor. Coconut oil is the best for recipes like this because it hardens when chilled and helps bind the mixture together.
Almond Meal: This will add great flavor in addition to binding ingredients. I blend up raw almonds and it works great. You can blend other buts such as walnut or cashew. If you prefer them a bit more firm you can add more almond flour.
Shaping
You can make these into ball or bars. I shape them by hand and chill but you can also flatten them on a pan on parchment paper and cut into preferred sizes.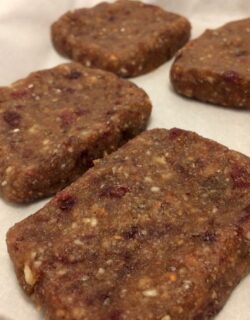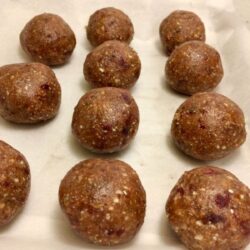 Date Balls and Bars
Sticky and sweet treats without added refined sugar! Form them into bars or ball and either way they're an easy quick snack!
Ingredients
⅔

cups

craisins

⅓

cups

raisins

⅔

cups

dates

1 ½

cups

almond meal

1

tablespoon

coconut oil

2

teaspoon

flax meal

2

teaspoon

chia seeds
Instructions
Chop craisins, raisins, and dates and soak in 1 cup water for about 10-15 minutes to let them swell. Drain.

Using a food processor or blender combine craisins, raisins, dates, flax, chia seeds, and almond meal together.

Add coconut oil and blitz again

Form into ball (10-12 about 1 tbs each).

Form bars by pressing into a small pan with parchment paper about ½ or ¾" thick.

Put into freezer to quickly harden for about 30 minutes then serve or move to fridge to store.