Quick and simple veggie sushi rolls make a great snack for adults and kids! Add more ingredients for more of a meal!
(This page contains affiliated links)
Sushi rolls can be so much fun to make! Overall, they're a healthy meal option and you can dream up so many ingredients to include! My husband and I used to make our own sushi often, but then we had a baby and we just don't take the time anymore. I started making super quick sushi and it's been such a quick and easy go-to snack option! My daughter loves helping to make these and gobbles them down with so much joy.
Ingredients
Seaweed Paper: I love gimMe Organic Roasted Seaweed Sushi Nori Sheets! I prefer to use organic seaweed paper and this brand has never disappointed. I can find it at most of my grocery stores and it's on Amazon.
Carrots: I like slicing my carrots with a vegetable/fruit peeler for long thin sheets. The pieces are less likely to fall out of the rolls, the carrots lay flatter, and make it easier to roll. You can also julienne the carrots if you cut them super thin.
Avocado: Fresh slices of avocado add such great creaminess and light flavor. Slice them thin!
Pickles or Cucumber: We don't often have pickles on hand, unless my parents visit and gift us with some amazing homemade pickles!! When we don't have a stash from them then I will use cucumbers for this recipe. Like all other ingredients, you want to slice them thin!
Sesame Seeds: You can use white or black sesame seeds in the roll or just on top as a garnish. They add a little more crunch as well as flavor, especially if you use roasted seeds.
Optional Umeboshi Paste: We all love this Eden Umeboshi Paste to add to Asian dishes. If you are new to umeboshi paste, look for this brand and give it a try! You can find it as most super markets, natural grocers, and Amazon. It has several health benefits and adds incredible flavor to your dishes!! Use it sparingly, it's concentrated!
Optional Ingredients
You can easily change up the ingredients for this recipe! Try some of the following:
Rice: If I have leftover rice on hand I might add it, but sometimes I just don't want to bother! If you do add rice it can soften up the seaweed paper quickly, so keeping it out keeps them a little crispier longer.
Imitation Crab Meat: I like to add crab meat if we have it on hand, whereas my daughter likes it every other time. If you're adding it, keep it minimal as it will take up a lot of room!
Thinly Sliced Smoked Salmon: If you have it, why not add it? It add wonderful nutrition as well as flavor.
Making these Mini Sushi Rolls
My recipe is for a single serving with 1 sheet of seaweed paper. This amount is great for a child-size snack but you might want 2-3 sheets!
Use kitchen sheers to quarter the seaweed paper. Option to use a super sharp knife! Enjoy my real life photos that show my lack of perfection because it is easy to tear these! Don't worry about little tears, it'll be fine. My daughter really wanted to help me cut with a knife, so therefore we cut them with a knife 😋.
Thinly slice all ingredients and use small portions to not overfill. Lay them parallel to the perforations on the seaweed sheet. You can place filling in the middle or closer to one end.
Roll each sheet and garnish with sesame seeds.
Enjoy with your fingers or chopsticks: We just bought these Kids Chopsticks and they're great! They're highly rated and the packaging it hilarious with attempted translations. We don't use chopsticks often but we do like teaching out young daughter how to use them and these are great for beginners.
What if I Want a Larger Portion?
Use multiple sheets of seaweed paper and more than 1 avocado. You can get multiple servings out of a single carrots and pickle/cucumber.
Similar Recipes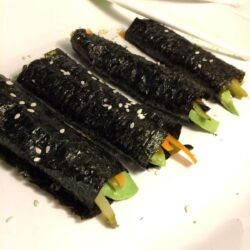 Mini Veggie Sushi Rolls
Quick and simple veggie sushi rolls make a great snack for adults and kids! Add more ingredients for more of a meal!
Ingredients
1

sheet

seaweed paper

1

small

carrot

1

pickle or cucumber

1

avocado

optional

sesame seeds to garnish

optional

umeboshi paste
Instructions
Use kitchen sheers or a sharp knife to quarter each sheet of seaweed paper.

Thinly slice the avocado and pickle. Use a vegetables peeler to thinly slice your carrot and cucumber if not using pickles.

Place small portions of each ingredient parallel with the perforations on the seaweed paper. It's easiest to place the ingredients close to one edge. Placing them in the middle will be fine too because these rolls are small.

Roll up the seaweed paper and place seam side down to serve. Garnish white or black sesame seeds and umeboshi paste!