This is the BEST triple berry pie, and then you add rhubarb and it gets even better! Homemade pastry crust, maple syrup only for sweetener, and arrowroot powder as thickening starch keeps this pie healthier so you can enjoy more than 1 slice!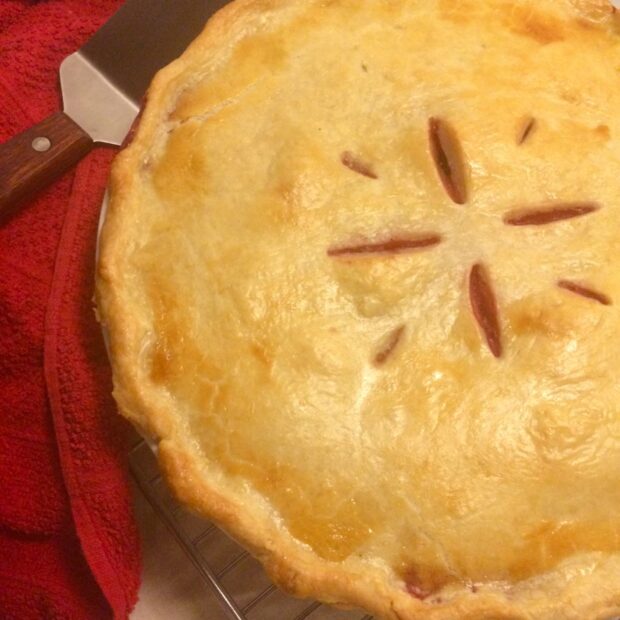 Berry Pie is a favorite in my house, but I just made it even better with triple berry and rhubarb! My daughter asks for this all the time and my husband and I couldn't be happier that she loves pie as much as we do. Scroll to the bottom, right before the printable instructions and you'll find a link to my homemade Pie Pastry Recipe.
For our wedding, my husband and I didn't think twice about having pies instead of cake. We both enjoy pie so much more and every anniversary we make a different favorite to celebrate! Although I make pies more frequently for celebrations and holidays, they're really made year round in my house.
Maple Syrup
Because we have pie so often I started making it with maple syrup so my daughter could enjoy it with us without the added sugar. It took a little work to get the portions just right so it's still sweet but keeps the tartness and freshness of the berries.
Arrowroot Starch
Another change I made was replacing cornstarch with arrowroot powder (something I do now with all my recipes). It works out great! Again, it took some trials to get the portions just right now the pie holds together when cut but isn't too thick and solid.
Berries
I have made this pie with fresh fruit, some fresh with some frozen, and all frozen berries. Every time it works out great. When I made it with the entire portion of berries frozen I did add a total of 4 ½ tablespoon arrowroot powder (increased from 4 tablespoon) and it was just the right amount.
Soon after I tried this recipe for the first time I tried it with blueberries and no rhubarb. I was a bit disappointed. Surprisingly, replacing the rhubarb with blueberries completely changed the flavor and it just wasn't as good! I also tried to add a bit more maple syrup and again, it just altered the taste in a way I didn't prefer.
So, what this recipe gives you is a perfect balance of berries and rhubarb that give you an incredible flavor. The sweetness of the maple syrup isn't overpowering but it's definitely a sweet dessert pie. The pie, when cooled, won't run with fruit juice and holds together very well.
Do the Portions of Berries Have to Be Exact?
The short answer is no. I think the fruit I chose (blackberries, strawberries, raspberries, and rhubarb) works wonderfully together but how you divvy up the portions is your choice. As long as you end up with 6-7 cups fruit you'll be set.
Egg Wash
I chose to use an egg wash (whole egg) with 2 tsp. water whisked in. I like this mix because it gives the pie a great shine and color while also adding a crisp, yet not hard, texture to the crust. You can choose to do egg only, milk, or combine the two!
My Homemade Double Crust Pie Pastry Recipe
You can use a favorite pastry recipe you have, but I would highly recommend trying my Pie Pastry Recipe. The pie wouldn't be the same without it!
More Pie Recipes
If you liked this recipe and want more delicious pie ideas take a look here:
More Baked Goods Recipes
If you're wanting more warm and incredible baked goods, take a look at these recipes next: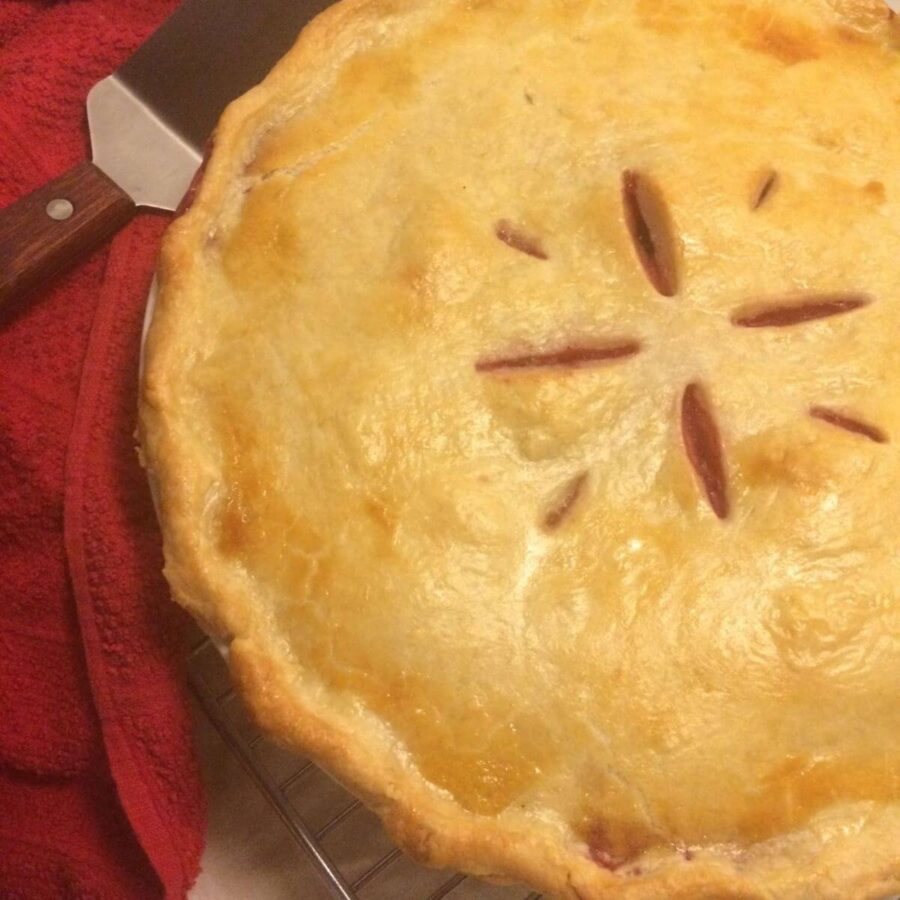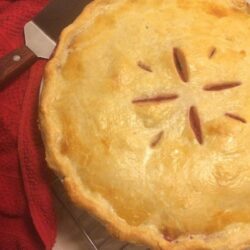 Triple Berry Pie with Rhubarb (refined-sugar free)
This is the BEST triple berry pie, and then you add rhubarb and it gets even better! Homemade pastry crust, maple syrup only for sweetener, and arrowroot powder as thickening starch keeps this pie healthier so you can enjoy more than 1 slice!
Ingredients
1

double crust pastry

Link found in step 1 of instructions below

1 ½

cups

blackberries

1 ¼

cups

frozen rhubarb

1 ½

cups

raspberries

2 ¾

cups

strawberries

¼

cups

arrowroot powder/starch

1

teaspoon

lemon juice

fresh squeezed

¼

teaspoon

ground cinnamon

½

teaspoon

vanilla extract

¼

teaspoon

almond extract

2 ½

tablespoon

maple syrup

1

tablespoon

unsalted butter

on top of filling before lid goes on
Egg Wash
1

large

egg

2

teaspoon

whole milk
Instructions
Make double crust pastry dough using my Pie Pastry Recipe. Cut into 2 portions and refrigerate.

Preheat oven to 400℉.

In a large bowl combine all berries (frozen and/or fresh). The portions listed work amazingly well but as long as there are 7 cups total you'll be set. Add in arrowroot powder, fresh squeezed lemon juice, ground cinnamon, vanilla and almond extracts, and maple syrup.

Roll out 1 portion of pie pastry for the base, letting dough stretch out to lip of pie plate. Pour fruit mixture into the base. Cut up 1 tablespoon of butter and drop them on the top of the fruit.

Roll out 2nd portion of pie pastry. Place on top of fruit and pinch together edges of base and top. If it doesn't seem to be sealing add a bit of water to stick together. Flute edges.

Whisk together egg and 2 teaspoon water. Lightly brush egg wash on top of pastry. Cut small designs into the top to allow for heat to escape.

Cover edges of crust with foil. Bake on middle rack for 35 minutes. Remove foil and continue baking for about 8-10 more minutes or until crust is light brown and crisping up. Let pie cool before slicing. If you attempt to cut it right away it will run but quickly stiffens up when cooled to cut neatly.