Classic apple pie made even better by replacing white sugar with maple syrup for a gooey apple filling and crisp chewy homemade pie crust!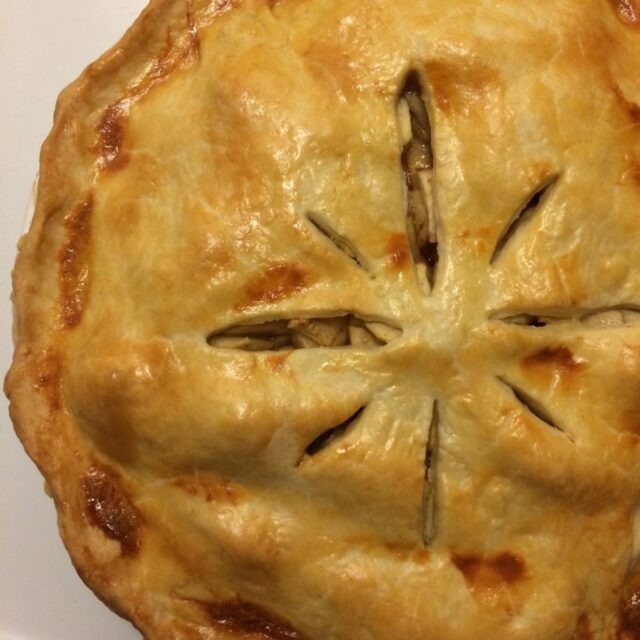 Apple pie is such a classic dessert and I have made it even more enjoyable with this naturally sweetened incredible apple pie! I use my homemade pastry dough, maple syrup to sweeten, lemon juice plus citric acid for a slight tartness, and arrowroot powder to thicken the sauce. What you get in the end is a flavorful pie with just the right sweetness, a gooey filling, and a crisp, yet chewy crust.
I have made this pie numerous times trying to get everything just right. You don't want a pie filing that's too dry or runny and this recipe has the perfect balance. The crust can't be too thick or thin, but right right so you get a little crunch, followed by the chewy inside.
Ingredients
Homemade pie pastry can be something really special. Yet, it can be a challenge to find a recipe that's not too dry, easy to roll out and not too sticky, and gives you that crunchy outer texture and chewy center. I have perfected my pastry to be easy to roll out, easy to mold, flavorful (no it doesn't have to be tasteless), with the best crispness once baked. Don't forget the egg wash, that's a must for the perfect crust.
Apples: I love a tart Granny Smith apple but really can you use any. Many recipes will call for only specific apples, but as long as your apples aren't grainy when fresh, it'll taste great in this pie.
Citric Acid: This is one of my secrets to a perfect filling. For one, it adds more tartness without adding more liquid. I use lemon juice also, but without overdoing the liquid you can increase the tartness slightly. At the same time, citric acid brings out more moisture in your dishes to ensure you don't have a dry filling.
Lemon Juice: Adds a tiny bit of tartness, freshness, and helps preserver the ingredients.
Arrowroot Powder: Another secret to the perfect filling. You'll want to thicken the sauce, but flour can alter the flavor and is just unnecessary. Cornstarch is is extremely processed making it void of any nutritional value. It's high in carbs, and has a high glycemic index. Typically, cornstarch doesn't use the best quality ingredients so I just like to avoid it overall. Arrowroot is gluten-free and free of any grains making it a great alternative to flour. It does give you that glossy finish too that cornstarch is known for. Arrowroot contains high levels of folate, omega-6, omega-3, and potassium, and calcium. So, why not use a thickening agent that actual adds to your health and nutrition rather than pulls from it.
Maple Syrup: My go-to with baking. It adds incredible flavor to this apple pie and doesn't distract from the natural apple filling (no you don't have to use refined white sugar)!!! I've used date nectar in this recipe which worked, but it did change the flavor to be a bit 'darker' and I had to use more to reach the sweetness I like. Honey also changes the flavor profile in a direction I don't prefer for this recipe. Once you start getting used to a liquid natural sweetener I guarantee you that you'll be amazed with how few recipes you'll end up using white sugar with.
Seasonings: I use cinnamon and nutmeg for a perfect balance!
Unsalted Butter: Salted butter isn't necessary! Add diced butter to the top of the apple filling, right before the top goes on!
Egg Wash: I like to use milk mixed with a single egg. Milk makes the crust just a bit more brown that using water. The egg wash helps create a crisp crust.
How to Make this Pie
Make the homemade double crust pie pastry. chill.
Make the apple filling. Thinly slice the apples and toss in remaining filling ingredients.
Preheat your oven to 375℉ and make your egg wash using 1 egg and 2 teaspoon milk.
Cut the chilled pastry into 2 portions. Work with 1 portion at a time, keeping the other refrigerated.
Press your rolled-out pastry into a pie plate.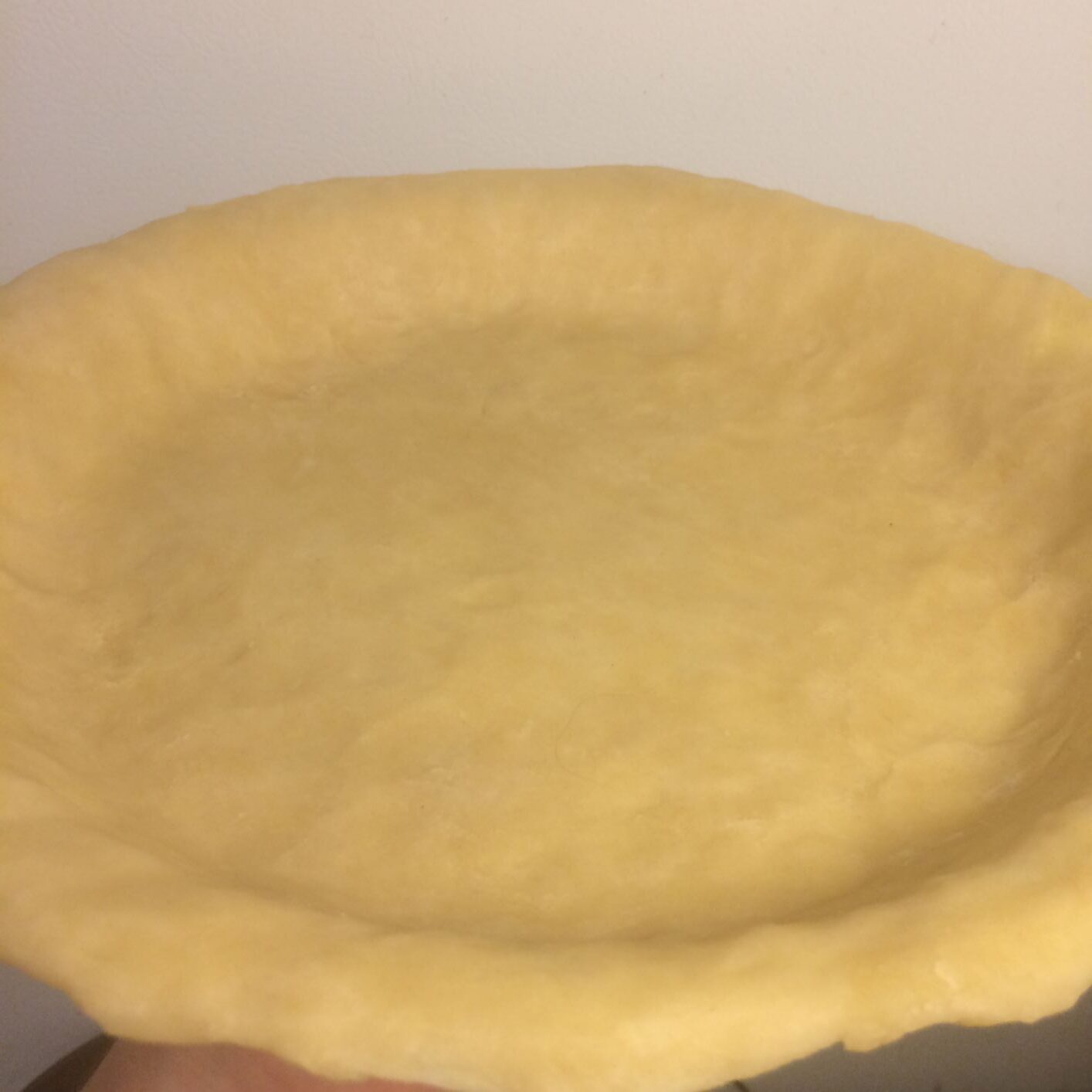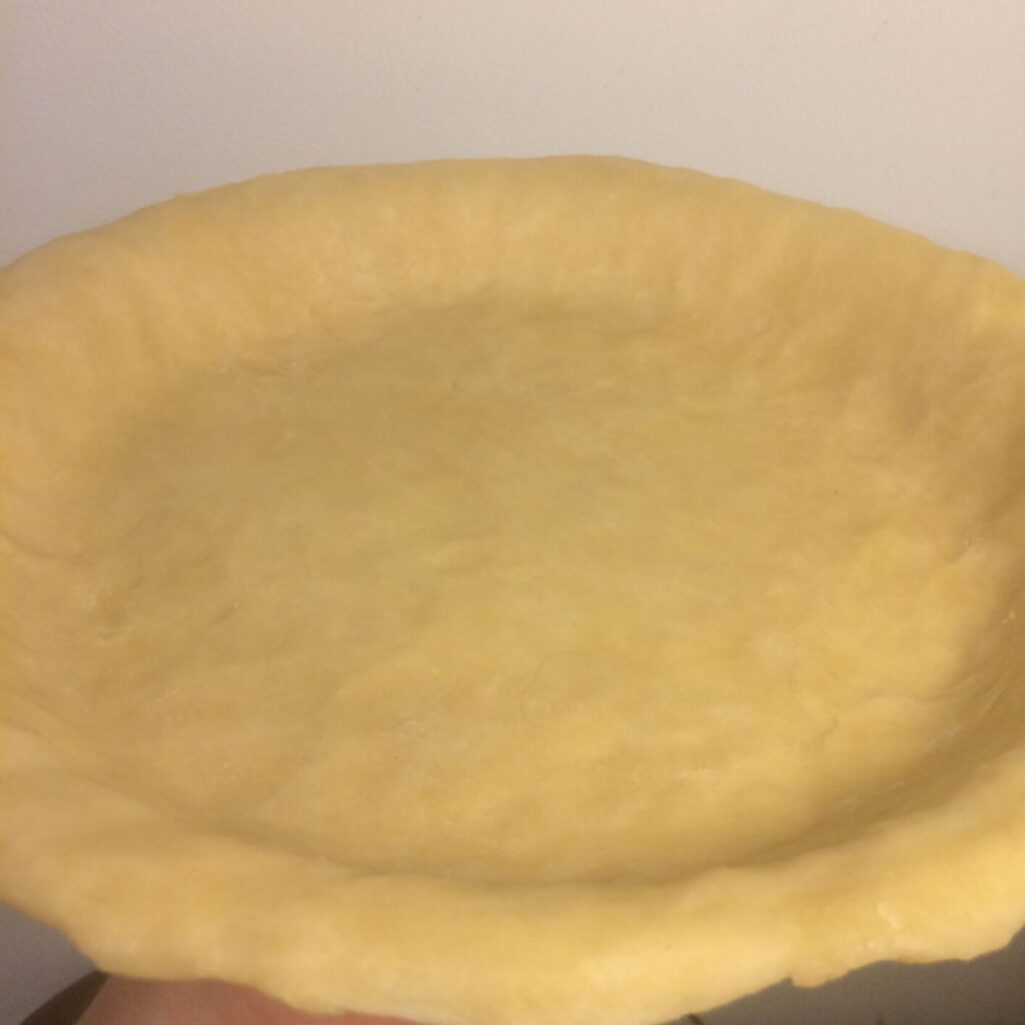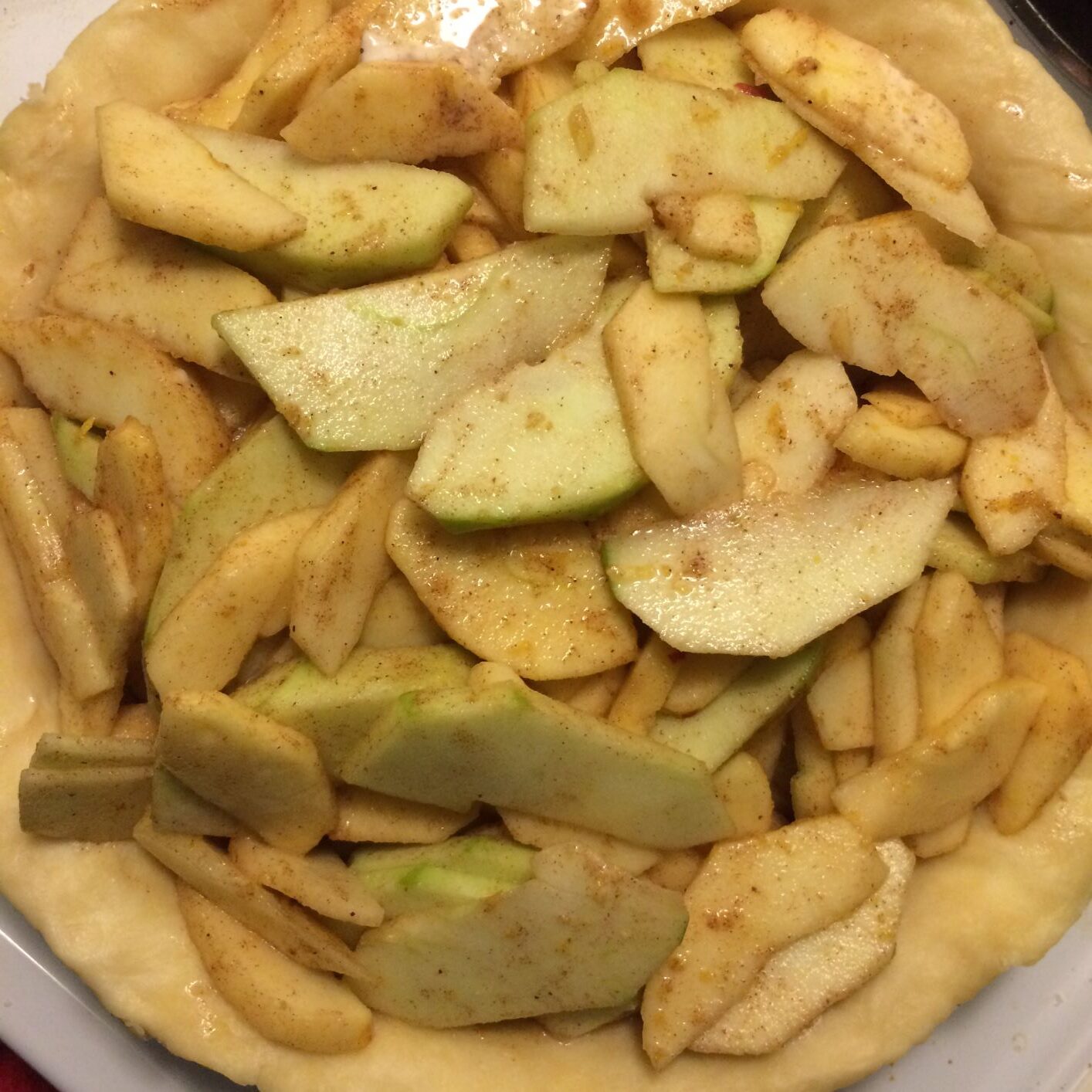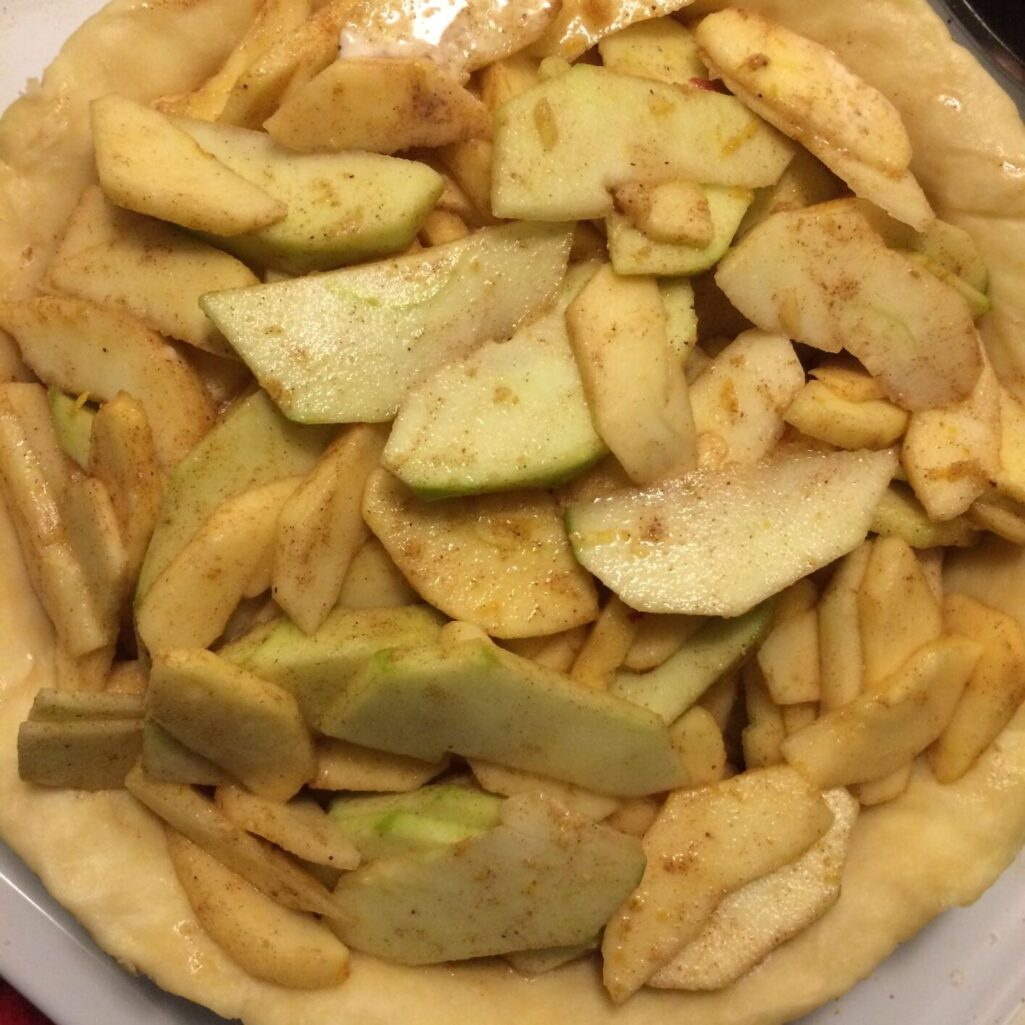 Roll out the 2nd portion of pastry dough.
Tip out the apple pie filling into the base, scraping out all juices and spices.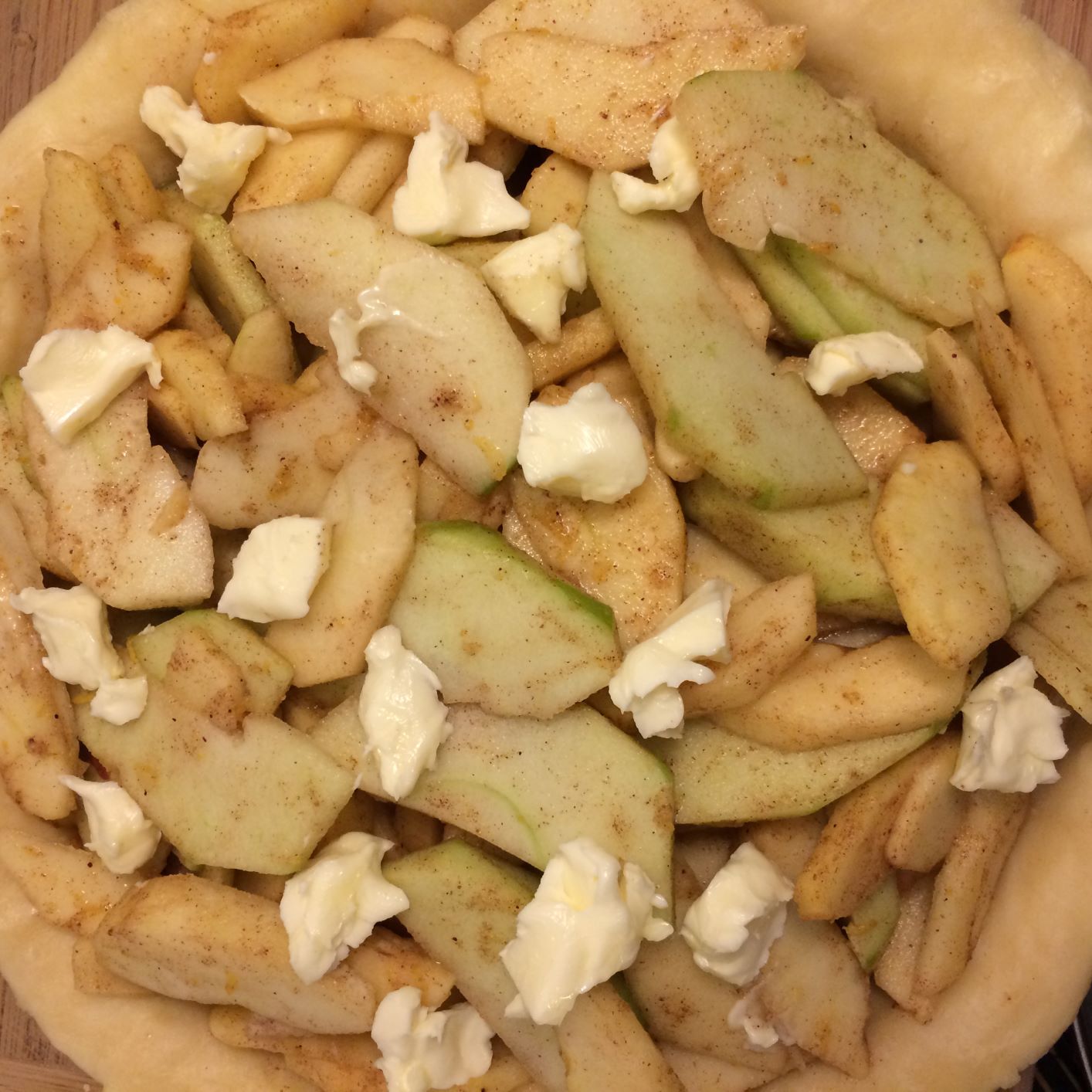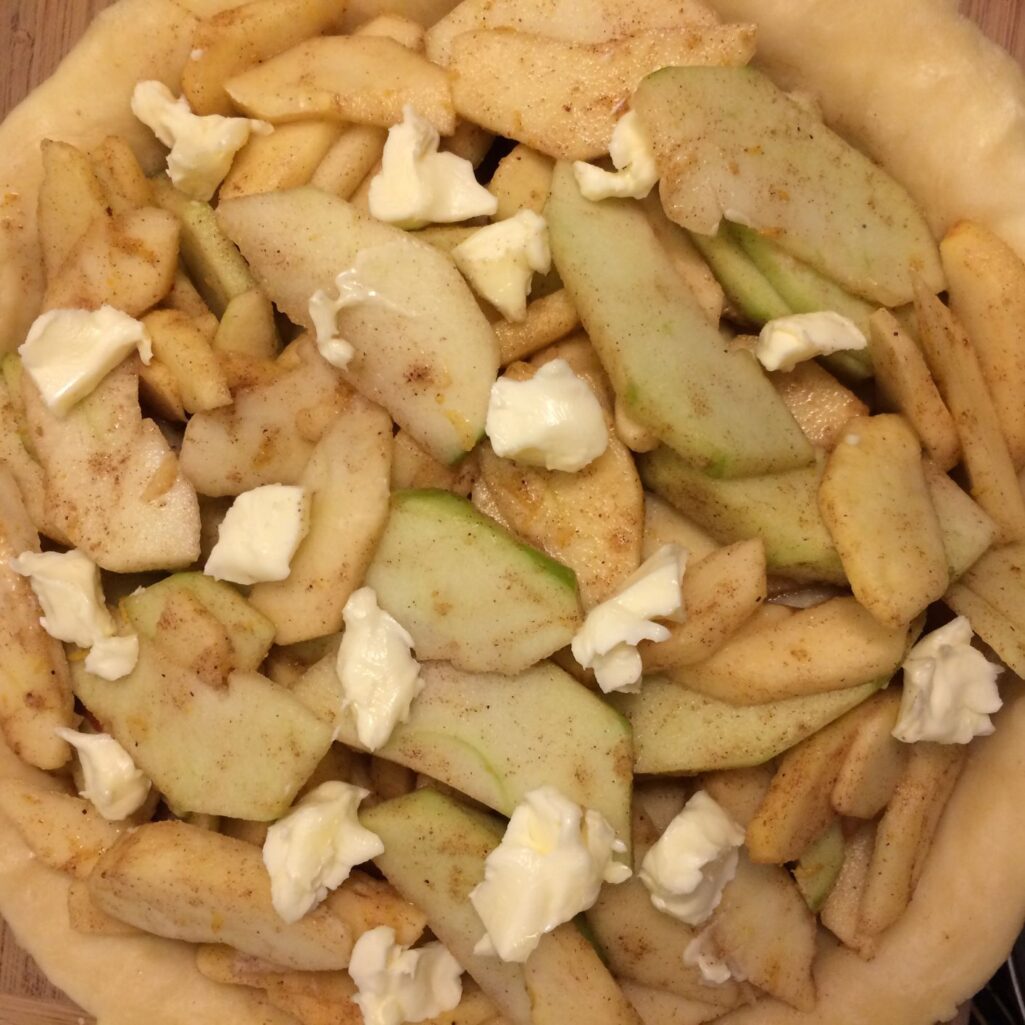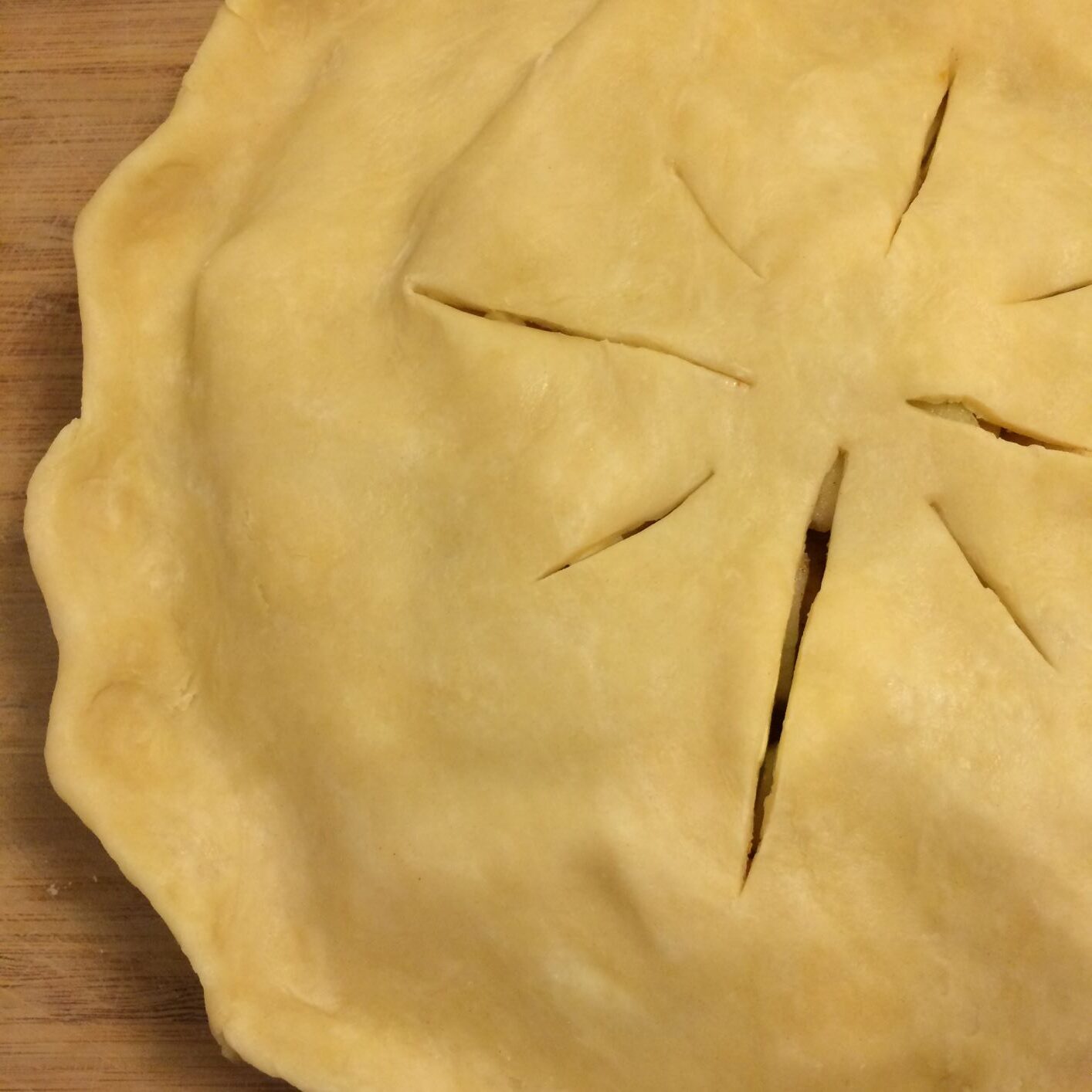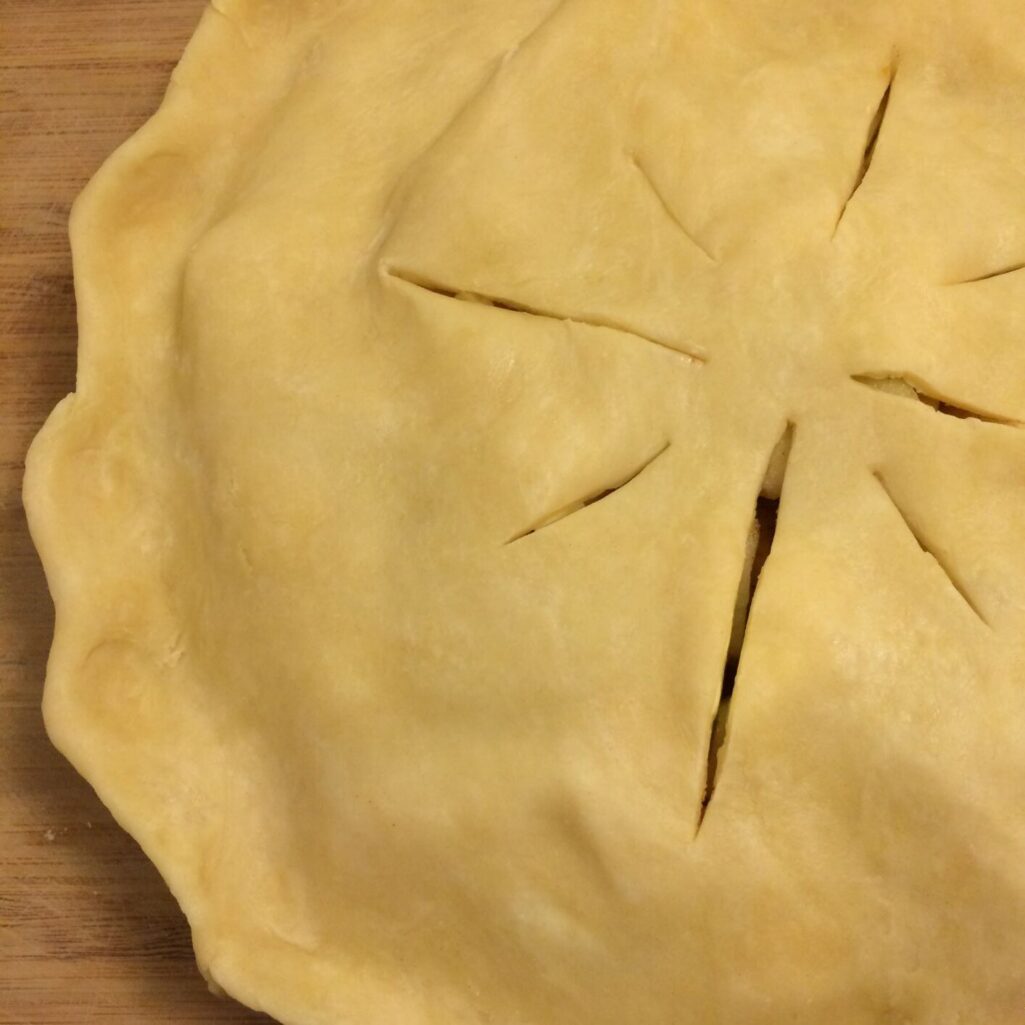 Top with cubed unsalted butter and place the top on the pie and flute the edges to seal tightly. Option to just fold the edges over, rolling toward the center of the pie to help the filling juices stay in.
Cut designs in the top, keeping it as basic as you want! This will help steam to escape and juices stay in the pie.
Brush the lid of the pastry, including edges, with you egg wash.
Bake on the middle rack for about 50 minutes. I you prefer a lightly crust you can lightly tent the edges of the pie near the end with tinfoil.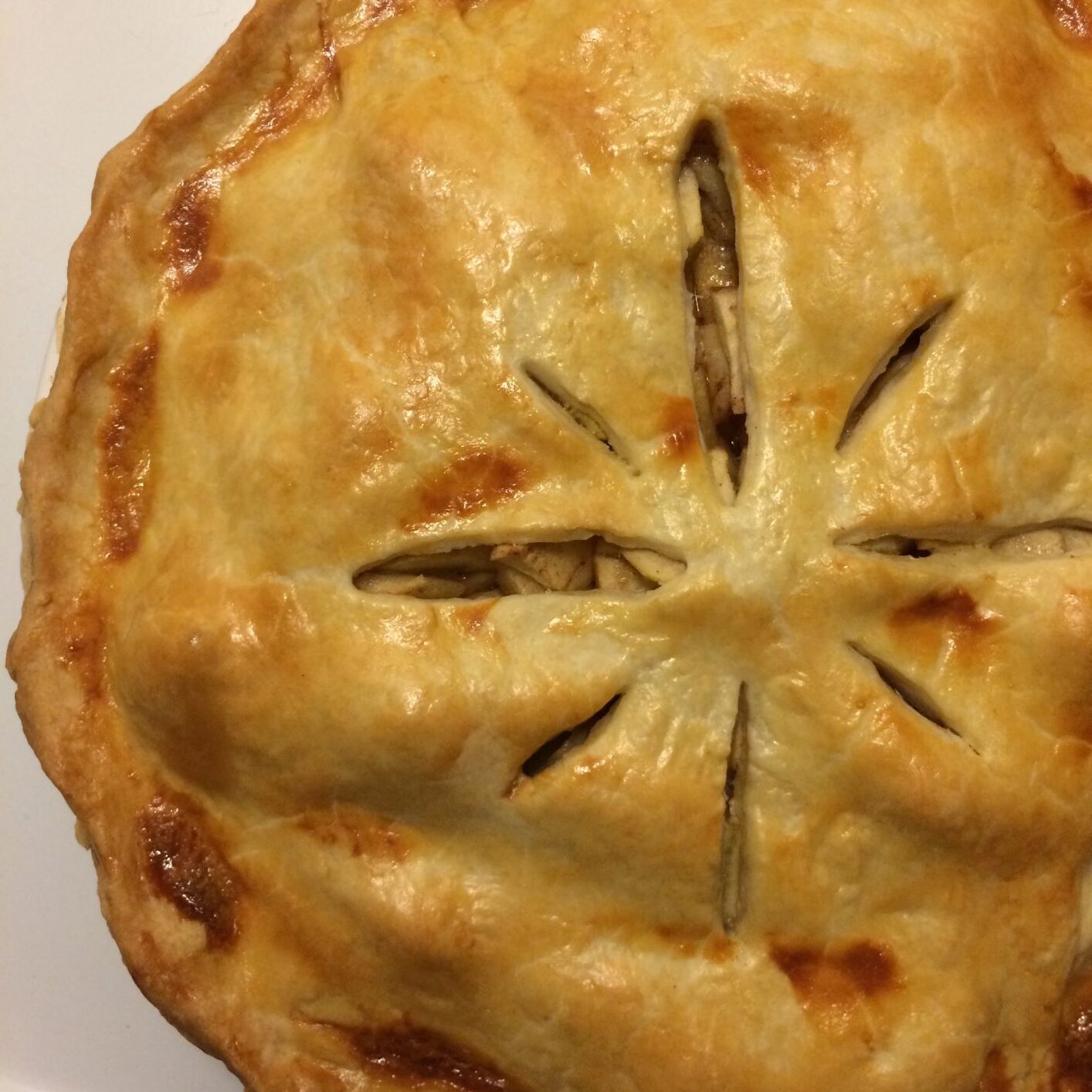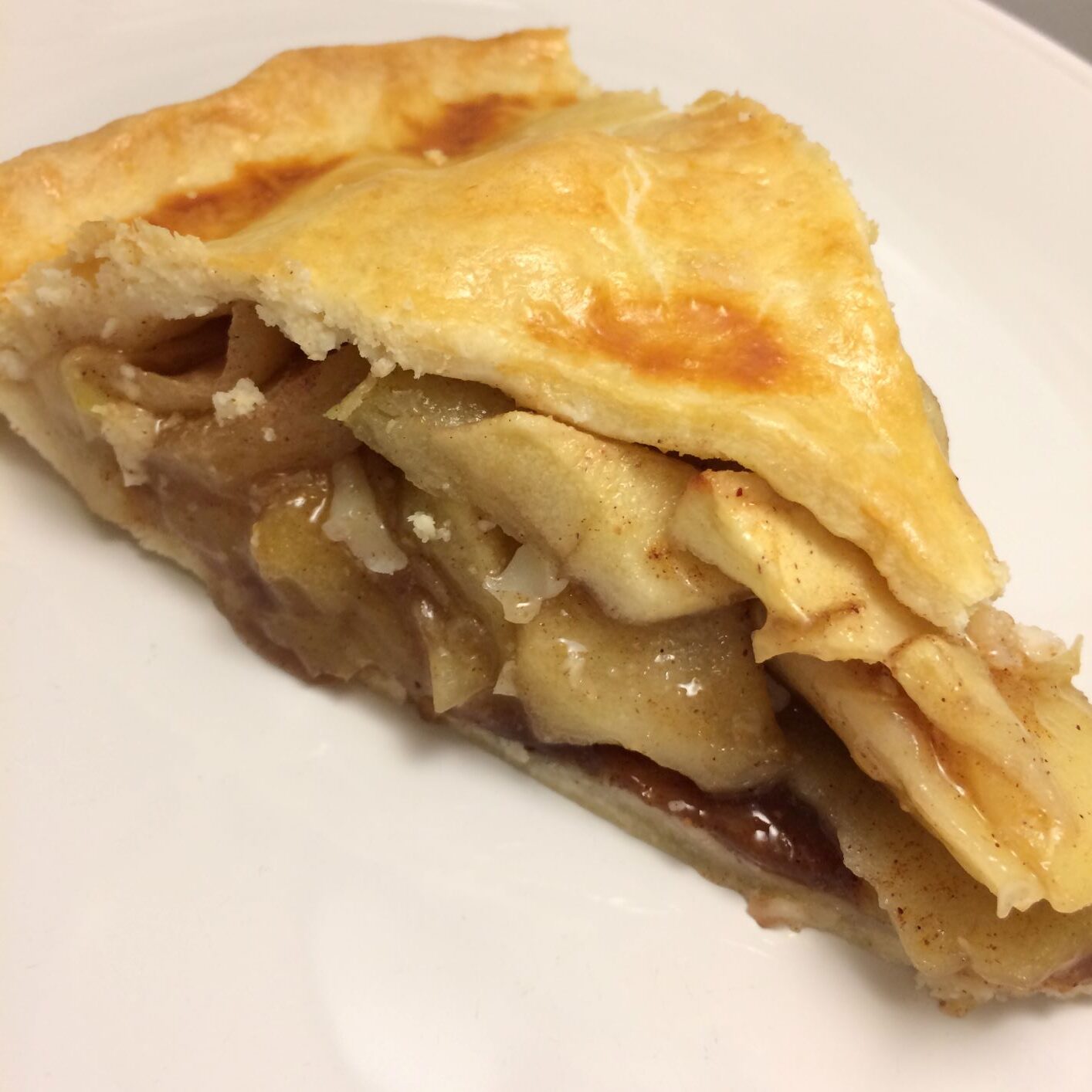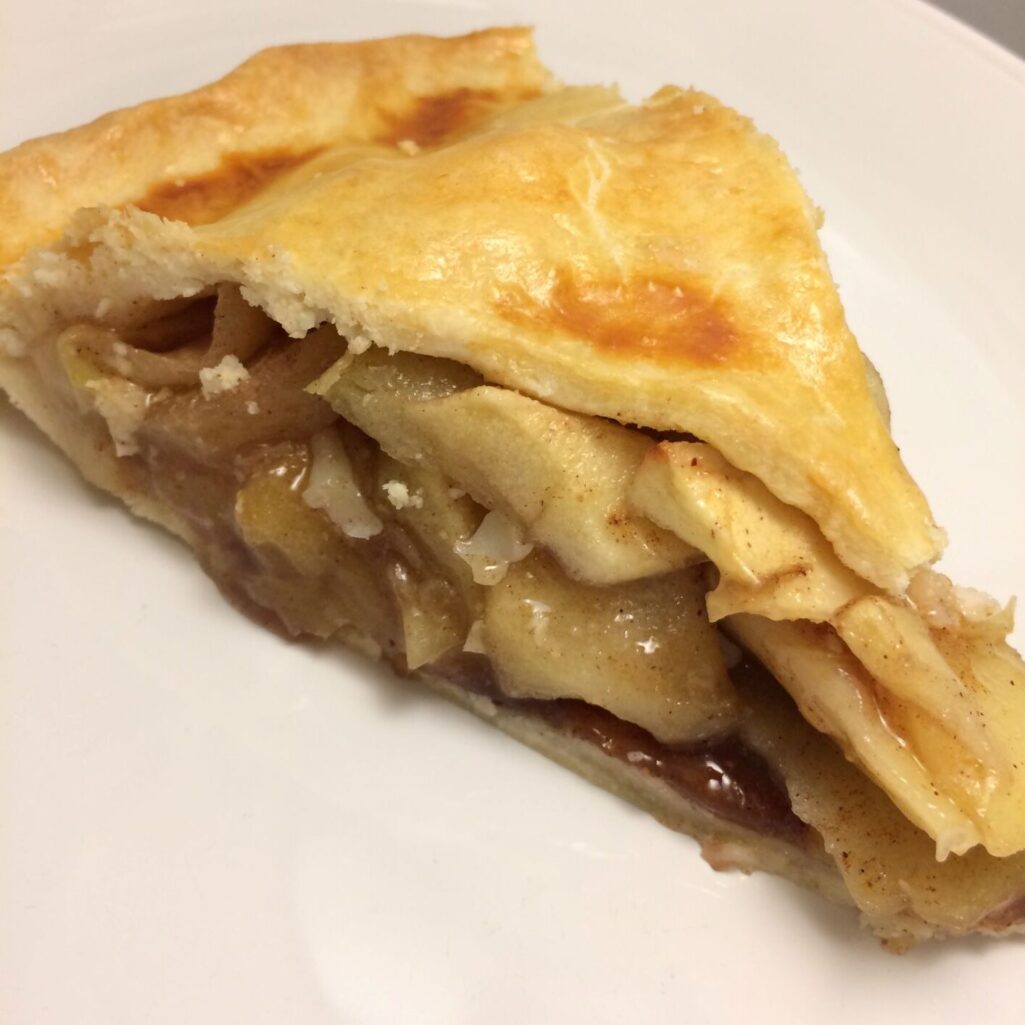 More Pie Recipes
More Related Baked Goods Recipes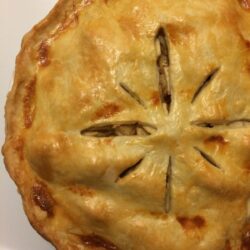 Naturally Sweetened Incredible Apple Pie
Classic apple pie made even better by replacing white sugar with maple syrup for a gooey apple filling and crisp, chewy homemade pie crust.
Ingredients
2

cups

flour

(white or white wheat)

¼+1/8

tsp

sea salt

2

teaspoon

maple syrup

½

cups

unsalted butter

(1 stick)

1

tablespoon

olive oil

6-7

tablespoon

cold water
Make Filling
7

cups

thinly sliced apples

(between 4 ½-6 ½ apples depending on size)

2

teaspoon

fresh squeezed lemon juice

1 ½

teaspoon

ground cinnamon

3

tablespoon

maple syrup

¼

teaspoon

ground nutmeg

½

teaspoon

citric acid

3

tablespoon

arrowroot powder

¼

cups

water

1

tablespoon

unsalted butter

for on top of filling in pie
Egg Wash
1

whole

large egg

2

teaspoon

whole milk
Instructions
Combine all ingredients for pastry dough using a fork and your hands. Form into a ball and flatten. Chill for about 45 minutes until firmed up.
MAKE THE APPLE FILLING
Thinly slice apples and add to a large mixing bowl. Add cinnamon, nutmeg, lemon juice, maple syrup, citric acid, arrowroot powder, and water. Gently combine together.
ASSEMBLING THE PIE
Preheat oven to 375℉.

Make egg wash by whisking together 1 egg and 2 tsp. milk.

Remove pastry dough and divide into 2 portions. Return half to the fridge while rolling out the first.

Roll half the pastry dough into approximately a 11 inch round. Press onto pie plate. It's easy to press out with your fingers if you need to resize it.

Roll out other half of pastry dough to 11 inch round.

Pour apple filling into the pie base. Cut 1 tablespoon butter into small pieces and place over the top of the filling. Cover with top pastry dough. Seal edges of dough by pinching together top and bottom pastry dough. Either roll edges up and toward the center of the pie or flute edges using fingers.

Cut design in pastry top. I recommend a design similar to my picture because it gives you guides for cutting the pie into 8 pieces. Baste pie with egg wash.

Bake for 50 minutes, uncovered.