Deliciously sweet homemade applesauce with only apples and cinnamon, no added sweeteners!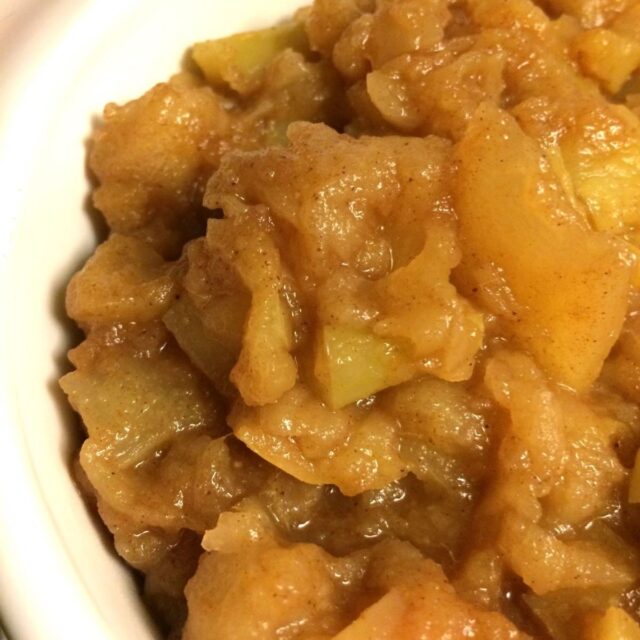 Homemade applesauce can be so quick, easy, and healthy too! This recipes only calls for apples, water, and cinnamon.
I've made many applesauce recipes and they kept changing little by little until I landed on this one. The ingredients are so limited it seems so easy! But, when you're making it from scratch it is helpful to have a trusted go-to recipe to take the guess work out of portion sizes.
Whether you're wanting to have applesauce on hand for a quick snack, finger food for your child, or using it as a baking ingredient, why not make it yourself? You can avoid all the extra sweeteners and you get to pick the consistency.
I love leaving the apples in large chunks and mixing it in with Greek yogurt or with my Homemade Crepes. Think of vanilla ice cream topping, or dollop some whipped cream on top of a bowl of warm cooked apples! You can add a little brown sugar, turbinado sugar, or maple syrup if you really want to add more sweetener. Trust me though, you won't need it! I have tried this recipe with date nectar and I wasn't too happy with it. The flavors just didn't mesh for me.
What Apples to Use?
You can really pick any apple you want for this recipe. If you want more tartness, go with a Granny Smith. Otherwise, all other apples should work great. You're breaking the apples down so having a softer or grainier apple doesn't make a big difference here.
We buy apples in bulk when we shop. Although I still put mine in the fridge, I try to leave some out on the counter since it's the best way to store them and keep their flavor. Of course that means they can go bad faster. If I start getting a few softer apples that just aren't appealing raw, this easy cinnamon applesauce is my go to!
Know what apples you're using and taste them raw to see how sweet they are. You really don't need sweetener with this recipe, but if you find yourself with a tart apple then add a little sugar at a time if you wish. You can start as low as 1 teaspoon and sprinkle more in if desired!
Can I Double the Recipe?
Of course! But, you might need to make some adjustments. If you're doubling this applesauce, you'll want to tack on an additional 10-12 minutes cook time as well another ½ cup water (or more to match the consistency you want). Add more cinnamon to taste.
If you really love cinnamon I'd recommend 1 ½ teaspoon of cinnamon for 6 cups of apples and 2 teaspoon for 8 cups of apples.
If you're not too fond of strong cinnamon taste, then try just decreasing it a bit. Try ¾ teaspoon cinnamon for 4 cups apples, just over 1 teaspoon for 6 cups apples, and 1 ½ teaspoon cinnamon for 8 cups of apples.
Similar Recipes
If you enjoyed this recipe you might also enjoy these sides that use apples: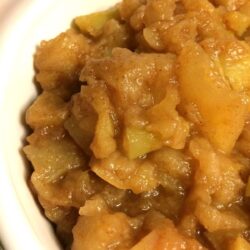 Easy Cinnamon Applesauce
Deliciously sweet homemade applesauce with only apples and cinnamon, no added sweeteners!
Ingredients
4

cups

diced apples

about 3 apples

¾ - 1

teaspoon

ground cinnamon

¼

cup

water
Instructions
Your choice to peel apples or leave peel on. Slice apples and cut into approximately 1"x ½" pieces. If you plan on blending it smooth the size doesn't matter here, so cut larger pieces to save time.

In a medium-sized saucepan, add diced apples. Sprinkle with cinnamon and water. Cover and cook on low heat (level 2) for 25-30 minutes, stirring occasionally to avoid sticking.

If you're changing the portion size of the recipe, decrease or increase time as needed just until apples are soft and slightly mashable.

Options for texture:

Leave as large pieces.

Mash with potato masher.

Blend with immersion blender or heat-safe standup blender.

Cool in fridge or transfer to freezer safe jars and freeze immediately for storage.