Warm and comforting cowboy baked beans from scratch for lunch, snack, or a full dinner!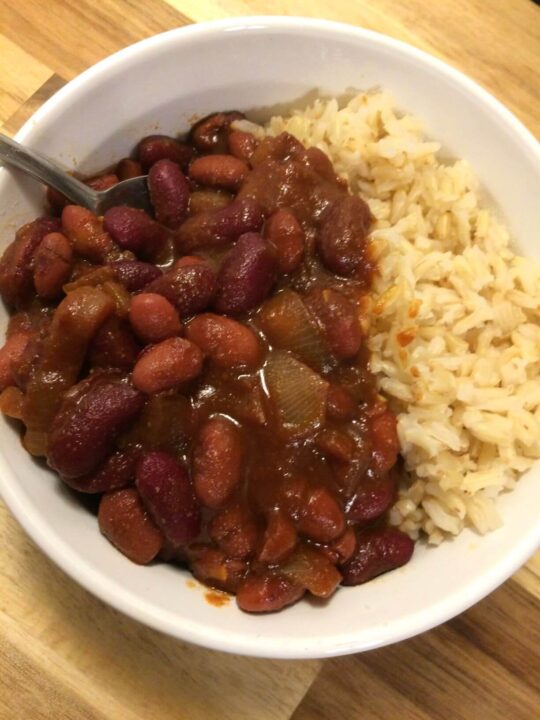 (This page contains affiliated links)
If you're looking for comfort food that's filling, healthy, and jam packed with salt-sweet flavors, this cowboy baked beans recipe is your answer! This recipe offers options for making it completely from scratch with dry beans, or use the short cut of canned beans if you wish!
What are Cowboy Baked Beans
This bean dish gets its name because it's a filling and healthy meal that can be cooked over an open fire, handy for cowboys needing something convenient yet hearty!
I have wonderful memories of chuckwagon dinners growing up, all of which had cowboy baked beans! They were always pretty straight forward and basic, but there's so many ways to change and add onto this recipe!
Many cowboy baked beans use canned beans, a protein or two such as bacon, ground beef, sausage, hot dogs, maybe some veggies, and a sauce. The details within that though van vary greatly and it's up to you to find what you like the best!
What Ingredients to Use in Cowboy Baked Beans
I've opted for a bean-based recipe with optional oven-cooked bacon to garnish with at the end.
Red and Kidney Beans cooked from dry beans is my favorite choice for a healthier option. Soak beans overnight, drain liquid, then cook until soft but not mushy. I like to cook the beans separately in case they take a slightly different amount of time to cook. My recipe includes portions for dry beans, cooked beans, and canned beans.
Obviously when using dry beans from scratch they won't have any salt. If using canned beans I would recommend looking for a no-salt added option or at elast low sodium. When it comes time to add the salt, do a taste test and add a little at a time to make sure the salt content is to your liking.
Bean Juice is a great liquid addition that also adds flavor. You can use juice from either type of bean or a mix of both!
Yellow Onion or purple onion add such great flavor to these beans. If you're not wanting to add too many vegetables, at least add some onion!
Garlic Cloves are also a must! They are healthy and have amazing flavor when sautéed.
I find that I get the best flavor when you lightly smash the cloves to make it easier to peel, the cut them longways to quarter. That way you get larger bursts of garlic and a more even cook when sautéing. Mincing is of course an option, but give my method a try!
Barbecue Sauce is the way to go with baked beans. A homemade one is even better!
I use tomato sauce and tomato paste that don't have any added salt. Maple syrup and blackstrap molasses give it natural sweetness and apple cider vinegar and yellow mustard give it tang.
Season with sea salt, freshly ground black pepper, paprika, and garlic powder (because more garlic is just better).
This is a wonderful barbecue sauce on it's own and goes so well with these beans!
Can I Cook these Baked Beans in a Crock Pot?
Yes, but after looking at my recipe think if it's really needed! Many crockpots have a Teflon coating that make them more non-stick. That's helpful if you're just leaving this recipe sit, but you won't need to cook it for very long. If you're needing to use a crockpot because you're taking this recipe out of the house, then that's a good reason to go that route!
If you're at home making this meal, my opinion is just cook stovetop. It's healthier (to avoid cooking on Teflon and possible lead in a crockpot), less cleanup, and you're not taking up excess counter space!
My recipe calls for cooking this dish in a Dutch oven, which is pretty much a crock pot on the stove. If you choose a crockpot, once you have your beans cooked, then add them and the remaining ingredients to a crock pot.
I haven't made the recipe this way myself, but I would recommend cooking them on low heat for at least 30 minutes. You might want to check on them to make sure they're not sticking, even with non-stick coatings. If it's not thickening, remove the lid and keep cooking to help absorb some of the liquid.
What Goes Well with Cowboy Baked Beans
I like to cook these beans with brown rice. it's a healthy option that makes it even more filling.
Top with plain Greek yogurt and ground chipotle for some added heat!
Enjoy with chips or on their own as a barbecue side dish!
Equipment Used for this Recipe
Dutch Oven
Heavy Bottom Saucepans
TeamFar Baking Sheet Set of 4 Stainless Steel for baking bacon
Try These Similar Recipes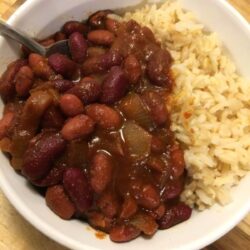 Cowboy Baked Beans
Warm and comforting cowboy baked beans from scratch for lunch, snack, or a full dinner!
Ingredients
1

cup

uncooked brown rice

2

cups

dry or canned red beans

( ¾ -1 cup dried or 1-15.5oz. can)

2

cups

dry or canned kidney beans

(¾-1 cup dried or 1-15.5oz. can)

1 ¼

cup

bean juice

(use red bean or kidney bean juice or mix of both)

1

cup

yellow onions

(diced)

4

large

garlic cloves

(smashed to peel, the quartered longways)
For the Barbecue Sauce
1

cup

tomato sauce, no salt added

1

tablespoon

tomato paste, no salt added

2

teaspoon

maple syrup

3

tablespoon

apple cider vinegar

2

teaspoon

yellow mustard

4

teaspoon

blackstrap molasses

½

teaspoon

sea salt

1 ½

teaspoon

garlic granules/powder

1 ½

teaspoon

smoked paprika

freshly ground black pepper
Instructions
Option to Cook Dry Beans from Scratch (if using canned skip to step 2)
Soak ¾-1 cup of each bean (red and kidney) overnight.

Cook 1 cup rice in 2 cups water. Follow my recipe for removing arsenic from rice which also makes it super fluffy.

Drain liquid from soaked beans, then cook each bean in separate saucepans in about 4 cups water each. Bring to a boil (about 15 minutes) then decrease to low-medium heat to cook for about 1 hour. Set aside and save liquids.

In a small bowl combine all ingredients for the bbq sauce and set aside.

Using a Dutch oven (3 qt.) or heavy bottom saucepan, heat 1 tablespoon olive oil on medium heat. Once hot, add onion and garlic and sauté for about 3 minutes.

Use a slotted spoon to measure out 2 cups each bean. In the Dutch oven add beans, 1 ¼ cup of bean juice, and bbq sauce and cover to cook for about 25 minutes. Stir occasionally to avoid sticking. Remove the lid and cook for another 8 minutes, stirring frequently. This time will give you a thick sauce. If you want it thinner, just cook for less time and don't go the full 8 minutes.

When serving, enjoy with brown rice, plain Greek yogurt, and ground chipotle for spice/flavor.