This is a sweet and salty sticky rice dish that works great in burritos, tacos, as a side, or as a chip dip!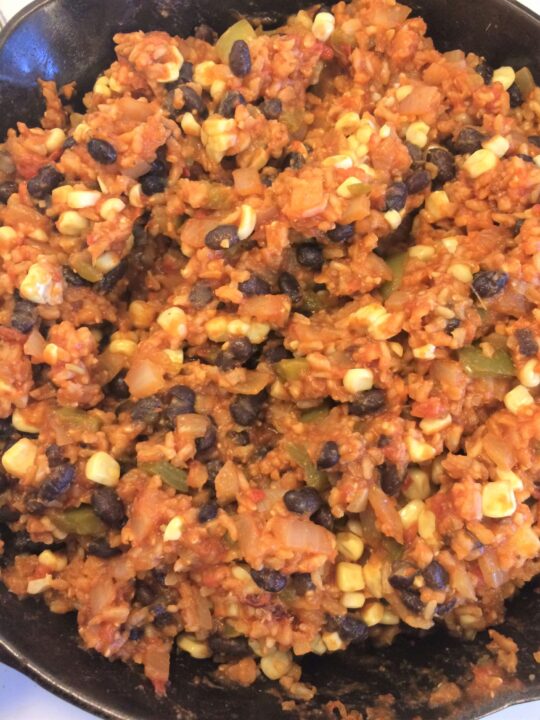 Fiesta rice can vary as much as you want it to. It can be soft and fluffy or sticky and a tad saucy like a dip. My recipe leans more toward the later and here's how I got there.
This was one of those dishes that involved me adding "just a little more" of this and that when playing with my recipe. It turned out sticker than I had planned but it's really delicious! My first thought was that next time making it I would decrease the amount of crushed tomatoes. You could do that and it would still be delicious and a little less sticky. But, if you make it as is it becomes more versatile.
This dish works great as a side dish, filling for burritos or tacos, and the best of all it's great as a chip dip!
I have made this recipe with beans cooked separately and rice cooked along with the dish (no additional water this way). This method will help the flavors infuse more into the rice but it will take longer!
Serving size is for 1 cup per serving.
More Mexican Recipes
Fiesta Rice
This is a sweet and salty sticky rice dish that works great in burritos, tacos, as a side, or as a chip dip!
Ingredients
1

cup

uncooked black or red beans

(3 cups cooked plus some bean juice)

1 ¼

cups

uncooked brown or white rice (option to use barley for non GF option)

(4 cups cooked rice)

1

tablespoon

olive oil

(for sautéing veggies)

2

cups

diced yellow onion

2

tablespoon

minced garlic

(3 medium cloves)

1 ½

cups

chopped green bell pepper

(1 bell pepper)

2

cups

organic low sodium vegetable broth

14.5

oz

crushed tomatoes

(1 can)

1 ½

cups

corn

(fresh or frozen and thawed)

½

teaspoon

ground coriander

4

teaspoon

ground cumin

1

teaspoon

garlic granules

1

teaspoon

mild chili powder

(hotter if you choose)

1 ½

teaspoon

sea salt

(or more to taste)
Instructions
Soak beans overnight or at least 6 hours if using raw beans. If using canned beans, skip to step 3.

Rinse beans, then add them to a medium/ large saucepan with about 6 to 6 ½ cups water.

Cook beans on medium heat to reach a boil, then decrease heat to medium-low for about 2 to 2 ½ hours (less time for firmer, more time for softer beans).

In a large skillet (or large saucepan) sauté onion and garlic in 1 tablespoon olive oil on medium heat (about 4-5 minutes). Once translucent, add bell pepper, crushed tomatoes, vegetable broth, corn, and all seasonings and mix.

Add cooked beans and cooked rice to skillet.

Still at medium heat, cook with lid on for 15 minutes. Decrease heat to medium-low for another 15 minutes until everything is seasoned through. If there seems to be too much liquid, continue to cook for 5-10 minutes with lid off.

The mixture might look pretty wet still. Remove it from the heat and let it sit to absorb the liquid with the lid off for at least 5 minutes before serving and it will thicken up.