My healthy version of rice and beans that uses barley, lots of great Mexican flavors, and fresh vegetables and herbs to create a super quick and filling meal!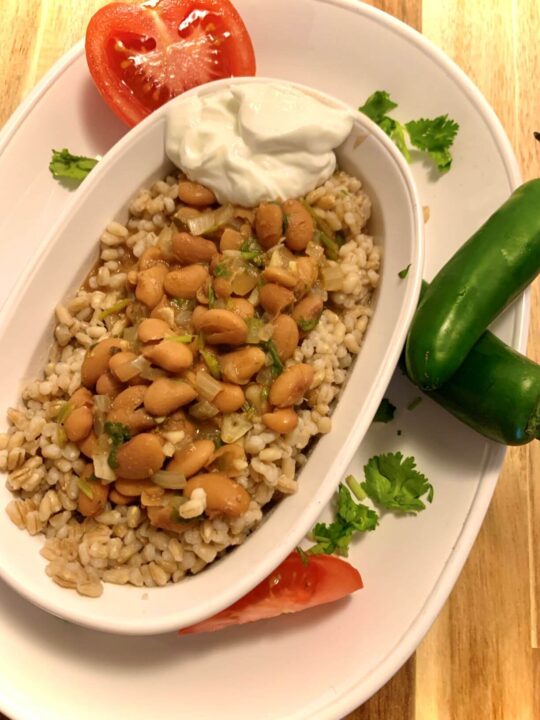 When you're in a pinch for time but you want a healthy and delicious meal to serve your family, barley and beans is a great option! You can make this whole meal in under 40 minutes and it's vegetarian! Enjoy grains, protein, vegetables, and wonderful herbs all in on super simple dish that can easily be adapted to add more vegetables, substitute rice, or use the whole dish in a burrito.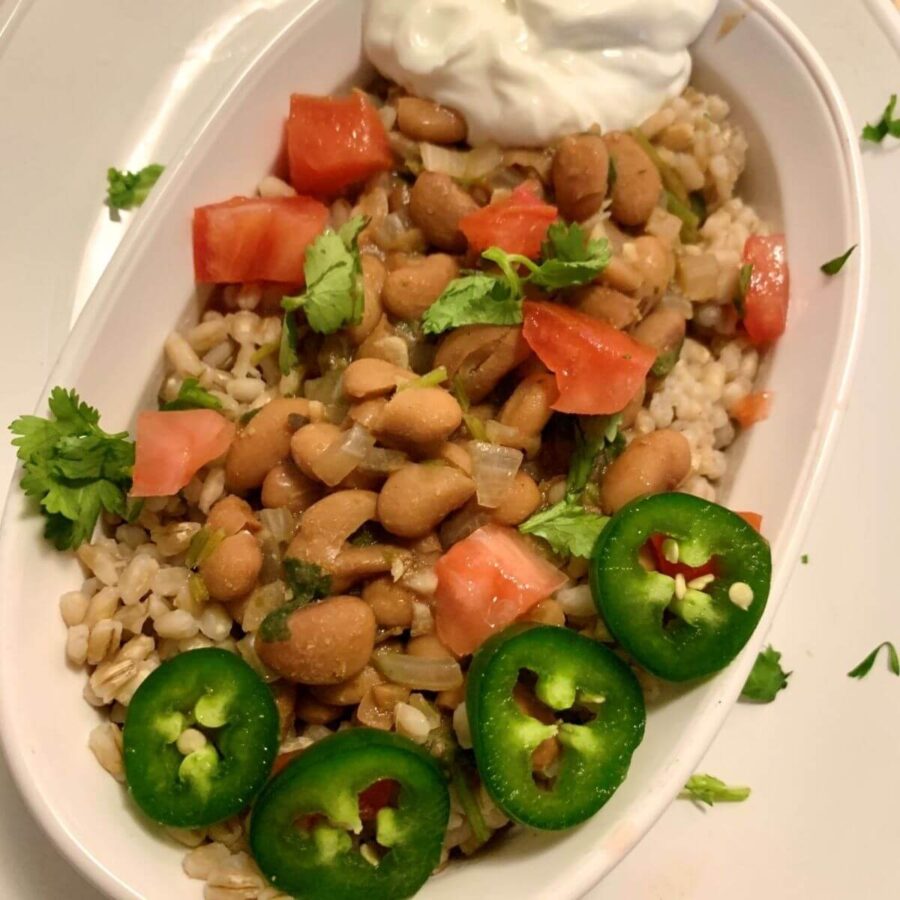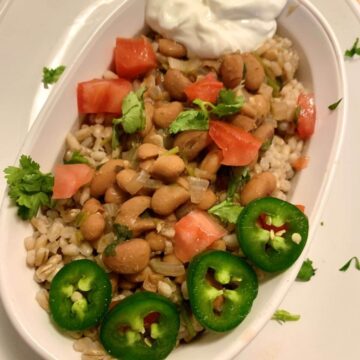 Is this Sauce Thick or Runny?
This dish is juicy with a great amount of liquid to enjoy with your barley. I purposefully didn't thicken the beans too much, but you can easily do so. If you want thicker beans, remove the vegetable broth, and cook the beans with the lid off to absorb some of the moisture. You can always mash the beans a bit as well which will thicken it. That would be a great option if you choose to use this recipe in a burrito.
If you want a thinner and runnier sauce so you have lots of great juice with your grains, then you really don't need to cook the beans long. All your doing with the cook is seasoning the bean mixture and cooking down the onions and garlic to season it and decrease the heat from those 2 ingredients. If you don't mind the spice that onions and garlic add then you can cook the beans for as little as 5 minutes just enough to season it through.
Ingredients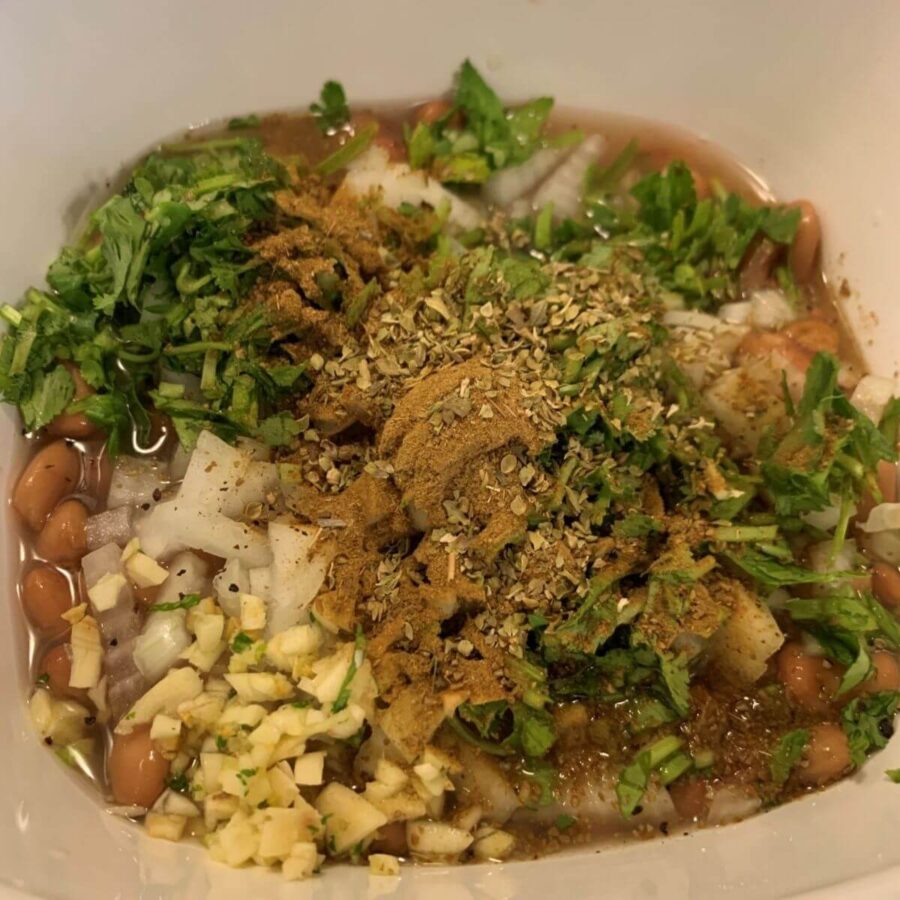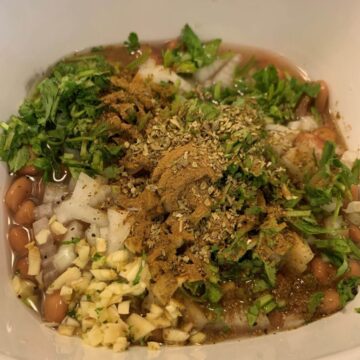 Barley: You can easily substitute rice; it just takes a bit longer to cook.
Pinto Beans: I used low sodium pinto beans for this recipe. You can replace this ingredient with any other preferred canned bean. If you make the beans by scratch your liquid content may be off a bit but absolutely an option. Depending on if you use low sodium beans, full sodium, or no sodium added, you might want to adjust the added sea salt.
Yellow Onion: Red onion would work great too and add more color. Any onion would work.
Cilantro: I wouldn't skip out on this ingredient. Fresh cilantro adds such huge flavor to this recipe, and it wouldn't be the same without it!
Garlic: Fresh garlic cloves are the best option. If you absolutely don't have a head of garlic, you can use garlic powder to taste.
Vegetable Broth: Low sodium vegetable broth is recommended for this recipe. Using vegetable broth helps keep this recipe vegetarian friendly, and low sodium keeps the overall salt content down!
Tomato Paste: I use no salt added tomato paste only. Again, if you choose tomato paste with added salt, you might want to lower or remove the added sea salt. Paste adds sweetness, bright flavor, and helps thicken the sauce a tiny bit.
Seasonings: I like to use cumin, coriander, dried oregano, sea salt, and freshly ground black pepper. They all come together for the perfect Mexican flavor profile. You can substitute fresh oregano but go light on it. I grind up my cumin seeds to disperse the flavor more easily .
Garnishes: I love adding freshly sliced jalapeno, chopped cilantro, diced tomatoes, and Greek yogurt to replace sour cream! These are optional but add incredible flavor as well as color to the dish.
Serving Size for Barley and Beans
If you like large portions, then this will feed 2 people. Regular or slightly smaller portions will give you 3 servings.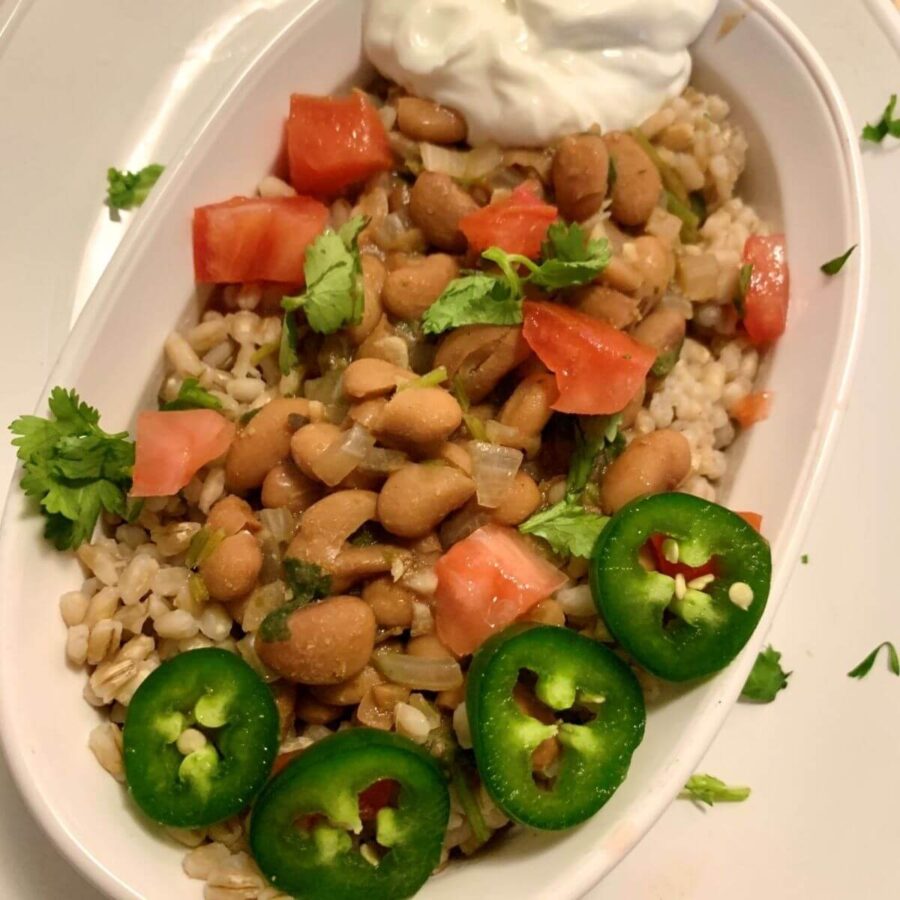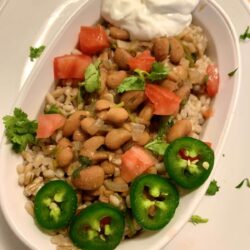 Barley and Beans
My healthy version of rice and beans that uses barley, lots of great Mexican flavors, and fresh vegetables and herbs to create a super quick and filling meal!
Ingredients
For the Barley
1

cup

uncooked barley

2

cups

water
For the Beans
15.5

ounces

low sodium pinto beans

(1 can)

½

cup

yellow onion

(diced)

¼

cup

cilantro

(chopped)

2-3

large garlic cloves

(minced)

1

teaspoon

ground cumin

½

teaspoon

ground coriander

½

teaspoon

sea salt

freshly ground black pepper to taste

½

teaspoon

dried oregano

1

tablespoon

tomato paste no salt added

¼

cup

low sodium vegetable broth
Garnishes
fresh tomato

freshly chopped cilantro

jalapeno slices

Greek yogurt

(as a sour cream alternative)
Instructions
Prepare all vegetables and herbs and set aside. You can cook the barley and bean mixture at the same time so have everything ready to go first.
Cook the Barley
In a medium-sized heavy bottom saucepan bring a scant 2 cups of water and 1 cup raw barley to a boil on medium heat (takes about 10 minutes). Decrease to low-medium heat and crack lid to cook for about 20 minutes. Decrease to low and remove lid to let sit for about 3 minutes before removing saucepan from the burner.
Cook the Beans
While the barley cooks, add all ingredients for the beans into a medium-sized saucepan.

Cover and cook on medium-low heat for 15 minutes.

Remove the lid to cook for another 5-6 minutes.

Serve the beans over the barley and garnish with fresh tomato, cilantro, Greek yogurt, and fresh sliced jalapeno. Option to squeeze a small amount of fresh lime juice on top but don't overdo it!