This pumpkin custard is refined sugar-free, sweetened with only maple syrup. Creaminess come from 3 eggs and Greek yogurt and the flavors are just incredible!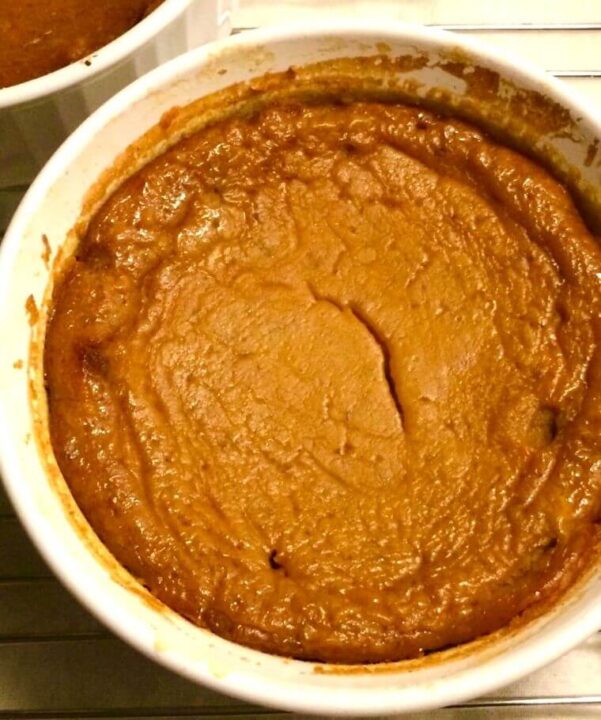 What's the next best thing to a pumpkin Pie? Pumpkin custard! Of course you can have pumpkin pie all year long, but a full-fledged pie with crust takes more time and often shows up mainly for holidays and special occasions.
When you're craving pumpkin but want a quicker recipe try this pumpkin custard. It uses the same filling as my Maple Pumpkin Pie with Nut Crust Recipe and it take about the same amount of time to bake, minus the time to prep and bake the crust.
One of the perks of a custard is that it's easier to store. One of my pet peeves is not having lids for my pies which leads to a tricky game of Tetris in my fridge. No, that's no reason to not make a pie but these little custards are just so handy and portable! Let's say it's still middle of the holidays and you're wanting to bring something sweet to work, then you remember you have a ramekin of pumpkin custard in your fridge. Your day will be made!
It's also a fun way to spoon out just a little pumpkin goodness to your little ones without trying to cut out the tiniest piece of pie possible.
Total prep time for this custard can be as quick as 2 minutes and the bake time is about 55 minutes for 2 ramekins.
Refined Sugar Free
This recipe doesn't include white sugar. It has just the right amount of maple syrup to give a great natural sweetness without being overpowering.
When this recipe is just out of the oven it will look so fluffy and I will warn you that it will drop when cooled. It's a bit disappointing, but that's how a lot of pumpkin pie recipes go. I'm not about to add additional ingredients just to keep the fluff and height when those extra ingredients aren't really needed and could affect the taste.
Greek Yogurt
A long time ago now I started using plain Greek yogurt to replace anything dairy and white (sour cream, sweetened condensed milk, evaporated milk). Let me tell you it's so worth it! Yes, it's a wonderful healthy addition but it also adds a great flavor. the plain yogurt is a bit tart but it doesn't make the pie sour at all. But, it does add a heck of a lot of creaminess and you'll be hooked after trying it!
Can I Get Away With only 2 Eggs?
Same goes for my Maple Pumpkin Pie recipe….yes you can, but the texture will be a bit different. The extra eggs adds more fullness and creamy texture to this recipe. I've make pumpkin pie plenty of times with 2 eggs and it was just fine but the added egg does make a difference!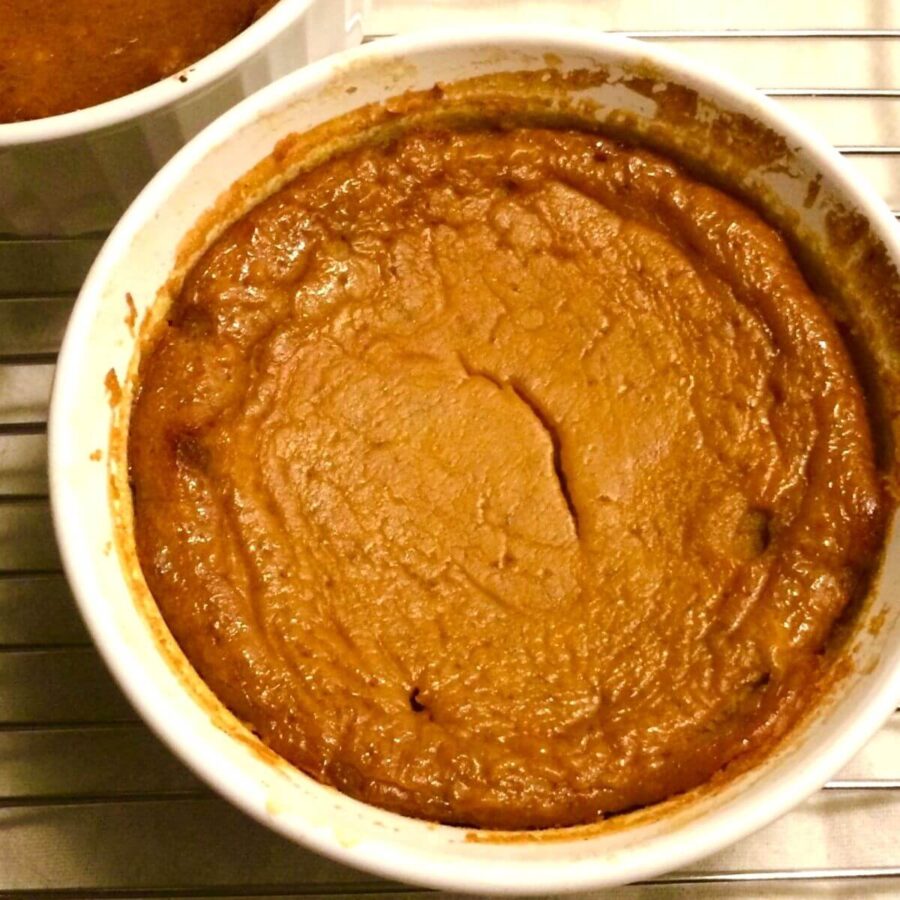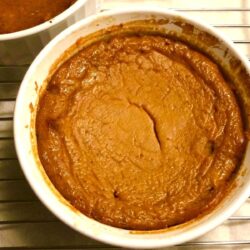 Pumpkin Custard (crustless pumpkin pie)
This pumpkin custard is refined sugar-free, sweetened with only maple syrup. Creaminess come from 3 eggs and Greek yogurt and the flavors are just incredible!
Ingredients
2

cups

pumpkin puree

1 can

¾

cups

plain full fat Greek yogurt

6

tablespoon

maple syrup

½

teaspoon

sea salt

1 ½

teaspoon

ground cinnamon

¼

teaspoon

ground nutmeg

⅛

teaspoon

ground cloves

3

large

eggs

½

teaspoon

optional ground ginger
Instructions
Preheat your oven to 425℉. In a large bowl combine all ingredients until smooth. I just use a fork.

Lightly spray 2 ramekins with olive oil and split mixture between the 2 ramekins. Bake for 15 minutes at 425℉ on the middle rack. Then, with the oven still closed decrease temperature to 350℉ for 50-55 minutes. Let cool and enjoy!