Get ready for a beautiful, rustic looking dish that's easy to make and tastes incredible! This mushroom and chard galette will knock your socks off and makes a great dinner, appetizer, or even brunch dish! Make it gluten-free by using a gluten-free pie pastry.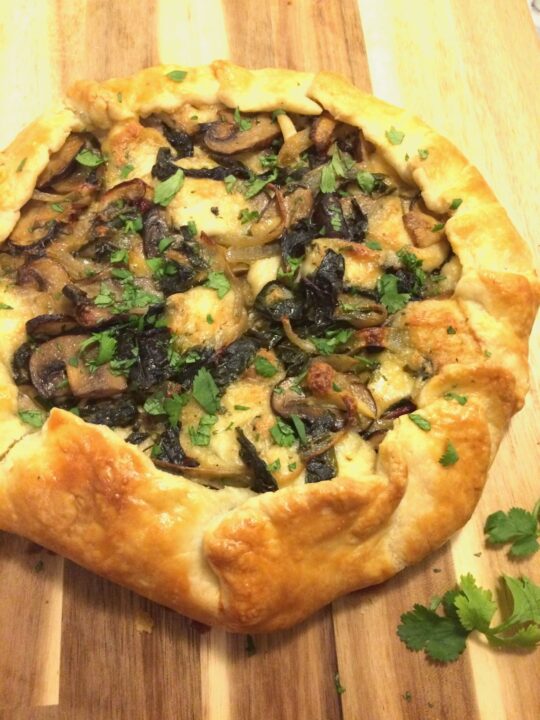 (This page contains affiliated links)
I am a huge fan of this mushroom and chard galette. Okay, galettes in general are my new favorite food. You can make them sweet or savory, you get your carb fix which happens to be deliciously light and crisp, and they're easy to make! I decided to stick with a vegetable-based galette to make this dish a bit lighter.
What is a Galette?
Galettes are a little bit of heaven. In a nutshell a galette is a single layer pastry that slightly wraps around a filling. That filling can be whatever you want it to be, as long as it's not too wet. You can make a filling that sticks together that you can pick up like a pizza slice, or something loose that looks beautiful an you eat with a fork. Galettes are more rustic and less time consuming!
What's the Difference Between a Galette and Pie?
Pies are made in some type of pan to form them into a uniform shape with enough depth for a thick filling.
Galettes are more free form and can be baked on a flat surface (pizza stone, cookie sheet, silicone mat). They can use the same pastry dough as a pie, but the portions will be slightly different. A single pie pastry will make a very small galette and typically I use 1.5 times my single pie pastry.
Ingredients for this Mushroom and Chard Galette
Pastry Dough: I use 1.5 times my single pie pastry recipe
Mushrooms: crimini, baby bella, or another preferred kind
Rainbow/Swiss Chard
Yellow Onion
Garlic Cloves
Olive Oil: for sautéing veggies
Cilantro
Apple Cider Vinegar
Sea Salt
Freshly Ground Black Pepper
Garlic Powder
Blended Raw Almonds: almond flour is not the same, you want more texture and blended almonds have more moisture. I use my nutribullet and it works great.
Buffalo Mozzarella: creamier, and richer in flavor than cow-based mozzarella. You can use an alternative as you wish and if you're wanting to make sure this is vegetarian then look for a mozzarella made with vegetable rennet.
Egg wash with milk or water. TIP: whisk the yolk and whites separately, then combine to whisk together to avoid any lumps of egg whites being dropped on one spot of your pastry.
Steps for Making this Galette
Make the pie pastry and chill until firm. This usually takes about 45 minutes to 1 hour. I wouldn't recommend skipping chilling the dough because you could lose butter as it bakes and the texture will change.
Sauté the vegetables, adding seasonings and apple cider vinegar near the end of the cook. Chill the vegetables before continuing! You don't want a hot filling placed on top of the pie pastry.
Use a pizza stone or stainless steel baking sheet and lightly spray with olive oil. Roll out the pastry once chilled. Using a chopstick or your finger, gently draw an indent to form an "inner circle" around the pastry to form a 2 inch edge.
Add the blended almonds to the inner circle.
Break apart the cheese into chunks and combine with the vegetables. Use a slotted spoon to scoop the vegetables and cheese filling onto the blended almonds. Fold over the edges of the pastry.
Brush egg wash all around the edges of the pastry.
Bake at 400℉ for 45-50 minutes. My perfect time is 48 minutes but yours may vary depending on your oven and how dark you want your crust.
Save Time and Prep Ahead
This is such a great recipe for a quick, delicious, and healthy meal! It may look like a long recipe but it's really not when you break it into pieces. What's best? You can make parts of it the day before and pull it all together super quickly the next day!
Pie pastry can be make a day, or more, ahead of time and refrigerated until ready to use. Leave it out for a few minutes to soften it enough to roll out.
Sautéed vegetables can easily be made ahead of time and chilled until ready to bake. I would recommend leaving the cheese separate if chilling ahead of time.
Blended almonds can be made way ahead of time. I like to blend in bulk and keep it refrigerated for maintaining freshness.
Egg wash can even be made ahead of time, then give a little whisk before using.
Is this Galette Truly Vegetarian?
While there isn't any meat in this recipe, there is buffalo mozzarella. Mozzarella can be made with animal-rennet, vegetable-rennet, or even be rennet-free. This is a great recipe for anyone wanting a vegetarian galette, but just pick your cheese carefully!
Can I Make this Galette Gluten Free?
I haven't personally made this recipe gluten-free so I can't guarantee the results will give you the same flavors and textures as my pastry. The only thing you would need to do is use a gluten-free pastry dough. If you have a favorite from-scratch recipe, of course I'd recommend that! If not, then find a pre-made pastry dough at the store and just roll it out to a flat round or oval. My pastry recipe for this galette is a bit bigger than a single pastry so you might end up with a slightly smaller galette and that would be fine! Enjoy any extra veggies on the side.
Equipment Used
TeamFar Stainless Steel Baking Sheets
HIC Harold Import Co. Dexter-Russell Burger Turner, Stainless Steel with Walnut Handle
Similar Recipes
Mushroom and Rainbow Chard Galette
Get ready for a beautiful, rustic looking dish that's easy to make and tastes incredible! This mushroom and chard galette will knock your socks off and makes a great dinner, appetizer, or even brunch dish! Make it gluten-free by using a gluten-free pie pastry.
Ingredients
1 ½

cups

flour

(all purpose or white wheat)

scant ¼

teaspoon

sea salt

6

tablespoon

unsalted butter

scant 1

tbsp

olive oil

5-6

tablespoon

cold water

(start with 5 and add ½ teaspoon at a time as needed)
For Vegetable Mix
1

cup

onion, sliced

(¼ inch thick )

3

cups

mushrooms, sliced

(¼ inch thick)

2

cups

rainbow/Swiss chard

(slice into pieces about 1" thick or just chop into large pieces)

5

cloves

garlic

(lightly smash with flat knife then peel and quarter lengthwise)

1

tablespoon

olive oil

(for sautéing)

scant ½

tsp

sea salt

freshly ground black pepper to taste

¼

teaspoon

garlic powder

2

teaspoon

apple cider vinegar

½

cup

cilantro

(about a ⅓ cup firmly packed)

8

oz.

buffalo mozzarella

(1 cup chopped)
To Sprinkle of Top of Pastry Base Before Vegetables
¼

cup

blended raw almonds
Egg Wash
1

large

egg

2

teaspoon

milk
Garnish
finely chopped fresh cilantro
Instructions
Make the Pastry Dough
In a medium-sized bowl, combine the flour and sea salt. Cut in the butter until it's integrated like fine sand. Add the olive oil and ice cold water and mix together just until combined. I like to use my hands and a fork. Form into a flattened round disc and chill in the refrigerator for about 1 hour or until firm. I chill mine in a glass Pyrex bowl with a lid but you can use saran wrap too.
Make the Filling
Rinse all vegetables and prep as stated in ingredients.

Heat a large skillet on medium heat with 1 tablespoon olive oil. Once hot, add the sliced onions, mushrooms, garlic, and chard and toss to coat in oil. Cook for about 3 minutes with a lid on, then add the apple cider vinegar, sea salt, black pepper, and cilantro and cook for another 13-15 minutes until softened and seasoned through. Let the vegetables cool slightly on the counter, then transfer to the fridge to chill completely.
Ready to Put it all Together
Preheat your oven to 400°F and set rack to middle setting.

Use a pizza stone or stainless steel baking sheet. Lightly spray with olive oil to avoid sticking.

On the baking surface, roll out pastry dough to be a 12 inch round or oval. Lightly indent an inner circle/oval to form a 2 inch edge all the way around.

Add ¼ cup blended raw almonds to the center of the dough and gently spread it out to fill the inner circle.

Break apart the buffalo mozzarella into medium-sized pieces and combine with the chilled vegetables. Using a slotted spoon, scoop out the chilled vegetables and cheese, leaving any juices in the bowl. Spread out the vegetables and cheese mixture on top of the blended almonds.

Gently fold the edges over the filling, overlapping as needed. Don't worry about this looking perfect, it's supposed to be free form and rustic.
Make the Egg Wash
Separate 1 egg and whisk the yolk and whites separately, then combine them back together to whisk again with 2 teaspoon milk.

Brush egg wash all around the edges of the pastry.

Bake at 400°F for 45-50 minutes or until the pastry is golden brown.

Garnish with fresh, finely chopped cilantro