These lemon cookies are incredibly moist and chewy with a light, yet tart lemon flavor! Not overly sweet, but just perfect to cure that sweet treat craving.
(This page contains affiliated links)
These lemon cookies might just be my new favorite addiction. They are perfectly tart to give you that pucker of lemon without overpowering you. If you're looking for a lighter cookie that's bright and insanely flavorful, these are a must try! My husband actually said "I'd buy these" when trying them for the first time, and that says a lot from the man who silently enjoys most of my food!
What These Cookies are Made of
Flour: I use all-purpose flour for these cookies. Wheat would be too heavy, and I haven't tried a white wheat.
Eggs: Use large eggs, making sure they're room temperature.
Tartness: You'll use fresh squeezed lemon juice, lemon zest, and citric acid. Citric acid is the real key to this recipe because the tang remains and doesn't lessen with the bake. You get a more powerful tartness from citric acid then you'll get from lemon juice and zest, combined and this recipe wouldn't be the same without it! You can easily find it on Amazon but it's also sold at pretty much any grocery store in the baking aisle. Citric acid still adds moisture and helps to keep these cookies nice and chewy!
Unsalted Butter: Make sure your butter is set out at room temperature, but not melted.
Baking Soda: Baking soda gives a slight rise without too much air. If you want a little rise while still getting a chewy cookie, you want baking soda.
Sea Salt: Table salt would also work. I use a minimal amount only to bring out the flavors in these cookies!
Vanilla Extract: I use good quality organic vanilla extract. I would highly recommend using something similar and steering clear of imitation vanilla, you won't get the same flavor! I'm not even going to recommend a certain brand or Amazon link because I think they're all ridiculously expensive. I end up finding good quality vanilla extract after the holidays on clearance and loading up when they're under $2 each.
Sugar: I was sooo tempted to use natural sweetener in this recipe, but honestly, I just wanted a straight forward, simple lemon cookie. I haven't used anything but granulated sugar and it gives you the brightest flavor profile.
How to Make These Lemon Cookies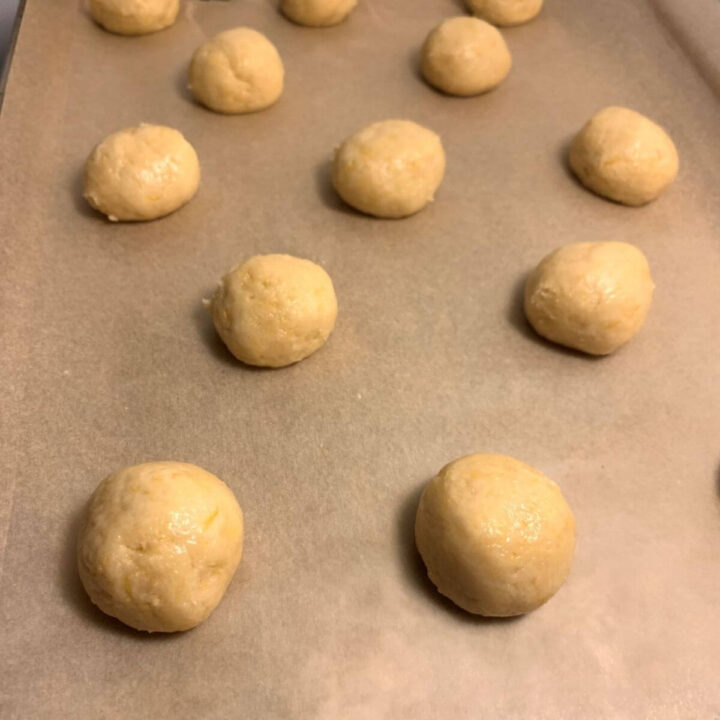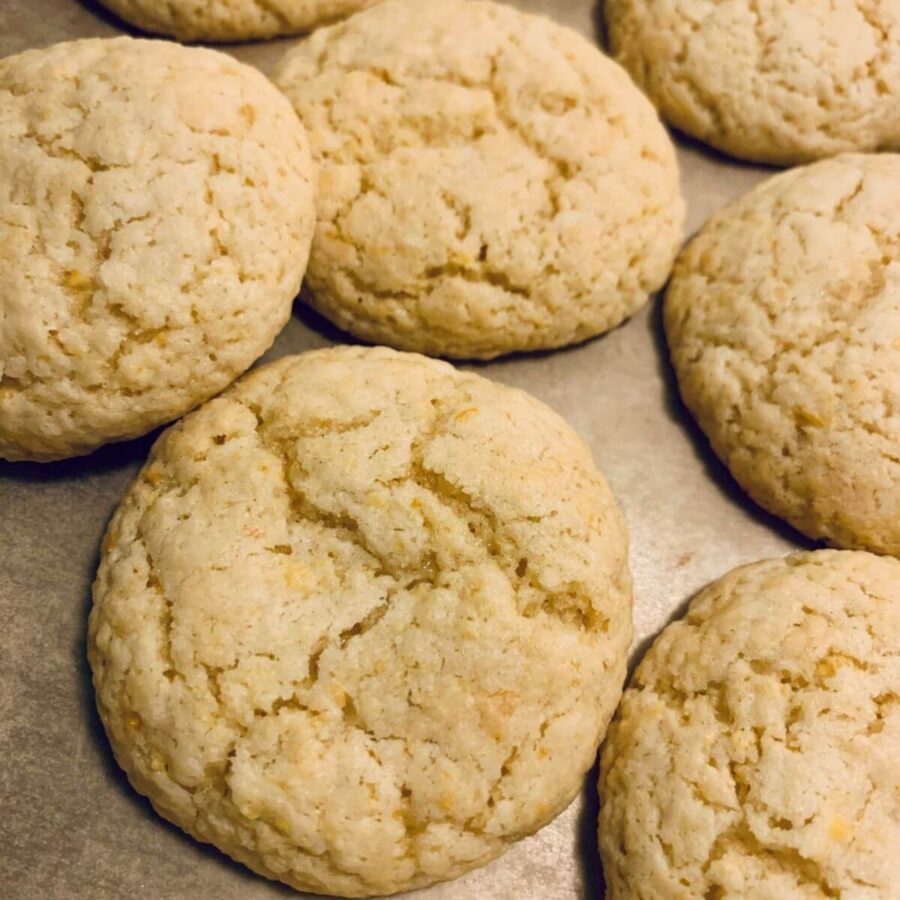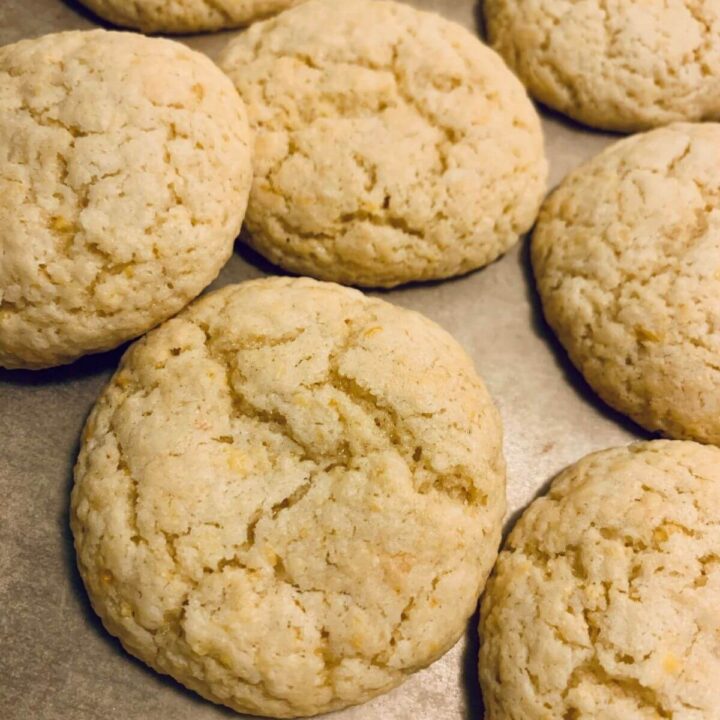 Start with washing your lemons! You'll want to zest the lemons first, followed by juicing them into a small bowl. Whisk in the citric acid, vanilla extract, and eggs.
In a large bowl combine the flour, then cut in the butter. add baking soda, salt, and white sugar to combine. Add in the liquid mixture an mix everything together.
I typically dump everything into one bowl and combine, but with this recipe it really is best to follow the steps of combining the liquids separate from the dry ingredients.
Scoop out 1 ½ tablespoons of cookie dough to form each ball and lay them out about 2 inches apart on a cookie sheet. You should be able to fit about 13-15 per cookie sheet.
Refrigerate the cookie dough balls! This helps give the cookies their shape and ensure that the butter doesn't run out. Preheat the oven while refrigerating.
Bake for about 12-14 minutes. You can bake 2 cookie sheets at the same time, just make sure they're both on the middle rack. Or load up 1 cookie sheet to chill then bake. While that tray is baking you can prep the other cookie sheet and chill then bake separately.
Baking Temperature
If you look up pretty much any cookie recipe ever, you'll see a recommended 350℉ baking temperature. I love using 400℉ for some of my cookies, including these lemon cookies. You get just a little different crackle on the top and I feel like they're a tad bit chewier. The bottoms will brown a tiny bit which I also like! At 400℉ you want to bake them for 12 minutes. If you choose to do a lower 350℉ you'll want to bake them for about 14-15 minutes.
Equipment Used
We're big fans of stainless steel in my household and clean products that don't use chemicals! I often use my pizza stone for cookies but will also use parchment paper on a stainless steel cookie sheet. I use If You Care Parchment Paper, which is coated in silicone, and no I don't love that, but overall they're a cleaner product than most!
These are great stainless steel cooling racks that work well if you ever need to use them directly in the oven too!
Cookie Size and Yield
The sweet spot for cookie size is 1 ½ tablespoons per dough ball. Don't level the scoops, just eyeball it and keep it a little rounded. If you get them too big, you run the risk of the cookies falling apart, especially when they're soft like these lemon cookies. You don't want them too small either or you'll miss out on the chewiness, and you'll have to adjust the baking time.
With using 1 ½ tablespoons per cookie ball, you will make about 24-25 cookies. If you only made 23...it'll be okay, made 26? That will be okay too 😉.
Storing Lemon Cookies
These cookies are best enjoyed fresh from the oven. They're supposed to be soft and chewy so it's just fine to store them in an airtight container at room temperature. They will soften up as they're sealed shut over time. You can also use these If You Care Sandwich Bags which will help keep them from getting too moist and soft. They will dry up a bit more in these bags but not much!
I'd love to hear how you enjoyed these cookies in the comments below!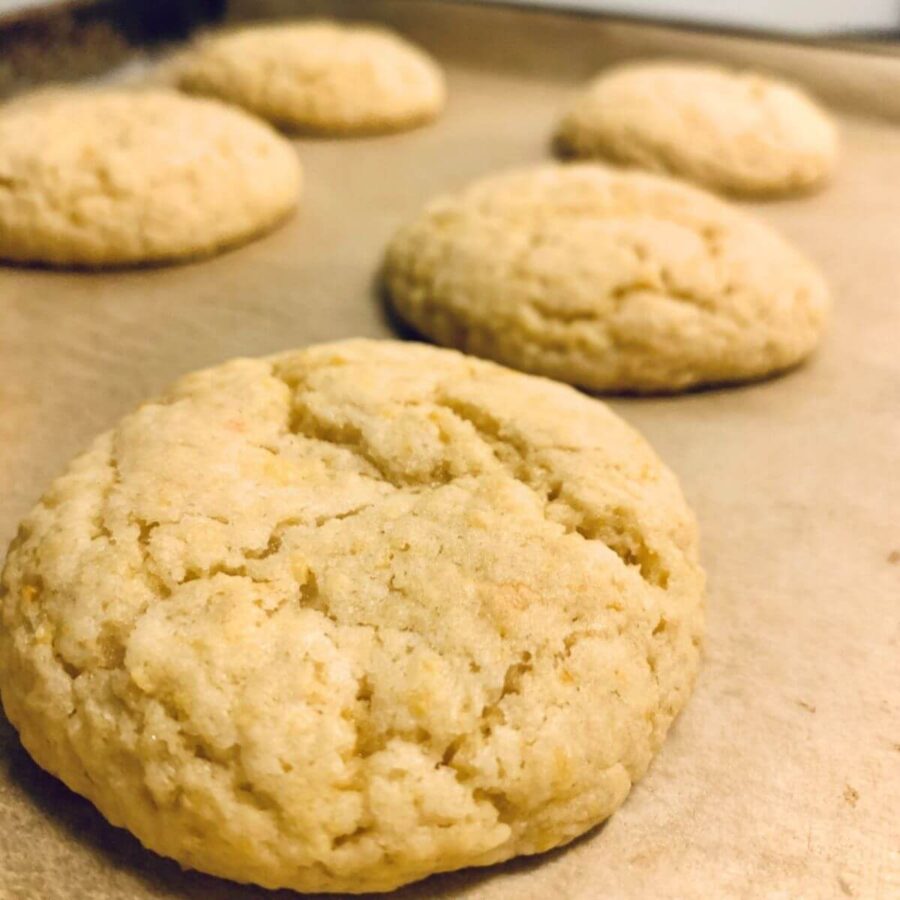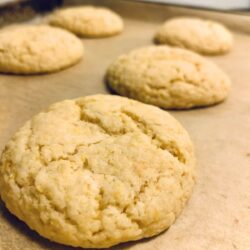 Pucker Up Lemon Cookies
These lemon cookies are incredibly moist and chewy with a light, yet tart lemon flavor! Not overly sweet, but just perfect to cure that sweet treat craving.
Ingredients
3

tablespoons

lemon juice

(freshly squeezed)

2

tablespoons

lemon zest

½

teaspoon

citric acid

2

large

eggs

2

teaspoons

vanilla extract

2 ¾

cup

all-purpose flour

½

cup

unsalted butter

½

teaspoon

baking soda

1

cup

granulated sugar

¼

teaspoon

sea salt
Instructions
Wash and zest the lemons into a small bowl. Juice lemons into the zest and whisk in the citric acid, eggs, and vanilla extract.

In a large bowl add the flour and cut in the butter. Make sure that your butter is crumbled evenly into the flour. Add in the baking soda, white sugar, and salt.

Combine the wet ingredients with the dry and work together to form a dough.

Line 2 cookie sheet with parchment paper.

Scoop out 1 ½ tablespoons of dough to form each ball. Space out the balls about 2 inches apart and refrigerate.

Preheat oven to 400°F while the dough balls chill.

Once preheated, bake the cookies side by side on the same middle rack for 12 minutes.

Transfer to a cooling rack to cool. Cool completely before storing.

Store in an airtight container at room temperature for 3 days maximum for ultimate freshness.

Enjoy these cookies with my Lemon Honey Mascarpone Drizzle. This drizzle doesn't harden so do not put on cookies before storing. You could even use this drizzle as a cookie dip!