These are the easiest and best blueberry scones with a crispy exterior, soft center, and honey as a natural sweetener! Lavender is such a fun and delicious addition that elevates these scones above others, and don't forget the mascarpone lemon honey drizzle!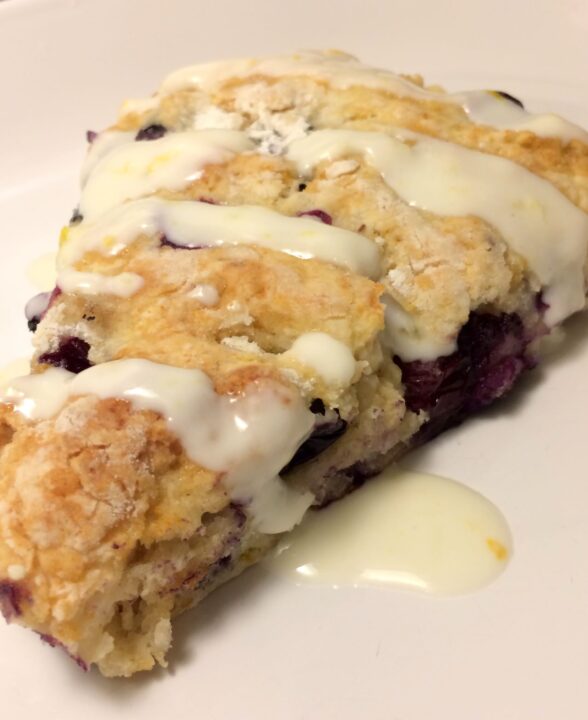 (This page contains affiliated links)
Blueberry scones just got better with the addition of lavender and mascarpone lemon honey drizzle! This is hands down the best scone recipe and it's easy and quick to put together! I get requests to make these all the time, and the only downfall is that the recipe only makes 8 servings, and believe me you'll want more!
Oh the Mascarpone Lemon Honey Drizzle! It's one of my favorites and I use it on so many different desserts. I love to make my own mascarpone, but I know that's not for everyone. If you're up for taking a little extra time and effort for the drizzle, try my Homemade Mascarpone. Easy option? Buy store bought or opt for a Greek yogurt. I've used full fat Greek yogurt but any will work. Just know that the lower in fat you go, the thinner the drizzle will be.
Ingredients for the Best Scones
There are many different recipes out there for scones and different reasons behind different ingredients. Here I'll share with you why I use the ingredients I do!
Lavender: Let's start off with he most fun ingredient. In the past years we had sooooo many lavender plants! I harvested some of the dried flowers and stored them, for a long time actually. I intended to use it in soap and that never happened and I just couldn't get myself to use it in baking. I'm not sure why I was so hesitant, because it's really such an amazing addition!
In this recipe I blend them so the flavor is more even and you get a smooth texture.
If you don't have access to fresh lavender flowers then you can find them on amazon and some grocery stores. I would recommend organic to avoid any use of pesticide sprays since you're using this in food: Amazon option for Organic Lavender Flowers
Butter: I use unsalted butter because you just don't need the added salt in these scones! A little pinch of sea salt is all you need but no need to distract from added salt with the butter.
I have tried various methods for adding in the butter and all in all they all have worked well. I have tried shredding the butter from a frozen stick and it really worked well, I just felt the extra work for shredding it wasn't necessary. I felt the need to work faster so the butter didn't melt and that just wasn't needed.
I have tried having the butter at room temperature and cutting it into small chunks once soft. This method worked well also but I got a somewhat stickier dough.
The easiest method that I seem to always use is just butter straight from the fridge, cut into small pieces. Once cut, I coat it in the flour and work it together in my fingers to break it apart into fine pieces. Honestly, if it mashes and starts to melt it's really not a big deal for my recipe!
Some recipes will say to refrigerate the dough before forming it into a round and I actually wouldn't recommend it. Just go straight from mixing the dough to forming the round and you'll have an easier time working with it.
Greek Yogurt: If you've seen my other recipes you know I love using Greek yogurt. It's a great addition for added moisture, makes baked goods fluffier, and it's a healthier option than sour cream and other creams. I use full fat Greek yogurt in this recipe. It does help add moisture without making the dough too wet.
Lemon Zest: This gives the scones just a little zip and lemon flavor without adding more liquid from lemon juice!
Eggs?? Nope, not in this recipe. The baking soda, baking powder, and Greek yogurt are all you need to create the perfect texture.
Natural Sweetener: Honey is such a great pairing for these scones. It gives great flavor, moisture, and helps the scones to bind together.
Fresh Blueberries: I haven't made this recipe with frozen blueberries. I'm sure they would add a bit too much moisture, but, if you don't mind the batter being more purple and a little denser scone, then they would be fine!
Fresh blueberries are great because they hold together better than other berries, such as raspberries, even when you work the batter in your hands some.
Flour: Nothing fancy here, just a basic all purpose flour will do.
Baking Soda and Baking Powder: Baking powder gives these great volume and since I have the acidity from the Greek yogurt I added the baking soda for a little extra umph. I haven't tried it without one or the other and they work so well every time I don't have a reason to change it!
Mascarpone Lemon Honey Drizzle: Do you have to use this? Of course not. Should you to have an amazing scone eating experience? Absolutely.
If you're up for making your own mascarpone, don't be intimidated, it's really not hard! Check out my recipe here for Homemade Mascarpone. It'll be worth it.
Pass on making it yourself? Buy it at the store or opt for Greek yogurt instead. When I really want these scones last minute I always go for Greek yogurt.
The drizzle is super tangy with the lemon and just the perfect amount of sweet from raw honey. Just know that the amount of lemon you need might change depending on how fresh your lemons are! I've made this recipe with some older lemons and I increased the amount, but if you're using fresh lemons just follow the recipe! The drizzle is awesome to use on other baked goods like muffins or sweet breads! Or if you're my husband, anything you can find in the fridge.
How to Make These Blueberry Lavender Scones
Step by step instructions can be found below. Here's the basic method.
Start with your flour, salt, baking powder, baking soda, and blended lavender and combine.
Cut in the butter
Add your wet ingredients (honey, yogurt, lemon zest)
Mix it together until it starts sticking. If it's super crumbly then work it together a little more in your hands to get the butter softer instead of adding water. If you feel like you've been working it together and it's still really dry then add 1 teaspoon of water at a time. You don't want it super wet and it's fine if it's a little crumbly!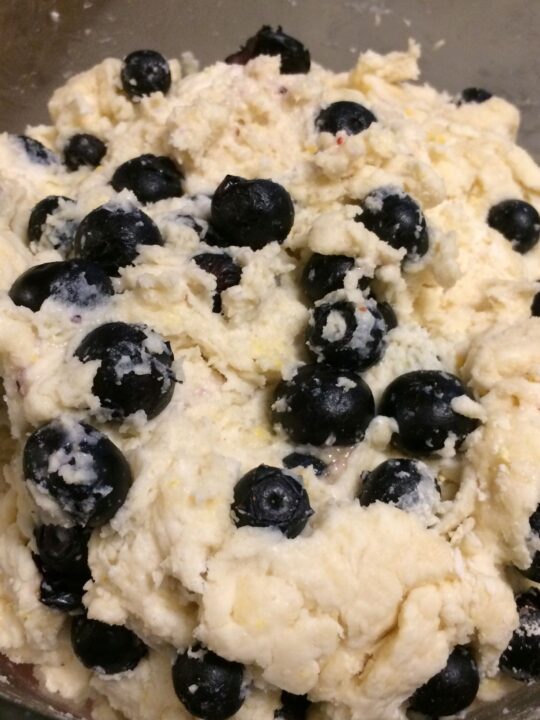 Pour out the dough onto a lightly floured surface. Press it into a 9" round. Lightly sprinkle flour on the top and cut it into 8 pieces.
Transfer the pieces to a parchment lined baking sheet with space between each piece.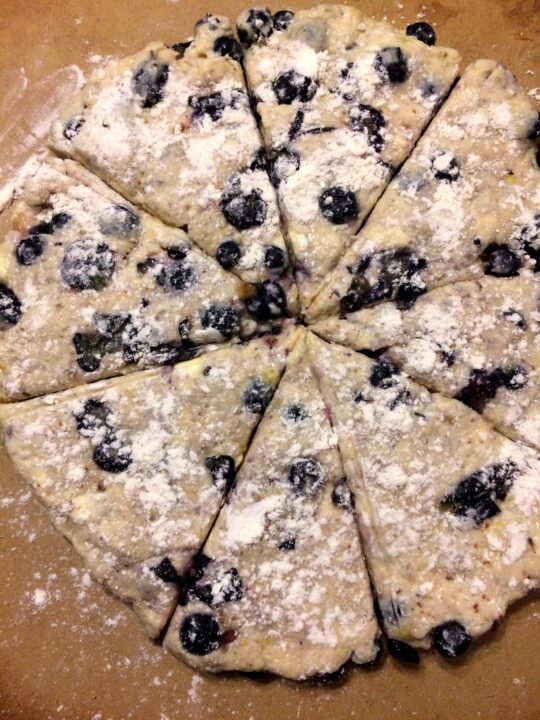 Bake at 375º for 24-26 minutes, or until the tops are a nice light golden brown.
Immediately transfer them to a cooling rack. Don't let them sit on parchment paper because they'll get moist on the bottom.
Drizzle with the Mascarpone Lemon Honey Drizzle when you're ready to eat. They'll store much easier if you leave it off until serving.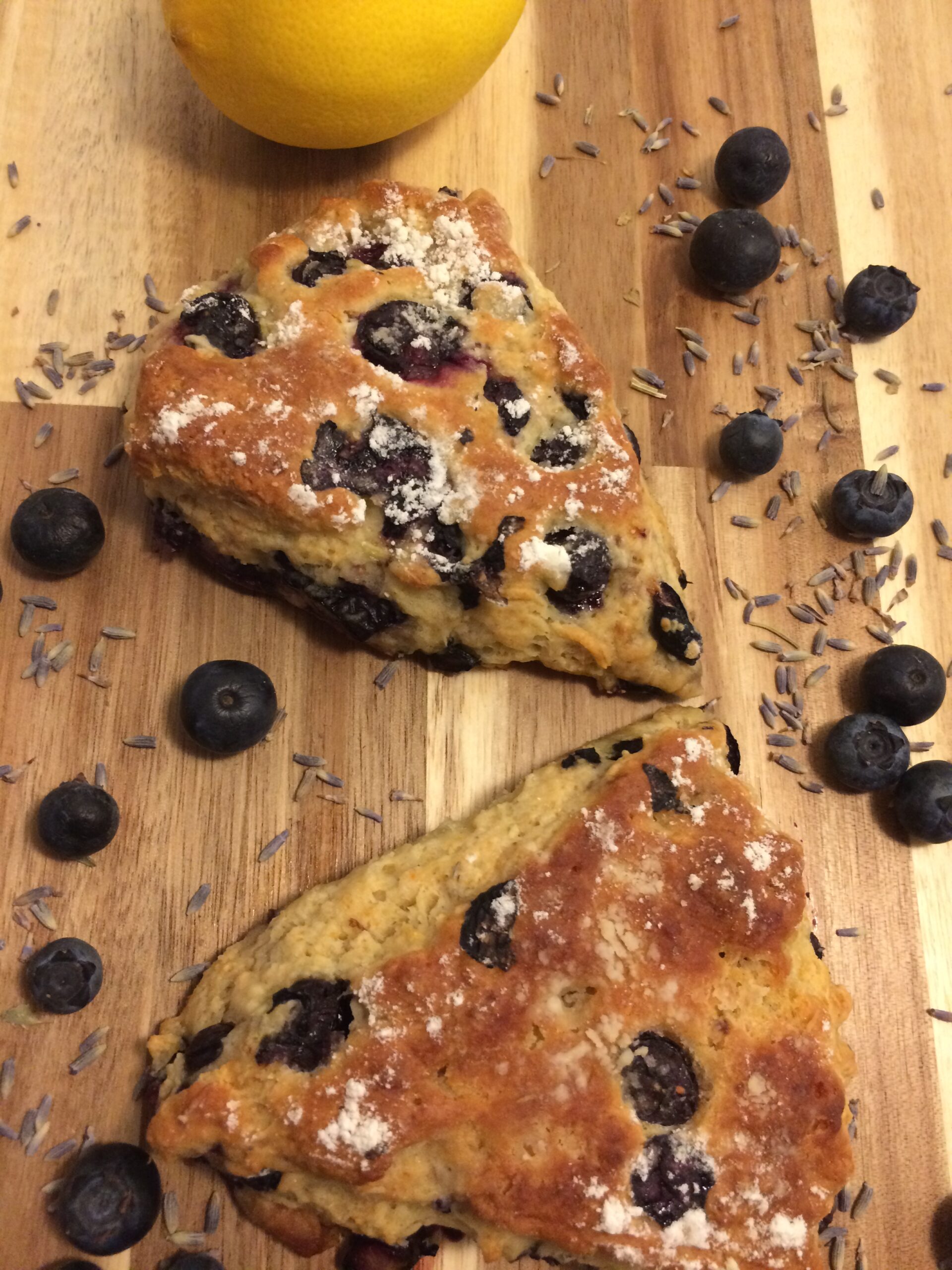 Storing Scones
DON'T STORE SCONES IN THE FRIDGE!
If you just made a batch of perfectly crispy scones but you need to store some, don't ruin them by putting them in the fridge. They'll get too moist and lose their great texture.
Store them in a brown bag. As in a basic brown lunch bag that you took to school once upon a time. You can stack them together and they shouldn't stick.
These unbleached sandwich bags by If You Care are awesome. They are pricier than the basic brown bag but also a great option!
Try More Baked Good Recipes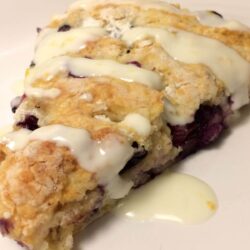 Blueberry Lavender Scones with a Mascarpone Lemon Honey Drizzle
These are the easiest and best blueberry scones with a crispy exterior, soft center, and honey as a natural sweetener! Lavender is such a fun and delicious addition that elevates these scones above others, and don't forget the mascarpone lemon honey drizzle!
Ingredients
1 ½

teaspoon

dried lavender

(equals 2 teaspoon ground)

2

cups

all purpose flour

1

teaspoon

baking powder

½

teaspoon

baking soda

½

teaspoon

sea salt

4

tablespoon

unsalted butter *see notes

1

cup

full fat plain Greek yogurt

6

tablespoon

raw honey

2

teaspoon

lemon zest

1 ¼

cup

fresh blueberries
Lemon Honey Mascarpone Drizzle
½

cup

mascarpone (link in instructions for my homemade mascarpone recipe)

(option to replace with Greek yogurt)

5

tablespoon

lemon juice

2

teaspoon

lemon zest

2

tablespoon

raw honey
Instructions
Make the Scones
If using fresh, dried lavender, pick out any husks or excess debris. Blend lavender until finely ground. Zest lemon using fine grater/ microplane, and rinse blueberries then pat as dry as possible. Set all of the above aside in separate bowls.

Preheat oven to 375°F if using conventional oven. For convection oven no need to preheat.

In a large bowl mix together flour, baking powder, baking soda, sea salt, and ground lavender. Cut in the butter (butter cut into small pieces) and work together with your hands gently to finely crumble the butter.

Add yogurt, honey, and lemon zest. Combine all using a fork and/or your hands. Don't overwork but mix until the mixture begins to stick together. Add blueberries and again mix gently. If the mixture is still very dry and falling apart you can add 1-3 teaspoon water but you definitely don't want a wet mixture!

If you want to set the mixture aside for later, store in the fridge at this point.

When ready, lightly flour a work surface and using your fingers press out the mixture into a 9" round.

Sprinkle a little flour on top of dough and cut round into 8 equal portions.

Line a baking sheet with parchment paper. Place each portion on the baking sheet, leaving space between each one to allow for expansion so they don't touch.

Bake at 375°F for 24-26 minutes on middle rack in convention oven, lower rack if using toaster oven. While scones bake make mascarpone drizzle.

Immediately transfer scones to a cooling rack to avoid bottoms getting moist.
Make the Lemon Honey Mascarpone Drizzle
In a small bowl combine mascarpone (or Greek yogurt), lemon zest, lemon juice, and honey. At this point taste the mixture and add more lemon juice to your taste. If you're using mascarpone and want to thin out the mixture add 1 teaspoon of water at a time, tasting in between to make sure you're not losing flavor. If flavor lessens then add small amounts of honey and lemon at a time. If you're using Greek yogurt it should be thin enough as is.

Drizzle over each scone when ready to eat.
To Store
Store the scones in a paper lunch bag or these sandwich bags on the countertop. This will keep them from drying out as well as getting too moist. Don't store them in the fridge!
Notes
*These scones are soft and fluffy with a crisp exterior. If you want something drier and more crumbly then you can decrease the butter or don't work the mixture in your hands too much before adding the blueberries.