The most incredible cinnamon rolls with a gooey center, fluffy, soft rolls, and creamy homemade cream cheese frosting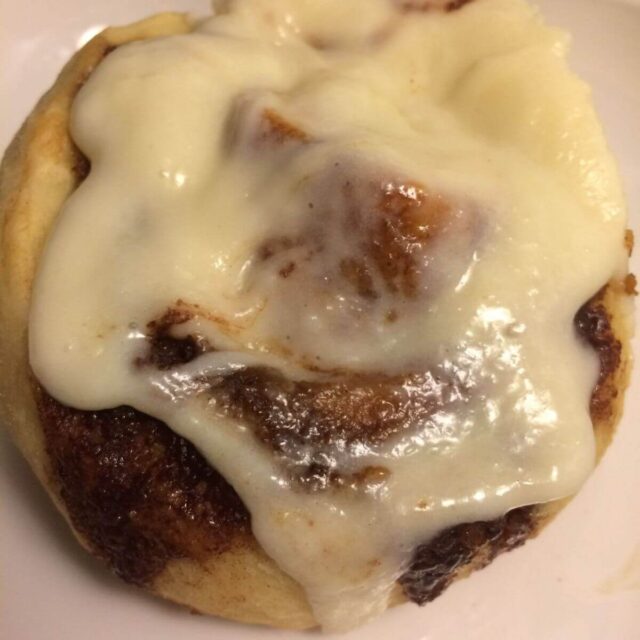 (This page contains affiliated links)
I've finally gotten around to sharing my amazing cinnamon roll recipe! This has been a long time coming with several tweeks to the recipe over and over. That just means that I have made this MANY times recently, which hasn't been a complaint in my household.
Right off the bat, you have to know that if you're up for making cinnamon rolls, you're not looking for a healthy recipe, but instead something incredibly sweet, enjoyable, warm, with the perfect flavors in every bite. These cinnamon rolls are truly rich and creamy, with the most incredible frosting! Here are some tips and tricks to making the best ever cinnamon rolls!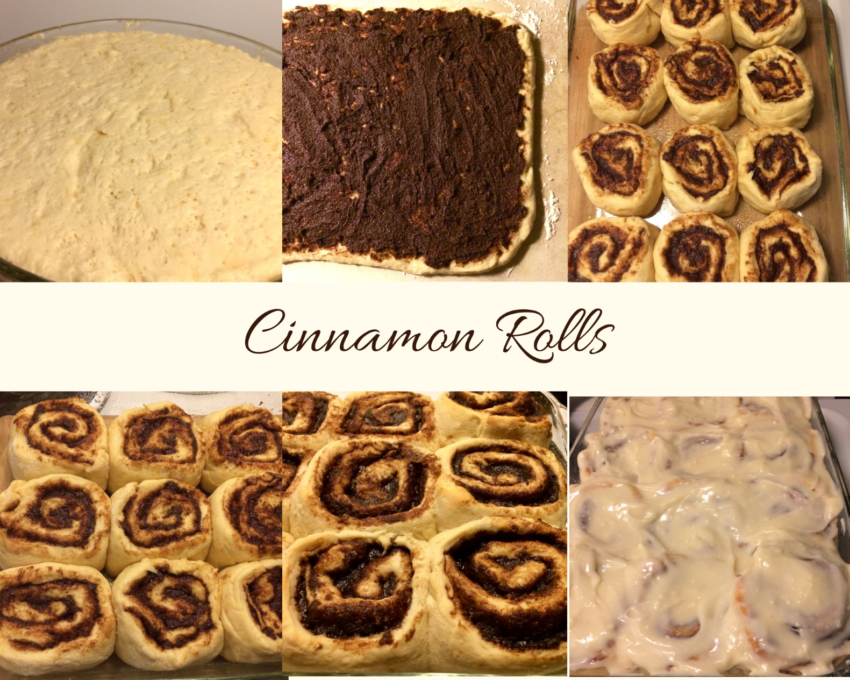 Tips for the Perfect Cinnamon Rolls
Warm Milk: When you're making the dough, make sure that your milk is warm and not hot or chilled. Don't substitute water because the milk changes the gluten structure of the dough to be lighter and fluffier.
Yeast: No matter what kind of yeast you're using (rapid rise or active dry) I would recommend adding the yeast to the warm milk to let it active before combining it with the remaining ingredients. I use this Saf Instant Yeast and I've loved it for all my baked goods.
Flour: I have only made cinnamon rolls with white or white wheat flour. If you're up for trying whole wheat you can definitely give it a go but it will change the texture a lot and possibly make for a slightly heavier cinnamon roll. But, you can always try half white and half wheat! I use all purpose flour, nothing fancy.
Yogurt: I have never been one to use pudding in my cinnamon rolls, but yogurt replaces that role so nicely. It helps the rolls keep their softness while still adding to the fluffiness. I have tried the method of using a potato in the dough, which some people swear by saying it makes for the fluffiest and softest cinnamon rolls. I didn't find this to be true. Maybe it makes it fluffier than some recipes, but my recipe still beats using a potato, and it's less leg work!
Filling: This is one part that I've changed up so many times. I had started with LOTS of cinnamon and molasses and I slowly backed it down and changed up the ratio between the two until I could taste both but neither was overpowering.
I don't use brown sugar. It's not because I'm leaving out refined sugar (obviously there's lots in here) but because I never have brown sugar on hand! I do have white sugar and molasses so I just make my own. Making your own changes the liquid content though so it's not always easy to just swap out sugar + molasses for brown sugar. My filling is pretty wet but that helps the cinnamon rolls have a gooey center, while at the same time having a fully baked roll. I add nutmeg to my filling which doesn't overpower in the least but blends in perfectly. If you really like cinnamon you can add another tbsp. but I would not recommend going over 4 tablespoon total. I've done 5 and although it might taste fine if you try the filling wet, once baked it just gets stronger.
Frosting: The big secret to amazing cinnamon roll frosting is almond extract. You have to have this! I use full fat cream cheese, otherwise the flavor changes but of course you can use a lower fat option.
I never keep powdered sugar on hand. One reason is because I have no need for sugar with added cornstarch. I make my own powdered sugar by just blitzing sugar in the blender until it's a fine powder. I don't add anything else to it and it works great every time!
How thick you want the frosting is really up to you. Start with a small amount of milk and gradually add more until you have it to the thinness of your liking. I wouldn't recommend more than 6 teaspoon but if you're wanting something super thin you can add more.
I always made the same frosting recipe but every time my husband always asked if there was any leftover frosting. I finally did 1 ½ times the batch and it was great! It's definitely a thick layer so if that's not for you then here's the original, which is still a great amount and covers the entire batch.
Smaller Frosting Batch
2 tablespoon unsalted butter (not too soft but fairly room temp)
½ cup + 2 tablespoons white sugar
5 ounces cream cheese
1 ½ teaspoons vanilla extract
2 teaspoons almond extract
4 teaspoons whole milk
Follow same instructions below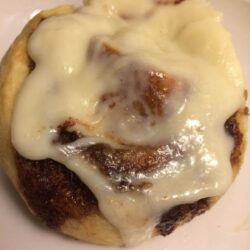 Rich and Creamy Cinnamon Rolls
The most incredible cinnamon rolls with a gooey center, fluffy, soft rolls, and creamy homemade cream cheese frosting
Ingredients
For the Dough
1

cups

warm milk

2 ¾

teaspoon

yeast

4

cups

flour

2

tablespoon

honey

(option to replace with equal portion white sugar)

½

teaspoon

sea salt

2

large

eggs

½

cups

unsalted butter

¼

cups

full fat plain Greek yogurt

2

teaspoon

vanilla extract
For the Filling
6

tablespoon

butter

⅔

cups

white sugar

3

tablespoon

blackstrap molasses

3 ½

tablespoon

ground cinnamon

¼

teaspoon

ground nutmeg

¼

teaspoon

ground cloves
For the Frosting
3

tablespoon

unsalted butter

¾

cup

+ 3 tablespoon white sugar

blended white sugar or powdered sugar

7.5

oz

cream cheese

2 ¼

teaspoon

vanilla extract

3

teaspoon

almond extract

4-6

tablespoon

whole milk

depending on how thick you want your frosting
Instructions
Make the Dough
In a small saucepan, heat milk on low heat for a few minutes until warm. If you dip your finger in it shouldn't be hot at all, only warm.

In a medium or large mixing bowl combine flour, sugar, and salt.

Once the milk is warm, transfer it to another container so that milk doesn't to heat up. Add the yeast and let sit for at least 5 minutes for the yeast to activate. Once activated, add milk + yeast to the flour mixture. Combine with a fork and your hands. Knead dough for about 5 minutes until no longer sticky. Form into a ball and cover with a lid or clean cheese cloth/towel and let rise for about 45 minutes until double in size.
Make the Filling
In a medium bowl cream together room temp butter and sugar. Add molasses, cinnamon, nutmeg and cloves and mix with a fork. You can put the mixture in the fridge until you're ready to use it, but make sure that it's out at room temp beforehand to make sure you can spread it easily.
Make the Frosting
Blend white sugar until a fine powder similar to powdered sugar (or use powdered sugar). In a medium-sized bowl cream together the butter and sugar. Add the cream cheese and mix. Don't overly whip or the cream cheese could thin out more than you want. Add vanilla and almond extracts, and start with 4 tablespoon milk. Add 1 tablespoon milk to thin to a preferred consistency. I usually do 5-6 tablespoon total and no more.
Forming the Cinnamon Rolls
Preheat oven to 375℉ with rack in the middle of oven.

Once the dough has risen, transfer it to a lightly floured work surface. Pat dough ball into a slightly rectangle shape, which will help you maintain the rectangle shape as you stretch out the dough. I prefer to work out the dough using my hands to avoid loosing air, but you can use a rolling pin if you prefer.

Roll out dough into a rectangle approximately 12" x 17." Spread filling over dough. I like to go right to the edges but leaving about a ½" space on the long side furthest from you for when rolling the dough.

Starting at the long edge closest to you, roll dough into a log. Cut log in half, then each piece in half again. Cut each of those sections into equal thirds. Make sure your knife is sharp so you're not squishing the dough too much. *Option to use floss (plain, not flavored) to tie around log and pull tight to cut into sections.

Lightly grease a cake pan (11" x 7"). Place rolls in cake pan making 4 rows of 3. Try to space them out so they're not touching the sides of the pan or each other if possible. Cover with a cheesecloth or towel and let rise for about 10-15 minutes.
Bake
Bake rolls at 375℉ for 25 minutes. Remove and set on a cooling rack. Option to frost while warm, wait until about 15 minutes before frosting, or wait until rolls are completely cool. I like to wait a bit so they're still a little warm but not as fragile. There is quite a bit of frosting for this recipe. Above in the narrative I've included the portions for a smaller batch of frosting. You can use all the frosting to cover the rolls, or cover the rolls with the amount of your choosing and save the remaining frosting for people to individually add more if they want.

Store in your fridge.
Reheating
Reheat rolls at 300℉ for about 8 minutes or use microwave for just a few seconds. Rolls will be fairly firm when cold but soften up quickly once warmed.