This is a fairly simple recipe with amazing results of flavorful and creamy mascarpone! Get more bang for your buck, more flavor, and have a little fun by making mascarpone from scratch!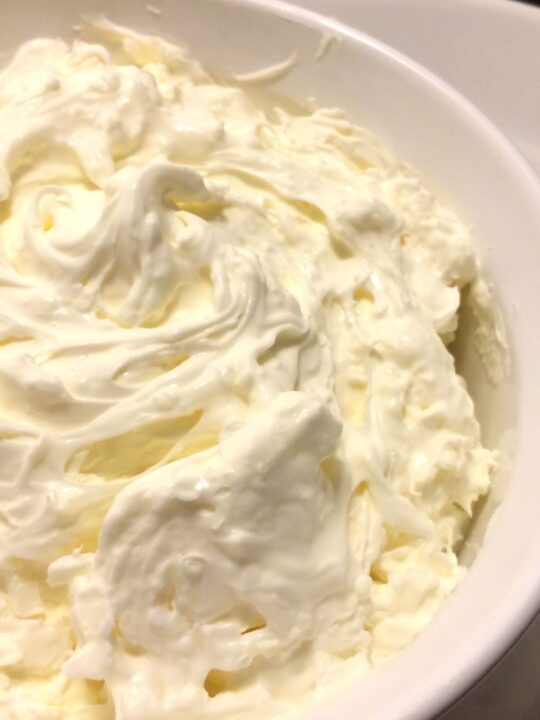 Homemade mascarpone might be one of my new favorite things. Not the healthiest of addictions but it sure is fun to make and you can enjoy it with so many different recipes!
So it could be said that I had a "phase" recently where my pant size increased while I was perfecting my homemade mascarpone, homemade ice cream, homemade butter, homemade whipped cream, and some other delectable desserts. I've never been one to buy heavy cream, but I just had to get these recipes down so I took one for the team. For a while we always had it in the house! It was fun, but now I've backed off and I've told myself to only make one enjoyable treat at a time!
I'm a healthy cook and my family eats very healthy. We believe that being healthy is having a balance, not completely avoiding a single item to hope that doing so will, in and of itself, keep you healthy. We do indulge sometimes, and most of all we just want to enjoy what we eat!
Why Make Your Own Mascarpone?
First of all, mascarpone can be expensive, especially when you need a lot of it for a recipe. Typically, stores will sell it in an 8oz. container. At my local big-chain grocery store it's around $5 for 8 oz.
Yes, it takes time to make and sometimes that's not worth it for people! But, the 2nd reason to make your own is that it tastes so good! When you make it from scratch, you get to decide how much lemon to add and that can make a big difference.
Honestly, I find it very rewarding to make cheese from scratch, because it does take effort, and love, and attention!
What's the Best Way to Make Mascarpone from Scratch?
I have tried several different methods, most claiming to be the best method. What I was looking for was flavor and a great texture. My finished mascarpone had to be thick and not at all runny.
I first started with using 2 tablespoon lemon juice. This tasted awesome. I loved every mouthful, but for some recipes it seemed like too much. So, I decided to back down a bit. If you really want to taste the lemon go for 2 tbsp!
I followed some simple cooking instructions which all had basic similarities such as: get to a simmer, stir often, decrease heat, cool quickly, then let it strain in a tea towel for hours to harden and drain out the whey.
Then I found a couple recipes that I mashed together with my own measurements to create this masterpiece.
How to Make this Amazing Mascarpone, in a Nutshell
Heat heavy cream to 185℉ stirring often.
Remove from heat and stir until it reach 140℉.
Return to burner and stir until it reaches 185℉ again.
Add lemon juice, cook for 3 more minutes.
Remove from heat until it reaches 140℉.
Let cool for 25 minutes.
Transfer to tea towel lined mesh strainer, on top of a bowl to catch the whey.
Refrigerate for 24 hours. I know you'll want to take it out sooner but don't! It'll be so much thicker if you wait!
Enjoy!
The Most Important Factors in Making Mascarpone
Fresh heavy cream
Fresh lemon juice
Heavy bottom pan
Increasing and decreasing the heat several times while cooking
Continuously stirring
Letting the mixture cool on the countertop instead of rushing it to the fridge
Letting the mascarpone sit for a full 24 hours
Increasing and decreasing the heat is a key part of making sure the mascarpone thickens well. It might seem like a lot of work, but it's worth it! Don't just bring to a simmer once, but follow the instructions as written!
I first started with cooling my mascarpone for 12 hours and it worked alright. But, once I started cooling it for a full 24 hours I noticed a big difference and I won't cheat the time ever again!
This Recipe Pairs well with These Recipes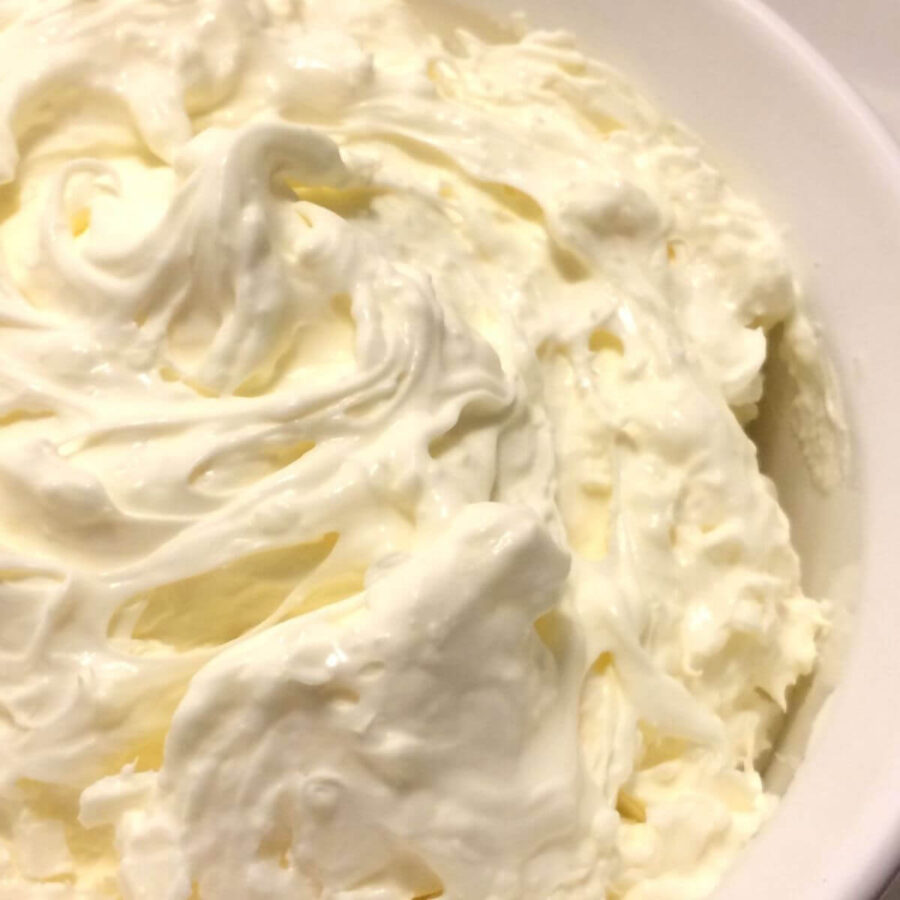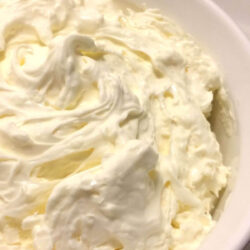 Homemade Creamy Mascarpone
This is a fairly simple recipe with amazing results of flavorful and creamy mascarpone! Get more bang for your buck, more flavor, and have a little fun by making mascarpone from scratch!
Ingredients
3

cups

heavy cream

1

tablespoon

freshly squeezed lemon juice
Instructions
Wash your lemon and juice 1 tablespoon lemon juice, set aside.

Prepare a vessel for mascarpone to be stored in overnight. I use a medium-sized deep saucepan, tea towel (or paper towel if you have to), and a tight mesh strainer. Set the strainer in the saucepan or other bowl and line the strainer with towel. Set aside.

Add heavy cream to a medium-sized, heavy bottom saucepan. Heat to low-medium heat for about 13-15 minutes, lid off, and stirring often until it reaches 185°F.

Remove from heat (keep burner on) and continuously stir for about 5-7 minutes or until it reaches 140°F.

Return to the burner again. Heat on low-medium heat until it reaches 185°F again (about 7 minutes). Monitor heat and lower slightly to low heat to help keep heat at 185° or just under.

Add lemon juice, stir, and continue cooking for 3 more minutes. Remove from heat (turn off burner) and stir until temperature gets down to 140°F (about 9-10 minutes). Let cool on the countertop for about 25 minutes.

Transfer to the tea towel in strainer over a bowl using a rubber scraper to get all the mixture. Chill in the fridge for 24 hours. Don't cheat on the time, it makes a huge difference!

Yields just under 2 cups mascarpone.

Option to do smaller batch of 2 cups cream with 2 teaspoon lemon which yields 1 ¼ cup mascarpone.