Fluffy sweet muffins that hide a healthy secret of kale, zucchini, and carrots with banana and maple syrup to sweeten them naturally!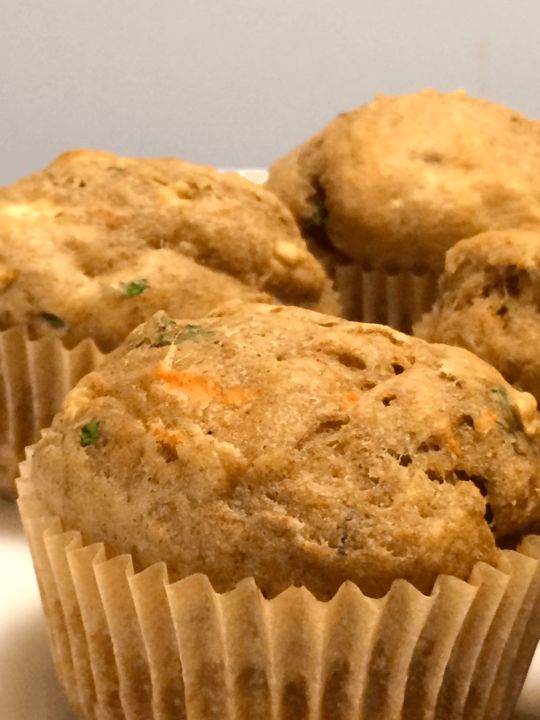 (This page contains affiliated links)
I have tried more vegetables in the past and it just adds too much liquid. My thinking is that if you're going to add vegetables, really make it count. However, you have to do it within limits for a muffin recipe.
I started making this recipe often when my little one was starting to eat more table foods. I wanted a way to pack in vegetables to a finger food that she would enjoy. But then I realized that it shouldn't just be for toddlers and kids but for my husband and I as well!
These are delicious and sweet and you really can't even tell there are vegetables by tasting it. Hopefully this will change your mind about adding vegetables to baked goods or at least make you a little more adventurous to add something else to your current recipes!
Sweetener: This recipe calls for maple syrup and banana for sweetness, no white sugar!
Baking soda and baking powder: I use baking soda because I have acid ingredients: milk, yogurt.
Typically, you don't need more than ¼ tsp. baking powder and/or baking soda for 1 cup flour. I have found the amount in this recipe to be just perfect for fluffiness but not overdoing it and using an unnecessary amount.
Flour: I like to use a mix of white and wheat flour but you can use all white or all wheat. Using all wheat will make it more dense and slightly less fluffy.
Filling the Muffin Cups:
I typically fill the liners ¾ -Full.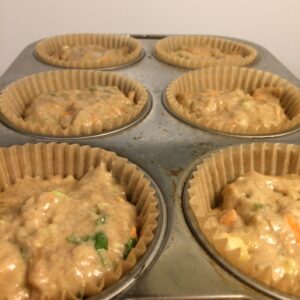 Temperature: I have tried and tested many variations of temperature for muffins over the years. I have tried starting them at 400℉ for 5 minutes then decreasing temp for the remainder, and sometimes it creates too hard of a crust then the muffins "explode" out. I have found more consistency with starting them at 375℉ then decreasing to 350℉ the remainder of time (about 17 minutes).
Oven vs. toaster oven: You can use either method. Use middle rack for conventional oven and lower rack for toaster oven.
Equipment/ Tools Used in this Recipe
Cupcake liners: I love these If You Care baking liners/cups. They're chemical free, unbleached, nonstick, and vegan. If you do a lot of muffin or cupcake baking it's worth it to get the larger batch here.
12 cup muffin tin: This is the typical muffin tin I use with all muffin recipes! Fox Run 12- Cup Muffin Tin.
6 cup muffin tin: I finally found a 6 cup tin I love so I can use my toaster oven on hot days. Not making muffins just because I couldn't use the oven wasn't an option for me, they are a staple in my home! This stainless steel 6 cup tin is from Fox Run and I highly recommend it!
More Recipes with Bananas
If you're looking for more recipes that use bananas, try one of these delicious recipes:
More Baked Goods Great for Breakfast
If you're wanting more warm baked recipes, take a look at these next: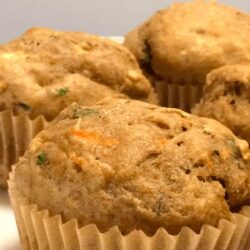 Carrot Zucchini Kale and Banana Muffins
Fluffy sweet muffins that hide a healthy secret of kale, zucchini, and carrots!
Ingredients
½

cups

grated carrot

½

cups

grated zucchini

½

cups

finely chopped kale

½

cups

banana

2

cups

flour

I like to use 1 cup white, 1 cup whole wheat

¾

teaspoon

baking soda

½

teaspoon

baking powder

¼

teaspoon

sea salt

2

teaspoon

ground cinnamon

¼

teaspoon

ground nutmeg

⅛

teaspoon

ground cloves

2

large

eggs

3

tablespoon

olive oil

¼

cups

+2 tablespoon whole milk

⅓

cups

full fat plain Greek yogurt

¼

cups

maple syrup

1

teaspoon

vanilla extract

½

teaspoon

almond extract
Instructions
Preheat oven to 375℉.

Shred zucchini, carrot, and dice kale. Squeeze out any excess liquid using hands or paper towel.

In a large mixing bowl combine all dry ingredients.

In a separate bowl combine all wet ingredients and banana and mix well. Muffins turn out the best if you leave the banana slightly chunky.

Pour wet ingredients into dry mixture bowl (don't mix). Add shredded vegetables and combine all just until streaks of flour are gone but don't over mix.

Line cupcake tins and fill each cup about ⅔ full. Bake at 375℉ for 5 minutes then decrease temperature to 350℉ for about 17 minutes. Cool on a rack to allow airflow underneath.