Recipe sung to the tune of "Three Best Friends." This is such an incredibly easy recipe that yields the most amazing juicy and flavorful chicken!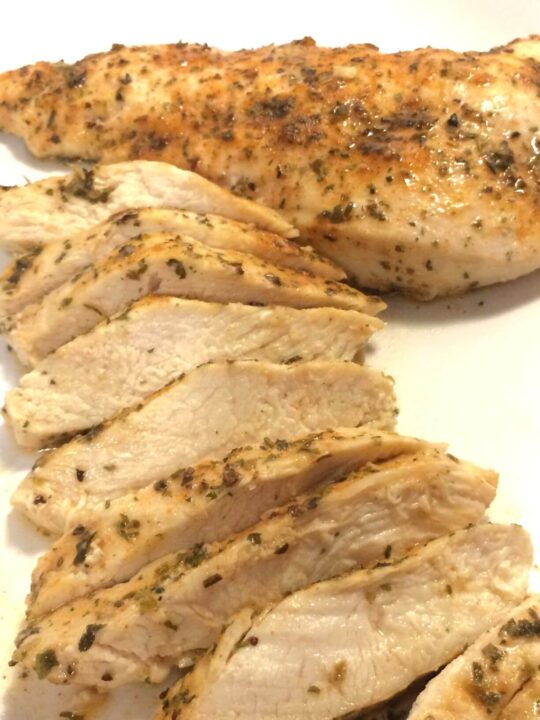 (This page contains affiliated links)
True to its name, this recipe is all about simplicity and the incredible flavor and texture that comes with it. This is my main go-to chicken breast recipe and it's so easy to use this chicken for so many other recipes! Make multiple batches if you want freezer meals at the ready for your week.
Reasons this Baked Chicken is Simply the Best, Better than all the Rest
Please enjoy some relaxing music while making this fantastically stress-free recipe: "Simply the Best" (I don't own the rights to this song).
Super Quick Dinner Recipe (6-8 minute prep, 18 minute bake time)
Easy and Quick Protein
Super Kid Friendly Meal
Best Seasoning for Chicken Breasts
Easy Prep Ahead Meal
Great Freezer Meal (freeze chicken breasts raw or bake the dish and save it frozen)
Great Chicken for Stretching Across Multiple Meals
Low Cost Meal
Gluten-Free Chicken Meal
Steps for Making this Recipe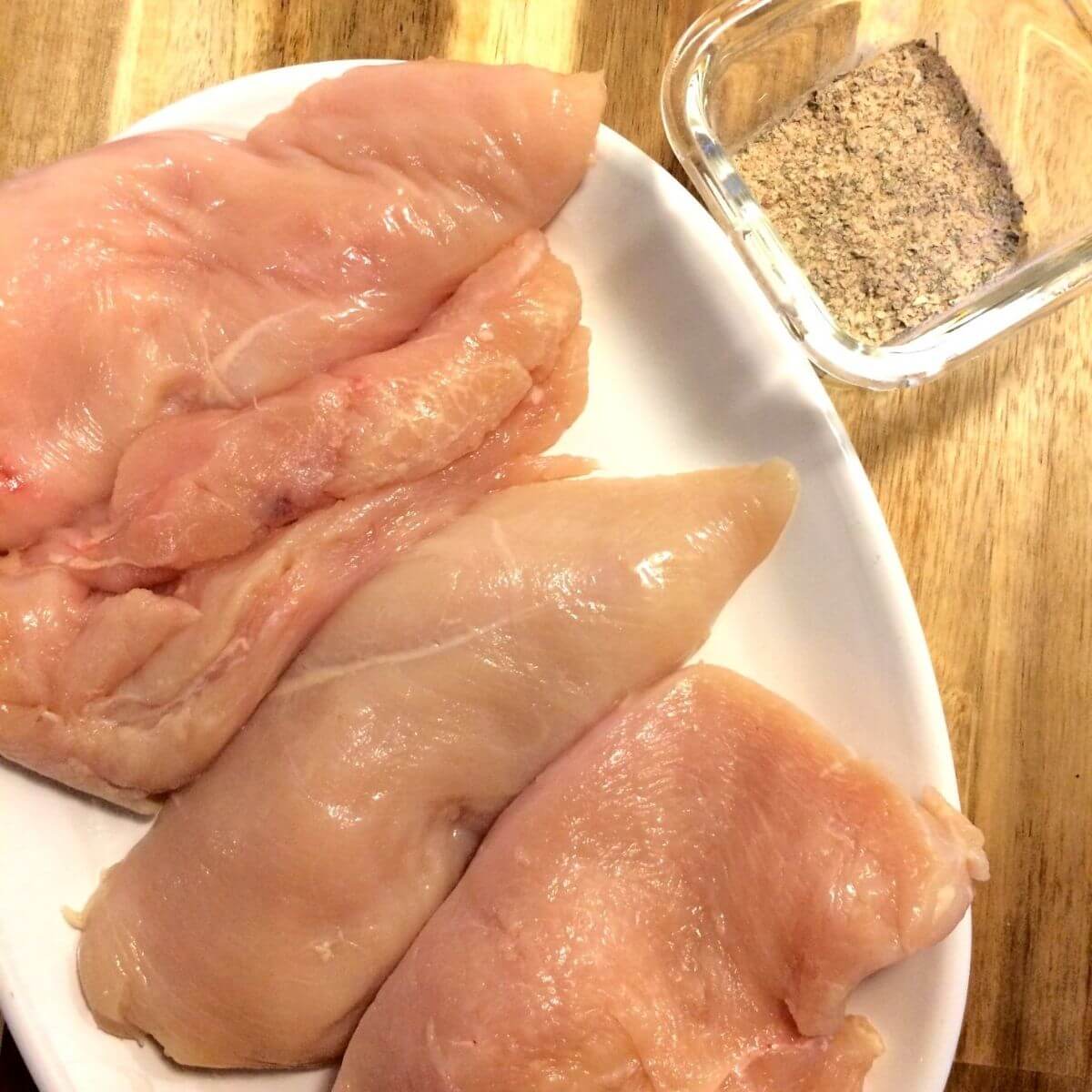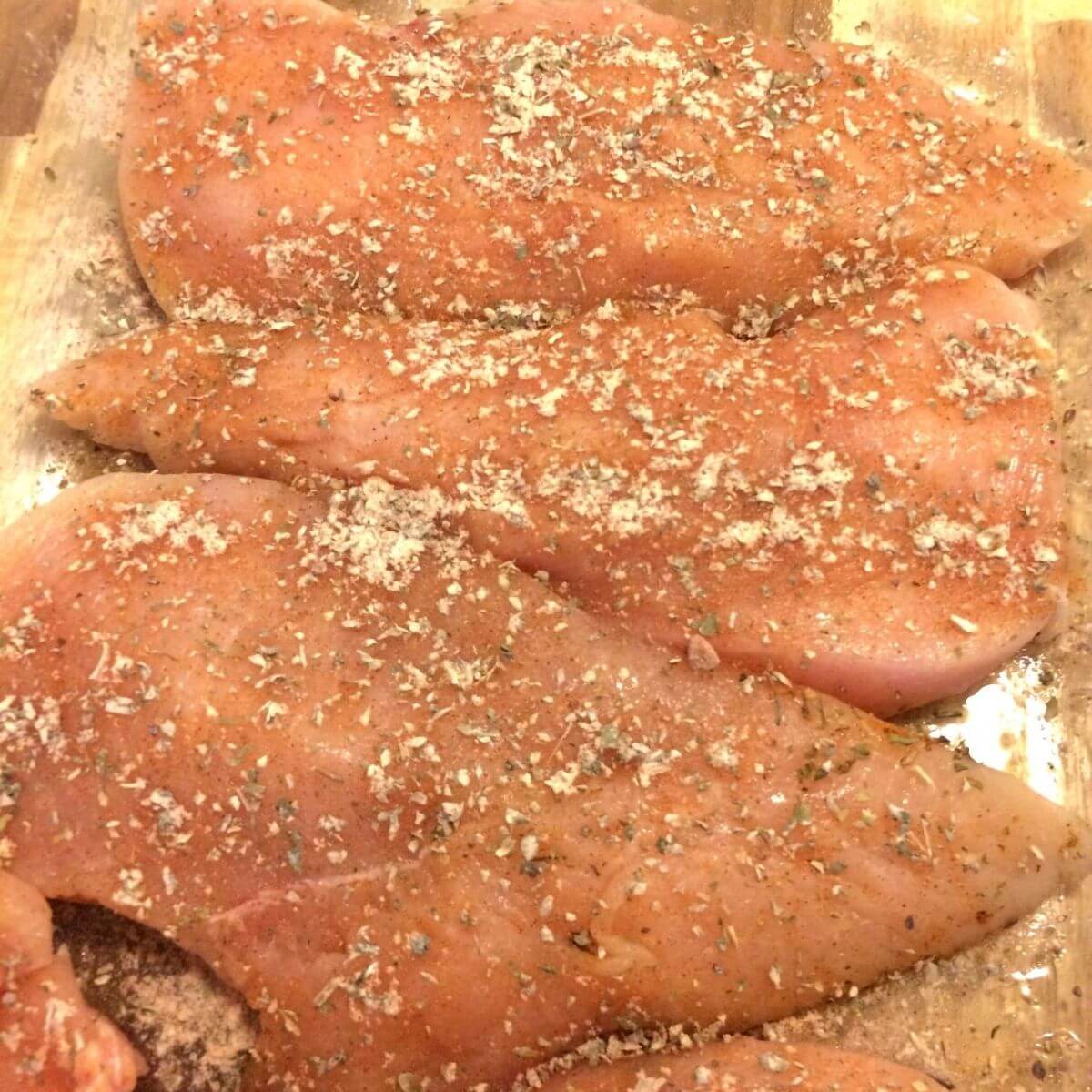 Trim fat and fillet chicken. If you cut off any small pieces, keep them and fit them closely to a chicken breast and it will likely stick together during the bake.
Either coat both sides of chicken in olive oil and melted butter, or choose method of spraying cake pan with olive oil.
Sprinkle 1 side of each fillet with seasoning mix.
Sprinkle second side with seasoning mix. Spray with olive oil from a distance if using olive oil only method.
Bake at 425℉ for 15 minutes when internal temperature reaches 150℉. Increase heat to broil for a few more minutes and internal temperature reaches 160℉.
Remove from oven and tent to keep warm and let rest for a few minutes before slicing and serving.
Oil or Butter Rub?
I have made this recipe so many times using just olive oil, and also oil + melted butter. Honestly, spraying olive oil is my most frequent choice because it's so much faster, a bit healthier, and I don't have to use as many ingredients ($$$).
Using butter + olive oil will give you an even juicier result. Hard to believe, because with the olive oil it's just amazing too. You'll also get a tiny bit richer flavor because of the butter. However, the seasonings are great and take front stage.
If you're not afraid of some added butter, give it a try! If you want it to be a leaner dish, go the oil only route.
Cake Pan over Cookie Sheet
There are plenty of recipes that recommend baking chicken on a cookie sheet. I would highly recommend always using a cake pan, especially when your goal is juicy chicken. With the higher edges you get more steam and it retains more juices. I use a glass Pyrex cake pan that I also recommend because it doesn't burn off the juices like a stainless steel or aluminum pan would.
Equipment Used
Pyrex Cake Pan 13"x 9"
Sharp Knife
Measuring Spoons
Similar Recipes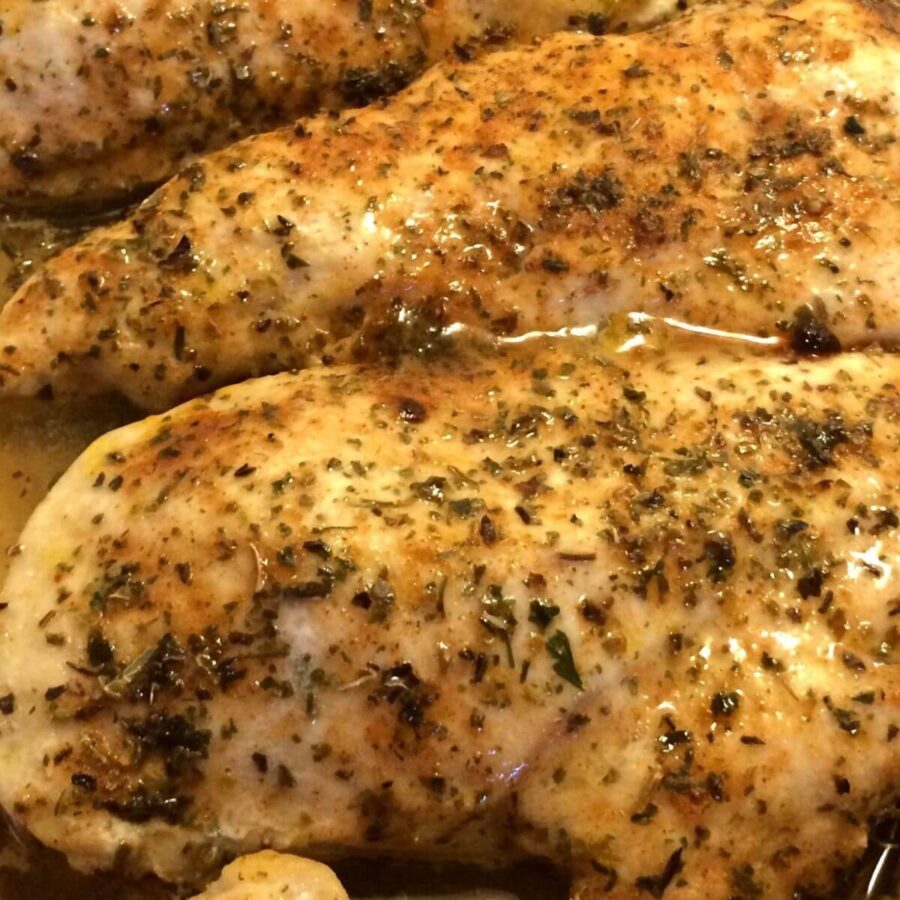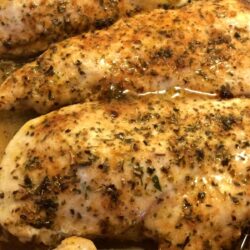 This Is The Juiciest Baked Chicken That Anyone Could Make
This is such an incredibly easy recipe that yields the most amazing juicy and flavorful chicken!
Ingredients
2- 2 ½

pounds

boneless skinless chicken breasts, trimmed

(equal to 2 large breasts)

spray

olive oil

1

teaspoon

sea salt

¾

teaspoon

paprika

2

teaspoon

garlic powder

1

teaspoon

dried basil

1 ¼

teaspoon

dried parsley

¾

teaspoon

dried oregano
Optional Butter Me Up to Replace Spray Olive Oil
1

tablespoon

unsalted butter

melted

1

tablespoon

olive oil
Instructions
Fillet each breast to make 4 fillets. Pat chicken dry with a paper towel (optional).

In a small bowl, combine all seasonings.

Choose whether to only spray chicken with olive oil or use butter and olive oil combo.
Melted Butter and Olive Oil Option
Pat chicken dry. Combine the butter and oil and coat both sides of the chicken fillets. Sprinkle half of the seasoning over 1 side of each fillet. Place fillets seasoning side down in a cake pan or high-ridged pan. Drizzle any of the butter/oil that's fallen off onto the top. Sprinkle remaining seasoning on top.
Spray Olive Oil Option
Spray cake pan generously with olive oil. Sprinkle half the seasoning mix on each fillet one at a time. Place fillets seasoning side down on the olive oil. Sprinkle remaining seasoning on top of each fillet. Spray all fillets with olive oil, holding the spray bottle far away enough that the spray doesn't knock off the seasoning.

Bake at 425°F on middle rack for 15 minutes or until internal temperature reaches about 150°F. Increase temperature to broil for 3-5 minutes, or until internal temperature reaches 160°F. Remove from the oven and tent with lid or tinfoil for a few minutes before slicing to serve. Temperature will continue to rise once out of the oven.

Save all juices to serve with the chicken or to store with any leftovers.