Printable ideas for healthy snacks, sides, and finger foods for kids and adults!
(This page contains affiliated links)
Forego the crackers, chips, and cookies and reach for something more nutritious for your next snack!
When it comes to snacking, most people want something fast and easy. There are plenty of options that are just that, while also being healthy. But, sometimes the issue is thinking of those ideas in the moment or not planning ahead. I've prepared a printable list of ideas that include several ideas for snack, quick sides, and finger foods. Anything underlined will link to one of my personal recipes.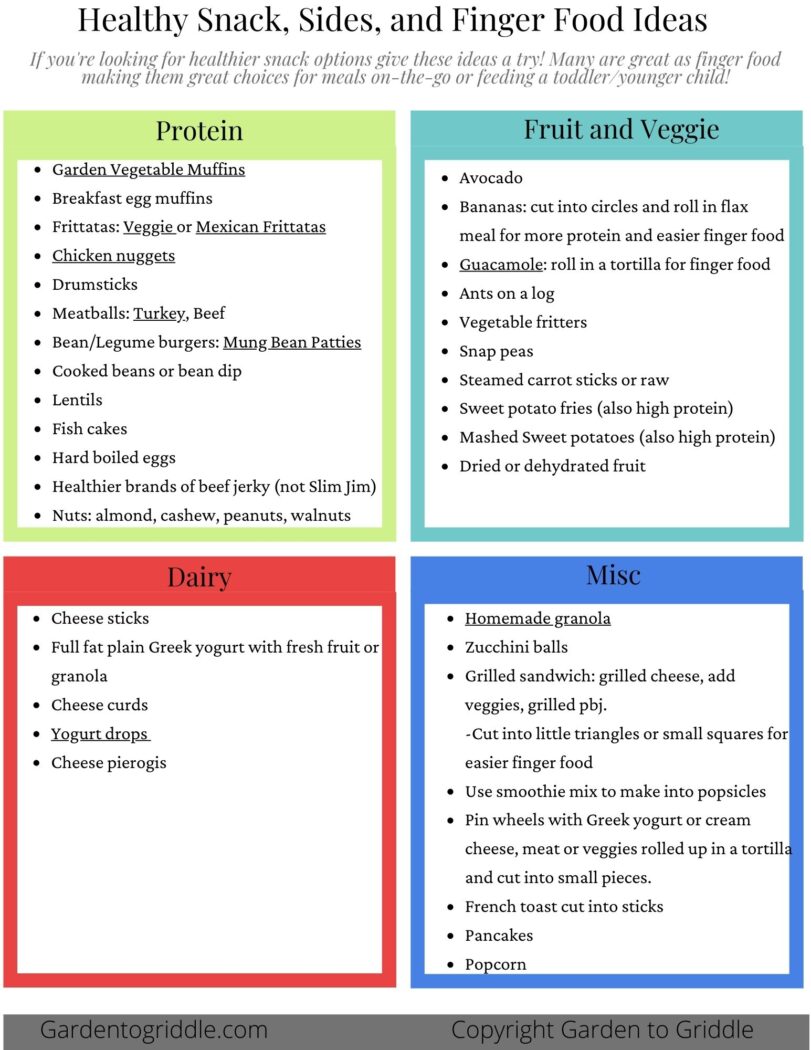 Finger food options are often the easiest snacks, especially when you're running out the door, at work, or feeding a younger child. Being an occupational therapist, I often work with young children on feeding concerns and fine motor skills.
Tips for Making Food into Fingerfood
Use a tool. You can have toothpicks on hand for spearing food and avoid a mess. This might not be a great option for a small child or while driving (I'll let you use common sense with this one). You can find Skinny Sticks that are safer and work great for spearing food:

Check out these Stir Sticks from Amazon!

When preparing sandwiches, cut then in smaller pieces (triangles or squares). This is not just for toddlers but can make it much less of a messy experience when needing a quick snack.
If you have wet foods such as avocado or banana, sprinkle on, or dip them in flax meal or blended rolled oats. This will give them more texture and make them easier to grab quickly.
Have to-go containers easily accessible to portion out snacks the night before. How frustrating is it when you want to run out the door but don't have anything prepped? I use mason jars because they have various sizes, and they're reliable with their seal if you use a metal lid and ring. Items will stay fresher in a jar as opposed to a Ziploc bag.

Peel and cut carrots, celery, apples and portion them into multiple jars to store in the fridge.
Pour dry items in jars too such as: popcorn, nuts, granola.
Portion out dips, dressing, sauces in 4oz. jars.

Find a container that's easy to eat out of. I know this might sound silly, but if you're in the car, or attempting to snack while working, you don't want to be struggling to get your food out of containers.

If you're at work, have a "snack plate" that you always have handy so you can pour out snacks instead of digging in a bag or container.
Find containers that are easy to offer your young child. My toddler is used to eating and drinking out of glass, but not all kids are. Prep food in a container you're comfortable handing over to your child to make it easier for everyone!

Don't always think "dry foods." Although chips and crackers are so easy and quick, there are many options that are still easy and much healthier

dehydrated and freeze dried foods
leftover pancakes or French toast cut up
Think about how many things you can bake such as: potato fries, carrots, kale, tortillas cut into small pieces for chips