Sweet and salty homemade granola with natural sweeteners and the best crunch!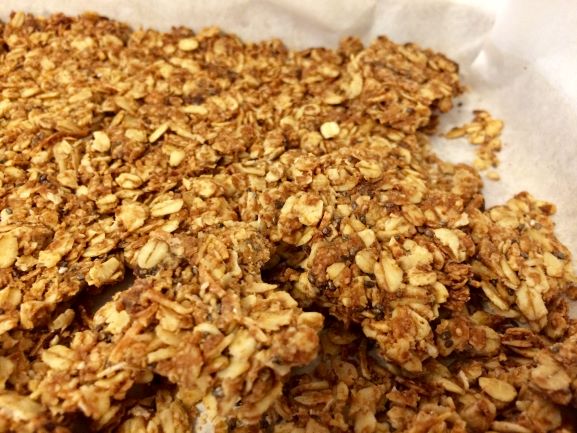 (This page contains affiliated links)
Granola is such an easy snack and it makes a great cereal or yogurt topping. If you haven't made your own granola you're in for an easy treat with this Peanut Butter and Date Granola. It's really quite simple and you can mix in so many different ingredients to fit your taste.
I see a lot of granola at the stores that's just loose granola, without any clumps and chunks. I know I just made that sound really appealing but it's true! I want lumps and chunks and really crunchy, chewy texture to my granola!
I started making granola more for my toddler and I had a goal to make crunchy granola bars that could be used as a great travel finger food. I went through many recipe attempts to get a granola bar that was crunchy and not floppy, but also held together and didn't crumble. Let's just say I'm still working on perfecting this.
But, this recipe is pretty darn close and I love it so much I just keep going back to this one instead. You can get big pieces of of it or you can break it all apart into small crumbles.
I left larger chunks of fruit in this recipe but you can dice them as small as you want. I know if I continued to add more honey and peanut butter I would get a more solid bar, but I don't want more of those ingredients. The flavors are just too good as is.
Ingredients
Rolled Oats: You won't get the same result and texture from quick oats. If you're in a pinch and that's all you have then of course you can use it and I'm sure they will still turn out great!
Chia Seeds and Flax: Flax adds great additional fiber. Chia seeds are jam packed with all sorts of nutritional goodness: protein, omega-3's, calcium, phosphorus, magnesium, manganese, vitamin B's, potassium, zinc. Don't skip out on these ingredients! They're such a great way to add nutrition to a recipe. Also, when chia seeds absorb liquid they expand and act as a binding agent, which is what we want more of for granola bars!
Almonds: They add great protein and they're milder in flavor than say a walnut and crunchier than a cashew so I find them to be the perfect granola nut. These raw almonds are a great deal and great product.
Unsweetened Coconut Flakes: This ingredient adds more fiber and nutrition and wonderful flavor! You can buy different sized flakes/chunks of coconut and if you still want a finer texture you can blend them to make a powder/flour. I buy my unsweetened coconut flakes from Safeway where they have a great organic brand! Another great brand is Terrasoul Organic Shredded Coconut.
Coconut Oil: Use unrefined for that delicious coconut flavor. If you don't want that flavor than use refined. Either way, I've found coconut oil to be the best oil for granola because it hardens when cooled and helps the bars stick together more.
Dates: I have loved using these organic dried Deglet dates because they're sweet but not the sweetest I've had. They add such great natural sweetness they're a must in homemade granola!
Raw Honey: I could go on and on about the benefits of raw honey. If you can get local raw honey that's even better. Now, when honey is cooked/boiled/heated at a high temperature it does lose nutritional value. However, it's still in my opinion one of the best sweeteners for health reasons and flavor.
Unsalted Peanut Butter: I use raw peanut butter that's unsweetened and unsalted. It's typically thicker than say, a Jiffy peanut butter. If you're using salted peanut butter then you might want to decrease or omit the sea salt.
Sea Salt: You can also replace with table salt but you might want to use a tad less!
Ground Cinnamon: Adds great flavor but you don't want to overdo it.
Vanilla Extract: Don't skip this ingredient! You could replace the extract with vanilla beans if you choose, but definitely add vanilla!
Get creative and add your own ingredients.
Similar Recipes
If you liked this recipe check out my other granola recipes: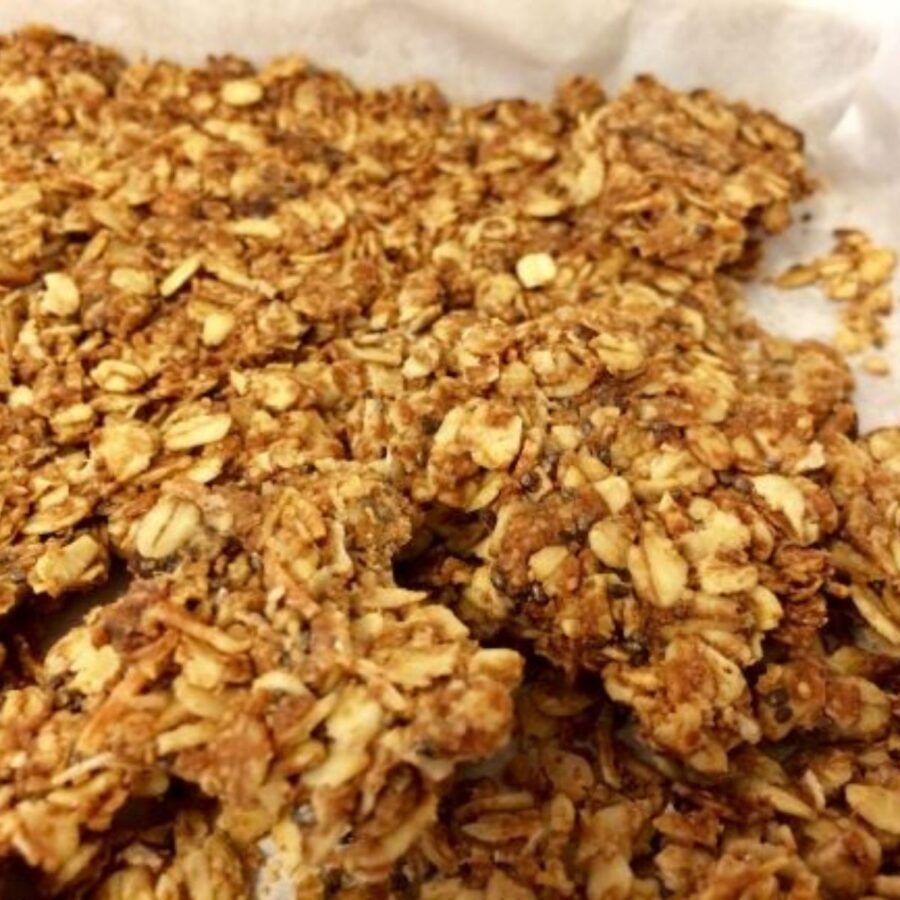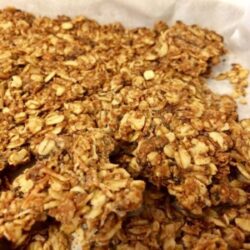 Peanut Butter and Date Granola
Sweet and salty homemade granola with natural sweeteners and the best crunch!
Ingredients
2 ½

cups

rolled oats

1

teaspoon

ground flax

1

teaspoon

chia seeds

1

pinch

of sea salt

1

teaspoon

ground cinnamon

2

tablespoon

unsweetened shredded coconut

⅓

cups

diced almonds

¼ cup + 1 tsp

unrefined coconut oil

10

dried dates, chopped and smashed

½

teaspoon

vanilla extract

6

teaspoon

raw honey

2 tablespoon + 3 tsp

unsalted peanut butter
Instructions
Set oven to 350℉.

Combine all ingredients in a medium bowl. Work together well with hands. Pour ingredients into a 8"x9" baking pan. Press ingredients down firmly (I use a bread pan for extra force). Bake for 15 minutes.

Remove from oven and immediately press ingredients down again.

Place into freezer (put on a towel if pan still hot) for 5-10 minutes. Once removing from freezer press down again using something flat and firm (bread pan, measuring cup).

Cut into 14 pieces (7 long ways, then in half short ways). I used a metal spatula and pressed down on the bars with my hand while cutting to give it support and decrease it crumbling. Put back into freezer for a couple hours before transferring to fridge.

You can cut these as granola bars but they are slightly crumbly. I like to bake these like bars, then let them crumble and use it as chunky granola.