Change up burger night with this healthy and delicious alternative! Mung beans add flavor and many health benefits to this flavorful patty.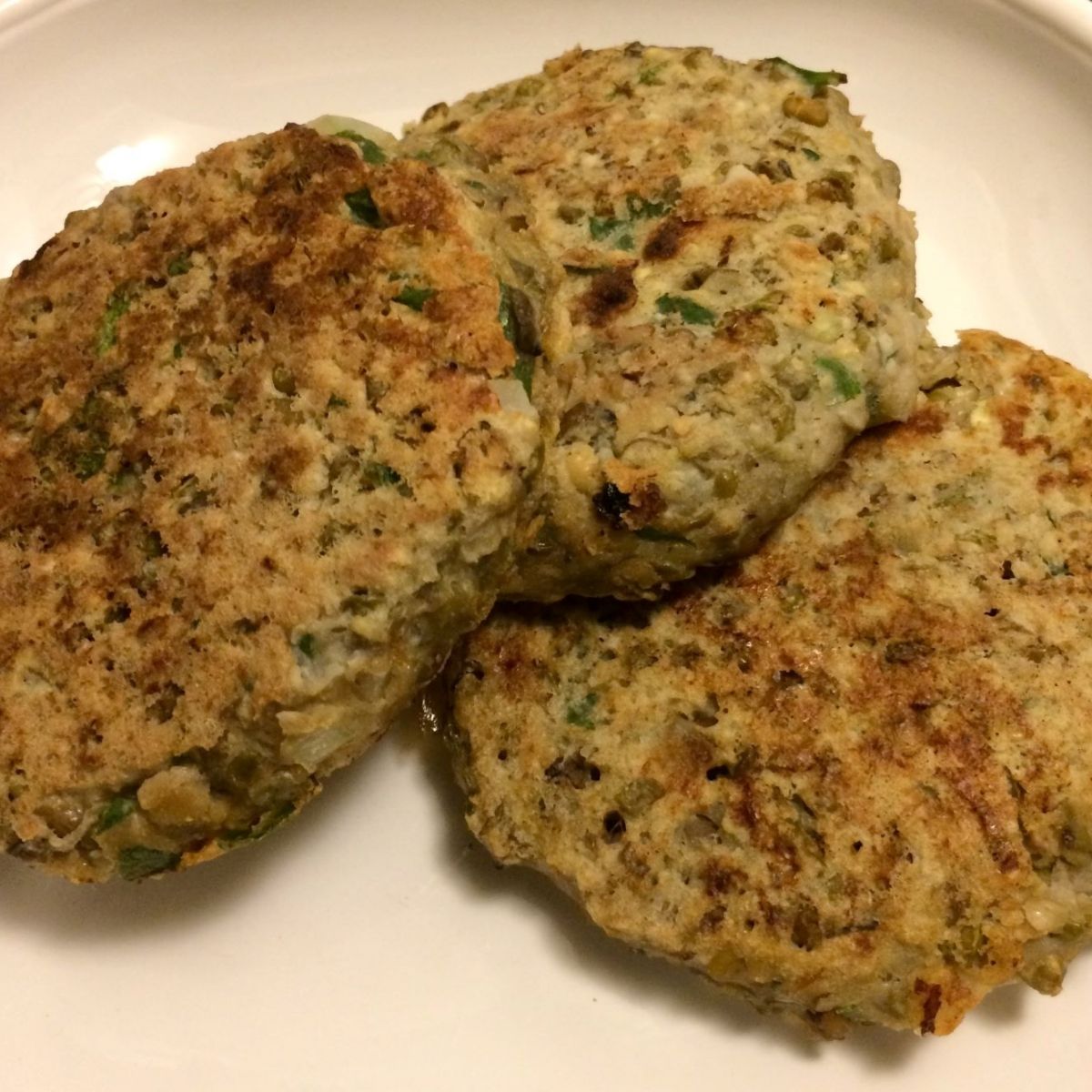 Mung beans are highly nutritious and flavorful. They're high in antioxidants and they're known to decrease "bad" LDL cholesterol. Mung beans are high in potassium, magnesium, and fiber, and folate making them an overall power packed food that you need to add to your diet!
Whether you're just wanting a healthy meal, trying to improve your overall health, you're pregnant or just had a baby, or you're trying to lose weight or build muscle, mung beans are a terrific go-to food. They are versatile and can be eaten plain, with seasonings, or made into a dish such as this great burger patty.
When forming the patty really pack it together using your hands and it will hold its form well. The patty will continue to become more firm as it cools after cooking.
You can also roll them into a ball for a mung "meatball."
If you're making this mixture the night before leave it out at room temperature before forming the patties and you'll have much better luck at packing it to form a solid patty without it falling apart. It does work best to make the patties immediately after cooking the mung beans.
Ingredients
Mung Beans: You'll be cooking them from scratch. You'll want them soft enough that you can mash them. This recipe works best if you mash the mung beans while they're still warm, immediately after cooking.
Oat Flour: I grind up rolled oats for this recipe and it works great. You will need them ground and not whole rolled oats because too much texture will cause the mixture to break apart.
Parsley: Chop finely to allow mixture to hold together.
Salt: I always use sea salt but if you use table salt then season to your liking. Taste the mix as you go since everything in it is cooked and edible at this point!
Garlic Granules: I prefer granules to garlic powder. It has a more natural flavor and adds more depth to recipes. If you use garlic powder use slightly less than called for in the recipe and again, taste as you go. You can try for fresh pressed garlic but it needs to be very fine.
Onion: Chop finely to help mixture hold together. Yellow onion works great for this recipe but purple also works great and adds a bit more spice and flavor.
Option for Middle Eastern Flavor Profile
¼ tsp. cumin
¼ tsp. coriander
½ tsp. garam masala
More Vegetable Options
Beets and zucchini can be added if shredded and all excess liquid squeezed out.
I showed a lot of restraint with this recipe, keeping it basic so you can add on if you wish. Feel free to add cheese, jalapeno, or various other spices to this recipe. I have added beets, bell pepper, green onion, zucchini which are great additions but they will add moisture to the patty and therefore change the texture and firmness. If you choose to add some of these vegetables, add more oat flour to balance the texture.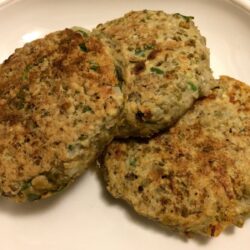 Mung Bean Burgers
Change up burger night with this healthy and delicious alternative! Mung beans add flavor and many health benefits to this flavorful patty.
Ingredients
1

cups

dried mung beans

(2 ½ cups cooked)

2

cups

water

½

cups

minced yellow onion

½

teaspoon

garlic granules

¼

teaspoon

sea salt

4

tablespoon

finely chopped fresh parsley

6

tablespoon

oat flour

(blended rolled oats)
Instructions
Cook the Mung Beans
In a saucepan combine 1 cup dried mung beans with 2 cups water. Bring to a boil. Decrease temperature to maintain simmer and let cook for about 75 minutes (See Notes) or until water is absorbed. If water appears to absorb fully before that time add a little more hot water (no more than ¼ cup).
Making the Patties
Add cooked mung beans to a bowl and mash with a fork while they're still warm. Add onion, garlic granules, salt, chopped parsley, and oat flour. Mix well.

Heat skillet to low-medium heat (level 3). Spray pan with olive oil. Use ⅓ cup to scoop mix and form into patty with your hands. Cook for about 4-5 minutes and flip over (gently) for another 3-4 minutes.

Let cool slightly as the burger will become more firm with chilling. Top burger with your favorite toppings!
Notes
Cook time for mung beans is a little more than typical because you need them soft to be able to mash them and form into patties.
If you're prepping the mixture the night before it works best to mash the mung beans immediately after cooking, add the oat flour/oats and then refrigerate. You can add all other ingredients the night before as well but you want to make sure to at least mash them and add the oats.