This salmon is so incredibly sweet and savory, easy to put together, and quick to cook! Use a regular oven or convection oven!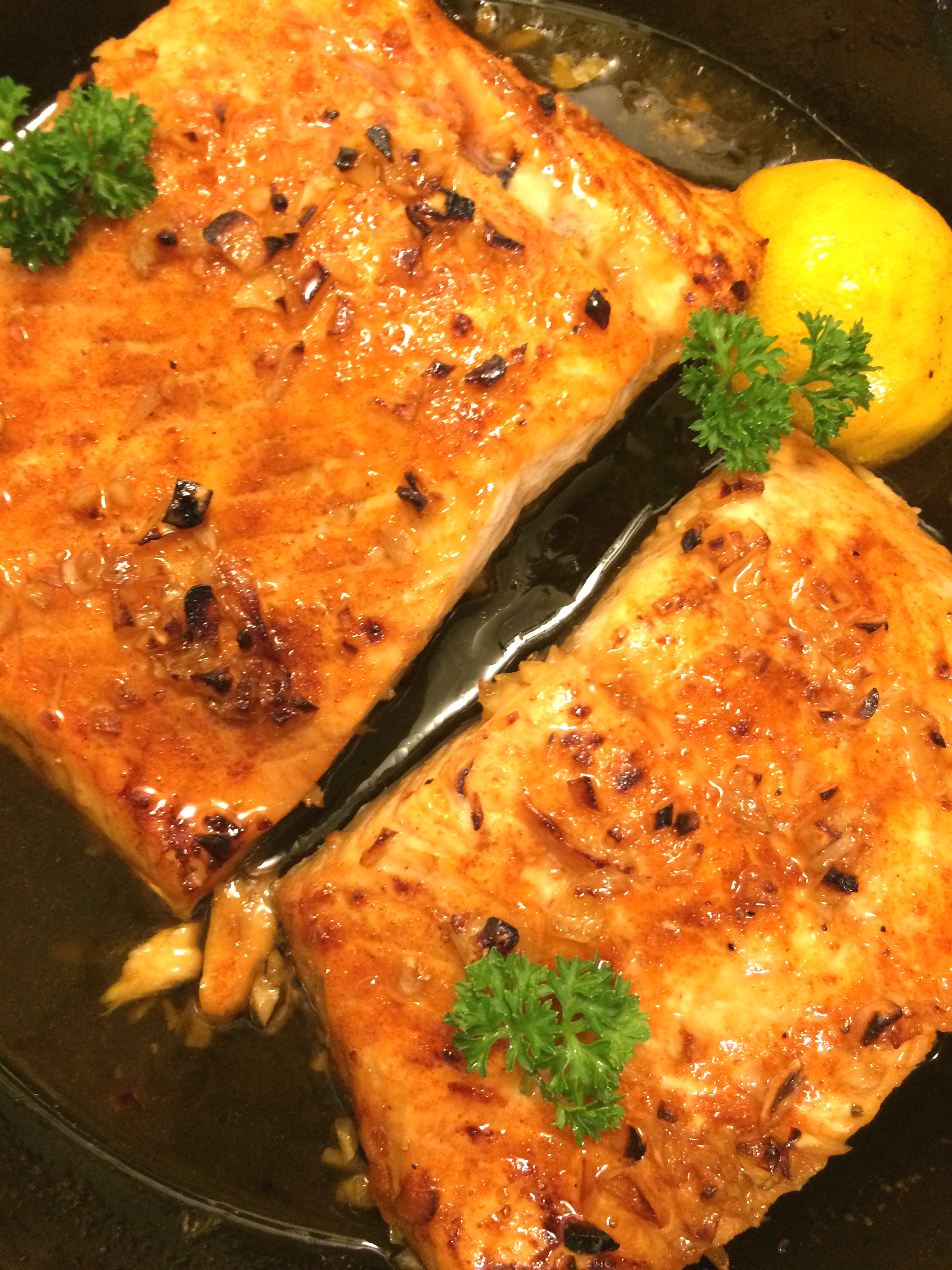 This is my new favorite salmon recipe! Honey and garlic salmon is the most incredible combination and celebrates the salmon so well in this recipe. If you're wanting a quick and easy recipe that delivers on flavor, and comes off as a fancy recipe that took a lot of effort to make, this is it!
I spent quite a long time refining the ingredients in this recipe to get just the right amount of sweet and salty. While this salmon is sweet, the honey isn't overkill and it's just enough to leave you wanting more. Same with the liquid aminos - you get the salty, savory flavors without it being too much and you know you're making a healthy dish!
While cast iron is the best option for this recipe, you can use any oven-safe skillet.
Using a convection oven is a great option for this salmon and a method I use often. Just make sure your skillet fits on the lower rack before starting! I love this option for summer time or when I just don't want to heat the whole house! Cooking time and temp is the same as conventional oven.
Conventional Oven is of course an option as well and one I'm assuming most people will use. Use the middle rack and cooking time and temp is the same.
If you don't want to use any sort of oven, then continue cooking this salmon on the stovetop until finished! Don't forget to baste it again at the end.
What's the Best Internal Temperature for Salmon?
The USDA recommends an internal temperature of 145℉ which I find to be way too long, giving you a tougher and overcooked salmon.
I would recommend an internal temperature of 125℉- 130℉ with a short rest time after before serving.
My fillets are salmon are rarely the exact same thickness, so I will sometimes remove one portion before the other. If you have a really thick slab of salmon you might be tacking on an additional 5-7 minutes. If you don't have a meat thermometer, then cut into the thickest part of the salmon and continue cooking until it's cooked to your liking.
Make This a Holiday Dish
This salmon is beautiful as a holiday dish. Just top it with some cherry tomatoes before broiling, then garnish with fresh parsley! I have Christmas and Thanksgiving in mind when saying this, but you can really make it for any holiday and leave off the tomatoes as you wish!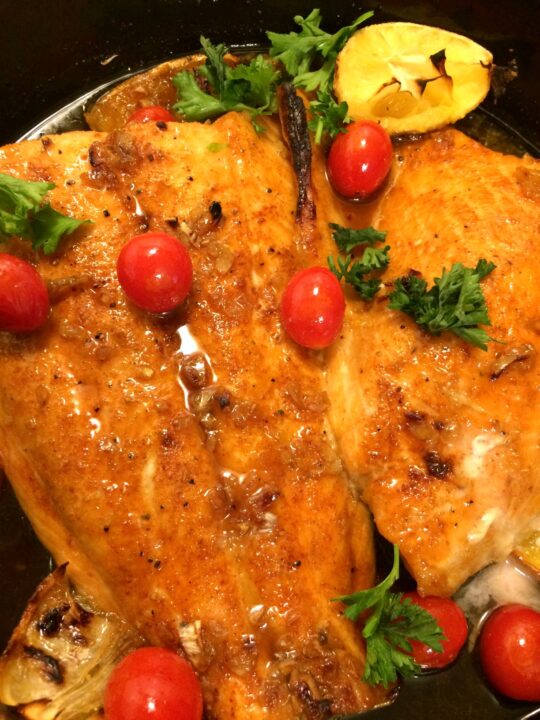 More Recipes that Use Honey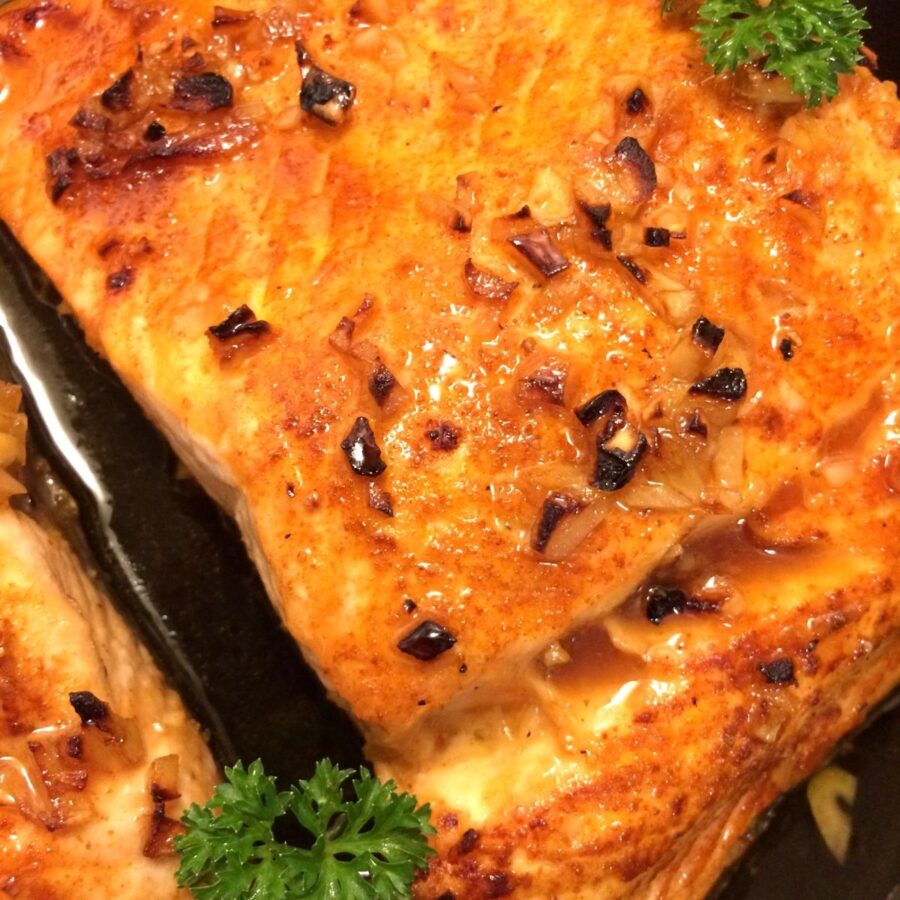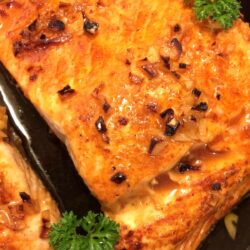 Honey Garlic Salmon
This salmon is so incredibly sweet and savory, easy to put together, and quick to cook! Use a regular oven or convection oven!
Ingredients
2

lbs.

salmon

skin on and cut into 2 portions

2

tablespoon

minced garlic

about 4 cloves

3

tablespoon

liquid aminos

or soy sauce

3

tablespoon

raw honey

1

tablespoon

water

2

tablespoon

freshly squeezed lemon juice

1

lemon wedge to add to pan

Optional sea salt, freshly ground black pepper, and smoked paprika

to season fish before cooking

Garnish with fresh parsley

Option to garnish with roasted cherry tomatoes and parsley for a great red and green holiday look
Instructions
Option to lightly season salmon with sea salt, pepper, and smoked paprika before adding it to the skillet.

In a small bowl combine liquid aminos, honey, water, and lemon juice. Set aside.

Preheat oven to broil (no need to preheat if using convection oven). Will broil after cooking on stovetop.

In a large skillet (preferably cast iron), heat 2 tablespoon olive oil on medium heat. Add minced garlic and sauté for about 2 minutes. Add sauce and cook for a couple minutes.

Add the salmon, skin side down, and a lemon wedge (leftovers from juicing is fine) to the skillet. Baste salmon with the sauce. Decrease heat to medium-low and cover to cook for another 6-7 minutes. Baste again with the sauce and using a potholder, transfer the skillet to oven (middle rack), convection oven (lower rack), and broil for about 12 minutes, or until internal temperature reaches 125°F- 130°F (thickness of salmon could alter broiling time). Baste again before serving. Discard lemon wedge without squeezing any additional juice out (it will be bitter at this point).

Enjoy!