Healthy, sweet and savory hummus from scratch that will be a hit for all ages!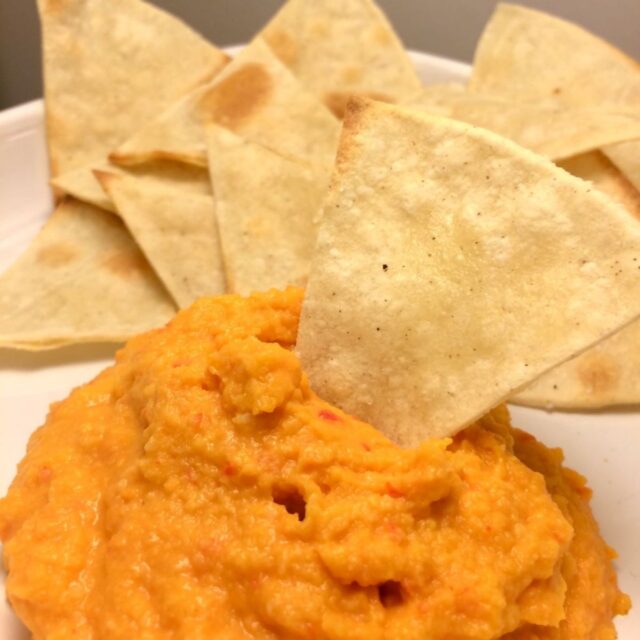 This Red Bell Pepper and Garlic Hummus is so easy to make and incredibly versatile!
First off, I'm a huge fan of garbanzo beans, otherwise known as chickpeas. They're highly nutritious and you can serve them in so many different way. I would recommend cooking raw garbanzo beans for this recipe but of course you can use canned if you need to!
Garbanzo beans are high in protein, fiber, folate, iron, and manganese. They are a wonderful alternative to a meat protein and they really can go with any any meal any time of the day. I love making homemade hummus because I know I'm serving my family protein, but also shaking things up a bit with new flavors and textures. Another reason to make homemade hummus… you don't get all that added salt from store bought hummus. Although you can often find delicious already made hummus, by making it yourself you know exactly what goes into it. With that said, you can always increase or decrease ingredients to match your taste.
Bell Peppers are such a perfect pairing with garbanzo beans. They add a lot of sweetness and flavor without being overpowering. Multi-colored bell peppers can be used in this recipe too.
Roasted vs. Raw Vegetables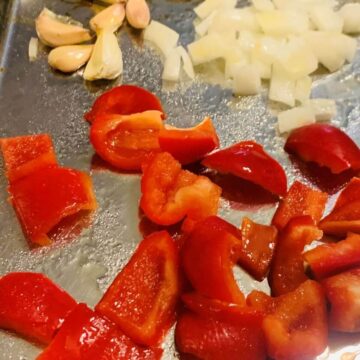 I have made this hummus various ways. I have roasted only the bell peppers and kept the onion and garlic raw. This give the hummus more heat and a brighter flavor profile. You can also roast the bell peppers, onion, and garlic for a richer and deeper flavor. I love this method and since I'm roasting the peppers anyways, why not do it all! Of course you can also keep all vegetables raw. So many ways, it's really whatever you prefer.
If you have a convection/toaster oven, I highly recommend using it for this small amount of vegetables. You don't have to preheat the oven and you don't need much space!
Preparing Vegetables
When roasting multiple vegetables, you usually want to chop them roughly the same size. for this recipe I say to dice the onion. The reason is for measuring out about 2 tablespoons onion. If you chop it in large chunks you can't measure it the same as dicing it. If you'd rather keep the onion in large chunks just estimate what amount of onion looks good to you and don't over-do it!
When roasting garlic, keep the skins on. It will help the garlic to roast nicely without burning it. The larger the clove the better. In the image above I used several smaller cloves and with that small size they got very browned. It still worked great for my taste but had a stronger taste.
Canned vs. From-Scratch Garbanzo Beans
I typically make this hummus by cooking raw garbanzo beans from scratch. It's a lot more time consuming, but I prefer to cook my own beans whenever possible. You can absolutely use canned garbanzo beans to save yourself time. Either way, use 1 ½ cups cooked beans.
Soak Your Garbanzo Beans!! If you're cooking the beans from scratch you'll have to soak them for 6-8 hours first. Cover them with water, soak, then rinse out that water and add 2 cups fresh water to cook them.
Without a Heat-Safe Blender
If you don't have a heat safe blender, it's best to not test it. Chill the roasted vegetables and cooked garbanzo beans before blending it all together.
Use this hummus recipe with corn or pita chips, or with my Veggie and Hummus Cold Quesadilla!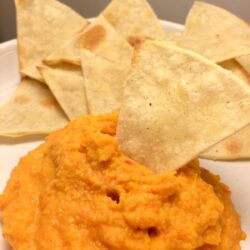 Red Bell Pepper and Garlic Hummus
Healthy, sweet and savory hummus from scratch that will be a hit for all ages!
Ingredients
½

cup

raw garbanzo beans

(equals about 1 ½ cups cooked or canned beans)

2

cups

water

olive oil to spray on vegetables

1

cup

red bell pepper, chopped

1 ½

tablespoon

garlic cloves with skins on

(about 3 medium cloves)

2

tablespoon

yellow onion, diced

1

teaspoon

garlic granules

¾

teaspoon

sea salt

4 ½

teaspoon

raw sesame seeds

¼ cup + 2 tsp

olive oil to blend with the hummus

(option to use avocado or almond oil)

3-4

tablespoon

aquafaba (garbanzo bean juice)

(or water)

2

teaspoon

fresh squeezed lemon
Instructions
If you're cooking your garbanzo beans from scratch, you'll have to make sure to soak them covered in water for about 6 hours first. Once done, rinse out that water.
Cook the Garbanzo Beans
Bring soaked garbanzo beans and 2 cups of water to a boil. Decrease heat to low-medium and simmer for about 60 minutes or until beans are soft and cooked through.
Options for Roasting the Vegetables
Roasting in the Oven:

While the garbanzo beans cook, roast the bell peppers, garlic (skin on), and onion by placing them on a baking sheet, spraying them with olive oil, and roasting at 400°F for about 20 minutes. Option to increase heat to 425° for less time.

You can choose to only roast the bell peppers and keep the onion and garlic raw for more heat and a brighter flavor.

Cooking Vegetables Stovetop:

You can also heat a small skillet to medium-high heat, spray the vegetables with olive oil, and roast them until they're lightly browned. If using this method, peel your garlic and chop to cook.
Adding Everything to Blend
Strain garbanzo beans from the aquafaba but set the liquid aside to use. Peel the garlic if it was roasted with the skin on.

Add garbanzo beans, roasted vegetables, and all remaining ingredients to a heat-safe blender. Use leftover aquafaba or water to thin the hummus as desired (I typically use 3- 4 tablespoons). Blend until smooth and chill.