Straight from the garden, lemon balm makes a fresh and bright pesto that can be used on pasta, pizza, or as a refreshing dip!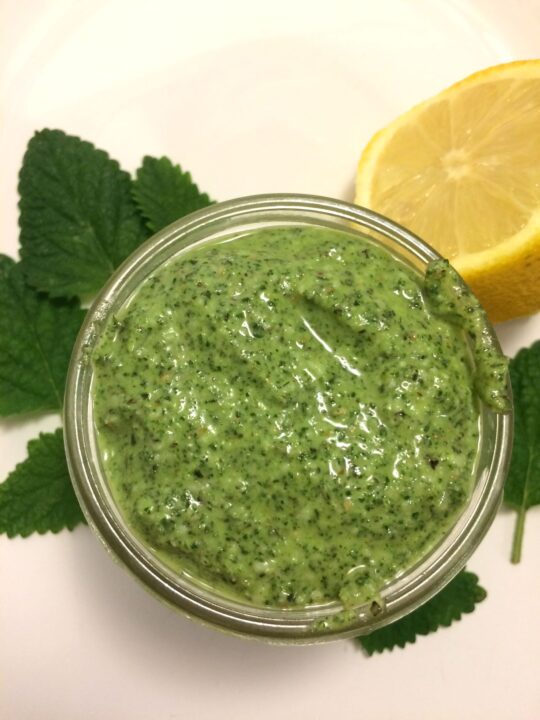 Fresh lemon balm is so incredibly tasty and versatile! If you're able to get your hands on a lemon balm plant, or at least some leaves, you can use it for so many things!
You can choose to make tea, use the leaves fresh in so many pasta, chicken, fish dishes, or makes this awesome lemon balm pesto!
We recently found a clearance lemon balm plant at a nursery and immediately knew we had to make lemon balm pesto! I purposefully didn't make it spicy, kept it light on the olive oil as well as parmesan and didn't make it too runny. By itself it tasted great, and it ended up being a perfect addition to this pasta.
Ingredients
Fresh lemon balm leaves
olive oil
garlic granules (or substitute with ½-1 clove garlic for added spice)
sea salt
fresh lemon juice
green onion (or chives)
Almonds
freshly ground black pepper
Lemon balm pesto is similar to your basic pesto, but with a brighter profile and more refreshing!
Of course I wanted garlic flavor in the pesto, but to leave out the spice of freshly blended garlic I used garlic granules instead. If you want some spice I would highly recommend adding a fresh clove of garlic and look for an olive oil that's more on the peppery side.
I didn't want to overpower the pesto with cheese, which also thickens it, so I kept it on the lower end and it's just perfect. The almonds also help to thicken it slightly while also adding that light nutty goodness.
Why almonds? They're a great substitute to pine nuts, and honestly, I never buy pine nuts. I buy and cook practical food that's lower budget and can be used in several different ways. Almonds just made sense and work great!
Try Similar Recipes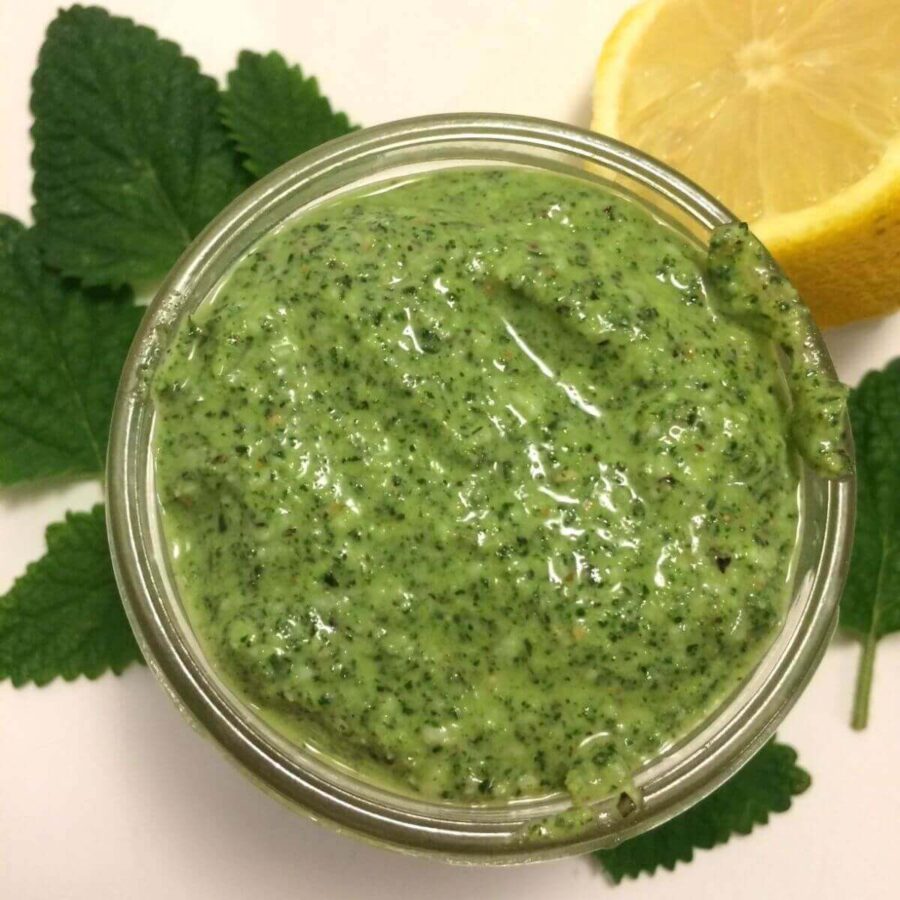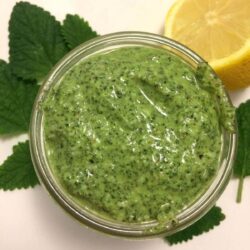 From Scratch Lemon Balm Pesto
Straight from the garden, lemon balm makes a fresh and bright pesto that can be used on pasta, pizza, or as a refreshing dip!
Ingredients
¾

cup

lemon balm leaves

firmly packed

⅓

cup

freshly grated parmesan

3

tablespoon

olive oil

1

tablespoon

green onion

3

tablespoon

fresh lemon juice

1

tablespoon

chopped almonds

⅛

teaspoon

sea salt

¼

teaspoon

garlic granules

freshly ground black pepper to taste
Instructions
Rinse lemon balm leaves. Combine all ingredients into a blender and blend until smooth. Add 1 teaspoon more oil at a time if you want it thinner. For more spice add 1 clove fresh garlic.

Use immediately or store in an airtight container in the fridge. If using at a later date taste again to see if you need to add more lemon at that time to refresh it.