Add some flavor and incredible nutrition to your taco Tuesday (and Wednesday, or Thursday...) and reach for the lentils instead of meat!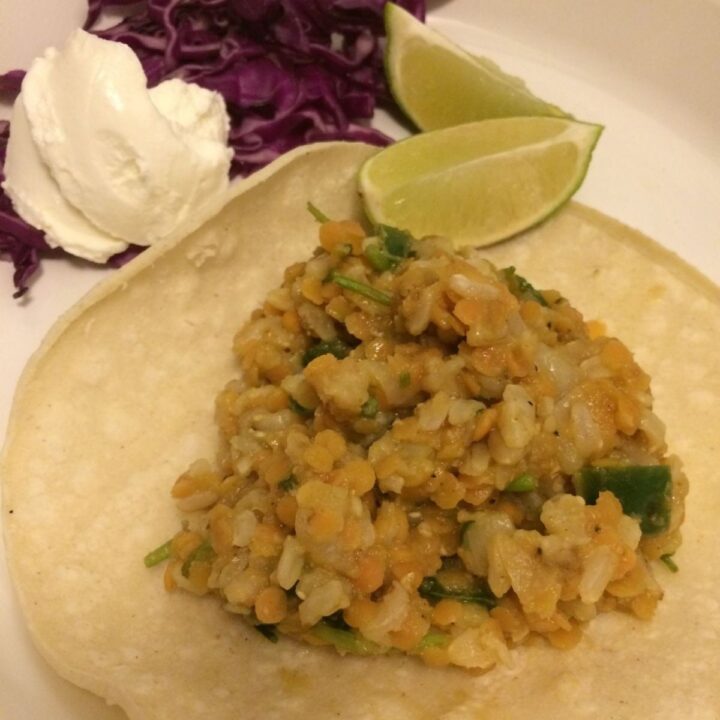 How often do you eat lentils? If you're not familiar with the nutritional benefits of lentils then keep reading and maybe you'll increase your use of lentils in your own home.
We are a meat eating family and I try to add proteins to each meal. Sometimes, I just want a break from eating meat or cooking it. Sometimes all I have is frozen meat and I forgot to thaw it, leaving me scrounging for an alternative. That's the reason I always try to have lentils on hand, particularly red.
Red lentils are split and therefore they cook quickly, which is an added bonus.
Nutritional Benefits of Red Lentils
There are so many! You get your B vitamins, iron, zinc, potassium, magnesium, and loads of protein. Let's keep going….. there's the fiber, folate, manganese, and don't forget the polyphenols. These contain anti-inflammatory and antioxidant properties among others.
So, when I'm looking for a meat alternative or just something delicious and healthy to make for dinner lentils are my go-to.
I try to find different ways to use lentils and beans whenever possible. We eat tacos and burritos often, so this recipe was a no-brainer.
Enjoy the filling inside a white or yellow corn tortilla!
More Recipes with Lentils
Red Lentil and Rice Soft Tacos
Add some flavor and incredible nutrition to your taco Tuesday (and Wednesday, or Thursday...) and reach for the lentils instead of meat!
Ingredients
½

cups

brown rice

1

tablespoon

garlic minced

½

cups

uncooked red lentils

1

cups

low sodium vegetable broth

2

tablespoon

diced jalapeno

1

cups

yellow onion diced

about half a large onion

2

tablespoon

fresh cilantro

⅛

teaspoon

sea salt

2

teaspoon

ground cumin

½

teaspoon

garlic granules

freshly ground pepper to taste

1

teaspoon

fresh squeezed lime juice

8

soft corn tortillas
Recommended Toppings
purple cabbage

plain Greek yogurt

fresh cilantro

salsa verde
Instructions
Cook rice to equal 1 cup cooked.

Mince garlic, onion, and jalapeno. Chop fresh cilantro

Heat 1 tablespoon olive oil in a skillet on low-medium heat (level 3). Once hot, add minced garlic and ½ cup dried lentils. Cover and cook for about 10 minutes.

Add 1 cup vegetable broth to skillet and decrease temperature to low (level 1).

After another 10 minutes of cooking, add 2 tablespoons of diced jalapeno and 1 cup diced onion to skillet.

To skillet add 2 tablespoons chopped cilantro. Add salt, ground cumin, garlic granules, pepper. Continue cooking for another 5-7 minutes and decrease heat to Lo for about 3 minutes.

Add ½ teaspoon lime juice and cooked rice to skillet. Cook for another 10 minutes and turn off heat.

Spoon onto soft corn tortilla and top with toppings!
Notes
You should be able to make the rice while the rest of the dish is being prepared and cooked or use pre-cooked rice.