This deconstructed strawberry cheesecake is fun to make and even more fun to eat! It's made with natural sweetener and Greek yogurt, and lighter than your typical cheesecake!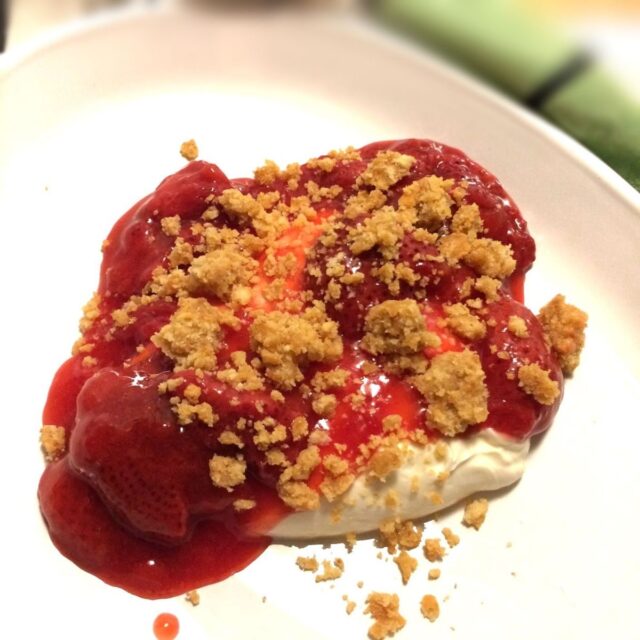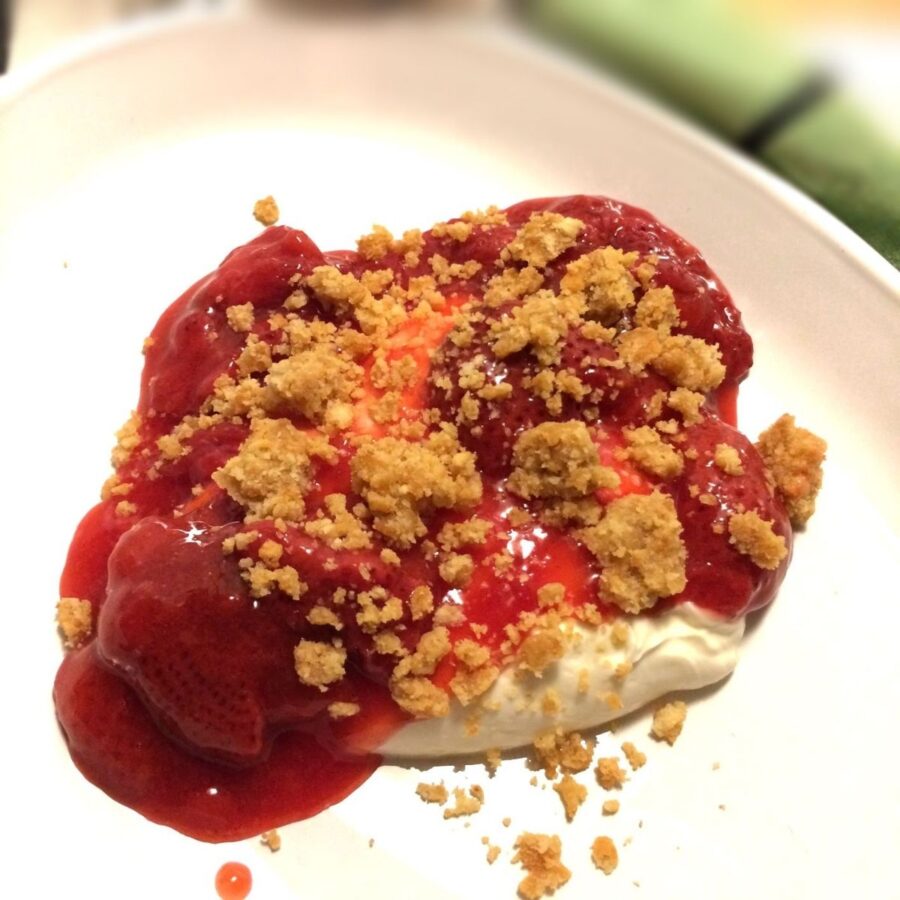 If you're looking for a no-bake, fun and unique dessert that has incredible flavors, this is it! This deconstructed strawberry cheesecake recipe won't leave you saying "I shouldn't have indulged in that," but instead, "yes, I'd like seconds."
Because this strawberry cheesecake recipe is broken down into parts that are all served cold, you'll want to plan ahead and save time for refrigerating each part as needed. This recipe works really well to make the night before in parts, then serve together the next day!
What is Deconstructed Cheesecake?
Just as it sounds, deconstructed cheesecake is cheesecake broken down into smaller parts. That can look very different depending on how small you break those parts into and how you change each part around. The cheesecake idea is still there, but the finished product can be quite different.
In this strawberry cheesecake recipe, I used each "cheesecake" layer as an idea and changed up each part. The base becomes the crumble topping, the cream cheese center becomes lighter and more simplistic, and the fruit, well that just stays a deliciously thick strawberry jam-type filling.
Strawberry Sauce for this Cheesecake
I pretty much used my strawberry jam recipe for this layer. It comes out pretty darn thick for a sauce, but once you serve it with the cream cheese layer and graham cracker it's the perfect thickness. I had a slight moment of thinking I would thin it out for this recipe, but quickly changed my mind because it's wonderful.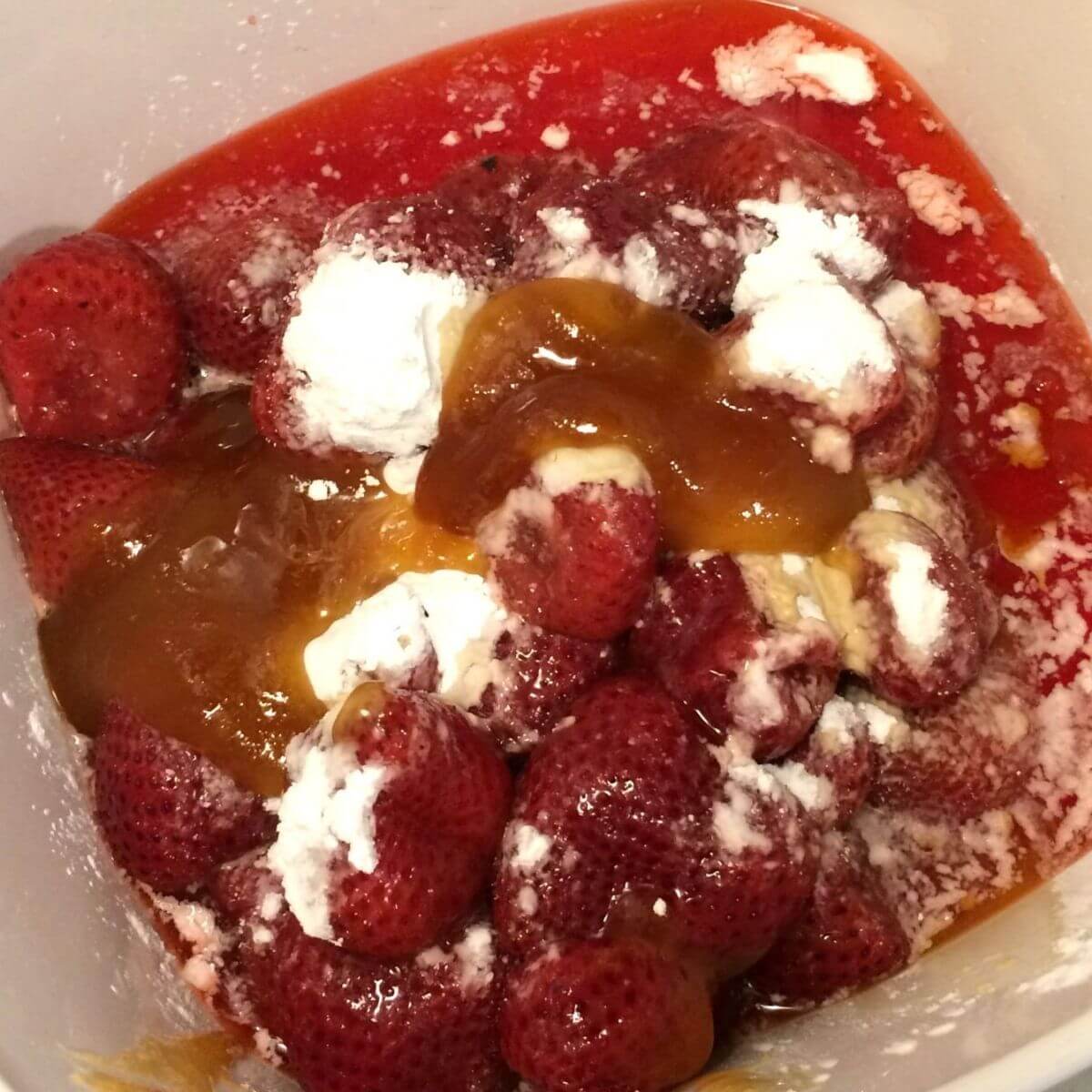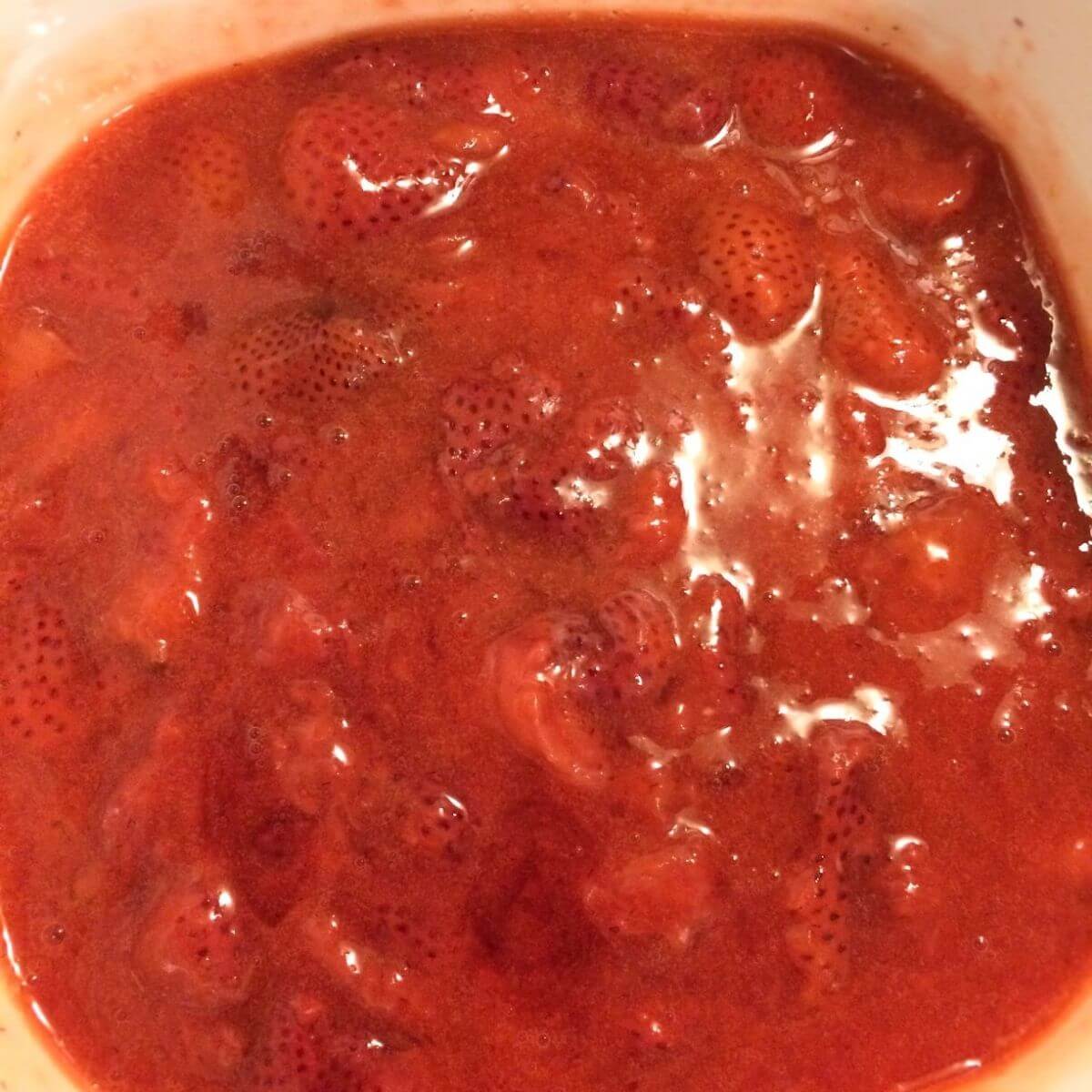 You also have the option to just use macerated strawberries. For that, you'll want to follow the same recipe instructions I have below, but just omit the arrowroot powder to you have a runnier sauce, and cook it for less time just until the strawberries are softened to your liking but maybe not as mashable as you see in the pictures. It's really up to you what textures you prefer. You could even just use raw strawberries, although you'd miss out on a lot of the flavors, since heating the strawberries brings out so much more sweetness!
You will want a cold strawberry sauce to serve, so that means refrigerating the finished sauce or freezing it for a short while. I like to make the sauce the night before and just refrigerate it over night. You would need at least an hour for it to chill so plan ahead!
Cream Cheese Filling
Cheesecake used to be my favorite dessert, mostly for the rich and creamy filling. But, now I prefer something a bit lighter!
This cream cheese filling is paired with Greek yogurt and sweetened with honey. No, not loads of white sugar, just honey. I don't prefer this creamy filling as a dessert on its own, but when enjoyed with the strawberries and crumble it's a perfect combination!
I left vanilla out of the filling because it's uncooked and I made this with my young daughter, and I just prefer to leave out uncooked vanilla extract from her food. You could absolutely add some vanilla to this layer!
This cream cheese filling will thin out a little bit as you mix it together, so I recommend refrigerating it for at least 30 minutes before serving.
Graham Cracker Crumble Topping
I decided to not add additional sweetness to the crumble topping. The rest of this strawberry cheesecake dessert has plenty of sweetness and the more mellow crumble topping rounds it out really nicely.
This step is super easy to make and I like to speed it up by freezing the topping to harden it quicker. Please note that if you're making this ahead of time (as in the night before) then refrigerate it and don't freeze it more than 30 minutes.
Can I Make This Gluten-Free?
The graham crackers I use are not gluten-free. However, if you can find a good gluten-free graham cracker, that would be a quick and easy switcheroo.
Some other options, although a bit more time consuming, are to use my crumble topping from my Naturally Sweetened Blueberry Crisp recipe, or you could use my Homemade Vanilla Almond Granola recipe!
Similar Recipes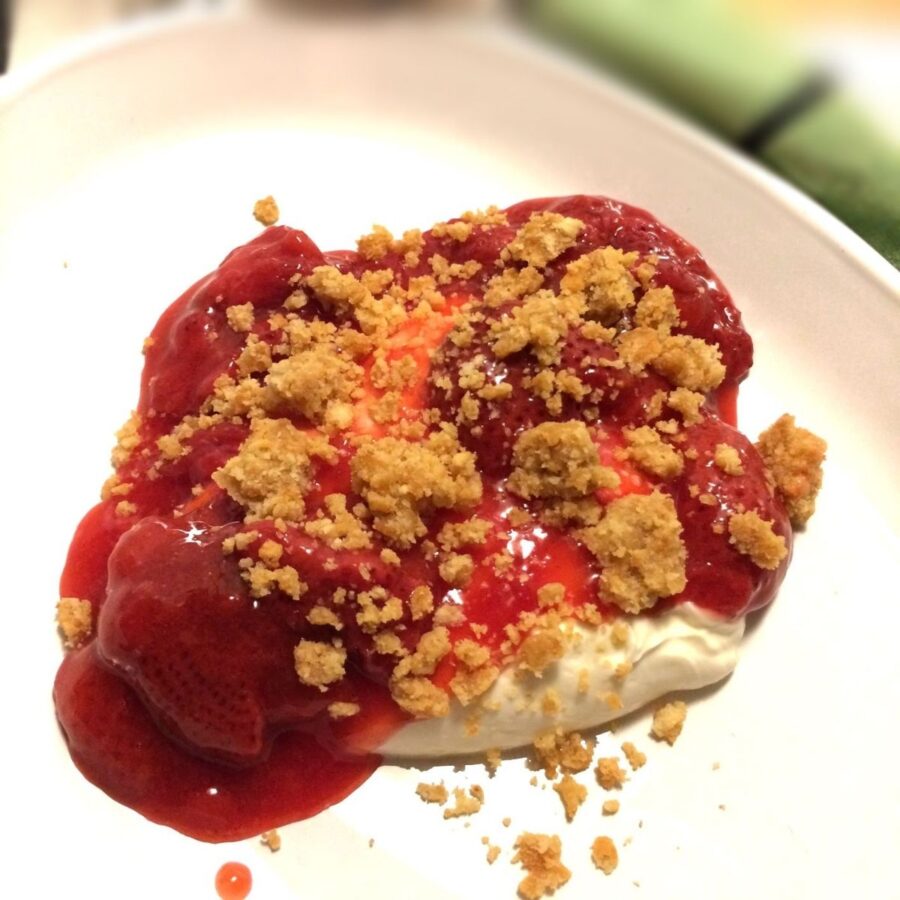 Deconstructed Strawberry Cheesecake
This deconstructed strawberry cheesecake is fun to make and even more fun to eat! It's made with natural sweetener and Greek yogurt, and lighter than your typical cheesecake!
Ingredients
For the Strawberry Sauce
4

cups

fresh or frozen and thawed strawberries

(use any juices)

3

tablespoons

raw honey

2

tablespoons

arrowroot powder

(option to use cornstarch)

1

teaspoon

vanilla extract
For Cream Cheese Filling
2

cups

Greek yogurt

(2% or full fat)

¾

cup

cream cheese

(1 cup for thicker filling)

3

tablespoons

raw honey
For the Graham Cracker Crumble Topping
6

tablespoons

unsalted butter

6

whole

organic honey graham crackers

(equals 1 ½ cups crushed)
Instructions
Set out the cream cheese now to be room temperature for later.
Make the Strawberry Sauce
In a heavy bottom saucepan, add the strawberries, honey, arrowroot powder, and vanilla extract. Mix using a heat-safe spatula or chopstick.

Cover and cook on low-medium heat for about 20 minutes (it will just be getting to a boil). Mix occasionally during cook to avoid sticking. Remove from heat and let cool at room temperature with the lid off. If you're using large berries you might want to mash them to break them smaller (think about how big you want in a bite).

Transfer to a glass container and refrigerate to chill (typically will take a couple hours to chill completely or just chill overnight).
Make the Graham Cracker Crumble Topping
Heat the unsalted butter in a small saucepan on low-medium heat for about 5 minutes, or until melted.

You can crumble the graham crackers by placing them in a Ziploc bag and crushing through the bag, or just use your hands and finely crumble them into a bowl.

Once crumbled, add graham crackers to a medium-sized bowl and pour the melted butter on top. Mix together with a fork, using hands if needed as it cools to fully combine, and press down firmly.

Freeze for 30 minutes, or refrigerate until firm.
Make the Cream Cheese Filling
In a medium-sized bowl, combine the room-temperature cream cheese with Greek yogurt, and raw honey. Mix thoroughly, then transfer to the fridge to thicken slightly as it chills (about 30 minutes)
Putting it all Together
Remove all ingredients from the fridge and freezer. Break apart the graham cracker topping into small chunks or fine crumbles.

Decide how you want to serve this dessert: Each serving on a plate, or layered in a dessert glass or glass bowl.

However you decide, use about ½ cup cream cheese filling, top with ½ cup strawberry filling, and 3-4 tablespoons of graham cracker crumble.

If you don't use all the dessert at once, keep each ingredient in its separate bowl to store before serving again another day.