Learn how to make incredibly flavorful strawberry ice cream by hand. No churn, no egg, no refined-sugar. You'll be making this all the time!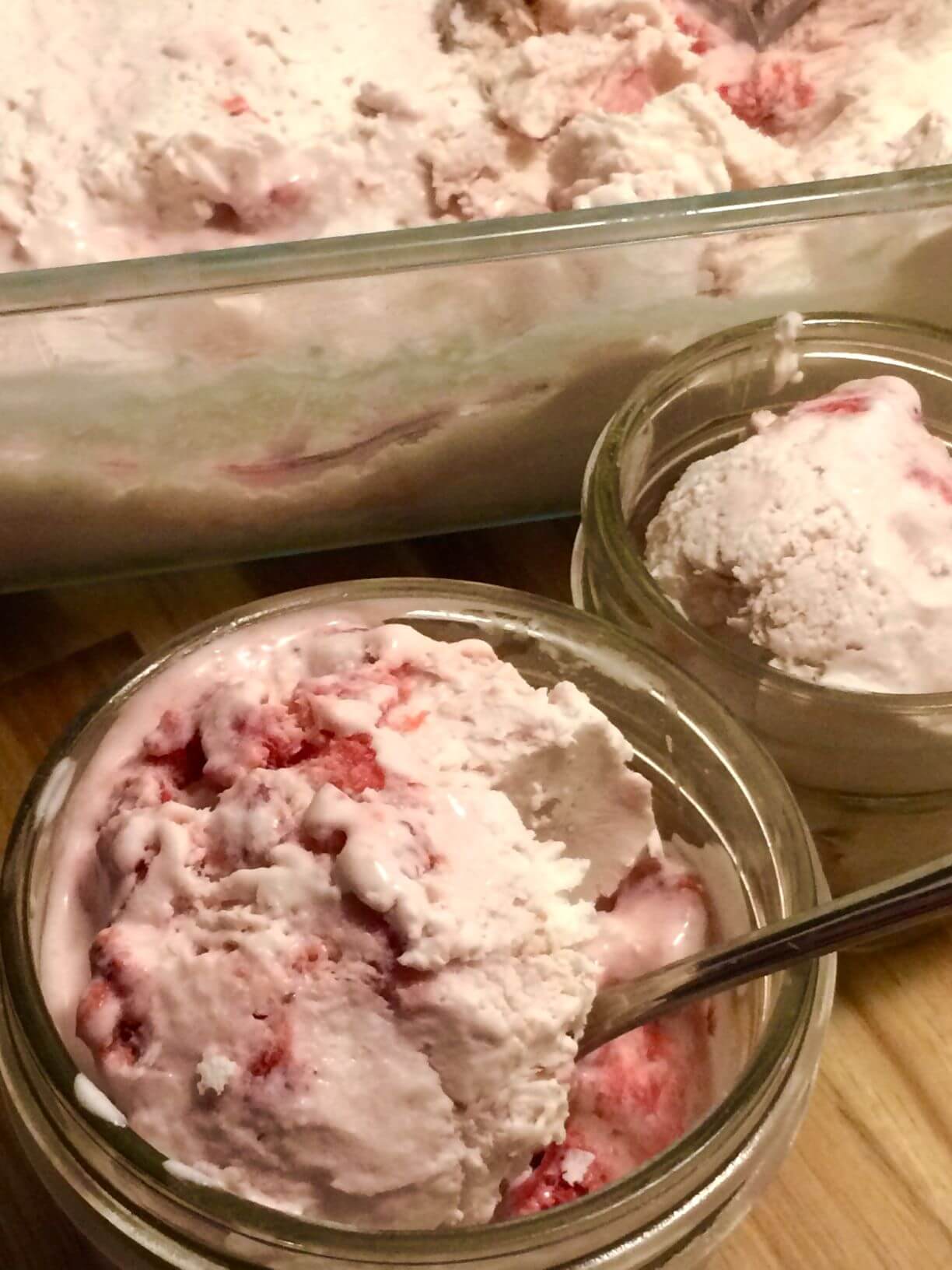 Strawberry ice cream is my ultimate favorite. But, only if it has actual fresh, flavorful strawberry! I luckily wrote down my recipe when I first tried this recipe. It turned out incredible, but of course I had to mess with it many times after that. I tried it with more natural sweetener, different amounts of egg yolks, baked, and stovetop cooked strawberries.
Every single time, I just wanted to go back to the original recipe which won over all the others every time. That's what I've shared with you here and I hope you can enjoy it too!
Using Frozen vs. Fresh Strawberries
When using strawberries I've had the best results with frozen berries from my own garden. First off, these are smaller than store bought and incredibly sweet. But, I wanted to try it with other options as well. I have tried it with part frozen/part fresh (both store bought) as well as all fresh (store bought). Ultimately, my favorite is still frozen from my garden, but the other options have turned out great as well and really weren't much different. Use what you have and it will turn out great, as long as you have red ripe, sweet berries.
Cooking the Strawberries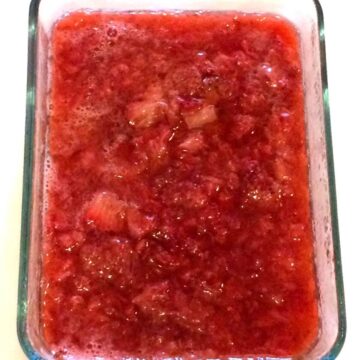 You're essentially making a compote for this part. This is absolutely necessary and you'll get completely different results if you skip this step! Creating the compote brings out so much flavor and helps to carry the flavor throughout the ice cream.
When making strawberry ice cream specifically, I like to cook the berries stovetop. I feel like I got a little more flavor and sweetness when using this method. No, it doesn't seem like it would be much different than baking but I was being very particular when judging the difference and this was my preferred method. Both are fine choices though and baking is a little more hands off!
Honey
I love this natural sweetener for ice cream. It adds flavor along with sweetness and you don't need refined-sugar!! What? Yes, it's true, just avoid white sugar. White sugar can help ice cream be creamier, but in my book it's not worth it. There are plenty of recipes out there that use refined-sugar and I hope to show that you can have a delicious ice cream that's still creamy and uses natural sweeteners only!
Heavy Cream
Cream helps the ice cream be extremely creamy. No, not the healthiest, but you are still making ice cream....so is that a big shock? I wouldn't recommend replacing this ingredient. This ice cream recipe works best if you whip the cream to form heavy peaks, before adding the additional ingredients. Use a large, deep bowl for whisking, like this 8 qt. stainless steel bowl! Check out different ways to make whipped cream by hand, just like in this recipe.
It's very possible to get great results without whipping the heavy cream fully. I have made this recipe many times with a thinner ice cream mixture and although it's not as creamy going into the freezer, it still turns out well. One change you'll want to make is checking in on the freezing ice cream to stir it every few hours to make sure it's not settling and stirring will help it freeze more evenly!
Coconut Milk
I use full fat coconut milk. If you choose one with less fat just know that the creaminess of the whole recipe will change and it will likely make the ice cream icier. Of course this adds flavor too which just adds to the amazingness.
You'll want to whisk together the coconut milk, honey, and lemon juice, then add those ingredients to the whipped cream. Once combined, add in the cooked strawberries.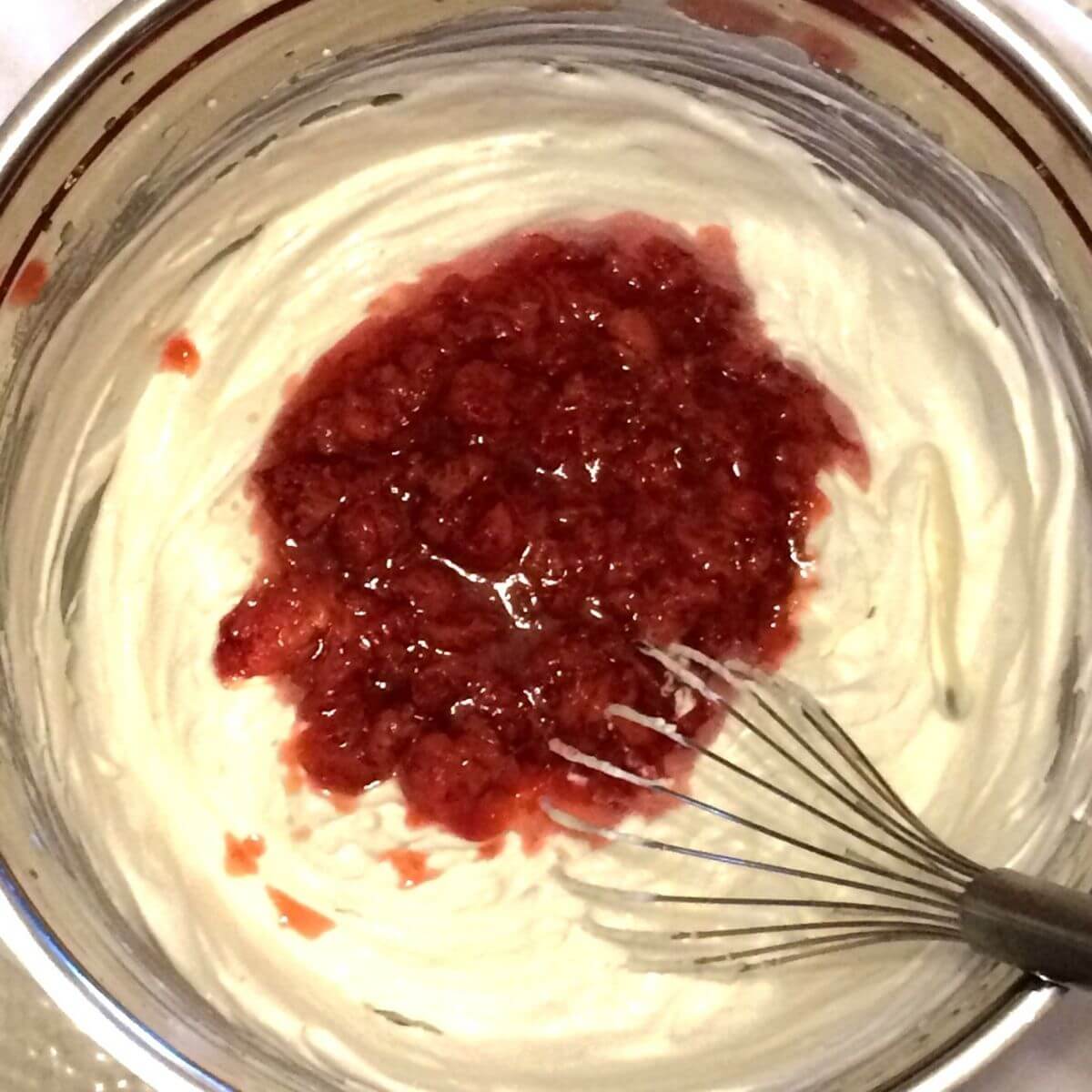 Making the Ice Cream More Kid Safe
If you're serving this ice cream to kids then you can heat the coconut milk with vanilla to remove the alcohol. Although the vanilla is limited, there are people who like to avoid any raw vanilla in recipes for their kids! The flavor is worth adding though, and If you're not worried about the alcohol content then add it raw because it'll be a lot stronger and add so much to the final ice cream.
Adding Egg Yolks into Ice Cream
After trying both no yolks and yolks for strawberry ice cream I would highly recommend no yolks. Strawberries are a gentle flavor and can quickly be masked by adding yolks. The finished product isn't completely creamy and there is a tad bit of iciness to the texture, but that's common for homemade ice cream. I'm not willing to forego flavor for a tiny bit creamier. Once you thaw the ice cream for a bit it truly is creamy.
If you're using an ice cream maker then adding 2-3 yolks might be a great option. But, I would also love to hear from anyone that uses this recipe as is, without yolks, in an ice cream maker!
Adding Fresh Strawberries Before Freezing
I have continued to love this recipe, but I keep trying to add more strawberries every time I make it! I love adding 1-2 cups diced, fresh strawberries to fold in to the completed mixture before adding it to the freezer container. It adds so much!
Storing the Finished Ice Cream in Smaller Jars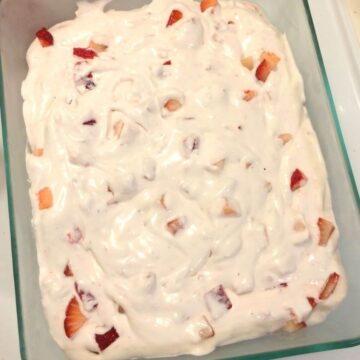 Most homemade ice creams will get hard when they're frozen. If you're storing them in a large container then you have to defrost the whole container anytime you want a portion. Make it easier on yourself and separate the ice cream mixture into portions before freezing. I use canning jars (8 oz. and 16 oz.) but if you really like your ice cream, then go bigger! Pre-portioning your mixture will decrease the total time it takes to firm up the ice cream to be ready to eat!
If you're fully whipping the heavy cream then it should be easy to portion out your ice cream prior to freezing. If you decide to not fully whip the cream then you'll have a thinner ice cream mixture, which will be easier to portion out after it freezes some!
Best Ice Cream Cones
We came across Favorite Day Ice Cream Cones sold by Target and they're our absolute favorite! They contain less than 1 gram of sugar, only 5 grams of sodium, and no sugar alcohol. They're super simple and a great price! I'm not sponsoring this product, nor do I receive any percentage of possible sales, just sharing what we love!
More Ice Cream Recipes
If you enjoyed this recipe and you're looking for more like it, try one of my other ice cream-related recipes: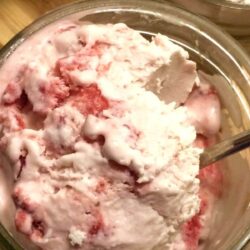 Homemade Strawberry Ice Cream (no churn, no egg)
Learn how to make incredibly flavorful strawberry ice cream by hand. No churn, no egg, no refined-sugar. You'll be making this all the time!
Ingredients
For Cooking Strawberries
3

cups

diced fresh strawberries

(or about 2 ½ cups frozen then thawed)

1

teaspoon

fresh squeezed lemon juice

1

teaspoon

raw honey
For the Remainder of the Ice Cream
2

cups

heavy whipping cream

1

cup

full fat coconut milk

1

teaspoon

vanilla extract

3

tablespoon

raw honey

pinch

of sea salt

1-2

cups

additional fresh strawberries, diced
Instructions
Cooking Strawberries
Option 1: Cooking Stovetop

In a medium-sized saucepan add diced strawberries, lemon juice, and raw honey. If you're using previously frozen strawberries still chop them. If you want this toddler friendly add vanilla in at this time.

Heat saucepan on low heat for about 20 minutes until soft. Option to mash strawberries. Remove from heat and chill on counter top, then transfer to the fridge until completely chilled. This should total 2 cups berries and juice.

Option 2: Baking Strawberries in Oven

Preheat oven to 375℉. In a deep, oven-safe baking dish (I use an 11 cup Pyrex dish) combine diced strawberries, lemon juice, and raw honey. If you want this toddler friendly add vanilla in at this time. Bake for 30 minutes on middle rack. Remove and cool, then transfer to the fridge until completely chilled.
Making the Remainder of the Ice Cream
In a medium-sized bowl combine coconut milk, vanilla, honey, and pinch of salt. Set aside.

In a deep mixing bowl, whisk the cold heavy cream until firm peaks form. A balloon whisk works best and this should take about 4 minutes. See my recipe for making homemade whipped cream.

Add the chilled strawberries and coconut milk mixture into the whipped cream. Whisk all together. Fold in 1-2 cups diced fresh strawberries.

Choose a freezer safe container with a lid. I prefer something wider and shallower like an 11 cup Pyrex versus something deeper like a loaf pan. It freezes faster that way and has a lid!

Pour the ice cream mixture into the chosen container and freeze flat for about 7 hours.
Transferring Ice Cream to Smaller Containers
You have the option to portion out the ice cream mixture into smaller containers before freezing. I like to scoop and transfer portions into 8oz-16 oz. canning jars. That way they're pre-portioned and you can easily pull a jar at a time to thaw for about 30-45 minutes before enjoying!

If you decide to portion the ice cream into smaller containers than you can likely cut down on the freezer time substantially!