Stuffed peppers with quinoa, ground beef, and vegetables makes the perfect healthy and delicious dinner!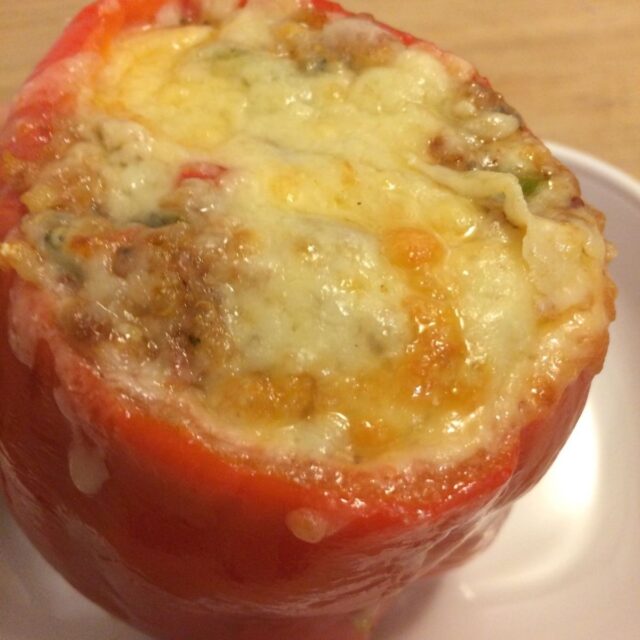 What makes a bell pepper even more delicious? Stuff it with the best ingredients and bake!
I grew up with stuffed bell peppers always filled with rice. They were terrific and you can most definitely use rice with this recipe. However, I wanted to make it a bit healthier and lighter by using quinoa.
Now a stuffed pepper just isn't complete without melted cheese. I used freshly grated parmesan cheese but get creative and try different ones for different flavor profiles.
Making This Dish
Try to find bell peppers that have a flat bottom. If not and they're rounded you can try to flatten some once boiled, or cut length-wise and lie them flat to fill.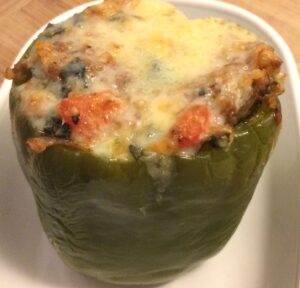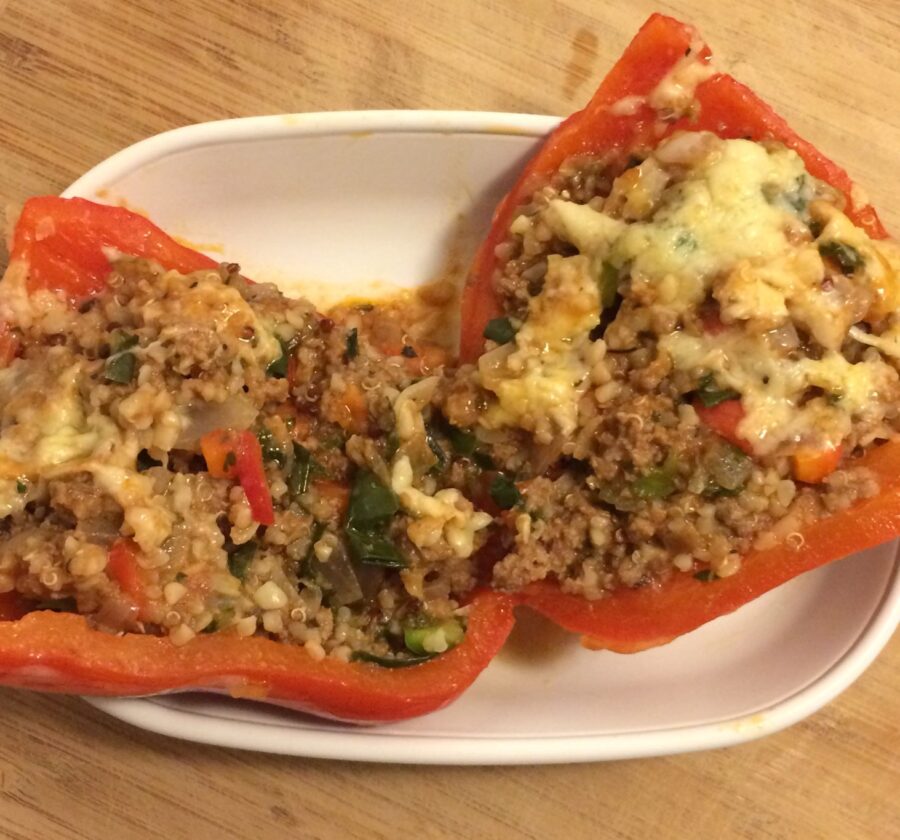 More Similar Recipes
If you're wanting more ideas for how to use your ground beef take a look here: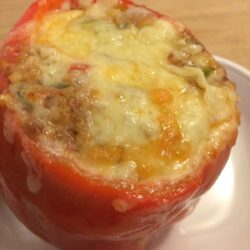 Stuffed Bell Peppers
Stuffed peppers with quinoa, ground beef, and vegetables makes the perfect healthy and delicious dinner!
Ingredients
1

cups

cooked quinoa

(½ cup uncooked. Option to use 1 cup cooked rice)

5

bell peppers

(try to find ones with flat base)

2

tablespoon

olive oil

2

cups

purple onion

(1 onion)

2

tablespoon

minced garlic cloves

1

lbs

ground beef

(option to use ground turkey)

1

cups

chard diced

¼

cup

no salt tomato paste

3

tablespoon

no salt crushed tomatoes

½

teaspoon

garlic granules

¼

teaspoon

sea salt

1

teaspoon

dried basil

1

teaspoon

dried oregano

½

cups

diced fresh parsley

½

cups

Parmesan cheese

(+ additional for on top. Option to use mozzarella or gouda cheese)
Instructions
Prep the Quinoa and Bell Peppers
Cut off tops of bell peppers about ½ inch below stem. Remove seeds, ribs, stem. Save tops of bell pepper pieces removed from the stem, dice, and set aside.

In a sauce pan add water (about 3 inches deep). Place bell peppers upside down in water (open end down). Bring to a boil and boil for about 15 minutes, drain water and set aside.

While bell peppers boil, make the filling.
Make the Filling
Preheat oven to 350℉. If using toaster oven, no need to preheat.

Prepare all vegetables. Set aside the onion, garlic, and diced bell pepper in one bowl, and the chard in another.

Shred cheese and set aside.

Add 2 tablespoon olive oil to a skillet and heat on medium heat. Sauté onion, garlic, and leftover diced bell pepper (from tops) for about 5 minutes stirring occasionally.

Add ground beef to saucepan with sautéed vegetables and break apart beef with spatula. Add chard. Cook for 10 more minutes covered, decreasing heat as needed to medium-low.

Decrease skillet temperature to low and add tomato paste and and crushed tomatoes. Add all seasonings and fresh parsley. Cook for another 20 minutes.

Turn off skillet heat and add shredded Parmesan cheese, stir in.

Add in cooked quinoa and combine.
Filling the Bell Peppers
Remove bell peppers from water and place in a large baking dish (I used an 11 cup Pyrex: 9 x 7 x 3 inches). Press down gently to flatten bottoms some if they're not already so it can stand up, or lie them down if cut length-wise.

Fill peppers with mixture and pack it in using a spoon. Large bell peppers: about 1 cup of filling, smaller bell peppers: about ¾ of filling.

Sprinkle shredded cheese on top (about 2 tablespoons per pepper).

Bake at 350℉ for 8-10 minutes, then increase temp to 400℉ for another 5-10 minutes or until cheese is browned to your liking.

Conventional Oven: use middle rack

Convection Oven: use bottom rack