Celebrate honey with this creative combination of apples, chicken, and honey all wrapped up in a crispy tortilla!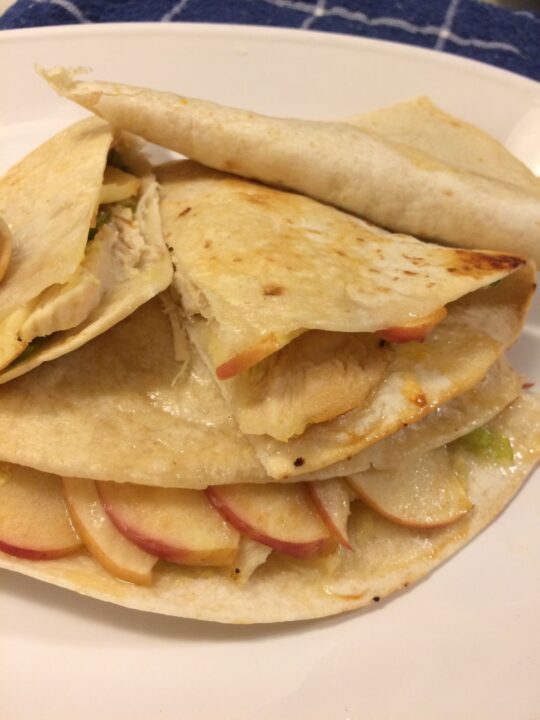 Honey is one of the most incredible natural sweeteners, let alone naturally created things in existence. If you're not already using raw honey in your cooking and baking there are many reasons to start now!
Honey has antibacterial and healing properties, it's a healthy alternative to processed sugar, and it tastes amazing! I will always recommend finding a raw honey, that's as local as possible to where you live. The more local, the more nutritional value you'll receive from it.
This recipe is inspired by a recipe I found the the National Honey Board. I made many changes to the ingredients and I've provided a detailed explanation of how to make this recipe.
Ingredients for these Quesadillas
Chicken: I first made this recipe with a leftover whole baked chicken I had made. The next time around I used chicken breast and created a delicious marinade which is included in the ingredients in the recipe. I would recommend following the recipe, but it still turns out great if you use leftover baked or rotisserie chicken.
Apple: I've used various apples in this recipe (Gala, Fuji, Pink Lady, Granny Smith). All go well, just know that you'll get a little more tartness with the granny smith! You should only need 1 apple for this recipe.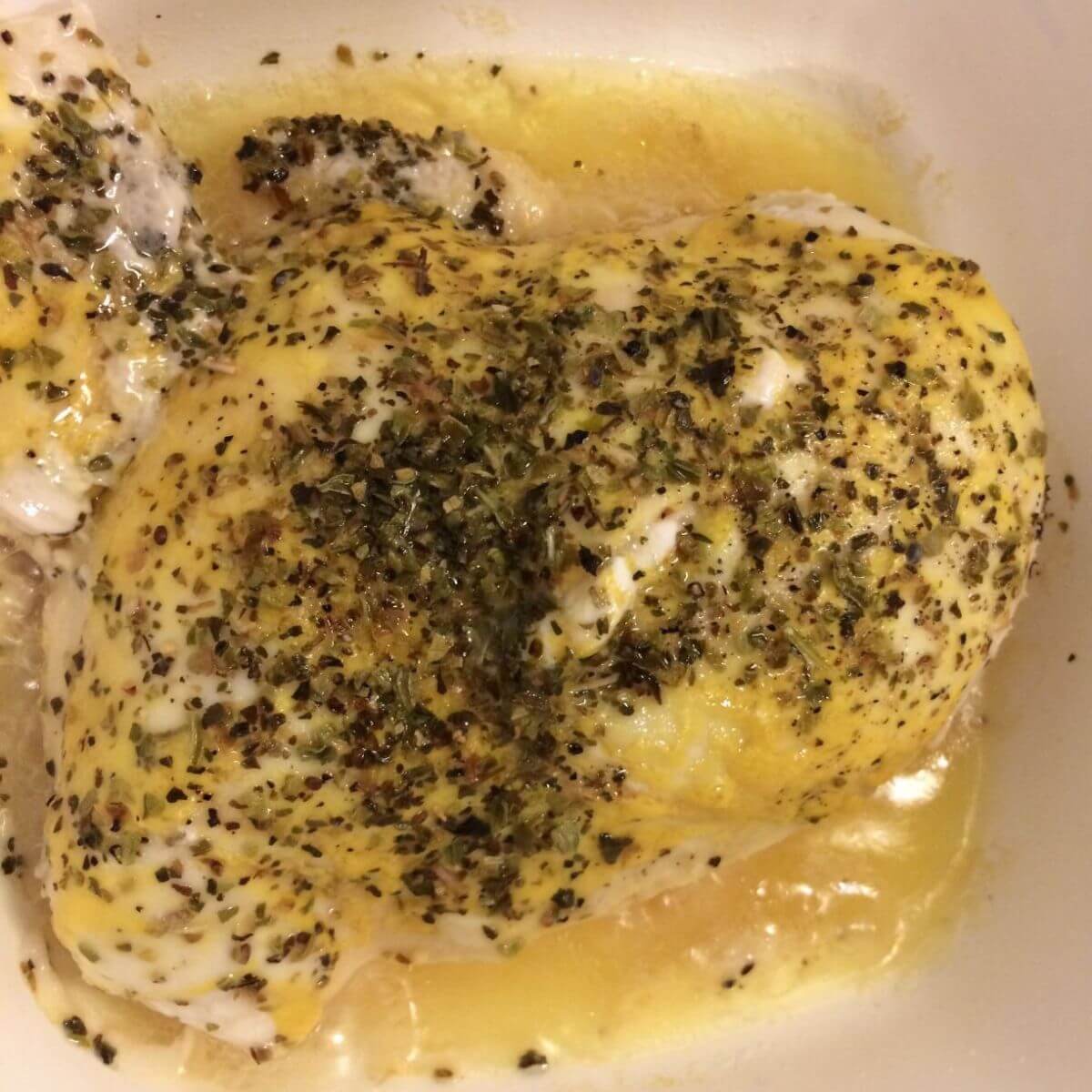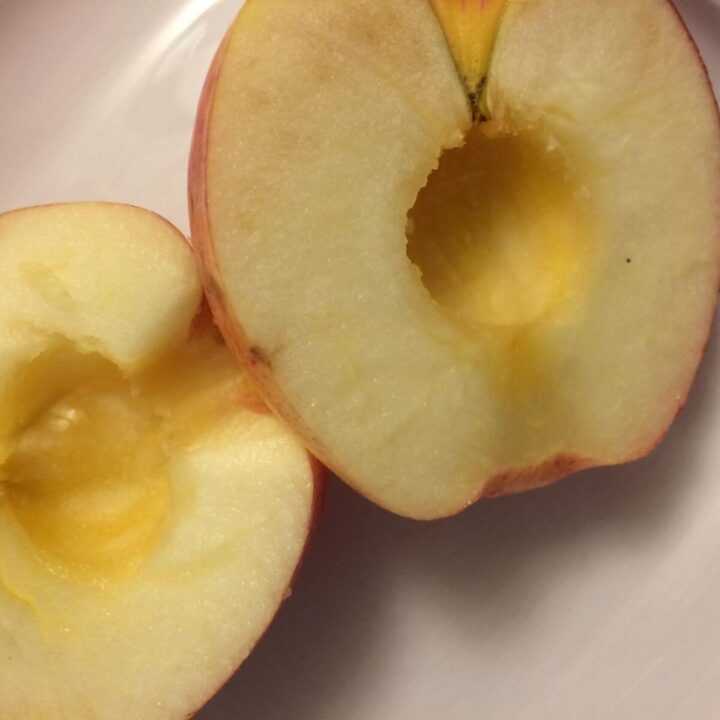 Cheese: I've used various cheeses in this recipe and I encourage you to get creative on your own. My favorite has been smoked provolone as well as a Turffalo cheese. The flavors just came through beautifully and added a uniqueness that you won't find with other cheeses.
I've also used aged gouda, and white cheddar. The original recipe uses a swiss cheese which would also pair well.
Green Onion: This is a great addition that adds flavor, texture, and color to the dish. Of course it's optional and you could always leave it out...but I'd recommend keeping it!
Honey: Raw raw raw. If you use a syrupy mass produced honey the flavor will just be different. Any honey is better than no honey though that's for sure. Use what you have and enjoy it!
Yogurt: plain Greek yogurt is and will always be my go-to. You'll get a thicker texture and creaminess that you can get with other types of yogurts. Plus, it's healthier than other yogurt options. I believe the original recipe called for a sour cream but I would recommend yogurt all the way.
Mustard: Originally the recipe called for Dijon mustard. You can use that or a yellow mustard like I have in my recipe. To be honest I tend to have yellow mustard and spicy beer mustards on hand, so I went with the easy yellow!
Coconut Oil: I always prefer unrefined coconut oil because you get the benefit of the added flavor. You can choose refined if you don't prefer that coconut flavor. As stated in the instructions you'll want to lightly brush on the oil before baking. If you add too much it could make the tortilla soggy. I have tried flipping the tortilla mid bake and leaving it untouched, and I've tried brushing more coconut oil on it. I found that it wasn't really necessary to brush more oil and it was crispier without, which I prefer. So, you choose how much oil to brush on but the less you do, the crispier it will be.
You'll find an explanation with how to layer the ingredients to make the quesadilla below!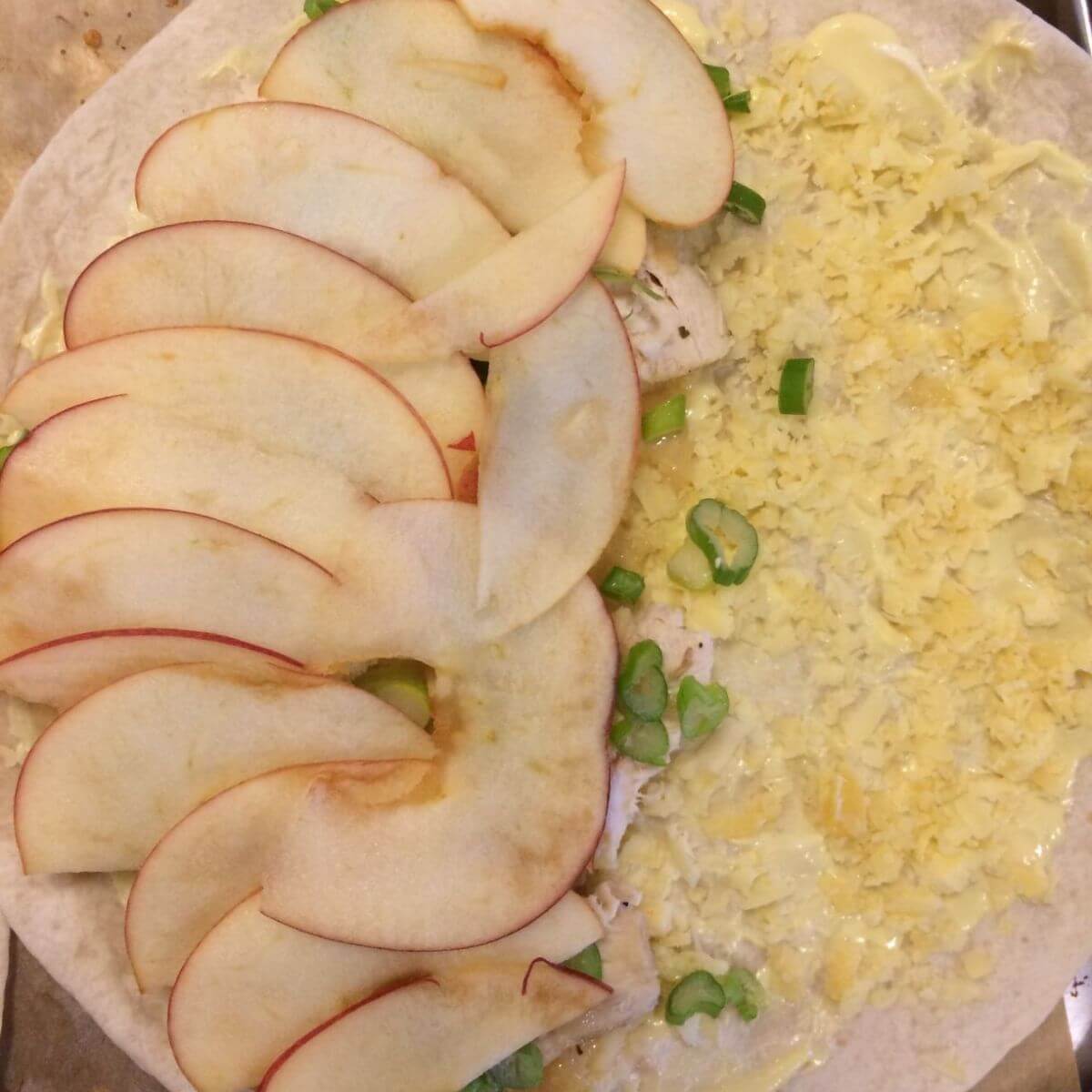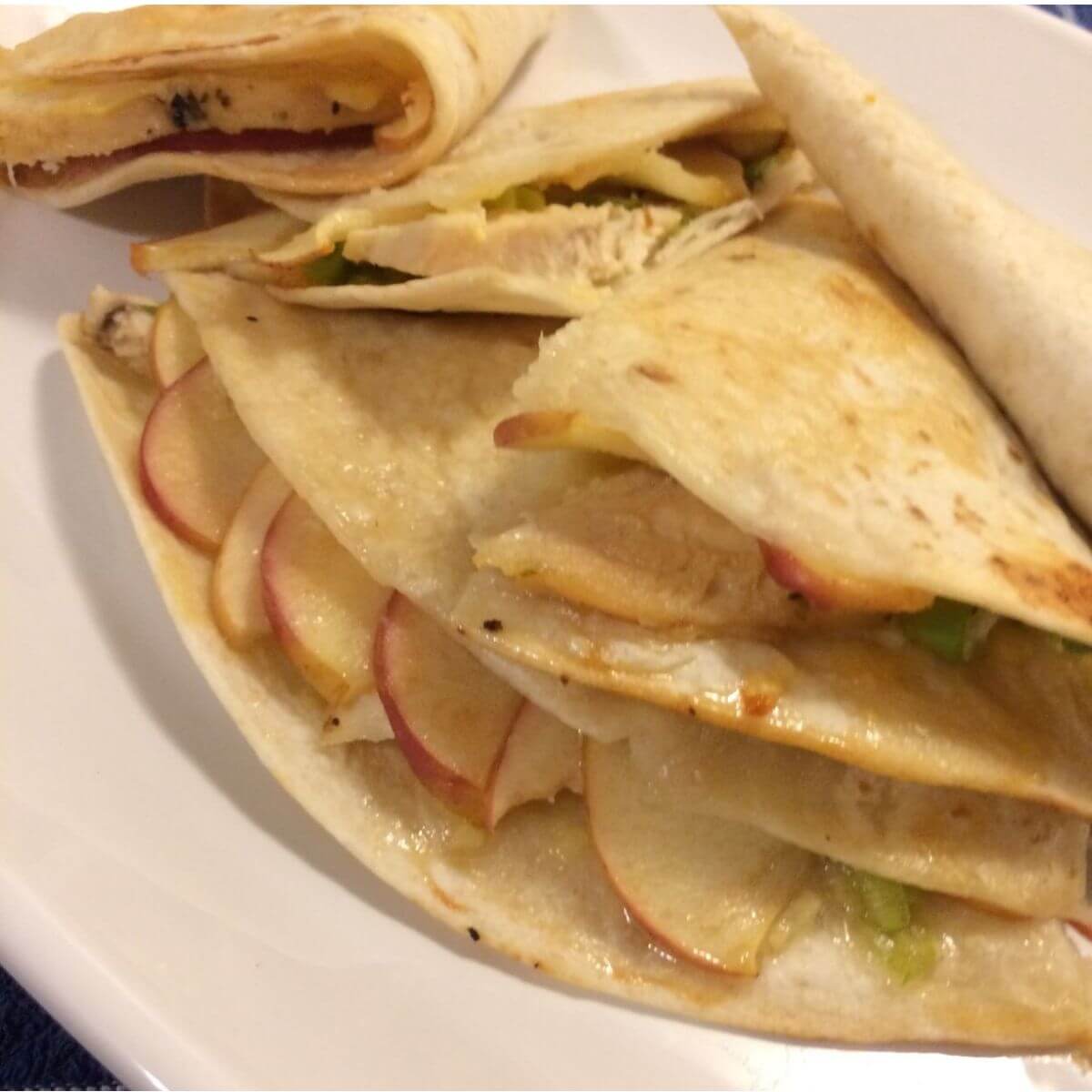 More Chicken Recipes
If you enjoyed this recipe and you're looking for more recipes that include chicken, take a look at these: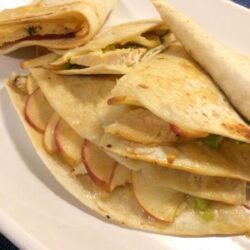 Honey Chicken and Apple Quesadillas
Celebrate honey with this creative combination of apples, chicken, and honey all wrapped up in a crispy tortilla!
Ingredients
For the Chicken
1

large chicken breast

(about 1 lb)

1

tablespoon

unrefined coconut oil

1

teaspoon

fresh squeezed lemon juice

1

teaspoon

yellow mustard

(option to use Dijon)

1

teaspoon

raw honey

⅛

teaspoon

sea salt

¼

teaspoon

dried basil
For the Sauce
¼

cup

plain full fat Greek yogurt

1

teaspoon

yellow mustard

(option for Dijon)

1

teaspoon

raw honey
Additional Filling
1

medium apple

1

cup

heaping shredded smoked provolone cheese

(option for a truffalo cheese or aged gouda)

3

tablespoon

raw honey

6

tablespoon

diced green onion
Instructions
Make the Chicken
In a small bowl combine lemon juice, mustard, honey, salt, and basil. Coat chicken breast with the mixture.

Add 1 tablespoon coconut oil to a small skillet or small saucepan ( I use a small Corning Ware casserole dish). Add chicken and make sure to use all the coating if there's any left in the bowl.

Heat to low heat (level 2) and cook for about 25 minutes. Flip chicken and cook for another 15 minutes.

Remove from heat and let rest for at least 5 minutes. Thinly slice chicken and set aside.

Line 2 baking sheets with parchment paper.
Make the Sauce
Combine all ingredients for the sauce until smooth. Set aside.
Prepare the Additional Filling
Thinly slice apples as thin as you can get, dice green onion, shred cheese, and have honey handy. Set all aside.
Assembling Each Quesadilla
On each tortilla, spread on 1 tablespoon sauce leaving about ½" space around the edges.

Sprinkle about ¼ cup + 2 tablespoon shredded cheese over entire tortilla.

On half of the tortilla add ½ cup sliced chicken (⅓ of total chicken).

Drizzle 1 tablespoon honey over the chicken.

Add 2-3 tablespoon diced green onion over chicken.

Fold tortilla in half. Brush lightly with unrefined coconut oil or if you have it, lightly use coconut spray.

Bake for 10-12 minutes, flip tortilla and bake for another 10-12 minutes.

Option to use rotisserie chicken or leftover chicken.
Notes
*Recipe adapted from Honey.com and their

Ham, Swiss, and Apple Quesadilla.