This pie is full of natural sweetness, tang, and beautifully bright fruit! Raspberries and rhubarb make a wonderful combination for a great pie whether it's the middle of winter or summer!
Raspberry and Rhubarb make such a great pie combination! If you enjoy a pie that's sweet with a little tartness, this is the absolute best!
I'm not a huge fan of 100% raspberry pie, but when you add in the rhubarb you gain more texture and flavor variety that make it so incredibly tasty.
If you're not convinced yet to try this recipe, remember that Rhubarb is a vegetable, so technically you're making a pie loaded with vegetables, and berries high in vitamin C, antioxidants, and fiber! So yes, enjoy 2 slices!
Sweetener
This pie uses maple syrup as natural sweetener. It helps to create a delicious sauce, adds more flavor to the sweetness, and you can avoid refined sugar!
I choose to add maple syrup to the pie pastry as well. It's not too much, but just enough to make the crust have just a bit of sweetness so it adds more to the finished product.
Follow my pastry recipe instructions to know how to adjust the flour/water ratio if you're adding liquid sweetener.
Can I Use Frozen Ingredients
Yes you can use frozen raspberries and rhubarb. Make sure that they're both thawed and you'll want to limit the excess liquid.
If your berries are mashed, they'll likely thaw with a lot of liquid. If that's the case, don't waste the juice, just try a bit more arrowroot powder/cornstarch/flour.
What's the Best Pastry to Use?
I use the same pie pastry recipe for all my pies. You can find the pastry recipe here which includes recipes for a single pastry, double, and a slightly larger pastry if you're wanting to do lattice work or more of a designed top.
Try These Similar Recipes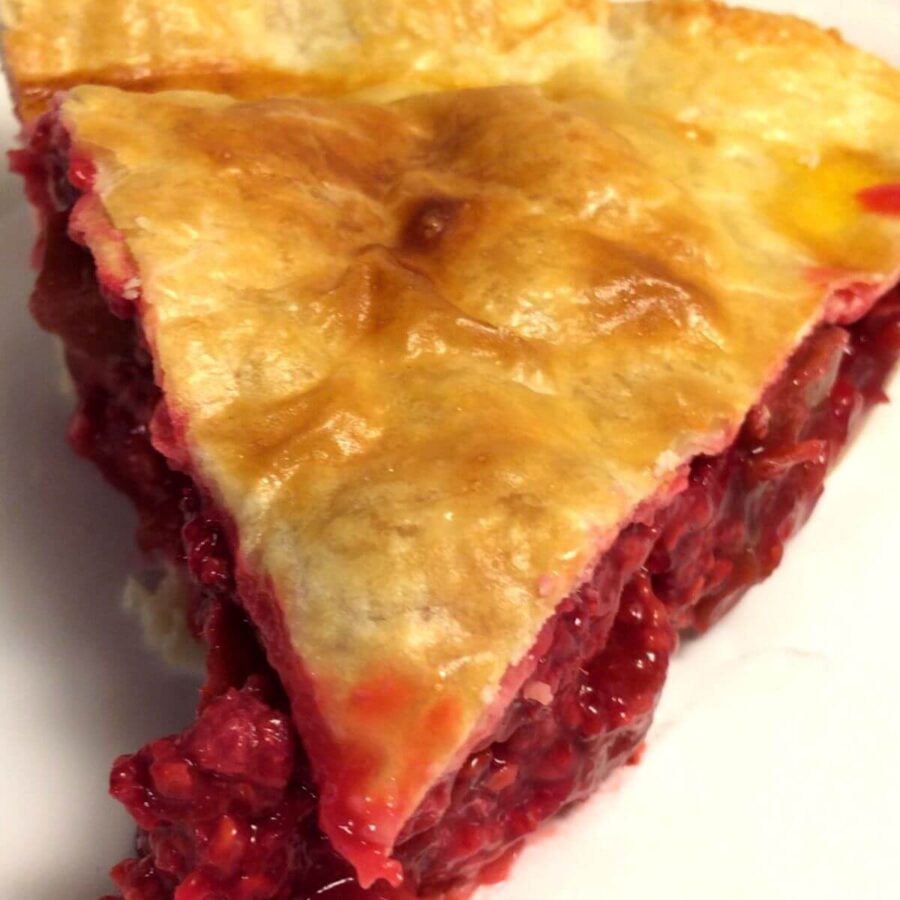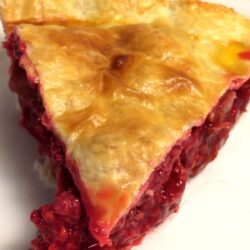 Raspberry Rhubarb Pie
This pie is full of natural sweetness, tang, and beautifully bright fruit! Raspberries and rhubarb make a wonderful combination for a great pie whether it's the middle of winter or summer!
Ingredients
2

cups

all purpose flour

¼ + ⅛

teaspoon

sea salt

2

teaspoon

optional maple syrup

½

cup

unsalted butter

(1 stick)

1

tablespoon

olive oil

6-7

tablespoon

ice cold water
For Pie Filling
5

cups

fresh raspberries, split

(1 cup will be kept separate to sprinkle on top before pastry lid is placed)

3

cups

diced rhubarb

2

teaspoon

fresh lemon juice

1

teaspoon

lemon zest

2

teaspoon

almond extract

¼

cup

maple syrup

¼

cup

arrowroot powder

(option to replace with cornstarch or flour)

1

tablespoon

unsalted butter to put on top before pastry lid
For Egg Wash
1

large

egg

2

tsp

milk (or water)
Instructions
Make the Pie Pastry
Follow my recipe for 1 double pie pastry. Split the pastry into 2 equal portions and form each into a flattened round, stack, then cover in an airtight bowl or in saran wrap for 1-2 hours in the fridge.
Making the Filling and Putting it all Together
Once the pastry has been in the fridge for about 1-2 hours, remove it from the fridge to sit out at room temperature while you make the filling.

Preheat oven to 400°F. Set rack to middle setting for conventional oven.

Use lower rack if using a convection oven!

In a large bowl, add 4 cups raspberries and 3 cups rhubarb then sprinkle on ¼ cup arrowroot powder.

In a small bowl mix together lemon juice, lemon zest, almond extract, and maple syrup.

Add the lemon juice mixture to the berries and and gently combine.

Very light flour your work surface and roll out 1 portion of the pie pastry to about 10" in diameter. Press pastry into the pie pan.

Roll out second half of pastry to have ready.

Use a spatula to transfer all filling into the pastry base. Sprinkle on 1 cup fresh raspberries. Cut up 1 tablespoon unsalted butter and scatter over the fresh berries. Place the pastry lid on the pie and flute edges as desired.

TIP: I find it works best to gently press the edges of the base and lid together, then slightly roll the base edge up and over the top of make sure it seals, before fluting the edges.

Whisk together the whole egg and 2 teaspoon milk (or water) and apply to the top of the pie.

Bake at 400°F for 35 minutes with edges foiled. Remove foil to continue baking for 8-10 more minutes. Let the pie sit for a bit before cutting in to let the filling firm up! Enjoy with vanilla ice cream or a homemade whipped cream.