It doesn't get much better than fresh, homemade strawberry jam! You can use this recipe with so many desserts and snacks, and better yet, no pectin! This is a small batch and just store any excess in your freezer!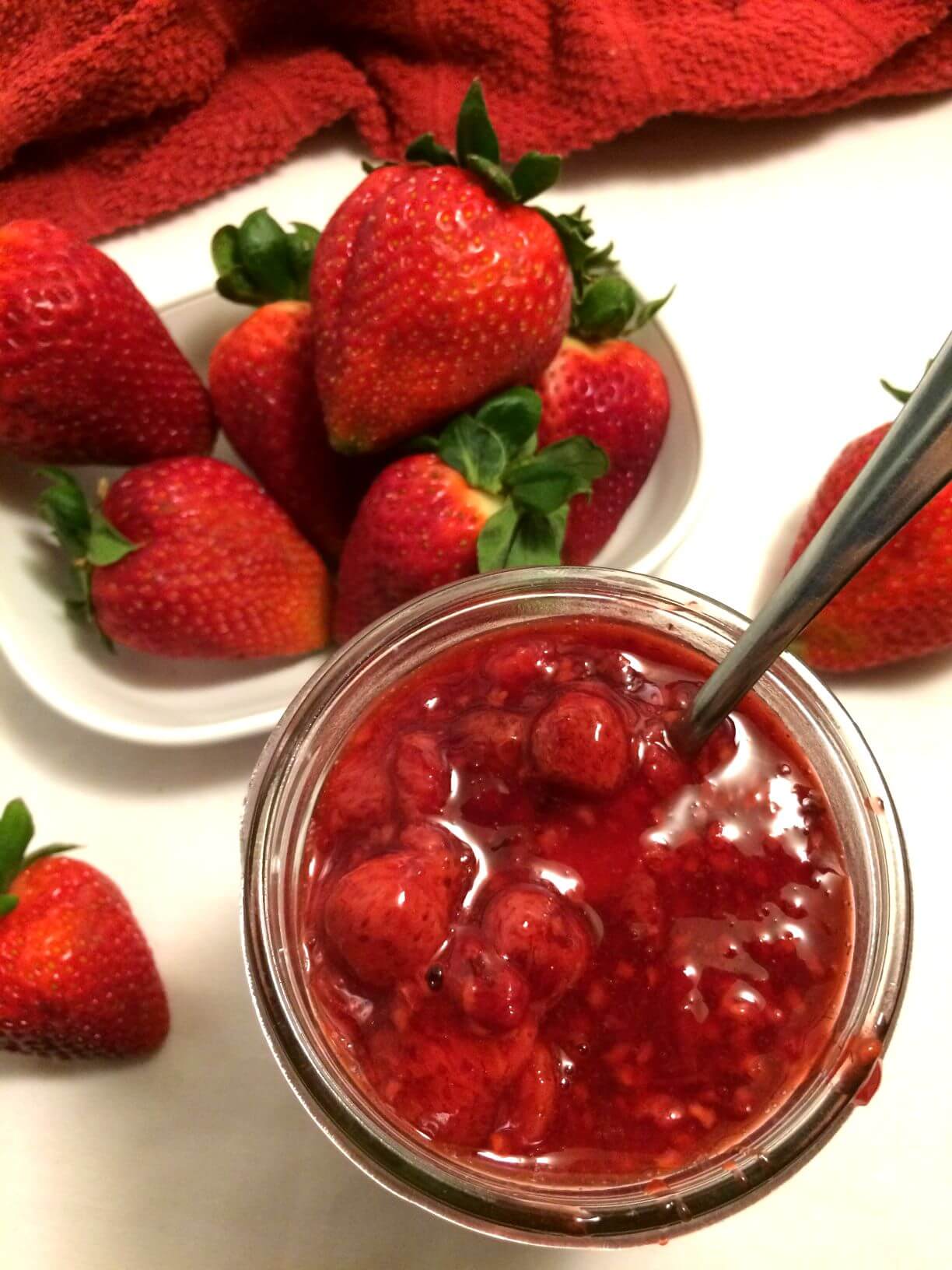 This homemade strawberry freezer jam might just convince you to never buy store-bought jam again! Who doesn't love a jar of homemade jam or jelly? To me, it's a comfort food and tastes so much better than store-bought.
I don't buy jam and jelly at the store. Reason 1 is that it's just so easy to make your own at home, reason 2 is that the sugar content is entirely too high for me to enjoy! When I first started making peanut butter and jelly sandwiches for my toddler, they consisted of peanut butter and slices of fresh fruit. She loved them, they were easy, and way healthier than any jelly!
As she got older, I started making more homemade jams. Mostly to make the best of the loads and loads of fresh berries we grow in our yard every summer, but also because it makes a great topping and dessert! I like to stick to jams, because you can retain more texture of the natural fruit and I just think it's so much better!
Only Natural Sweetener
Like with most of my jam recipes, this recipe avoids using processed white sugar. I like to highlight the natural beauty of strawberries and uses raw honey to bring out the sweetness.
Honey: I have found that if I'm using store-bought strawberries, 1 tablespoon of honey works best. But, when I'm using freshly picked strawberries from our own berry path, which are naturally sweeter, closer to ¾ tablespoon honey is plenty! If you like more natural sweetness, just use a tiny bit of honey! All honey can taste a bit different depending on its origin (what flowers it came from) so taste your honey first to know if it's more mellow or super strong!
Turbinado Sugar: You can also use 1 tablespoon turbinado sugar (sugar in the raw). I really love this flavor because it's a little lighter and brighter than honey and still more natural and less processed than white sugar.
How to Thicken This Jam
I like to use arrowroot powder as my main thickening agent. It's a healthier option over cornstarch and it works great for jams! Cornstarch can also be used.
Thickening or Thinning the Jam
I think this jam recipe has the perfect consistency. However, if you like thicker jams, you can easily add a bit more arrowroot powder and if you want it thinner than decrease the arrowroot powder even by ½ a teaspoon or add a bit more water.
You can make this jam with fresh strawberries or frozen. If you're using berries straight from the freezer that's fine, just add on a tiny bit more time with the cook. When using frozen berries, you likely don't need any extra water. You can always keep an eye on the berries as they cook and make sure to stir to avoid sticking. If you feel like it's getting to dry as they cook then just splash some water in and keep an eye on it!
Cook Time for Strawberry Freezer Jam
If you're using store-bought strawberries, you'll likely need about 15 minutes since they're typically firmer. With previously frozen berries and freshly picked berries you will only need about 10 minutes to get them soft enough to mash. When I use berries picked from our yard, I can just mash them with a heat-safe silicone spatula. For store-bought I bring out the potato masher.
Benefits of Small Batch Freezer Jams
My husband and I used to do the full-on process of cooking and canning jam. With a busier lifestyle comes adjustments to how much time and effort you put into your cooking! It doesn't take much time at all to cook down fresh berries with a little sweetener and you can use so many different berries! You can add as little or as much sweetener as you prefer, and you can taste test as you go! The flavor will change as it cools, but you can still have a good idea of how sweet it is!
Storing this jam in the freezer in small 4-8 ounce mason jars allows you to pull out a little at a time to use over a couple days. No need for pectin, a pressure canner, or storing large batches in our pantry. You just need a little freezer space!
You also don't need to do a full day of berry picking to make your time worth it! You can easily make this jam using store-bought berries or it's perfect for those of you with small strawberry patches in your yard!
How Much Jam Does this Recipe Make?
This recipe will yield about 14 ounces of jam!
Enjoy this Strawberry Jam with These Recipes
More Jam Recipes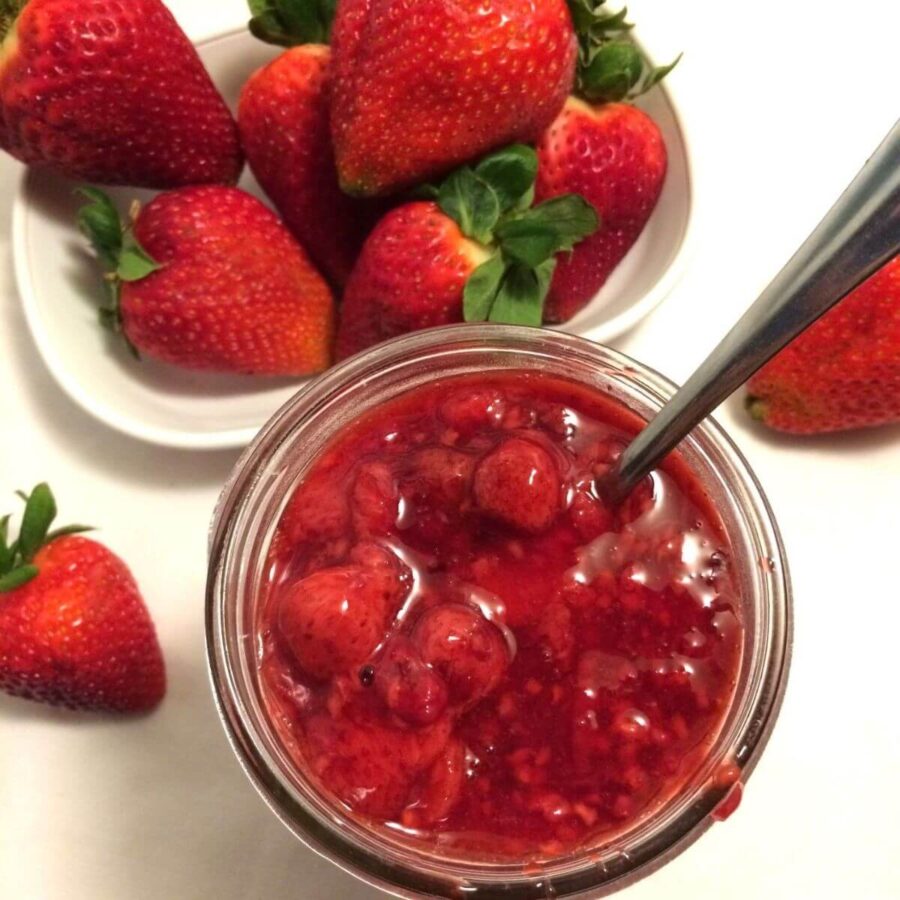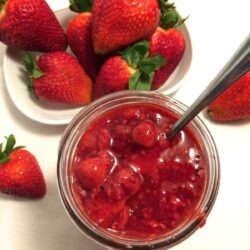 Small Batch Strawberry Freezer Jam
It doesn't get much better than fresh, homemade strawberry jam! You can use this recipe with so many desserts and snacks, and better yet, no pectin! This is a small batch and just store any excess in your freezer!
Ingredients
2

cups

fresh strawberries, chopped

(option to use thawed from frozen)

1

tablespoon

raw honey

(option to replace with 1 tablespoon turbinado sugar or granulated sugar)

1

tablespoon

arrowroot powder

2

tablespoons

water

(leave out if using frozen berries)
Instructions
Use a medium-sized, heavy bottom saucepan. Add strawberries, then all remaining ingredients and mix together.

Cook on medium-low heat for about 10-15 minutes to soften, stirring often to avoid sticking and burning. If you don't want to stand over the pot and continuously stir, just decrease heat to low-medium for the entire cook, still stirring often.

Use a potato masher to mash the strawberries.

Remove from heat and immediately transfer to mason jars to store and chill in the fridge. Once cooled, move to freezer.
Notes
It's easiest to transfer the jam right away once off heat because if you wait it will start to solidify and stick to sides making it hard to remove all the jam.