This sweet and creamy coffee creamer recipe is super easy to make at home and much healthier than store bought options!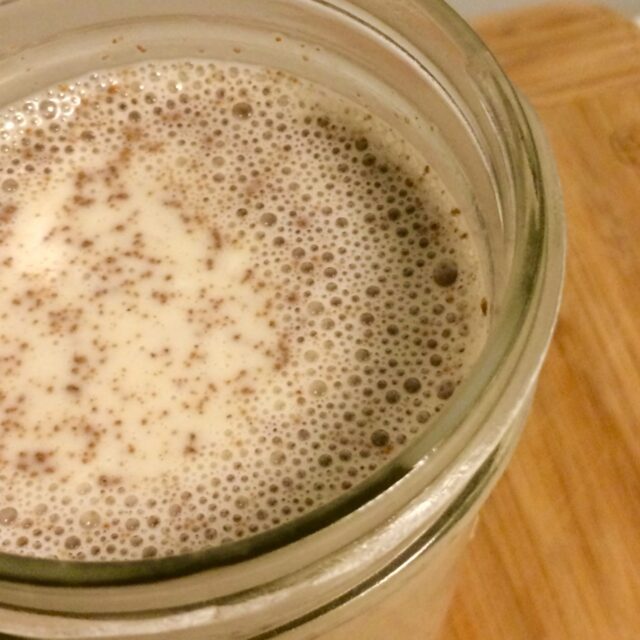 I personally love a good black coffee, but a good coffee creamer can make a morning coffee much more enjoyable. However, many creamers still have trans fats, high fructose corn syrup, salt, and "flavors" that include who knows what.
It's so easy to make your own creamer, but it helps to know the right quantities so you don't end up with something too thick or too runny! This vanilla, cinnamon, almond coffee creamer has just the right balance and adds so much to your morning coffee!
Ingredients
Fat Free Sweetened Condensed Milk: You can choose full fat if you choose but we prefer the slightly healthier option. We haven't tried this with any other substitutes for this ingredient.
Whole Milk: You can use 1%, fat free, or any dairy free milk. Just know that anything other than whole milk will make the end product thinner. If you're using another milk you can start with 1 ¾ cups and slowly add more until it's the thickness you like.
Ground Cinnamon: If you just stir the mixture the cinnamon will sit on the top. If you give it a quick blend it solves that problem. No blender? Then seal the mix in an airtight container and give it a good shake, letting it rest some to avoid pouring in all bubbles. If you don't want to foam the milk then blend a small portion of creamer and/or milk with the cinnamon (½ cup) then remove and combine in jar/bowl with remaining liquids.
Extracts: We like vanilla and almond but you can add any extracts you want. Peppermint would make for a great winter-time creamer, hazelnut, amaretto, chai, chocolate…. the list goes on and on.
If you're using extracts other than almond and vanilla start small with amounts and don't necessarily follow my measurements. Some are extremely potent and you will want to add drops as a time until it reaches the potency you want.
Pour, sip, and enjoy a great start to your day. Or let's face it, enjoy your 3rd or 4th cup of coffee to get through the day.
I'm considering 1 serving as 1 tablespoon for this recipe.
Related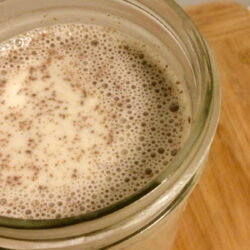 Vanilla, Cinnamon, Almond Coffee Creamer
This sweet and creamy coffee creamer is super easy to make at home and much healthier than store bought options!
Ingredients
14

ounces

fat-free sweetened condensed milk

(1 can)

2

cups

whole milk

1 ½

teaspoon

ground cinnamon

1

teaspoon

vanilla extract

½

teaspoon

almond extract

(optional)
Instructions
In a 24-ounce mason jar, add sweetened condensed milk.

Add 1 ½ cups milk to mason jar. Use remaining ½ cup to rinse out condensed milk can and then pour into mason jar.

Add cinnamon and vanilla to mason jar. Using a fork or chopstick stir well until combined.

Once jar is sealed you can shake creamer slightly before use to combine ingredients again.

Option to blend all ingredients thoroughly in a blender before refrigerating to store