These little bites of pumpkin pie are great for large get-togethers or just making it easy to take and go. They're made with a homemade pastry crust, natural sweetener only, and a homemade whipped cream by hand. They'll go fast so think about making a double batch!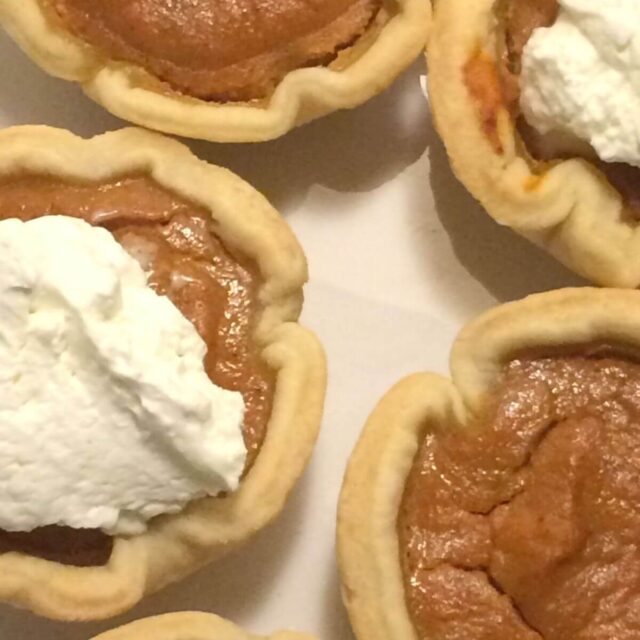 (This page contains affiliated links)
Pumpkin pie might have just gotten better! When you shrink them down into portable little bites you get more crunch per bite, ease with eating them, more convenient storage, and, as everyone can appreciate these days, they're much easier to mass out as individual portions!
I use regular muffin tins for this recipe, not mini. Twelve mini pies wasn't enough, so I made a slightly larger recipe that yields 18 pies. I use one 12 cup stainless steel muffin tin and one 6 cup tin.
As for cutting out each pie round, we have these awesome stainless steel cookie cutters from IKEA  but you can also find a similar stainless steel set on Amazon. I have found that the perfect sized cookie cutter is a 4 ½" ring. I've tried this recipe numerous times with smaller cut outs and it just doesn't work. Any smaller and the edges aren't high enough. You can find another tool around your house, like a glass bowl or mug to use to cut out the forms, as long as it's 4 ½"-5" in diameter. A mason jar ring will not be large enough.
Pastry Crust
I increased the portion size of my Double Pie Pastry dough that works great for recipes like these mini pumpkin pies or pies for which you want a lattice or designed top. If you choose to use a frozen pastry or another recipe it might alter the end yield so just be willing to have extra filling leftover. If that's the case, you can always bake the extra in small ramekins to make more of a custard. Use my Pumpkin Custard recipe for baking instructions.
If you have any extra crust, you can use some to design a few tops. Or, roll out the extra, sprinkle some cinnamon and maple syrup and bake!
Pumpkin Pie Filling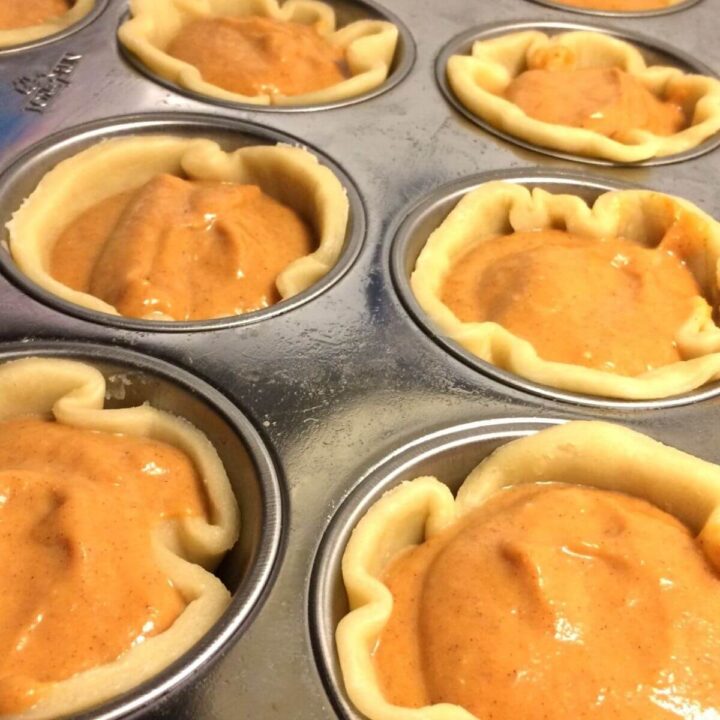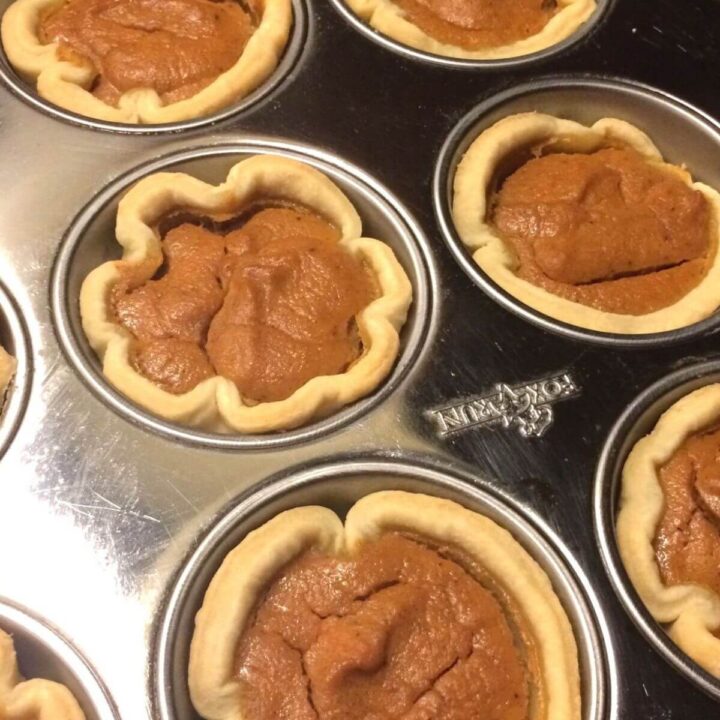 I use the pumpkin pie filling from my Maple Pumpkin Pie with Nut Crust. It's such a great recipe I have no intention of altering it!
Homemade Whipped Cream
Take a look at my Homemade Whipped Cream by Hand post to learn multiple ways of making whipped cream from scratch, without heavy equipment!
Try These Similar Recipes
Try these other pie recipes, all of which are made with natural sweetener:
Mini Pumpkin Pies (naturally sweetened)
These little bites of pumpkin pie are great for large get-togethers or just making it easy to take and go. They're made with a homemade pastry crust, natural sweetener only, and a homemade whipped cream by hand. They'll go fast so think about making a double batch!
Ingredients
2 ½

cups

all purpose flour

(if using maple syrup, decrease water first then sprinkle for flour if needed)

10

tablespoon

unsalted butter

½

teaspoon

sea salt

2 ½

teaspoon

optional maple syrup

1 tablespoon + 1tsp

olive oil

7 ½

tablespoon

cold water

(if using maple syrup, start with 5 teaspoon and increase to 7 if needed)
For the Pie Filling
2

cups

pumpkin puree

(1-16 oz. can pumpkin puree)

6

tablespoon

maple syrup

3

large

eggs

¾

cups

full fat plain Greek yogurt

½

teaspoon

sea salt

1 ½

teaspoon

ground cinnamon

¼

teaspoon

ground nutmeg

⅛

teaspoon

ground cloves

¼ -½

teaspoon

optional ground or freshy grated ginger
Instructions
In a large bowl, combine flour and sea salt. Cut butter into the flour using a fork and/or your hands. Once fully integrated, add all other ingredients and mix until just combined. Cut dough in half and form each into a ball and flatten. It's fine to stack them on top of each other to chill (I place mine in a glass Pyrex with lid but you can also use Saran wrap). Refrigerate for 1-2 hours. Meanwhile make the filling.

*See note about using optional maple syrup in dough.
Make the Filling
In a large bowl combine all wet ingredients. Add all spices and mix well. Refrigerate until pastry has chilled.
Putting it all Together
After pastry dough has chilled, preheat oven to 375°F.

Lightly spray a 12 cup muffin tin and a 6 cup muffin tin with olive oil.

Work with half the dough at a time, keeping the other half in the fridge.

Lightly flour your work surface and roll out half the dough into about a 14" circle, which is about the width of pizza stone.

Use a large 4 ½" cookie cutter to cut as many rounds out as you can, combining the remaining dough to roll out again and cut out more rounds. Gently press them into the muffin tins, letting the sides fold a little as needed. TIP: if you feel like some are really thick, place them on your work surface to roll out a bit thinner, then cut again. Add the scraps back with the remaining dough and continue!

Scoop 2 tablespoon of pumpkin mix into each pastry cup and divide the remaining mixture evenly amongst them all.

Bake at 375°F for 35 - 40 minutes. Let them sit in the tins after baking before attempting to remove them. Once cooled enough to touch, gently touch the crust and give it a little spin and twist them out. Give each a dollop of homemade whipped cream or serve the whipped cream on the side!

Although this recipe should yield 18 mini pies, depending on the thickness that you roll out your pastry you may get 16 if you go thicker or 20 if you go thinner. Aiming for 18 gives you the perfect thickness of pastry crust!
Notes
*Maple syrup is optional in the pastry dough, but highly recommended! You have to balance out the liquid in the recipe, so decrease water to 5 tbsp. If it's still dry add 1 teaspoon at a time. If it seems too wet add 1 teaspoon of flour at a time. 
If you're not using maple syrup then follow recipe as is with using 2 ½ cups flour and 7 ½ tablespoon water.